Hello, friends! I'm excited to introduce you to my new collection with Spellbinders – Yana's De-Light-Ful Christmas! I designed it with elegant and exquisite Christmas cards in mind – you'll find a poinsettia die, hot foil sentiments, a glimmer background + stencils combo, an embossing folder, a wax seal, and more!
Here's a quick look at the products in this collection: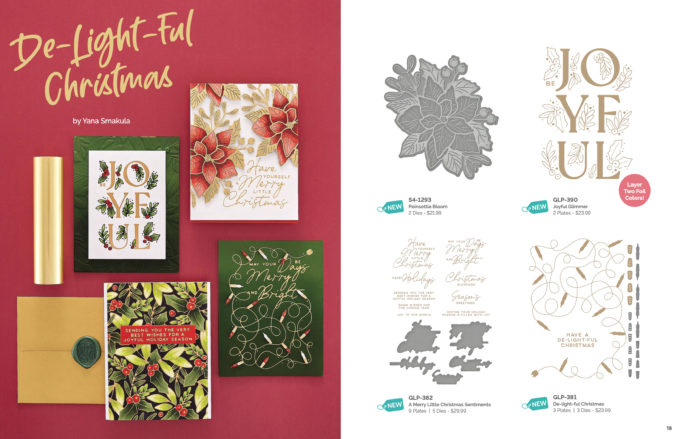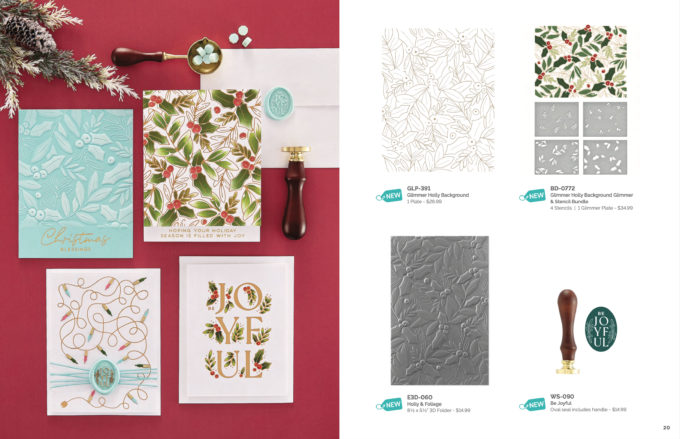 VIDEO OVERVIEW
A picture is worth a thousand words. I filmed a video to show you each product up close and briefly discuss how it can be used. Watch below or on my Youtube channel:
A MERRY LITTLE CHRISTMAS SENTIMENTS
The first product in my collection is a set of sentiments. These are glimmer hot foil sentiments with coordinating dies. There are 5 sentiments with dies and 4 sub sentiments without dies. These can be used together or separately.
Here's an example with one of the large sentiments:
And this is an example of how one of the sub-sentiments can be used alone on a card: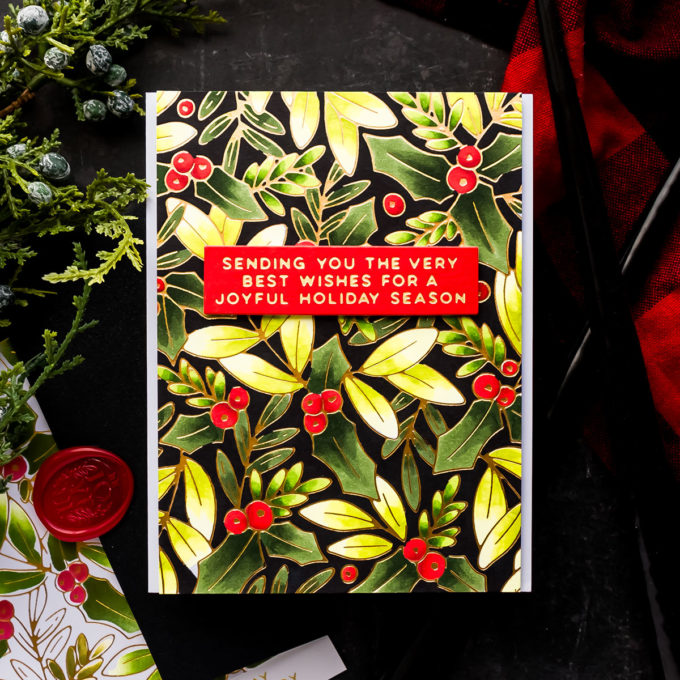 DE-LIGHT-FUL CHRISTMAS
Next, we have a De-Light-Ful Christmas glimmer plate. This plate is sized to go on a front of an A2 card. It includes a twisted string of lights plate, additional lights dies, and glimmer plates, as well as a sentiment plate that reads "Have a de-light-ful Christmas"
POINSETTIA BLOOM
Next, we have a beautiful die – Poinsettia Bloom. It's very similar to my other floral dies – Magnolia Bloom and Anemone Bloom. This die has the same concept and the same style. There is an outer die and a main die that cuts the outline and petals with details. You can play with various colors of cardstock and coloring mediums to create some really beautiful poinsettias.
GLIMMER HOLLY BACKGROUND & STENCILS
Next, Glimmer Holly Background plate, sized perfectly for A2 cards, can be used on smaller-size cards, too. This glimmer plate is designed to coordinate with a set of layering stencils. There are four layers and these help you add color to the glimmer plate. You can use the foil the plate alone, and either leave it as is, or color the images using your favorite coloring medium (the 2nd card in this post shows the Copic coloring), or use stencils to ink blend color.
And as you can see, the stencil does not give you full solid coverage. The way I design these stencils, they give you imperfectly filled shapes, very artistically filled shapes.
JOYFUL GLIMMER
The Joyful is a set of 2 plates, the "be Joyful" and foliage. The "Be Joyful" can be used alone (4th card in this post), or together with the foliage, and also to give you the ability to foil these in different foil colors.
HOLLY & FOLIAGE 3D EMBOSSING FOLDER
Next is the Holly Background 3D embossing folder. It is a large embossing folder and it gives very beautiful detailed results. This embossing folder, while the design is very similar to one of the glimmer plates and to the stencil set, the embossing folder is not designed to coordinate with the stencil or the glimmer plates. So while it looks similar, these products
will not coordinate that.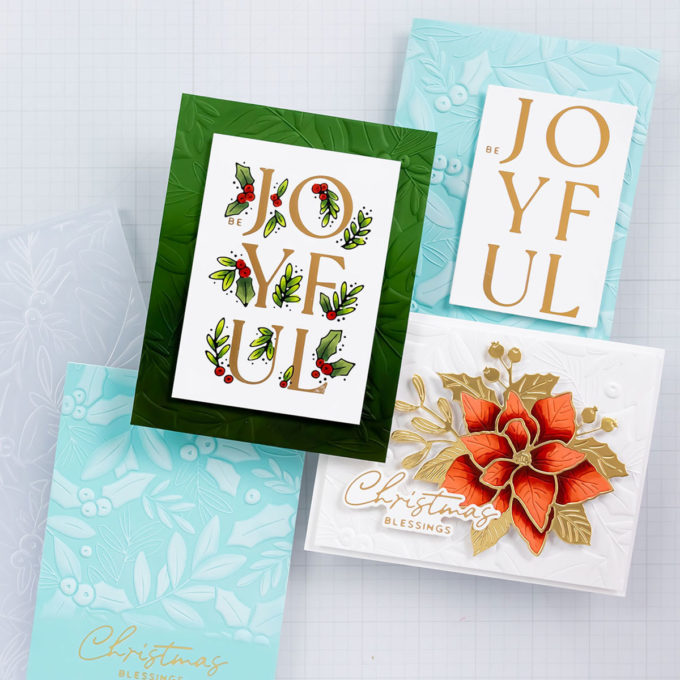 BE JOYFUL WAX SEAL STAMP
And the last product I have for you is the wax seal. Wax seals are a passion of mine. I love to create wax seals for my projects. I love to wrap gifts using wax seals. I think that adds so much personal touch to your gift. You can also add wax seals to envelopes and even two cards. The Be Joyful Wax Seal has an oval design.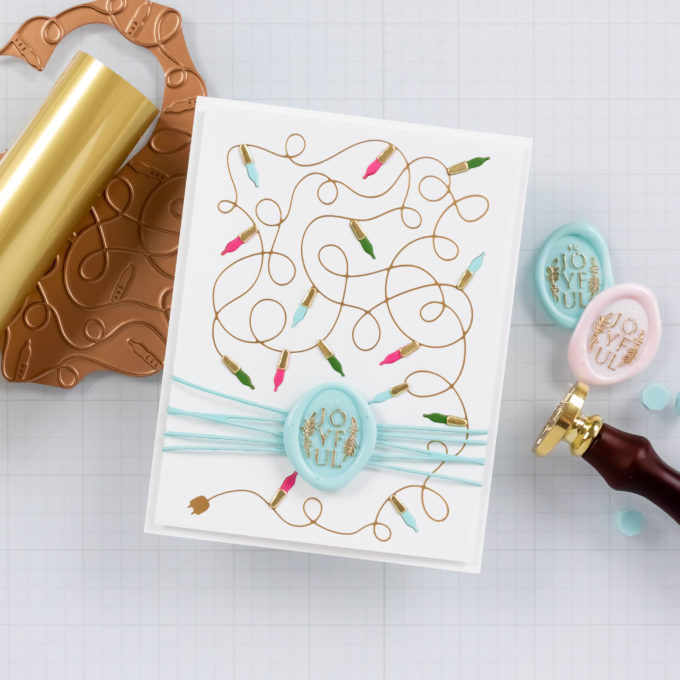 I hope you like my new collection – I poured my heart into these products, and I hope you enjoy creating with them as much as I do. I can't wait to see what you'll create!
SUPPLIES
I'm listing the products I used below. Click on the link to go directly to the product. Where available I use compensated affiliate links which means if you make a purchase I receive a small commission at no extra cost to you. Thank you so much for your support!

Spellbinders Glimmer Holly Background Bundle
Shop at:
SB USA | SB UK

Spellbinders Poinsettia Bloom Etched Dies
Shop at:
SB USA | SB UK

Spellbinders De-light-ful Christmas Glimmer Hot Foil Plate & Die Set
Shop at:
SB USA | SB UK

Spellbinders A Merry Little Christmas Sentiments Glimmer Hot Foil Plate & Die Set
Shop at:
SB USA | SB UK

Spellbinders Joyful Glimmer Hot Foil Plate
Shop at:
SB USA | SB UK

Spellbinders Glimmer Holly Background Hot Foil Plate
Shop at:
SB USA | SB UK

Spellbinders Layered Glimmer Holly Background Stencil
Shop at:
SB USA | SB UK

Spellbinders Holly & Foliage 3d Embossing Folder
Shop at:
SB USA | SB UK

Spellbinders Be Joyful Wax Seal Stamp
Shop at:
SB USA | SB UK