Hello, friends! So many of you are loving my Yana's De-Light-ful Christmas collection and I couldn't be happier! Today I have an in-depth video tutorial to teach you ways to use the Glimmer Holly Background Glimmer Plate and the coordinating layering stencils. I have tips, tricks, and several cards to share.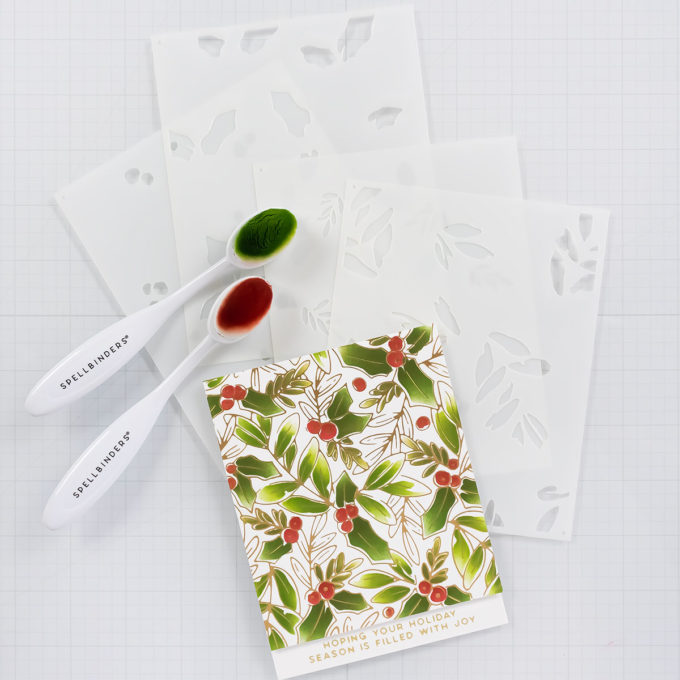 VIDEO TUTORIAL
Watch the video tutorial below or on my Youtube channel:
GLIMMER PLATE + STENCIL
I designed these products with versatility in mind. You can use the Glimmer Holly Background Plate alone, or together with the stencils. You can even use the stencils alone, without the plate for a very artistic-looking background (see an example of a background below).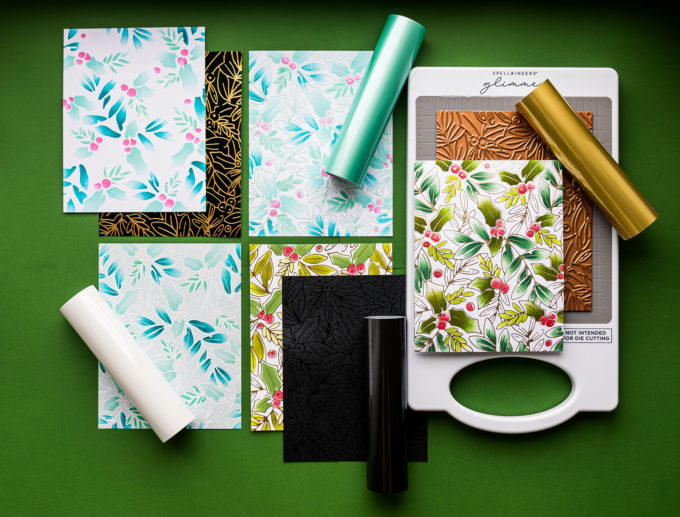 Foil the plate on a larger sheet of paper (not one that is cut strictly to 4 1/4″ x 5 1/2″) to have room to align the stencils.
I like to use a variety of blending brush sizes to ink blend, from larger sizes to small detailed brushes to be able to add shadows. I also use 2 shades of ink for each element I ink blend – a lighter and a darker green, for example. The sentiment on this card was created using one of the sub-sentiment glimmer plates from A Merry Little Christmas sentiment set.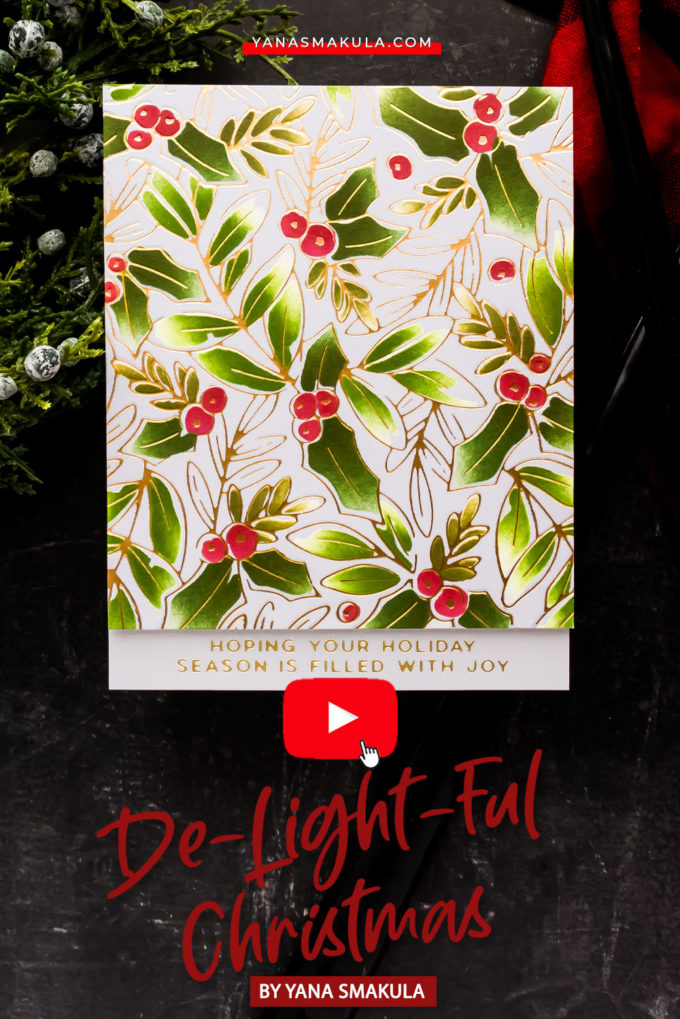 Here are some close-up images of this card:
GLIMMER PLATE ALONE
You can also use the Glimmer Holly Background Plate alone, without the stencils, and either use it as-is (you can do some tone-on-tone foiling) or color it using your fave coloring mediums. I used a combination of Copic markers and OLO markers to color this image and I also colored the background black for a wow effect.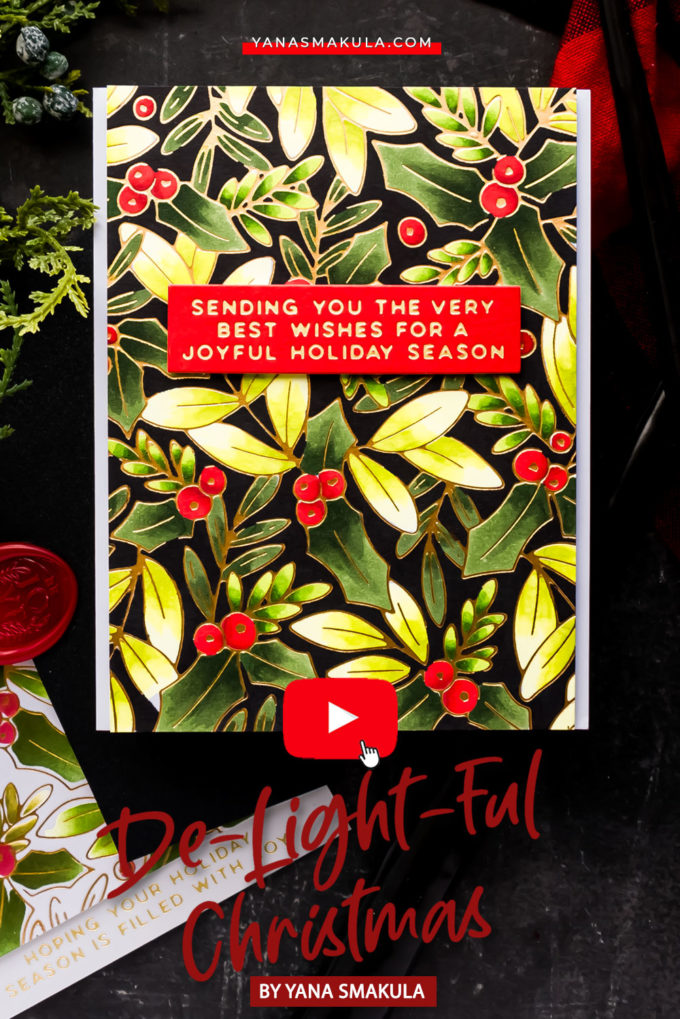 Here are some close-up images of this card:
So I hope this gives you an idea of how these products can be used and if they are a good fit for your and your crafting style. Have fun!
SUPPLIES
I'm listing the products I used below. Click on the link to go directly to the product. Where available I use compensated affiliate links which means if you make a purchase I receive a small commission at no extra cost to you. Thank you so much for your support!

Spellbinders Glimmer Holly Background Bundle
Shop at:
SB USA | SB UK

Spellbinders A Merry Little Christmas Sentiments Glimmer Hot Foil Plate & Die Set
Shop at:
SB USA | SB UK

Spellbinders Glimmer Holly Background Hot Foil Plate
Shop at:
SB USA | SB UK

Spellbinders Layered Glimmer Holly Background Stencil
Shop at:
SB USA | SB UK

Spellbinders Glimmer Hot Foil Roll – Champagne
Shop at:
SB USA

Glimmer Hot Foil – Matte Gold
Shop at:
SSS | SC | SB USA | SB UK | AMZ

Spellbinders Glimmer Hot Foil 4 Rolls – Satin Metallics Variety Pack
Shop at:
SB USA | SB UK

Spellbinders Glimmer Hot Foil 2 Rolls – Opaque Black & White Pack
Shop at:
SSS | SC | SB USA | SB UK

Spellbinders Glimmer Hot Foil System (Platinum)
Shop at:
SC | SB USA | SB UK

Spellbinders Glimmer Hot Foil System (Bronze)
Shop at:
SSS | SC | SB USA | SB UK | AMZ

Spellbinders Quick Trimmer
Shop at:
SSS | SC | SB USA | AMZ

Spellbinders Quick Trimmer Replacement Blades
Shop at:
SSS | SC | SB USA | AMZ

Neenah 80lb Solar White Cardstock
Shop at:
SSS | AMZ

Simon Says Stamp White Cardstock 120LB
Shop at:
SSS

Simon Says Stamp Mega Thick White Cardstock 130LB
Shop at:
SSS

Spellbinders Glacier Color Essentials Cardstock
Shop at:
SC | SB USA | SB UK

Simon Says Stamp Cardstock Black Glossy
Shop at:
SSS

Spellbinders Brushed Black Cardstock
Shop at:
SC | SB USA | SB UK

Simon Says Stamp Lipstick Red Cardstock
Shop at:
SSS

Simon Says Stamp Pawsitively Saturated Ink Pad Celery
Shop at:
SSS

Simon Says Stamp Pawsitively Saturated Ink Pad Aspen
Shop at:
SSS

Simon Says Stamp Rose Apple Ink Pad
Shop at:
SSS

Hero Arts Forever Green Ink Pad
Shop at:
SSS | HA | AMZ

Simon Says Stamp Pawsitively Saturated Ink Pad Pine
Shop at:
SSS

Simon Says Stamp Pawsitively Saturated Ink Pad Field
Shop at:
SSS

Glassboard Studio True White Glass Craft Mat
Shop at:
GBS

Spellbinders New & Improved Platinum 6 Machine With Universal Plate System
Shop at:
SSS | SC | SB USA | SB UK

Spellbinders Tool 'n One – White
Shop at:
SSS | SC | SB USA | SB UK | AMZ

Olo Lavender Alcohol Markers – 8 Colors 4pc. Set 4
Shop at:
SSS | SB USA

Olo Autumn Alcohol Markers – 8 Colors 4pc. Set 2
Shop at:
SSS | SB USA

Olo Primary Alcohol Markers – 8 Colors 4pc. Set 7
Shop at:
SSS | SB USA

Olo Special Blend Alcohol Markers Set – 8 Colors 4pc.
Shop at:
SB USA

Olo Coral Tones Alcohol Markers Set – 8 Colors 4pc.
Shop at:
SB USA

Olo Pink Tones Alcohol Markers Set – 8 Colors 4pc.
Shop at:
SB USA

Olo Teal Tones Alcohol Markers Set – 8 Colors 4pc.
Shop at:
SB USA

Olo Purple Tones Alcohol Markers Set – 8 Colors 4pc.
Shop at:
SB USA

Olo Warm Gray Alcohol Markers – 8 Colors 4pc. Set 9
Shop at:
SSS | SB USA

Olo Cool Gray Alcohol Markers – 8 Colors 4pc. Set 8
Shop at:
SSS | SB USA

Olo Spring Alcohol Markers – 8 Colors 4pc. Set 2
Shop at:
SSS | SB USA

Olo Portrait Alcohol Markers – 8 Colors 4pc. Set 6
Shop at:
SSS | SB USA

Olo Forest Alcohol Markers – 8 Colors 4pc. Set 5
Shop at:
SSS | SB USA

Olo Winter Alcohol Markers – 8 Colors 4pc. Set 3
Shop at:
SSS | SB USA

Olo Zero Brush and Chisel Tip
Shop at:
SB USA

Copic Sketch Marker YG03 Yellow Green
Shop at:
SSS | AMZ | MFT

Copic Sketch Marker YG17 Grass Green
Shop at:
SSS | AMZ | MFT

Copic Sketch Marker YG67 Moss
Shop at:
SSS | AMZ | MFT

Copic Sketch Marker YG63 Pea Green
Shop at:
SSS | AMZ | MFT

Copic Sketch Marker G94 Grayish Olive
Shop at:
SSS | AMZ | MFT

Spellbinders Best Ever Craft Tape
Shop at:
SSS | SC | SB USA | SB UK | AMZ

Simon Says Stamp Detail Round Blending Brushes
Shop at:
SSS

Simon Says Stamp Detail Flat Blending Brushes
Shop at:
SSS

Simon Says Stamp Blending Brush Set Small
Shop at:
SSS

Tonic Studios 8.5 Inch Paper Trimmer
Shop at:
SC | AMZ | GBS