Hello crafters. My today's video looks at a new die collection by my friend Zsoka Marko with Spellbinders called Winter Tales. I have several card ideas to share with you using my favorite dark, deep, rich colors for a lot of drama and wow.
The Winter Tales collection is inspired by Norwegian folk art. I am a big fan of Scandinavian Folk Art and whenever I see anything Folk Art inspired I am immediately drawn to it. It is very distinct, it is very bold, and very different.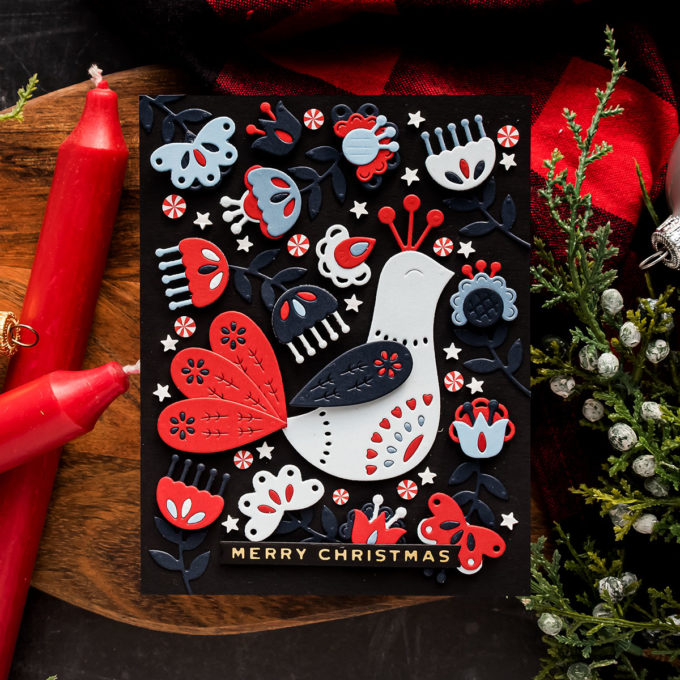 Like this project? Pin it and save for later | Curious about my project photography? Click for details. 
VIDEO TUTORIAL
Watch the video below or on my Youtube channel.
Zsoka's interpretation of Folk Art in her Winter Tales collection is simply amazing.
NORDIC ORNAMENTS
My favorite set from this collection is Nordic Ornaments. It features 2 large size ornaments, there's an ornament shape piece, and a decorative insert along with several pieces to do the decorating. I love this set for ease of use – the ornaments are very larger and make a fantastic focal point for a card.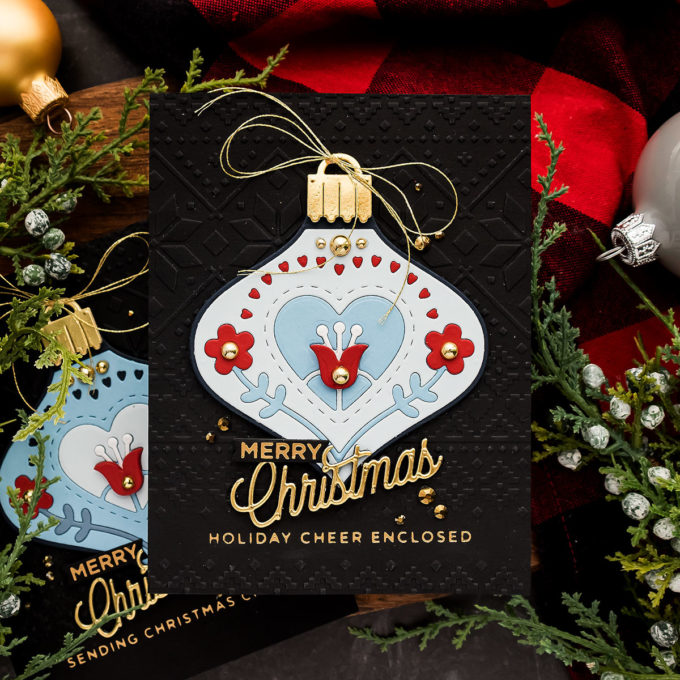 When you create with these dies, you'll want to do some inlay die cutting. I die cuts ornaments from 4 shades of blue cardstock from Spellbinders – Glacier, Raindrop, Partly Cloudy, and Indigo. Next, I used glue and adhered the detailed die cut onto a shadow ornament piece, I popped all of the die cuts pieces out, but I didn't throw them away, I kept them to be able to inlay into the next ornament I was planning to make.
You can combine several colors, you can go with different color combinations, I went very monochrome here, and you can see I just have various shades of blue, but I do bring in the contrasting red to add in the flowers and really make this die cut pop.
Next, I dry embossed several panels using the embossing folder part of this collection called – Ski Lodge. I first foiled a sentiment in Matte Gold foil in the bottom part of the panel and then did partial embossing. The embossing folder design is absolutely spectacular, it is so gorgeous for the winter cards, it reminds me of a beautifully knit sweater that you'd wear during the cold winter months.
I wanted to add something else to these cards, as I felt like they needed something extra, so I die cut sentiments from Gold Mirror cardstock and black pop up foam from Spellbinders, I adhered the gold die cut onto the black fun foam and that created a dimensional sentiment die cut.
I added Fashion Gold dots onto the ornament themselves and then used the Gold mix gems to embellish the space around the ornaments to add movement to these cards.
NORDIC ORNAMENTS WITH A TWIST
The shape and the size of the ornament inspired me to try something different and fill the ornament shape with flowers. I used the Holiday Blooms die set and die-cut florals from various shades of blue and red to build a unique pattern inside the ornament. You can take this idea and expand it – you can use other images to fill your ornament in. You can also use the large ornament shape as a placeholder for the sentiment – perhaps you want to add a large foiled or a large die cut sentiment, you can use the ornament shape to house it and it is going to look spectacular.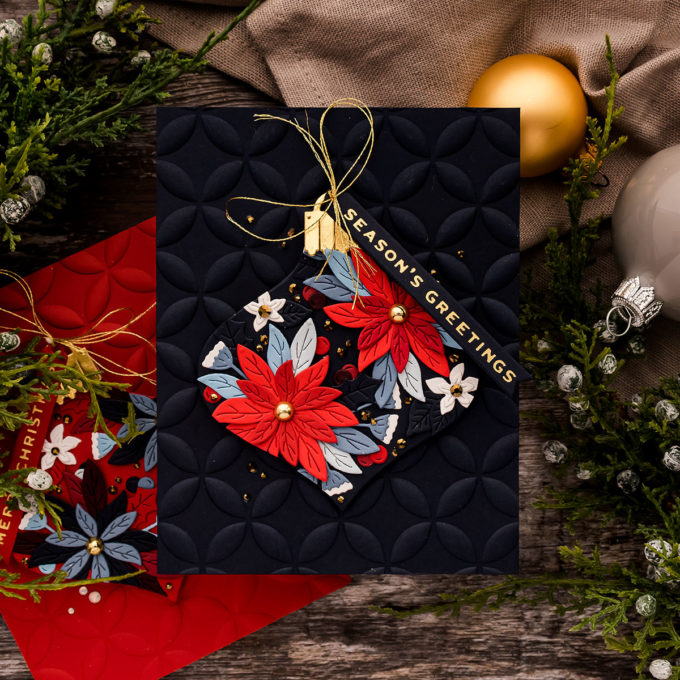 Once I had all of the florals added I trimmed any overhand to contain the pattern within the space of the ornament. This way it looked as if the pattern was a part of the ornament, and not like the ornament was decorated with florals.
I used the Circle Illusion 3D Embossing folder from Spellbinders for the background.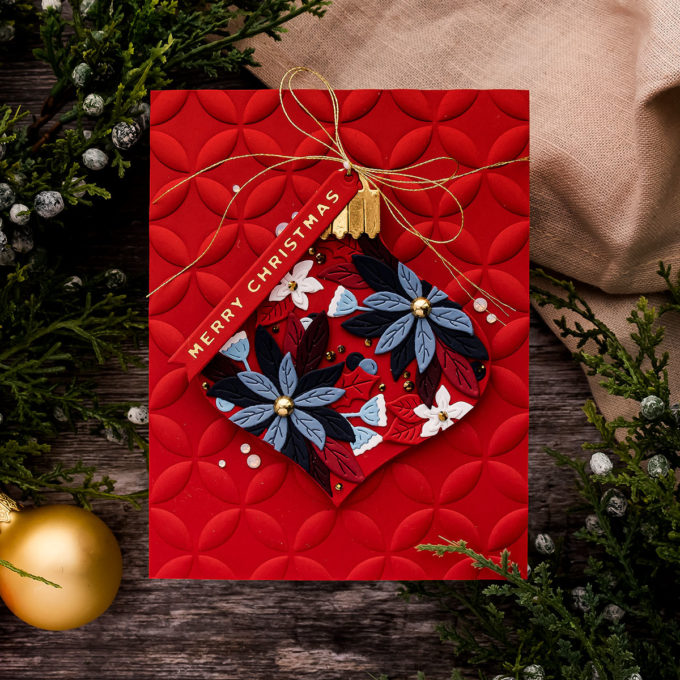 Here you'll notice I didn't leave room for a sentiment, so I opted to make a tag with one instead. I foiled Merry Christmas in Matte gold foil on coordinating cardstock color and cut it out using a tag die. Next, I took gold thread and used it to add the tag onto the ornament, I tied it into a pretty bow.
Did I say how much I love the way these cards turned out? The whole collection is simply unique.
FOLK SONG & ENCHANTED GARDEN
Because I couldn't stop at just one die set, I wanted to play with all of the dies in this collection, so I made additional cards. I used the Folk Song dies and the Enchanted Garden dies to make this patterned card.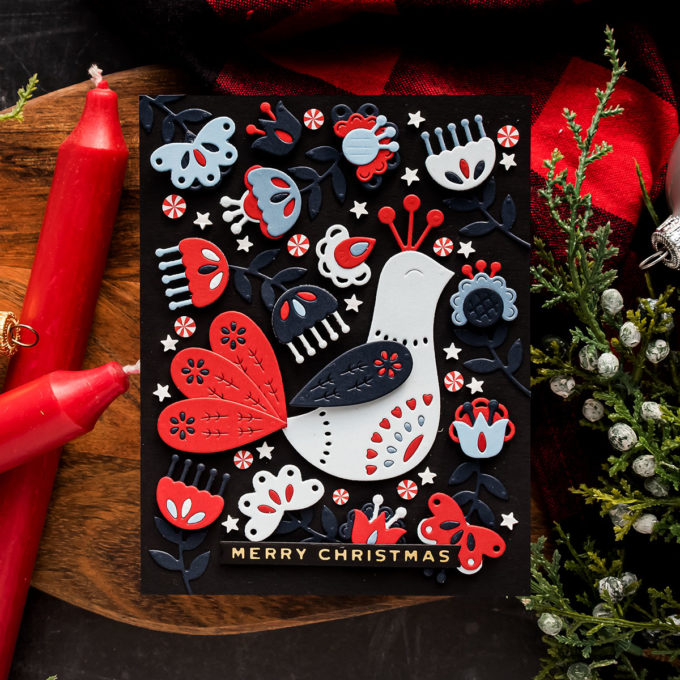 I have the colorful bird in the center, I did some inlaying to add pops of red and glue to the Glacier cut bird and next, I added the flowers all around the bird filling the background in.
I had gaps in the background and to tie everything together I used the Spellbinders Peppermint Sprinkles. These are not from this release, they were released earlier this year, and they make an amazing filler element! You get a ton in the bag and you can use these like I am using here, as embellishments or you can use them as shakers if you like shaker cards.
MAGICAL DEER
One last card I have for you featuring this collection is the one with the deer created using the Magical Deer dies.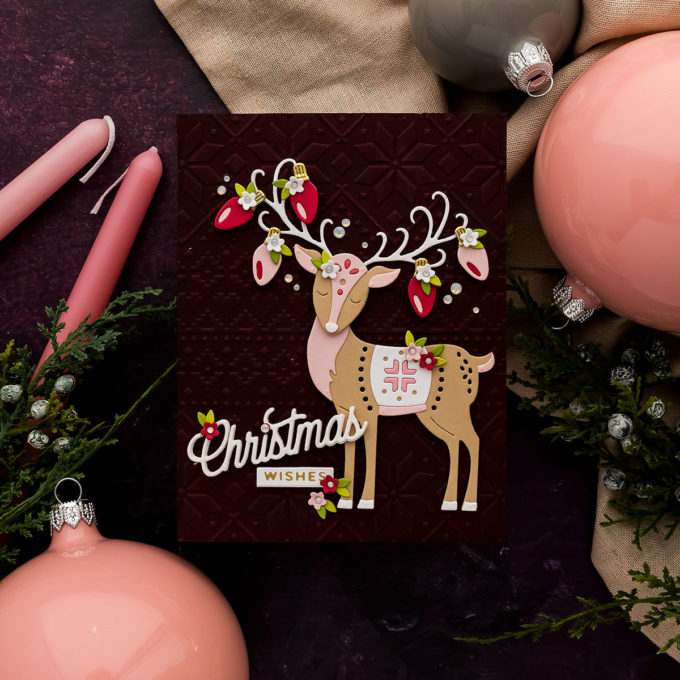 Here I wanted to try using different colors and I went with soft browns and beautiful pinks. I also embellished the deer antlers using the ornament die cuts, I added a tiny white flower onto each ornament to make it a bit more festive.
So this last card doesn't really stick to the Nordic Folk Art colors, and perhaps not even style, but I wanted to show you that you can use other colors with these dies and you can make them your own.
Have fun crafting!
SUPPLIES
I'm listing the products I used below. Click on the link to go directly to the product. Where available I use compensated affiliate links which means if you make a purchase I receive a small commission at no extra cost to you. Thank you so much for your support!

Spellbinders Nordic Ornaments Etched Dies
Shop at:
SC | SB USA

Spellbinders Folk Song Etched Dies
Shop at:
SC | SB USA

Spellbinders Peace & Joy Clear Stamp
Shop at:
SC | SB USA

Spellbinders Ski Lodge Embossing Folder
Shop at:
SC | SB USA

Spellbinders Magical Deer Etched Dies
Shop at:
SC | SB USA

Spellbinders Enchanted Garden Etched Dies
Shop at:
SC | SB USA

Spellbinders Holiday Blooms Etched Dies
Shop at:
SSS | SC | SB USA | SB UK

Spellbinders Christmas Blooms Dies
Shop at:
SSS | SC | SB USA | SB UK | AMZ

Spellbinders Mix & Match Holiday Greetings Etched Dies
Shop at:
SSS | SC | SB USA | SB UK

Spellbinders Glitter Wishes Glimmer Hot Foil Plate & Die Set
Shop at:
SSS | SC | SB USA

Spellbinders More Holiday Decorations Etched Dies
Shop at:
SSS | SC | SB USA

Spellbinders Circle Illusion 3d Embossing Folder
Shop at:
SSS | SC | SB USA

Spellbinders Swallowtail Tags Etched Dies
Shop at:
SSS | SC | SB USA

Spellbinders Tool 'n One
Shop at:
SSS | SC | SB USA | AMZ

Limited Edition Platinum 6 Aqua Die Cutting and Embossing Machine
Shop at:
SB USA | SB UK

Spellbinders Platinum 6 Die Cutting Machine
Shop at:
SSS | SC | SB USA | SB UK | AMZ

Spellbinders Platinum Die Cutting Machine
Shop at:
SSS | SC | SB USA | SB UK | AMZ

Spellbinders Universal Plates System
Shop at:
SSS | SC | SB USA | AMZ

Spellbinders Extended Cutting Plates
Shop at:
SSS | SC | SB USA

Spellbinders Mylar Shims F
Shop at:
SSS | SC | SB USA

Glassboard Studio True White Glass Craft Mat | YANA20 for 20% Off
Shop at:
GBS

Spellbinders Glimmer Hot Foil System
Shop at:
SSS | SC | SB USA | SB UK | AMZ

Glimmer Hot Foil – Matte Gold
Shop at:
SSS | SC | SB USA | SB UK | AMZ

Spellbinders Christmas Magic Hot Foil Plates
Shop at:
SSS | SC | SB USA

Spellbinders Mirror Gold Cardstock
Shop at:
SB USA

Spellbinders Pink Sand Color Essentials Cardstock
Shop at:
SB USA

Spellbinders Glacier Color Essentials Cardstock
Shop at:
SB USA

Spellbinders Onyx Color Essentials Cardstock 8.5″ X 11″
Shop at:
SB USA

Spellbinders Raindrop Color Essentials Cardstock
Shop at:
SB USA

Spellbinders Poppy Field Color Essentials Cardstock
Shop at:
SB USA

Spellbinders Pomegranate Color Essentials Cardstock 8.5″ X 11″
Shop at:
SB USA

Spellbinders Crimson Color Essentials Cardstock 8.5 X 11"
Shop at:
SB USA

Spellbinders Rainforest Color Essentials Cardstock
Shop at:
SB USA

Spellbinders Peridot Color Essentials Cardstock
Shop at:
SB USA

Spellbinders Wild Berry Color Essentials Cardstock
Shop at:
SB USA

Spellbinders Dune Color Essentials Cardstock
Shop at:
SB USA

Spellbinders Mahogany Color Essentials Cardstock 8.5 X 11"
Shop at:
SB USA

Spellbinders Dahlia Color Essentials Cardstock
Shop at:
SB USA

Spellbinders Phone Booth Color Essential Cardstock
Shop at:
SB USA

Spellbinders Partly Cloudy Color Essentials Cardstock
Shop at:
SB USA

Spellbinders Indigo Color Essentials Cardstock
Shop at:
SB USA

Tonic Spring-cut Fine Tip Detail Scissors
Shop at:
SSS | AMZ

Spellbinders Peppermint Sprinkles
Shop at:
SB USA

Spellbinders Fashion Gold Embellishments
Shop at:
SSS | SC | SB USA

Spellbinders Best Ever Craft Tape
Shop at:
SSS | SC | SB USA | SB UK | AMZ

Spellbinders Best Ever Craft Tape 0.25″
Shop at:
SSS | SC | SB USA

Spellbinders Best Ever Craft Tape 1.25″
Shop at:
SSS | SC | SB USA

White Liner Adhesive Tape
Shop at:
SB USA

Spellbinders Gold Mix Color Essential Gems
Shop at:
SSS | SC | SB USA

Tonic Studios 8.5 Inch Paper Trimmer
Shop at:
SC | AMZ | GBS

Jewel Picker Tool
Shop at:
SSS | SC | SB USA | SB UK | AMZ

Fun Foam Sheets
Shop at:
SSS | SB USA | AMZ

Bearly Art Mini Precision Craft Glue
Shop at:
SSS | SB USA | AMZ

White Foam Squares
Shop at:
SSS | SC | SB USA | AMZ

Triangle Trays
Shop at:
SSS

Dmc Essential Metallics Diamant Metallic Thread Bundle
Shop at:
SB USA