Hello crafters, I'm very excited to introduce you to my new collection with Spellbinders called Anemone Blooms. The collection is launching today and you can find it in the Spellbinders Online shop and also at many retailers online, I have direct links below. Simon Says Stamp and Scrapbook.com have already had this collection for a few weeks now, so some of you might have already even purchased it.
Similar to the collection I did last year, called Yana's Blooms I designed Anemone Blooms with elegant floral card-making in mind. The theme for this collection is Birthday and Friendships and all of the sentiments in this line center around that.
COLLECTION OVERVIEW
Watch the video below or on my Youtube channel:
This is a smaller collection featuring just 5 products, some of which are dies and some glimmer plates. All of these work with my previously released products, especially Yana's Blooms collection. So if you already have some of Yana's Blooms and you pick up products from Anemone Blooms you can mix the products, especially the sentiments as the fonts and the sizes are exactly the same.
The main die in this collection is the Anemones die. It features a large floral cluster, very similar in style and size to the Magnolia Blooms released last year.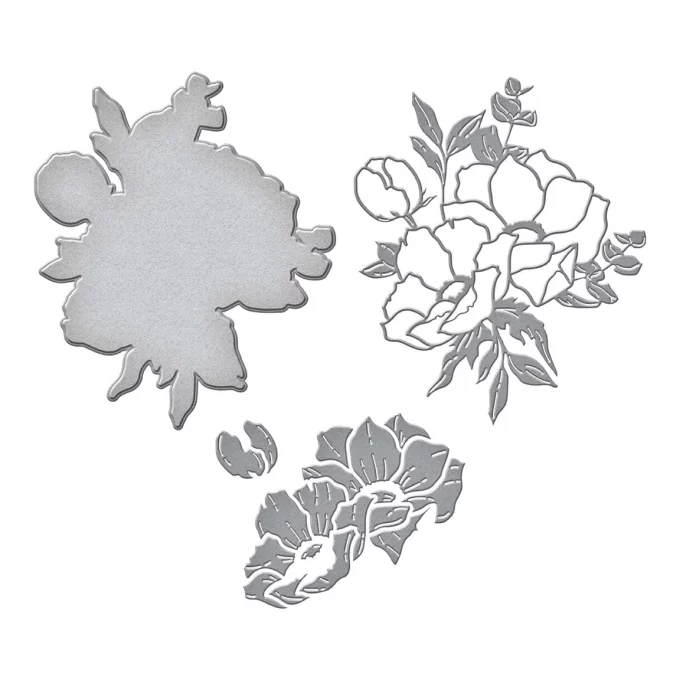 The Anemones die is designed in the same way, meaning you have the shadow die, and the outline and detail die. You can use these together or use just the outline alone without the shadow. My main idea for the shadow die was to have it cut from vellum for a very airy look and feel. This Anemone die cut is large enough to fill an A2 card, it easily stands on its own, but you can also use several of these, 3 is the magic number to fill the entire background for an A2 card, which measures 4 1/4 x 5 1/2″ in if you want to have a floral pattern on your project. Of course, if you make bigger cards, this die set works for that too, as again, it is pretty large.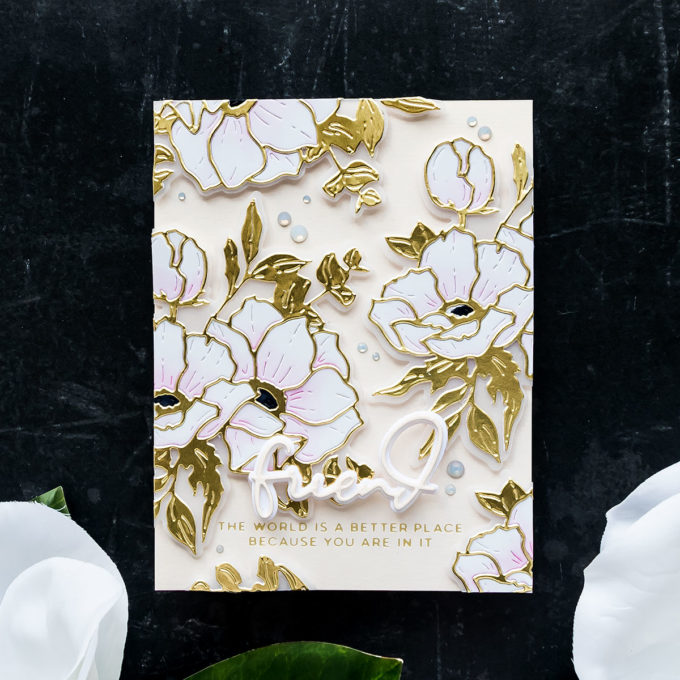 What I love to do most with this die set, is to cut the outline from Mirror Gold cardstock, or you can use any other specialty paper, and then cut the petals from either light color colored cardstock, for example, Spellbinders Barely Peach or Glacier or white cardstock and do a touch of coloring using alcohol markers to add shading to the flower petals. This way you are not spending a whole lot of time coloring this image, but at the same time you are adding just a touch of color to make the die cut a bit more interesting and dimensional.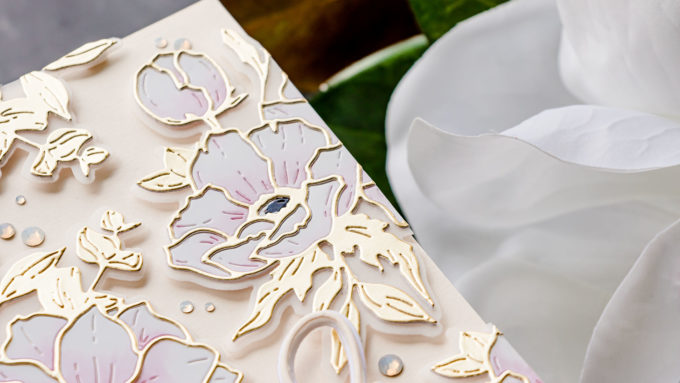 Now, if you have a Hot Foil System, I also have this same design available in glimmer plate format. The Glimmer Anemone cluster, which is called Anemone Glimmer Blooms, is a touch smaller and has additional baby breath images added to it. Baby's Breath is a gorgeous bouquet filler, I love this plant in bouquets, it adds so much air and elegance, I just had to add it to my anemones.
The glimmer plate has a coordinating die allowing you to cut the cluster out. We've also included a die to cut word "Friend". As with all other word dies in this collection, there's a main die and a shadow die (you can see it on the card above).
I particularly love to foil this in a satin or matte foil color and do simple coloring using my alcohol markers. Anemones come in all shapes and sizes starting from white, to any other color you can possibly imagine. There are even black anemones. The flower center is usually black and very similar to the one you see in a poppy flower, but there are yellow flower centers as well, especially with the white petal flowers.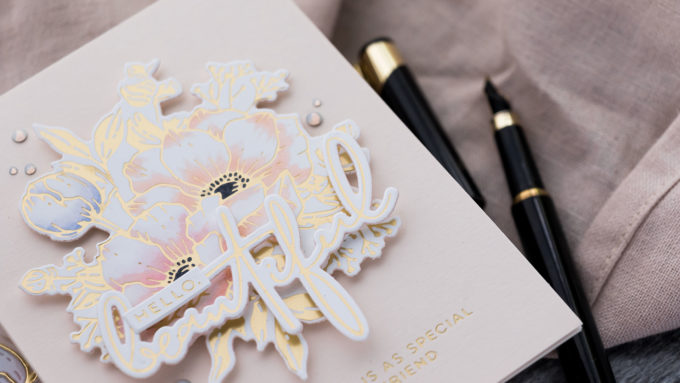 So we have 2 anemone products – the die set and the glimmer set and these make the foundation of this collection.
Next, we have 3 sentiment sets. There is one die set and 2 glimmer sets. The die set, called Wonderful Script Sentiments features the same scripty font used in my previously released sentiments from the Yana's Blooms collection.
These can be used alone, but have been specifically designed to be used with the Glimmer set called Hello, Friend sentiments.
The glimmer set offers additional sentiments that pair well with the scripty words giving you multiple sentiment combination options, for example, For my Beautiful Friends, Hello Beautiful, You are Beautiful and Perfect, etc.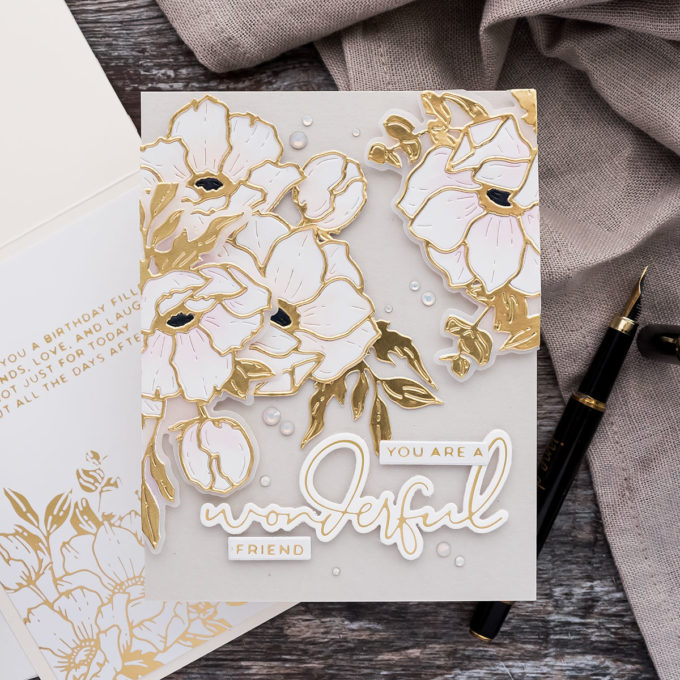 The last product in this collection is a set of sentiments I call "Inside card" sentiments. These are longer messages that can be put on the inside of the card. Some are a bit snaky, for example "I love knowing that no matter how much time passes, you'll always be older". But some are sweet and caring such as "Happy Birthday to the best friend anyone can ask for".
You can use these on the inside of the card, but they also work well for the outside of the card too. Especially, if you have one anemone cluster, a scripty die cut or foiled word and one of these longer sentiments like you see on this card.
So that's the look at my new Anemone Blooms collection with Spellbinders. This is my 4th collection and I think it is the best one yet. I'd love to hear what you think, I always appreciate your comments and feedback!
SUPPLIES
I'm listing the products I used below. Click on the link to go directly to the product. Where available I use compensated affiliate links which means if you make a purchase I receive a small commission at no extra cost to you. Thank you so much for your support

Spellbinders Anemones Etched Dies
Shop at:
SSS | SC | SB USA

Spellbinders Anemone Glimmer Blooms Glimmer Hot Foil Plate & Die Set
Shop at:
SSS | SC | SB USA | ACOT

Spellbinders Wonderful Script Sentiments Dies
Shop at:
SSS | SC | SB USA | ACOT

Spellbinders Hello, Friend Sentiments Glimmer Hot Foil Plate
Shop at:
SSS | SC | SB USA

Spellbinders Inside Card Glimmer Sentiments Glimmer Hot Foil Plate
Shop at:
SSS | SC | SB USA

Spellbinders Diagonal Glimmer Stripes Glimmer Hot Foil Plate
Shop at:
SSS | SC | SB USA | SB UK

Spellbinders Yana's Layered Script Sentiments Etched Dies
Shop at:
SSS | SC | SB USA | SB UK | AMZ

Spellbinders Magnolia Blooms Etched Dies
Shop at:
SSS | SC | SB USA | SB UK

Spellbinders Glimmer Specialty Clear Film Sheets
Shop at:
SSS | SC | SB USA

Spellbinders Tool 'n One
Shop at:
SSS | SC | SB USA | SB UK | AMZ

Spellbinders Quick Trimmer
Shop at:
SSS | SC | SB USA | AMZ

Spellbinders Quick Trimmer Replacement Blades
Shop at:
SSS | SC | SB USA | AMZ

New & Improved Platinum Machine With Universal Plate System
Shop at:
SSS | SC | SB USA | SB UK | AMZ

New & Improved Platinum Six Machine With Universal Plate System
Shop at:
SSS | SC | SB USA | SB UK

Glassboard Studio True White Glass Craft Mat | YANA20 for 20% Off
Shop at:
GBS

Spellbinders Glimmer Hot Foil System
Shop at:
SSS | SC | SB USA | SB UK | AMZ

Glimmer Hot Foil – Matte Gold
Shop at:
SSS | SC | SB USA | SB UK | AMZ

Spellbinders Glimmer Hot Foil 4 Rolls – Satin Metallics Variety Pack
Shop at:
SB USA | SB UK

Spellbinders Tool 'n One – White
Shop at:
SSS | SC | SB USA | SB UK

Spellbinders A2 White Card Bases – Side Fold – 25 pack
Shop at:
SB USA

Simon Says Stamp Mega Thick White Cardstock 130LB
Shop at:
SSS

Spellbinders Glacier Color Essentials Cardstock
Shop at:
SC | SB USA

Simon Says Stamp Fog Gray Cardstock
Shop at:
SSS

Spellbinders Barely Peach Color Essentials Cardstock
Shop at:
SB USA

Simon Says Stamp Great for Foiling Cardstock White Glossy
Shop at:
SSS

Spellbinders Vellum Sheets
Shop at:
SC | SB USA

Spellbinders Snowdrift Color Essentials Cardstock
Shop at:
SB USA

Hero Arts Hero Hues Premium Cardstock Peony
Shop at:
SSS | SC | MFT | AMZ

Spellbinders Mirror Gold Cardstock
Shop at:
SC | SB USA

Spellbinders Color Essentials Gems in Opal
Shop at:
SSS | SC | SB USA | SB UK

Jewel Picker Tool
Shop at:
SSS | SC | SB USA | SB UK | AMZ

Fun Foam Sheets
Shop at:
SSS | SB USA | AMZ

Bearly Art Mini Precision Craft Glue
Shop at:
SSS | SB USA | AMZ

White Foam Squares
Shop at:
SSS | SC | SB USA | AMZ