Hello crafters! Today I'm wrapping gifts using wax seals. This is not something I typically share, but I have been so fascinated with wax seals and gift wrap, I just had to do a video and share it with you.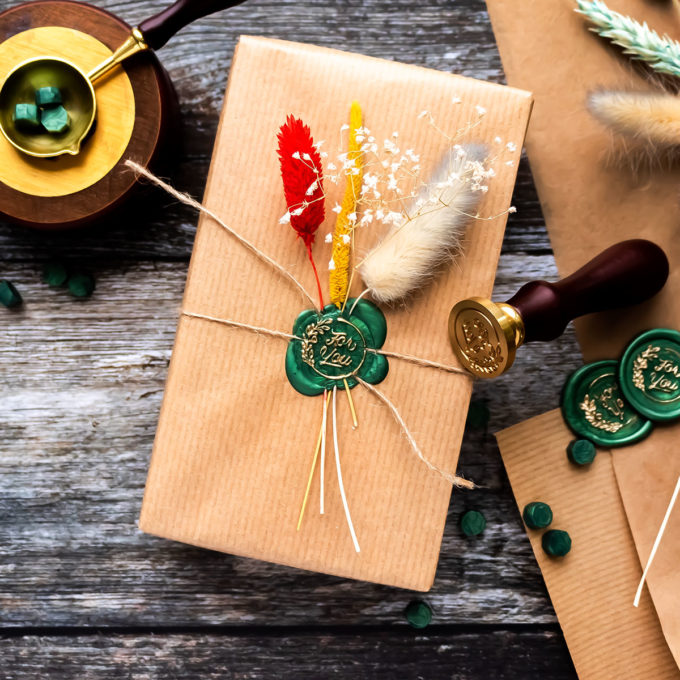 Like this project? Pin & save for later | Curious about my project photography? Click for details. 
If you have been with me for some time, you might remember some of my videos from last Fall where I shared the Spellbinders Wax Seals on cards. I have a Spellbinders Wax Seals Starter Kit Unboxing video and some tutorials: Monochromatic Color Scheme Cards + Wax Seals and Top 10 Wax Seals Tips. Wax Seals have been around for ages, and I am so happy to see Spellbinders bring them into the cardmaking world and make them more accessible and easy to use for us, cardmakers.
VIDEO TUTORIAL
Watch the video below or on my Youtube channel.
Like this video? Please give it a big thumbs up (you can do this on Youtube video page right under the video) and share it with a crafty friend! Leave me a comment too, I love hearing from you!
DETAILS
As much as I love to use wax seals on cards, I have been using them a lot to decorate my wrapped gifts. I prefer kraft wrapping the most when I'm using wax seals. This type of wrap seems to go better with the wax seal concept. If you want to do something else, I think using solid color wrapping paper would work best, try to avoid busy patterns as they would distract from the wax seal.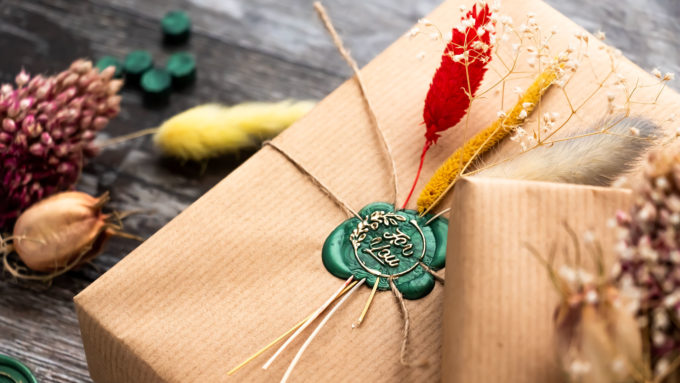 Next, I like to add dried flowers. You can purchase dried flowers from a local gift shop (I buy some from Afloral), or make your own dried flowers by picking flowers in the wild and drying them.
I have selected 3 different flowers, in different colors and added some Baby's Breath. I added a piece of yellow tape to temporarily secure the flowers in place. I made sure the piece of tape was small and will be hidden under my wax seal. I will not be removing this tape, it will sit there holding the flowers and I'll pour wax over it. You can hold the flowers with your fingers, but I find with these dried flowers, because they aren't flat like die cuts, they move around quite a lot and if I don't tack them down, they might move and position in an odd way, so it is just better to tack them before putting the wax on top. I also tied twine around the gift.
I melted 5 wax beads in my Bead Warmer and poured wax carefully over my gift. I decided to go with green wax for this gift, this is from Spellbinders in the color Green. It is a very beautiful, very sophisticated green, it has a bit of pearlescent shine to it. Very pretty. With the wax poured I used my seal stamp and I pressed it into the hot wax. I do actually press it down, this is not a flat surface, we have dimensional items here, so you do need to apply some pressure to have a good impression. I press it down and hold it down for a few seconds. I then wait for another minute or so, to let the wax cool before I remove the stamp.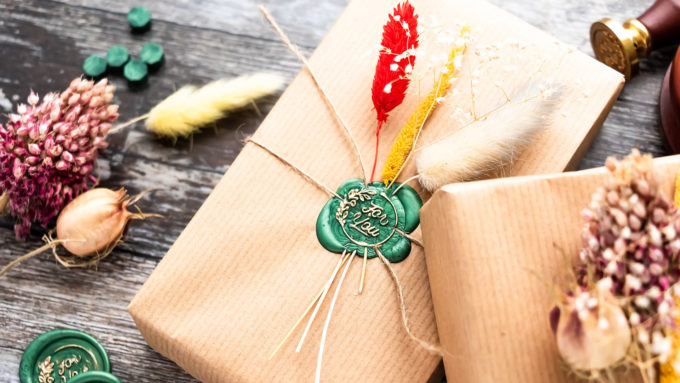 Sometimes I don't get good results, the stamp might not stamp perfectly, or I might not have enough wax there, so I just re-pour another layer of the same color wax on top.
One final step is to add a highlight. I used a DecoColor pen from Mary Uchida for this – it is perfect as it has a little chisel nib to add color to the raised sections of the seal.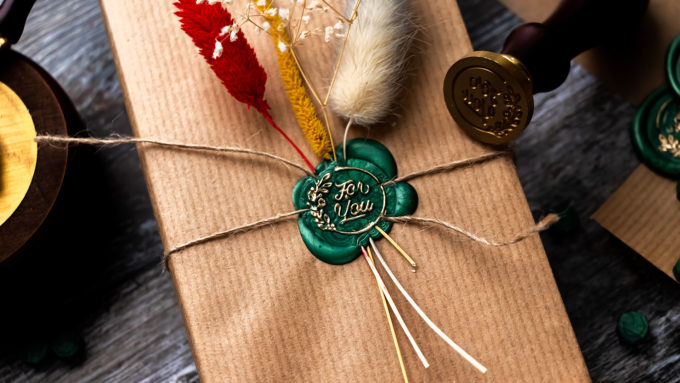 I hope you like it! Would you ever try to wrap your gifts like this? Or would you like to receive a gift with this type of wrapping? Let me know!
SUPPLIES
I'm listing the products I used below. Click on the link to go directly to the product. Where available I use compensated affiliate links which means if you make a purchase I receive a small commission at no extra cost to you. Thank you so much for your support!