Hello, crafters. I'm very excited to introduce my new collection with Spellbinders called Yana's Blooms. The collection is launching today and you can find it in the Spellbinders online shop and also at many retailers online, I have direct links in the Supply List below.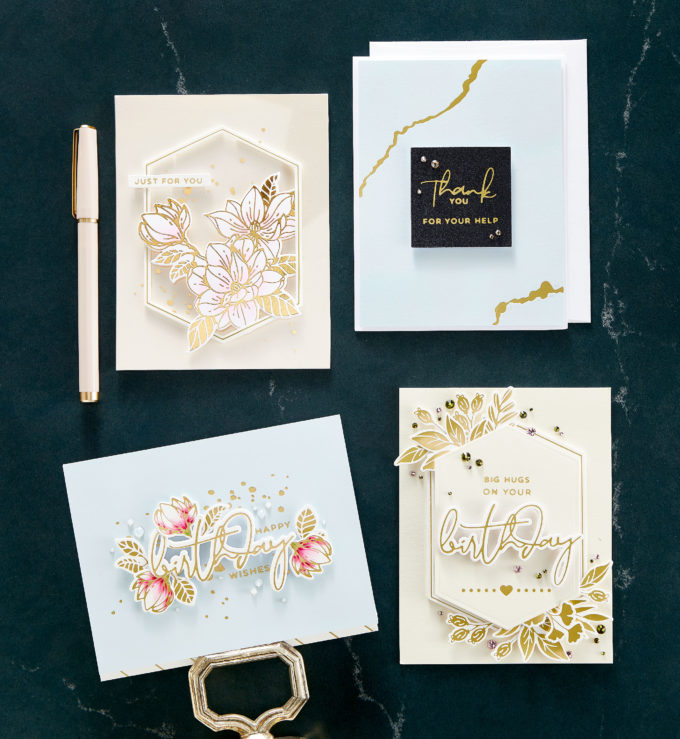 I designed this collection with elegant Spring Birthday card making in mind. I give a lot of Birthday cards and my friends and family always ask me to make and give them some birthday cards for them to gift to their friends, thus I never have any on hand and this is the one type of card I need the most.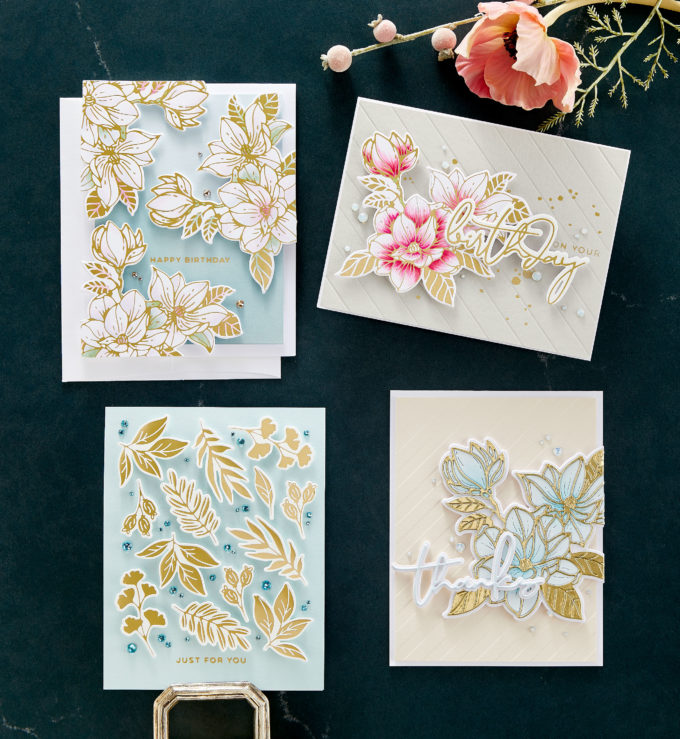 This collection includes 7 products, 5 of them – hot foil glimmer plates and 2 – dies.
COLLECTION OVERVIEW
Watch the video below or on my Youtube channel – you can still watch it on Youtube.
Magnolia is the design around the entire collection. I have this design in die form and also in a form of 2 different glimmer plates. The die is the largest giving you a pretty big magnolia cluster for your cards. All of these products are designed for A2 card making, but they can be used for other card sizes. You can adapt them to other sizes if you want.
The Magnolia Blooms die set has 2 pieces – a detail one to cut the magnolia detail and outline, and also a shadow die. You can do several techniques with this die, including paper piecing or dry embossing to add color to your magnolia.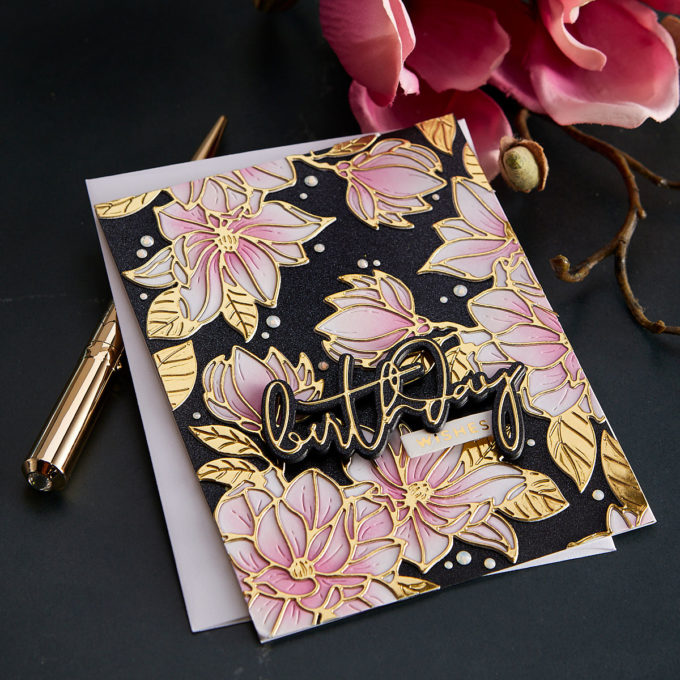 Here are a few additional card examples created using this die to show you various uses & color options:
This same design is available in glimmer form, but slightly smaller, it is the Magnolia Glimmer Blooms. Still large enough to take a center stage on a card, this includes a magnolia cluster glimmer plate and a coordinating die to cut the entire cluster out.
This is a mostly outline design with solid leaves. You can color it, or leave it free from coloring, either way, it looks stunning. Here are a few examples:
It also looks amazing foiled in black on black cardstock for a very dramatic look:
There's also a 3rd magnolia set, called Magnolia Bouquet. This one features separate images – flowers and leaves. These are glimmer plates with coordinating dies. The idea behind this set is to allow you to build your own clusters or to add additional imagery to the Magnolia Blooms cluster. The designs are exactly the same, but the size is again, slightly smaller.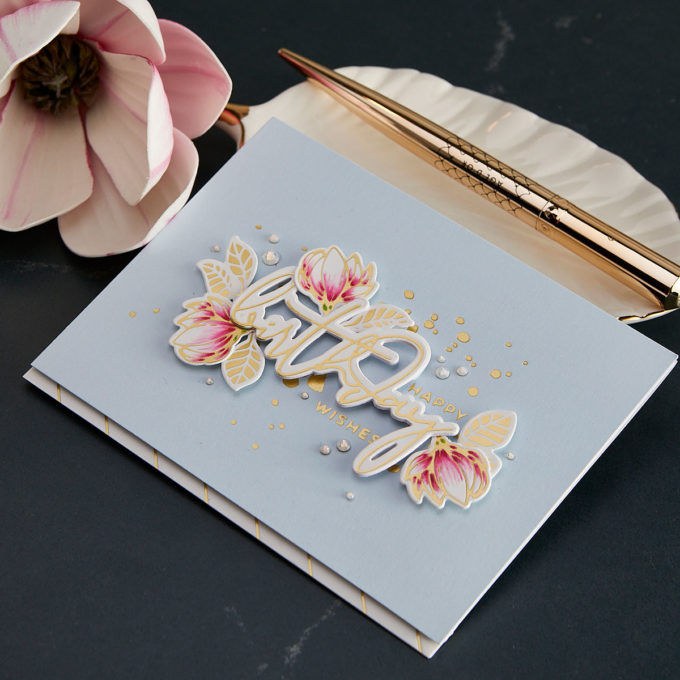 You can use these magnolia blooms to create a floral focal point for your card or you can use just a single flower or a single leaf as an accent.
I designed 2 sentiment sets – one is a die set called Yana's Layered Script Sentiments and there's also a hot foil sentiment set called Splatter Sentiments. In the die set, you have 3 large word dies – Happy, Birthday, and Thanks. Each die has a detail and shadow layer. The shadow layer looks especially beautiful when die cut from vellum, it gives a very soft look.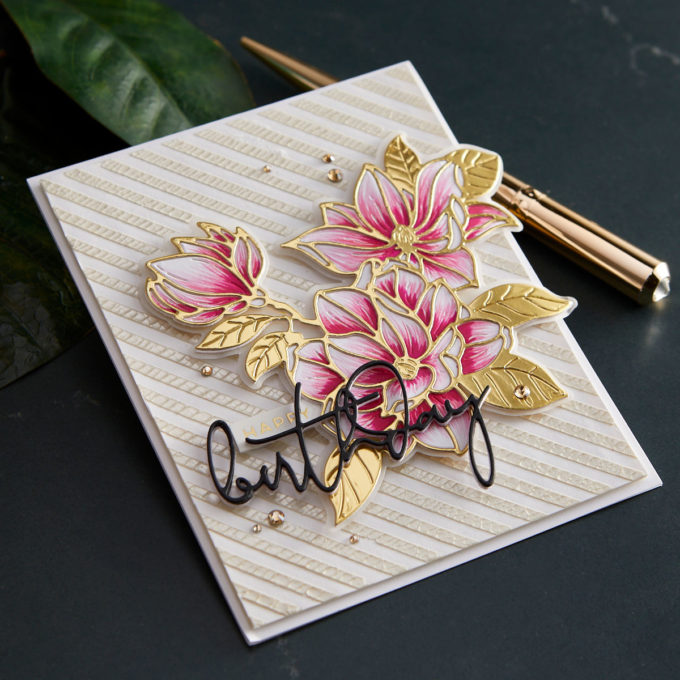 The shadow layer dies from the Yana's Layered Script Sentiments coordinates with the glimmer sentiments from the Splatter Sentiment glimmer set. The size is the same and you can use the shadow die to cut out a foiled sentiment. We didn't do the foiled "Happy" in that script font, but we did include a small "happy" plate. You also have additional small words to foil "Birthday Wishes", "On Your Birthday", or "Happy Birthday". The Thanks also has supportive words and you have 2 options – "Thanks for your friendship" and "Thanks for your support". Of course, you can also pair these with sentiments you already have in your stash.
Also works well with my previously released Yana's Tiny Sentiments
The Splatter Sentiments set also includes a thick frame for A2 cards and 3 splatter elements. I love the look of splatter on my cards, but I can never create perfect splatter, I either overdo it with the splattering or don't splatter enough. With these glimmer plates, you can add just the right amount of splatter to your project.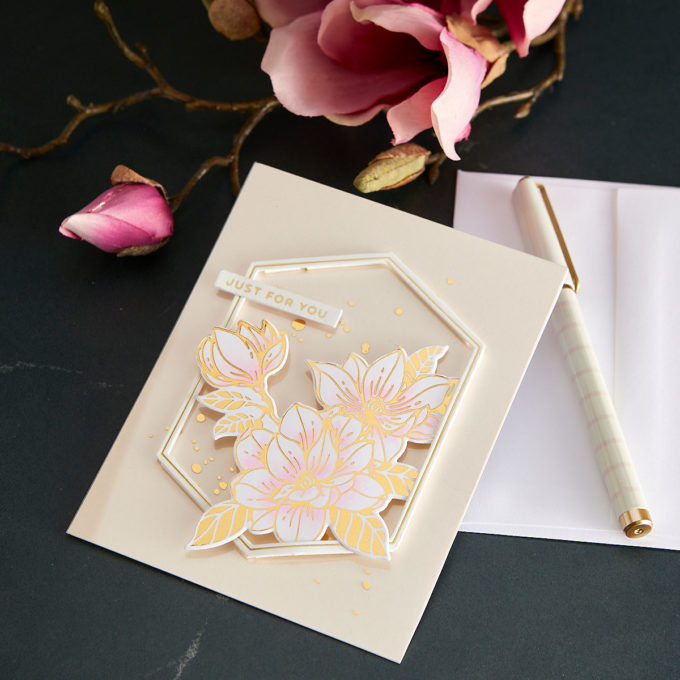 Next is the Geo Foliage glimmer and coordinating die set. This set features a large geometric frame shape and coordinating dies to cut out either a frame or a label. And this shape coordinates with the diamond shape from my previous collection. You can layer the 2 shapes to create a new shape.
This set also includes 2 tear plates – a longer and shorter one. These are quite unique and I can't wait to see how you'll use them on your cards.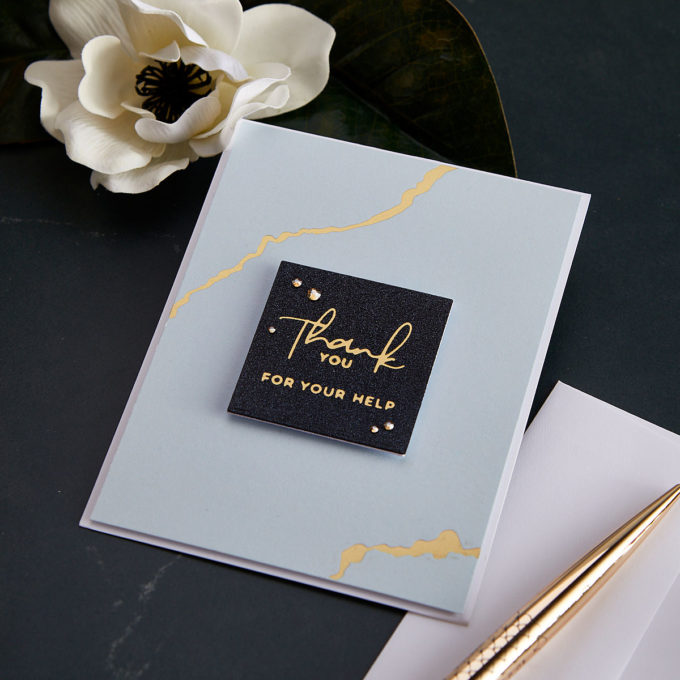 We had some space left when designing this set, so I filled it with additional foliage. This time the foliage is slightly larger and it is solid. It looks amazing when foiled in Matte Gold. And the foliage pieces all have coordinating dies.
And the last, but not least, is a new background plate, the Diagonal Glimmer Stripes plate. This one might look familiar as it is very similar to the Skinny Stripe background plate released in my previous collection. The thickness of the stripes is the same here, but the directionality is different as these stripes are diagonal. Perfect for clean and simple card making and looks amazing when foiled in Opal foil on colored cardstock – it gives a tone-on-tone look.
So that's the look at my new Yana's Blooms collection with Spellbinders. This is my 3rd collection and I think it is the best one yet. I'd love to hear what you think, I always appreciate your comments and feedback! I'll be back soon with several tutorial videos showing how to use the products from this release.
Thanks for joining me today, love you guys and I'll see you next time!
SUPPLIES
I'm listing the products I used below. Click on the link to go directly to the product. Where available I use compensated affiliate links which means if you make a purchase I receive a small commission at no extra cost to you. Thank you so much for your support

Magnolia Glimmer Blooms Glimmer Hot Foil Plate & Die Set
Shop at:
SSS | SC | SB

Diagonal Glimmer Stripes Glimmer Hot Foil Plate
Shop at:
SSS | SC | SB

Geo Foliage Glimmer Hot Foil Plate & Die Set
Shop at:
SSS | SC | SB

Splatter Sentiments Glimmer Hot Foil Plate
Shop at:
SSS | SC | SB

Yana's Layered Script Sentiments Etched Dies
Shop at:
SSS | SC | SB

Magnolia Bouquet Glimmer Hot Foil Plate & Die Set
Shop at:
SSS | SC | SB

Magnolia Blooms Etched Dies
Shop at:
SSS | SC | SB