Recently I reorganized my IKEA SKÅDIS pegboard as the old layout was getting too messy and kind of boring for me, and a lot of you asked for a quick video, so here it is!
Watch it below or on my Youtube Channel:
For this new set up I mainly grouped similar storage units together versus having them all over the place. See my previous set up HERE.
I have 2 square IKEA SKÅDIS pegboards mounted onto my IKEA workstation (not mounted to the wall). There are 4 SKÅDIS shelves attached one under the other on the left hand side of my pegboard. Currently I'm using them to store everything colorful.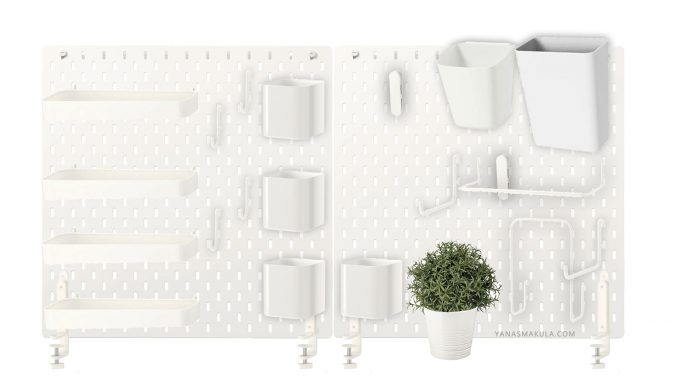 On the top shelf I have my Jane Davenport inks sitting on the side and displaying the color of each pad at the top. The next shelf houses my Tonic Studios Nuvo Mousses, also on their sides to be able to see the pretty color inside. The next shelf houses my Tonic Studios Nuvo Drops in the colors I use most often. The bottom shelf houses the most heavy items – Hero Arts liquid watercolors and Hero Arts Shimmer Inks.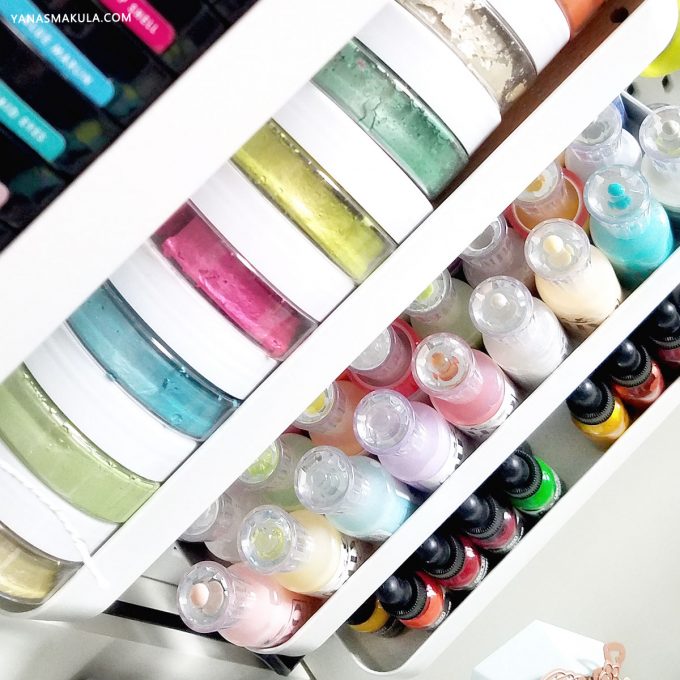 Next I have a section with 4 SKÅDIS hooks and 4 scissors hanging on the hooks. These are scissors by FSJ and I love them not only for their quality but also for the pretty green handles. They add a pop of color to my peg walls and these do use often, not only for crafting but for household things, too.
Next I have 3 SKÅDIS cups one on top of the other and 4th cup off the side. I'd love to add more cups to this display. The bottom two hold my copic marker refills. The top cup holds some of my most used Glimmer foil rolls. The 4th cup houses my Tonic Studios Aqua Flow Pens as well as Shimmer Pens and a Bone Folder.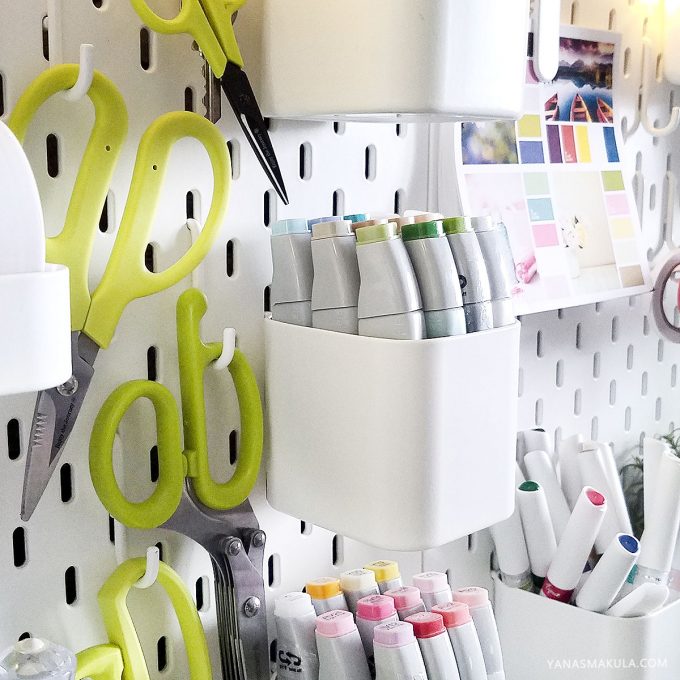 Above the 4th cup I have a stack of printed color cards for inspiration all hanging together on a SKÅDIS clip.
Next is another cup from IKEA, SUNNERSTA, not part of a SKÅDIS series but it is easily attached to the top of the peg board. Here I keep my colored pencils by Faber Castell. Next is another IKEA bucket, VARIERA, again not part of SKÅDIS collection but one that can hang from the top of the pegboard. This one I use for color charts and also some odd things. It can also be used a handy paper waste bucket.
Below it is a IKEA SKÅDIS Roll Holder with some pretty washi tapes. Behind the tapes I have a clip with a watercolor dot chart.
Finally a have 2 IKEA SKÅDIS Hooks that I use to store my double sided tapes. They are very convenient for me and I use them nearly daily. I also have a small fake plant here to add some greenery to the place and an IKEA SKÅDIS Letter Holder but I'm not currently using.
So this is the look at my current IKEA SKÅDIS set up, I'll probably change it again soon, but for now – I love the way it looks!