Hello crafters. In this video, I'm sharing a DIY stitching thread storage idea. The thread I have is from DMC, it is from the Spellbinders website, Spellbinders has bundles with various colors that perfectly match the colors of their cardstock, which is super clever if you like color-coordinated supplies.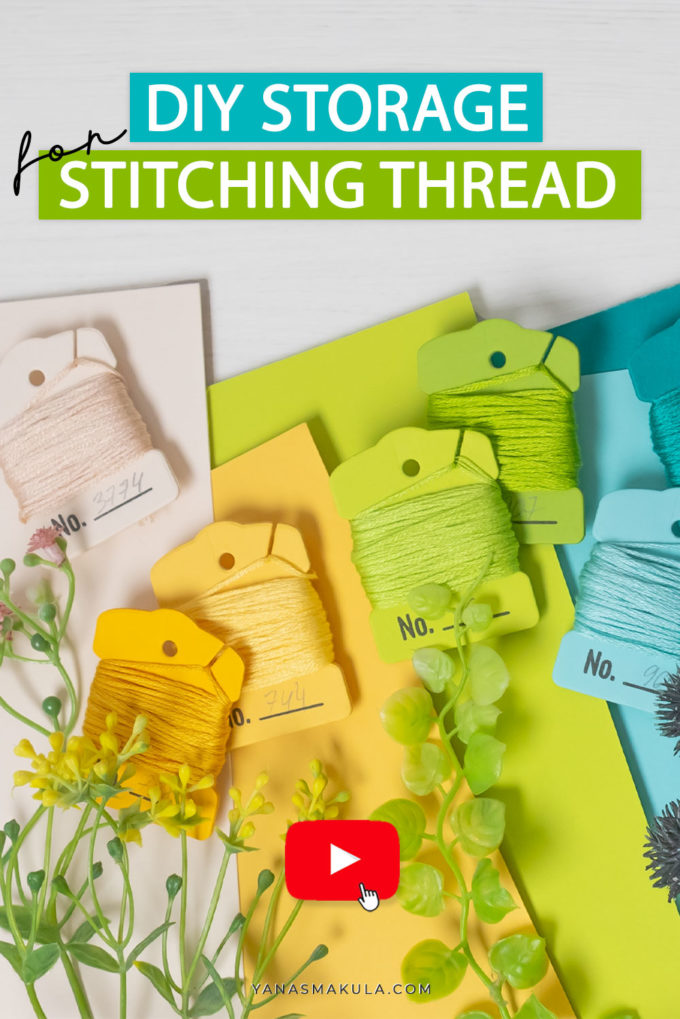 Like this project? Pin it and save for later | Curious about my project photography? Click for details. 
VIDEO TUTORIAL
Watch the video below or on my Youtube channel.
DETAILS
Spellbinders has made it very easy for us crafters, they took all the guesswork out and picked the colors of thread that perfectly match the colors of their Color Essentials cardstock. If you like doing tone-on-tone, this makes it so much easier for you, you can easily do tone-on-tone stitching and it looks amazing.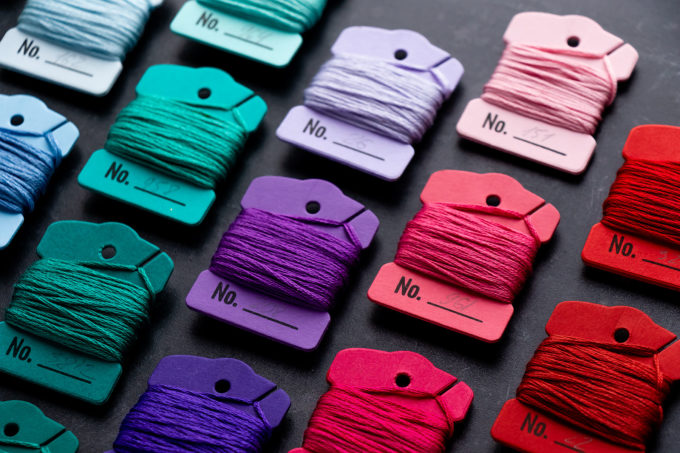 I love my storage to be not only functional but also pretty and colorful. I have a white craft room, the walls are white, the floor is white, and the ceiling is white, so I try to add color to my space by having colorful storage. Because the thread I have matches the color of the Spellbinders cardstock, I created custom cardstock spools to store my thread.
One of the Club products from Spellbinders this year was a Stitched Color Wheel stamp set and coordinating die. It is still available. And these are fabulous products to use to create your own thread storage. I die-cut 3 spools from colored cardstock, 3 pieces for each color. I wanted the spools to be sturdy, so cutting 3 did the trick for me.
Next, I stamped the line number in black ink onto the bottom part of the spool to have space to write the thread number. I then used glue and adhered the 3 die cuts together creating one thick spool for my thread.
Next, I transferred the floss onto spools. The Spellbinders website will tell you which color thread coordinates with which color cardstock, for example, DMC Pale Yellow 744 thread coordinates with Spellbinders Beeswax cardstock.
From here you can store your spools any way you like, either in a special container, in a drawer, or out in the open.
Have fun organizing!
SUPPLIES
I'm listing the products I used below. Click on the link to go directly to the product. Where available I use compensated affiliate links which means if you make a purchase I receive a small commission at no extra cost to you. Thank you so much for your support!

Spellbinders Stitched Color Wheel – Clear Stamp of the Month
Shop at:
SB USA

Spellbinders Stitched Color Wheel – Coordinating Cutting Dies
Shop at:
SB USA

DMC Color Essentials Floss Bundle Black & White 2 Pack
Shop at:
SB USA

DMC Color Essentials Floss Bundle Neutrals
Shop at:
SB USA

DMC Color Essentials Floss Bundle Warm
Shop at:
SB USA

DMC Color Essentials Floss Bundle Cool
Shop at:
SB USA

Spellbinders Platinum 6 Die Cutting Machine
Shop at:
SSS | SC | SB USA | SB UK | AMZ

Spellbinders Platinum Die Cutting Machine
Shop at:
SSS | SC | SB USA | SB UK | AMZ

New & Improved Platinum Machine With Universal Plate System
Shop at:
SSS | SC | SB USA | SB UK

New & Improved Platinum Six Machine With Universal Plate System
Shop at:
SSS | SC | SB USA | SB UK

Spellbinders Tool 'n One – White
Shop at:
SSS | SC | SB USA | SB UK

Glassboard Studio True White Glass Craft Mat | YANA20 for 20% Off
Shop at:
GBS

Tsukineko Versafine Onyx Black Ink
Shop at:
SSS | SC | AMZ

Spellbinders Color Essentials Cardstock
Shop at:
SB USA

Bearly Art Mini Precision Craft Glue
Shop at:
SSS | SB USA | AMZ

Plastic Floss Bobbins
Shop at:
AMZ