Hello crafters. Today I have an unboxing and assembling video featuring a new storage product from Spellbinders called Assemble & Store – Glimmer Foil Roll Station.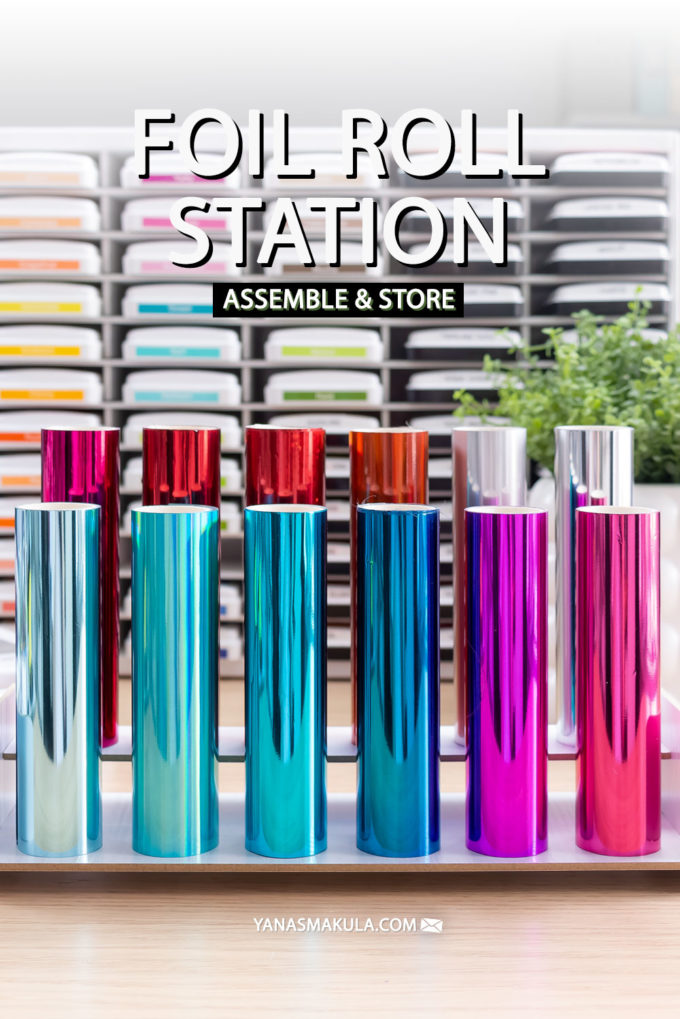 I am a big fan of the Glimmer Hot Foiling System and I have a lot of different foil roll colors. To me foiling is like stamping on steroids, and similar to stamping, when one has all sorts of different colors of ink, I have all sorts of different colors of foil.
VIDEO
Watch the video below or on my Youtube channel.
Spellbinders has developed a new storage system designed specifically to hold glimmer foil, Foil Roll Station, and they made it so that it fits on the IKEA Mosslanda Picture Ledge shelf perfectly. If you have a shorter shelf – you can fit 2 of these foil roll stations.
There are 4 products in the Assemble & Store collection from Spellbinders. Aside from this Foil Roll Station, there's also a Die Cutting Station that holds cutting plates, and various Spellbinders tools, I don't have it yet, but it is on its way here. And there are also 2 storage crates – a small one and a large one. My personal favorite is the Foil Roll Station with the Die Cutting Station being the runner-up.
One Foil Station holds 12 rolls of foil – I love the way it looks. The only problem with this storage system is that the foil unrolls on its own. This doesn't bother me, I don't mind it, but if it bothers you, you can add a piece of low-tack tape to prevent it from unrolling.
Most of my foil is now organized on these 2 Foil Roll Stations. The other foil sits on the shelf next to it, I plan to add 2 more of these foil roll stations so that all of my foil can be properly organized for easy access.
SUPPLIES
I'm listing the products I used below. Click on the link to go directly to the product. Where available I use compensated affiliate links which means if you make a purchase I receive a small commission at no extra cost to you. Thank you so much for your support!

Assemble & Store Glimmer Foil Roll Station
Shop at:
SB

Assemble & Store Die Cutting Station
Shop at:
SB

Assemble & Store Small Storage Crate
Shop at:
SB

Assemble & Store Large Storage Crate
Shop at:
SB

Spellbinders Glimmer Hot Foil System
Shop at:
SSS | SC | SB | AMZ