Hello friends! After my recent move back to Ukraine I've been rather busy trying to organize and set the perfect craft space for myself. I've shared a video almost right after our more (WATCH IT HERE ON MY YOUTUBE CHANNEL) and showed you the state of my craft corner; I mentioned I was planning to go to IKEA to pick up a few more furniture pieces to complete my organization. I'm happy to report that I've purchased, installed and filled them to the brim with my favorite craft supplies!
You'll notice I don't have a lot of supplies. My philosophy is – Less is More. I find it easier to create with a few, but truly favorite supplies. I purge once or twice a year to keep my clutter under control.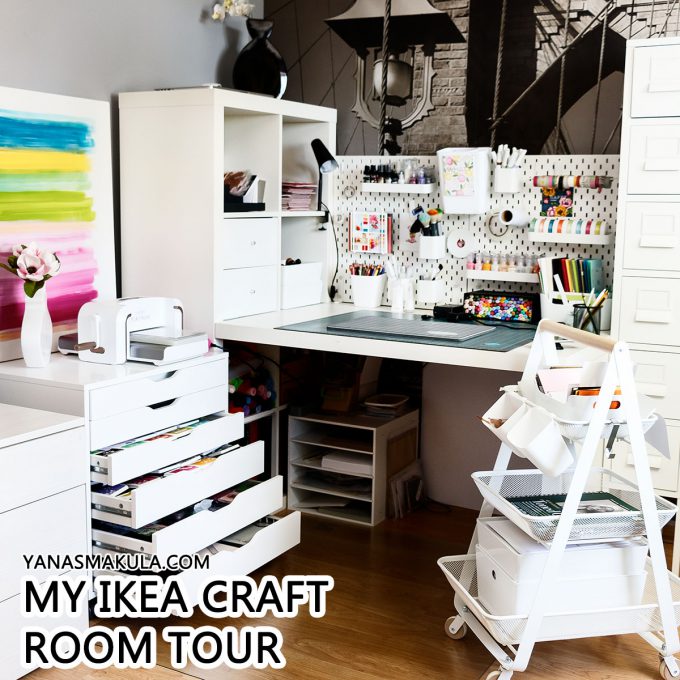 In this post I'm sharing a detailed look at my craft corner/craft room furnished using IKEA pieces. I hope you'll find this info useful for your own craft room/corner organization.
If you are visiting my blog for the first time or have not yet subscribed – be sure to do so! I share lots of handmade projects every week delivering them straight to your inbox! I also occasionally share information about crafty sales and new product releases I love. Subscribe here.
VIDEO TOUR
Want to see a video tour or my craft corner? Watch it below or on my Youtube Channel:
Like this video? Please give it a thumbs up (you can do so on Youtube video page right under the video) and share with a crafty friend! Leave me a comment too, I love hearing from you!
CRAFT CORNER TOUR
My craft corner is situated in our bedroom. I don't have a dedicated room for my craft supplies, but rather only take up a corner in the bedroom. Because of this I wanted to keep my craft space as neatly organized as possible and beautiful at the same time.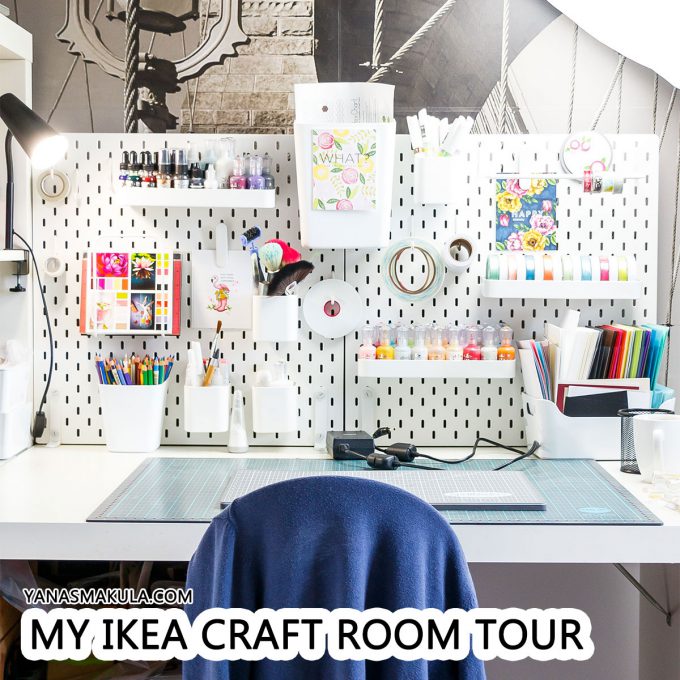 My main desk area is an IKEA KALLAX workstation 190.465.50 (in white). This is an older model which I purchased 5 or so years ago. IKEA still makes this workstation, but it looks slightly different (table legs are different).
IKEA Containers I use on my desk to organize:
KUGGIS 202.802.07 (for ink blending tools), 502.823.04 (for paper sheets, fits full sheets, uncut), 602.802.05 (for more paper or other large objects)
SUNNERSTA 002.802.08 (for pencils, I also clip it onto my cart)
VARIERA 301.550.19 (for pre cut paper)
I love the big desk – it's nice and wide, I have plenty of space to craft, film and even work on multiple projects at a time. I don't like the KALLAX unit itself as I find it to be a waste of space in a way. The cubes/compartments are too deep for me and I hardly ever utilize the entire depth of the cubes. I store my scrapbook albums in the bottom cubes (back from my scrapbooking days), felt and some paints.
The cubes above the desk are mostly empty. I have 2 drawers in one which are currently empty (they don't quite work for me as I often have my tripod sitting on my desk and it prevents drawers from being fully opened). I have plastic containers with my ink blending tools, my 6×6 cling background stamps and an empty desktop organizer sitting in other cubes.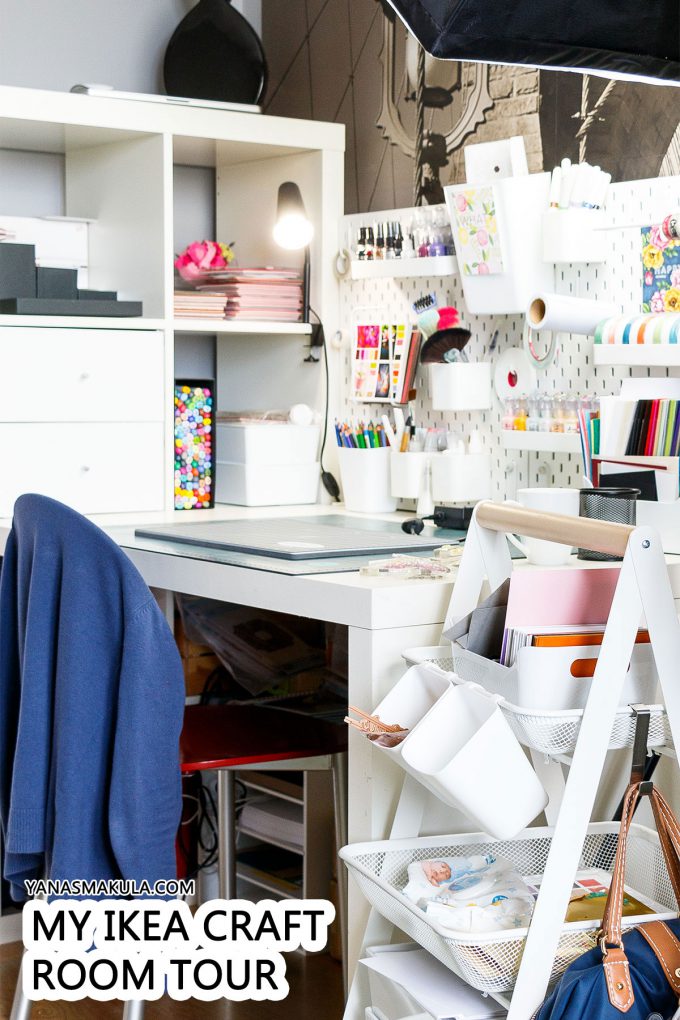 PEG BOARD SKÅDIS
On the back of my table I've attached 2 square IKEA Peg Boards SKÅDIS 003.208.03. I have them mounted onto the desk (using 103.207.89 connectors) and not onto the wall. This way if I ever decide to move my desk, the peg boards will move with it. See the connectors up-close below: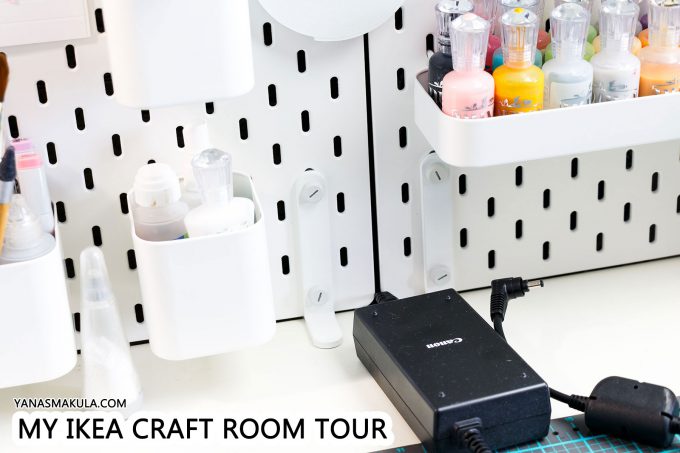 connectors that attach peg board onto the table
Plus it saves me from having to drill holes in the wall – I have photo wallpaper on the wall behind my desk which I'd rather not put holes in.
The peg board holds a lot of my "colorful" supplies (Nuvo Drops, Nuvo Mousses, Polychromos Pencils, brushes & markers). It's my happy place. It's pleasant to look at, easy to re-configure and within reach. I have the following attachments on my peg board:
Shelf 003.207.99 (holds 26 bottles on Nuvo Drops or 8 jars or Nuvo Embellishment Mousse)
Roll Holder 703.208.09 (perfect for holding washi tape, ribbon etc – anything you can use without having to remove it from the holder)
Container 203.207.98 (holds brushes, markers, pens, bottles)
Hook 503.356.18 (holds a roll of masking tape & double sided tape)
Letter Holder 403.208.15 (holds mini MISTI, color chart cards – SEE THIS VIDEO)
Hook 203.208.02 (holds foam tape, double sided tape, micro pore tape)
Clip 003.216.14 (holds handmade cards)
VARIERA 103.031.48 (not a part of the peg board system, I use it to store various charts)
Click photos to view larger:
ALEX DRAWER UNIT
I also have a deep ALEX drawer unit401.962.41. It sits to the left and holds all of my essentials. If needed, it can be rolled and hidden under the workstation. On top I have my Platinum Die Cutting Machine from Spellbinders, my heat tool as well as some pretty decor.
The two top drawers have dividers which help me organize my space. Top drawer divider is KUGGIS 002.802.08, it doesn't perfectly fit in the drawer, but it works for sorting and organizing small things.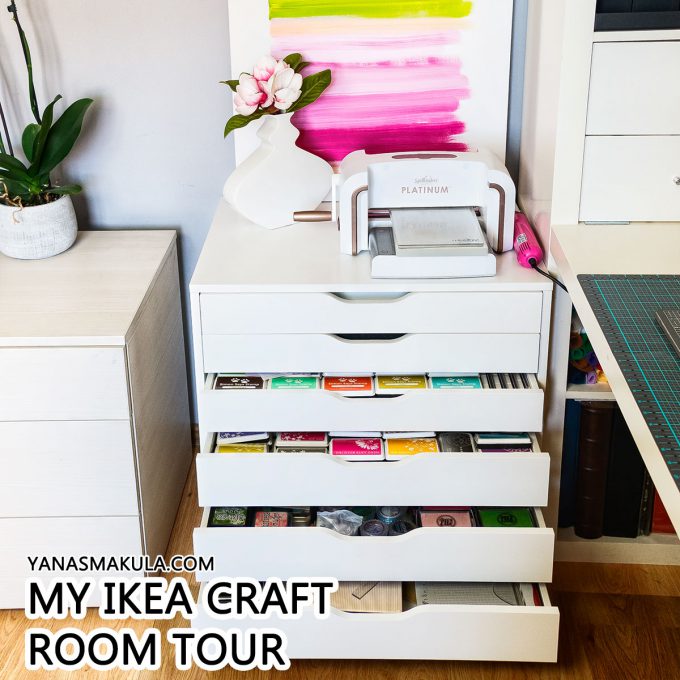 Second from the top drawer has a different insert – EKET 303.543.30, it organizes my embossing powders, most used inks and clear blocks.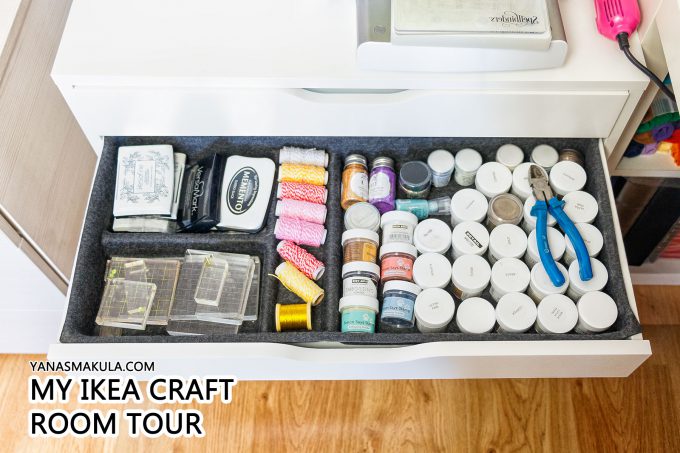 The 3 drawers following hold my most used inks – Simon Says Stamp, Hero Arts, Aver Elle & Distress. Bottom drawer holds my most used tools – paper cutter, scoring board, stamp platform.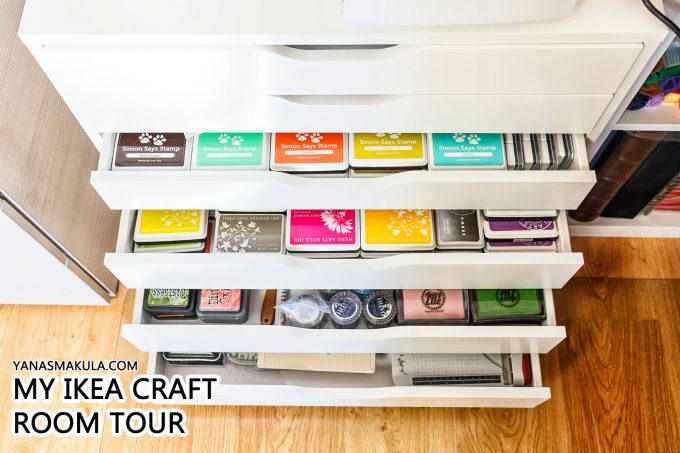 ADDITIONAL STORAGE
I have a RISATORP cart 202.816.31 off to the right. It holds all of my papers as well additional removable containers for bits and pieces 503.037.35. Behind it stands a tall skinny metal unit that holds all of my stamps and dies (actually, it doesn't hold all of them, but that is that it is filled with).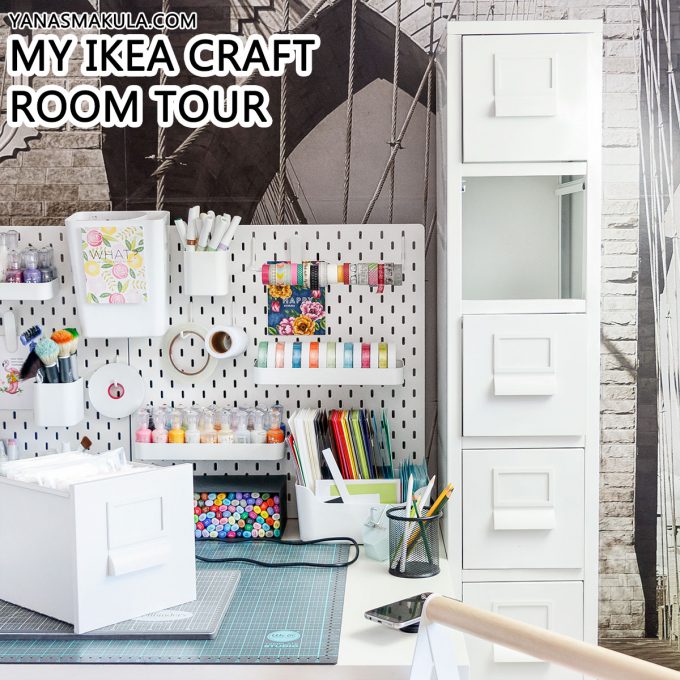 How is your craft room set up/organized? Is there an IKEA piece that works really well for storing organizing something in your craft room? Share below!
SAVE/PIN ME
Save this idea to one of your boards on Pinterest for later!