Hello friends! A while back I shared a photo of how I store my DMC thread on Instagram and many of you asked about the colorful bobbins that I use for storage. Here are those photos:
I promised I'd let you know when the product I used would become available and it finally has – there is a new Stitched With Love Bobbin Clear Stamp & Die Set from Spellbinders. It is not identical to the one I used (as I used a Clear Stamp & Die Club product from several years ago, it is discontinued, I have a video HERE), but it does die cut the same size and shape bobbin. The only difference is in the coordinating stamps.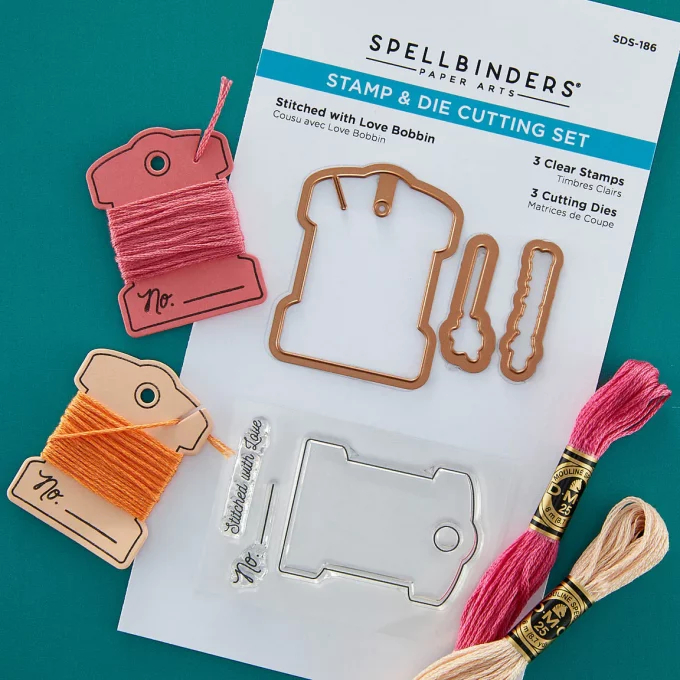 If you are visiting my blog for the first time or have not yet subscribed – be sure to do so! I share lots of handmade projects delivering them straight to your inbox! I also occasionally share information about crafty sales and new product releases I love. Subscribe here.
This is a fantastic product if you'd like to create custom thread storage for your craft room. Creating the bobbins is a time-consuming task, I think it took me nearly all day to make mine, but I love the result, I love how well everything is organized and how nearly the thread is stored in my drawer.
To create each bobbin I die cut the shape 3 times from either white or colored cardstock (a lot of the DMC thread coordinates with the Spellbinders colored cardstock), and I stamped a No___ to be able to write the number of the thread. I wrote the number using a pencil in case I ever needed to switch the bobbin to a different color thread.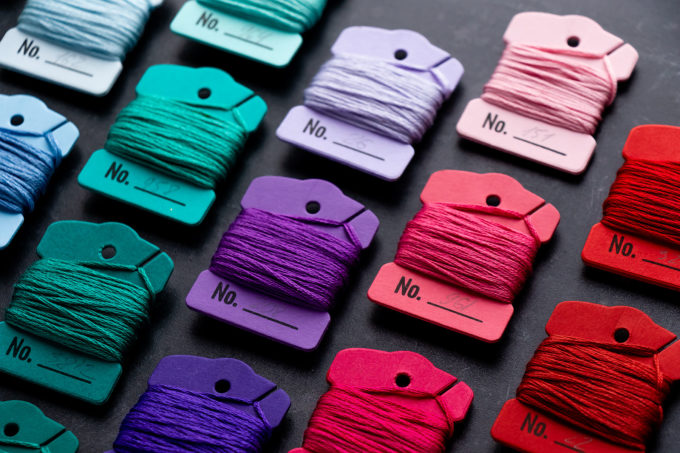 In addition to the custom die-cut bobbins, I also use this storage tray to organize my thread. I have it sitting in my IKEA Alex drawer. It is fabulous for storing these bobbins, I have about 5 in each compartment and I have them all sorted by color. My heart is happy!
Btw, the Needle Minder (it is a cute little enamel pin with a magnet on the back, designed to help you "mind" your needles) is also available. This is not only a super cute product, but also something helpful to not lose your needle or the Bearly Art glue pin.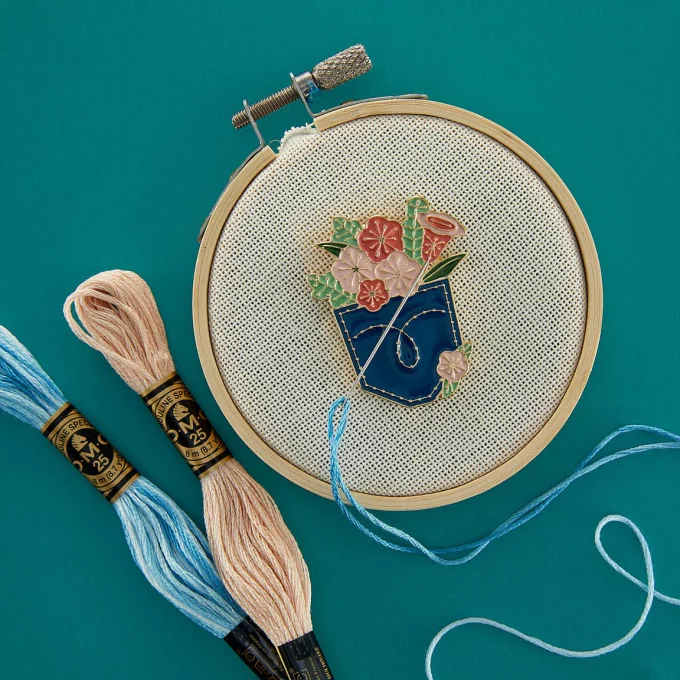 SUPPLIES
I'm listing the products I used below. Click on the link to go directly to the product. Where available I use compensated affiliate links which means if you make a purchase I receive a small commission at no extra cost to you. Thank you so much for your support!

Spellbinders Stitched With Love Bobbin Clear Stamp & Die Set
Shop at:
SB USA

Spellbinders Pocket of Posies Needle Minder
Shop at:
SB USA

DMC Tapestry Needles Size 22
Shop at:
SB USA

DMC Color Essentials Floss Bundle Black & White 2 Pack
Shop at:
SB USA

DMC Variegated Floss Bundle
Shop at:
SB USA | AMZ

DMC Color Essentials Floss Bundle Neutrals
Shop at:
SB USA

DMC Color Essentials Floss Bundle Warm
Shop at:
SB USA

DMC Color Essentials Floss Bundle Cool
Shop at:
SB USA

DMC Color Variations Floss Bundle Warm Tones
Shop at:
SB USA