It has been several days since I posted any personal war updates and I know you are all eager to hear from us. We are okay and safe. Thank you all for your unstoppable support.
On Sunday Oles and I drove to a field near our town (it is safe to be there, as we are in the West of the country) to take photos of the gown I received as a gift from an incredible woman, Marcie Sexauer. Thank you again, Marcie. I posted about it on my Instagram account HERE. This dress was auctioned for $2000 to help Ukraine.
Переглянути цей допис в Instagram
The war rages on in the other parts of the country. Every morning I wake up, drink my coffee, and thank our armed forces for yet another peaceful morning. Here we've stopped saying "Have a good evening" when we say goodbye. Instead, saying "Have a quiet night" has become customary. Meaning "no air raid sirens, and rockets flying in the sky".
We are about to receive the first batch of handmade cards created by YOU for our Ukrainian soldiers, Oles tells me a package should be delivered any day now. We ordered some granola bars and going to get together with friends and pack them: a card + granola bar before shipping them off to the East. It is the least we can do.
Craft companies continue to help us and provide support in many different ways. Spellbinders has released a special stamp set with a sentiment I helped select. Actually, it was my mother, Ruslana, who suggested it – The Road to Freedom is Bordered by Sunflowers. The sunflower is the national flower of Ukraine and this message is so fitting.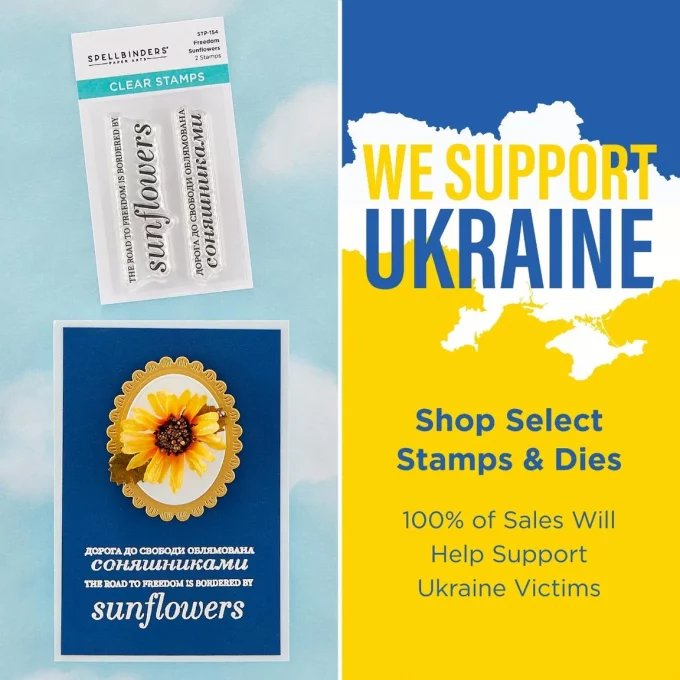 There's an entire mini-collection in the Spellbinders shop called Support Ukraine. Please consider shopping if you can. Thank you!