If you have just a handful of Copic markers or your are looking to start a collection of Copic markers this blog post and video is for you.
About a year or so ago I shared a blog post over about my favorite Copic Marker Color Combos, that post has gotten thousands of views ever since and I've had a lot of people reach out to me and thank me for that information. I've been meaning to turn that post into a video and expand upon it to share even more useful info and I finally have.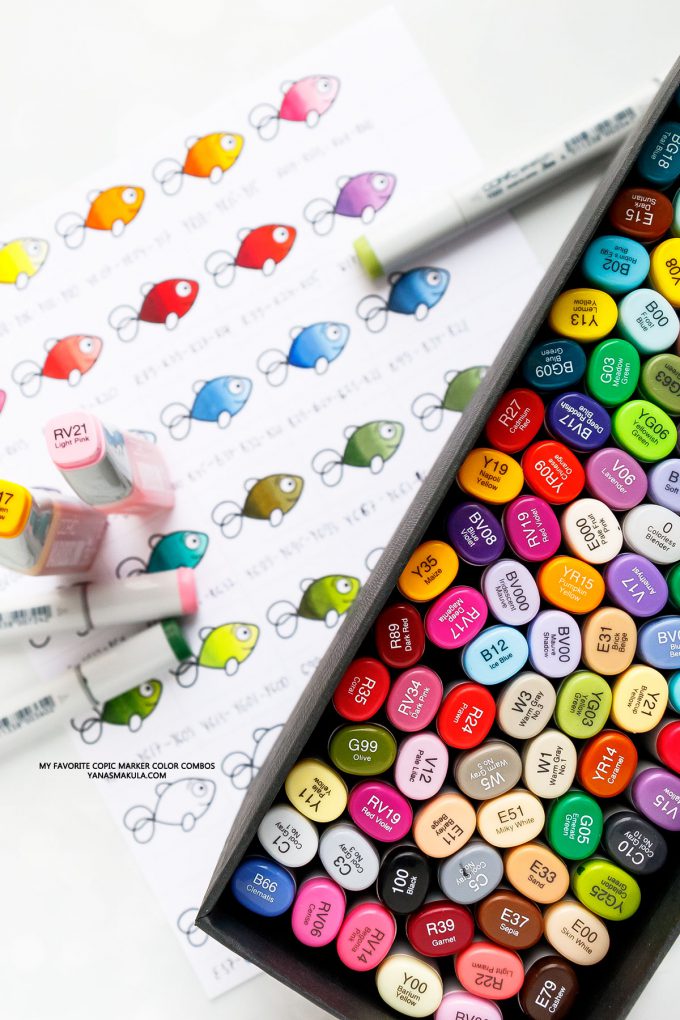 I don't have a lot of Copic markers and most of the markers that I have I've grouped into combos that work for me and help me have great coloring results every time.
I am not a certified Copic instructor, I simply enjoy using these markers to color my stamped images. I am not a pro and I still have a lot to learn. But I do have favorite color combos that work for me and I'm happy to share them with you.
VIDEO | WATCH BELOW OR ON YOUTUBE
Like this video? Please give it a big thumbs up (you can do this on Youtube video page right under the video) and share with a crafty friend! Leave me a comment too, I love hearing from you!
I bought my first Copic markers on Ebay a few years ago, those were used markers and there were about 50 different colors; not all colors worked well together; many I ended up not using at all and I still do not use them. Over the years I bought a few additional colors to grow my collection. I have 101 marker today. Do I feel I have enough to color? Yes, absolutely. Do I want to get more colors? Yes, absolutely, but I'm sticking to those I have for now unless I come across some fantastic color combo that I simply must have. My point is, you don't have to have a lot of colors to do nice coloring. Just pick what works for you and get those.
How do you know if you'll like the Copic colors before you get them? 
If a friend of yours has Copics, have a play-date. See what colors you like, write them down.
Look for Copic Color Combos online. I love to search for those on Pinterest. You'll be surprised – there are so many different suggestions and images to choose from. Not all of them will work for you, but at least it's a place to start.
You can also look for color combos on various crafting blogs and check the descriptions and supply list – I for example always try to list all of the Copic marker colors I used to color a specific image. See all blog post that feature Copic coloring HERE.
If you already have a small collection of Copics I suggest you create a color combo chart. You might already have a regular Copic marker chart or a hex chart but having a color combo chart is also helpful especially if you like to use the same colors when you color. For this you'll need to pick a simple outline image, measure it and based on its measurements create a grid on a sheet of cardstock that you usually use to color on.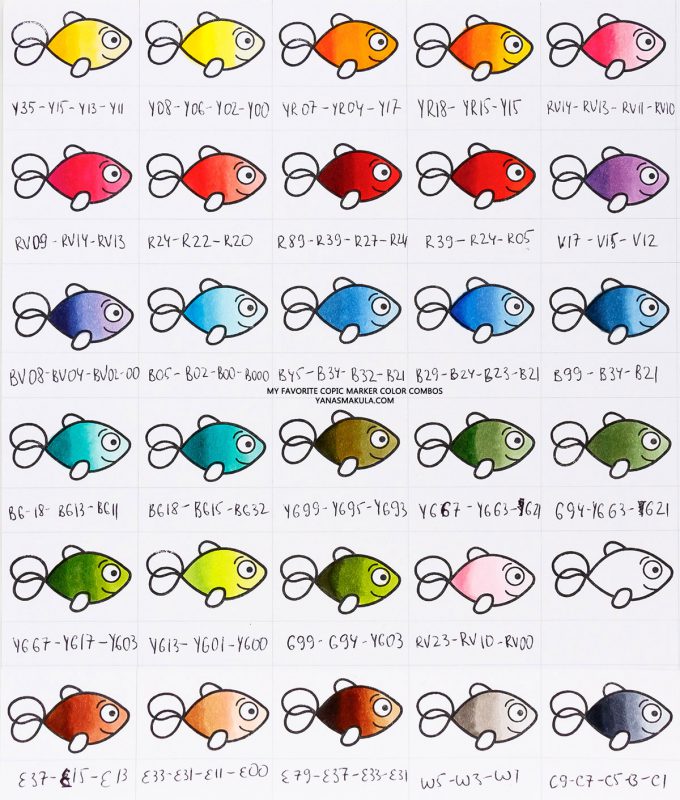 My Go To Copic Color Combos:
• Yellow: Y35-Y15-Y13-Y11| Y08-Y06-Y02-Y00
• Orange: YR07-YR04-YR17 | YR18-YR15-Y15
• Pink: RV14-RV13-RV11-RV10 | RV23-RV10-RV00 | RV09-RV14-RV13
• Red: R24-R22-R20 | R89-R39-R27-R24 | R39-R24-R05
• Violet: V17-V15-V12
• Blue Violet: BV08-BV04-BV02-BV00
• Blue: B05-B02-B00-B000 | B45-B34-B32-B21 | B29-B24-B23-B21 | B99-B34-B21
• Blue Green: BG18-BG13-BG11 | BG18-BG15-BG32
• Green: YG99-YG95-YG93 | YG67-YG63-G21 | G94-YG63-G21 | YG67-YG17-YG03 | YG13-YG01-YG00 | G99-G94-YG03
• Brown: E37-E15-E13 | E33-E31-E11-E00 | E79-E37-E33-E31
Most of my combos have 4 markers to them. I rarely use all 4, most of the time I would just use 3 and would skip either the lightest or the darker marker.
Having a chart like this on my desk is super helpful. When I go to color something I don't have to try and remember what colors I used last time that worked and I don't have to try and test my colors to see if they would work. I already have my chart and I can quickly see my favorite marker combinations. This of course doesn't prevent me from trying to find new combos from time to time, but I do for the most part use my documented copic marker combos.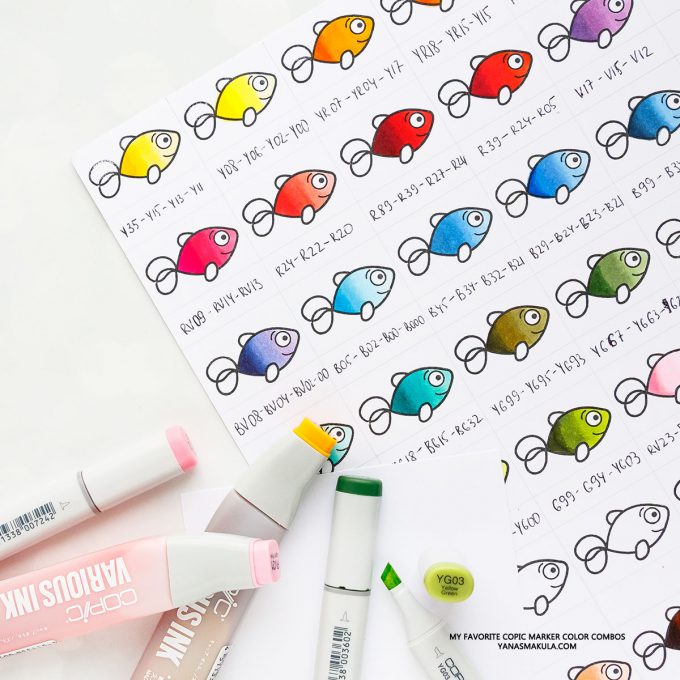 If you like to color on other colors of cardstock, for example some people like to color on Kraft – you can create a chart like this on kraft as the marker colors will be different compared to the colors of white paper.
I hope this blog post & video has been useful. Let me know in the comments below if you are going to create a chart like this or if you already have one and also if you have your favorite Copic marker color combos.
SAVE | PIN THIS IMAGE
Feel free to save this image to one of your boards on Pinterest to easily find it later!