Hello crafters. Today I am sharing 3 ways to do simple embroidery on die cuts designed for stitching. Stitching dies are becoming more and more popular and I feel like they are turning into a trend. And this is a trend I very much enjoy.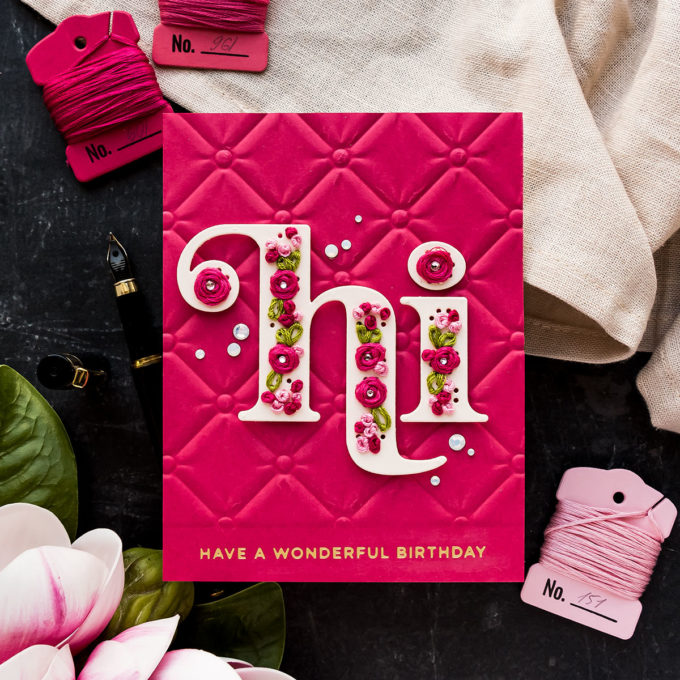 Like this project? Pin it and save for later | Curious about my project photography? Click for details. 
I used to do cross-stitch when I was in school, and I was always fascinated by the beautiful cross-stitch magazines and samplers. I haven't done any sort of embroidery for a long time, but this is certainly a hobby I enjoy. And now I am so happy to see paper crafting and embroidery merge into something utterly unique and beautiful.
VIDEO TUTORIAL
Watch the video below or on my Youtube channel.
CARD DETAILS
The stitching die I am working with today is a Stitched Hi from Spellbinders. The die has strategically placed holes for stitching a simple floral pattern using a straight stitch. I wanted to step away from that design and embroider my own.
I used 3 types of stitches to create a custom design on this die-cut – Woven Rose Stitch, Lazy Daisy Stitch, and French Knot Stitch. I used 6 strands of floss for every one of those stitches to create a fuller design. If you'd like to re-create this design I'd recommend going with the 6 strands, I feel that 3 strands are not enough.
The needle I used is a specialty tapestry needle in size 22. Spellbinders has these needles available on their website. The blunt end of this needle doesn't pierce the paper and it also doesn't pull the thread as you stitch, so it is perfect for stitching on paper.
If you look into embroidery, there are loads of different types of stitches and stitching techniques and many of them can be adapted to these stitching die cuts. I've been fascinated by embroidery lately.
I added the Stitched Hi onto a dry embossed background created with the Spellbinders Tufted 3D embossing folder. In my previous video, I talk about these new folders and I share a partial 3D embossing technique that shows how to do this embossed background and leave room for a foiled sentiment.
Because stitching is now so popular, you can now find specialty thread bundles in the Spellbinders shop. Spellbinders hand-picked floss colors that match the colors of their cardstock, I think this is genius and very convenient, I love when things color coordinate as this makes creating easier.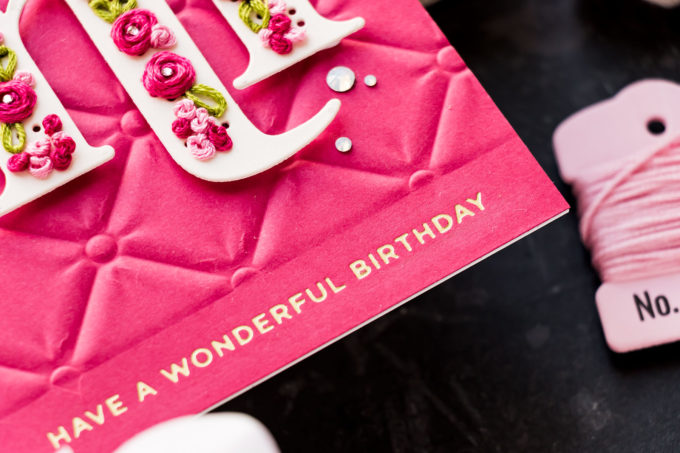 Now as for the cardstock, on the website, there is information that will tell you which color thread coordinates with which color cardstock from Spellbinders. I used that information to create custom cardstock spools for my thread. I used the Spellbinders May Stamp and Coordinating Die of the Month to die cut the spools from cardstock and then stamp the little number piece to be able to write the number of the floss.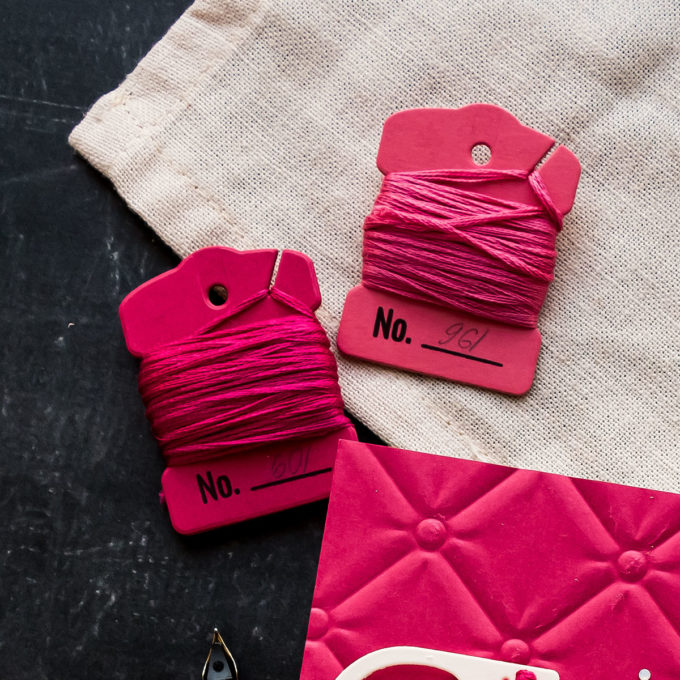 This particular stamp and die set is among my favorites as it is very practical. Anything that helps me to organize and sort my supplies is highly valued in my craft room as when I am organized I am much more productive. This stamp and die set are not available outside of the Club subscription and anyone can purchase it, you don't need to join the Club.
I made each spool 3 layers thick, this way it was sturdier and able to hold the thread nicely without bending. I wrote the thread number using a pencil and then just wrapped all of that beautiful thread around my paper spool.
You can get plastic spools for your thread on Amazon, I have some white spools and my variegated floss is wrapped on them, they are very inexpensive, but these handmade paper spools add so much more character. I love that they are colorful and I also love the fact that I made them myself. This makes them much more near and dear to my heart.
Have fun crating!
SUPPLIES
I'm listing the products I used below. Click on the link to go directly to the product. Where available I use compensated affiliate links which means if you make a purchase I receive a small commission at no extra cost to you. Thank you so much for your support!

Spellbinders Stitched Hi Etched Dies
Shop at:
SC | SB

Spellbinders Just Wanted to Say Collection Glimmer Hot Foil Plate
Shop at:
SC | SB

Spellbinders Tufted 3d Embossing Folder
Shop at:
SSS | SC | SB

Spellbinders Platinum 6 Die Cutting Machine
Shop at:
SSS | SC | SB | AMZ

Spellbinders Platinum Die Cutting Machine
Shop at:
SSS | SC | SB | AMZ

Limited Edition Platinum 6 Aqua Die Cutting and Embossing Machine
Shop at:
SB

Glassboard Studio True White Glass Craft Mat | YANA20 for 20% Off
Shop at:
GBS

Spellbinders Universal Plates System
Shop at:
SSS | SC | SB

Spellbinders Extended Cutting Plates
Shop at:
SSS | SC | SB

Spellbinders Mylar Shims F
Shop at:
SSS | SC | SB

Spellbinders Glimmer Hot Foil System
Shop at:
SSS | SC | SB | AMZ

Glimmer Hot Foil – Matte Gold
Shop at:
SSS | SC | SB | AMZ

Spellbinders A2 White Card Bases – Side Fold – 25 pack
Shop at:
SB

Spellbinders Alabaster Color Essentials Cardstock
Shop at:
SB

Spellbinders Wild Berry Color Essentials Cardstock
Shop at:
SB

Tonic Studios 8.5 Inch Paper Trimmer
Shop at:
SC | AMZ | GBS

Spellbinders Pink Mix Color Essential Gems
Shop at:
SSS | SC | SB

Spellbinders Crystal Mix Color Essential Gems
Shop at:
SSS | SC | SB | AMZ

Jewel Picker Tool
Shop at:
SSS | SC | SB | MFT | AMZ

Bearly Art Mini Precision Craft Glue
Shop at:
SSS | SB | AMZ

White Foam Squares
Shop at:
SSS | SC | SB | AMZ

DMC Color Essentials Floss Bundle Black & White 2 Pack
Shop at:
SB

DMC Tapestry Needles Size 22
Shop at:
SB

DMC Color Essentials Floss Bundle Black & White
Shop at:
SB

DMC Variegated Floss Bundle
Shop at:
SB

DMC Color Essentials Floss Bundle Neutrals
Shop at:
SB

DMC Color Essentials Floss Bundle Warm
Shop at:
SB

DMC Color Essentials Floss Bundle Cool
Shop at:
SB

Spellbinders Stitched Color Wheel – Clear Stamp of the Month
Shop at:
SB

Spellbinders Stitched Color Wheel – Coordinating Cutting Dies
Shop at:
SB

Plastic Floss Bobbins
Shop at:
AMZ