Hello friends! If you enjoy stamping and Color Layering (using multiple layers to create one image) in particular, then you are probably like me – always on the lookout for perfect color combos. Altenew recently released several new ink colors and I've been eagerly waiting to receive them in my design team box so that I can update my ink chart, check out new combos and share them with you!
I like Altenew's ink for color layering in particular because they almost do not stain stamps. The darkest colors will stain very little; these inks are also very easy to clean up from stamps, there's no need for special ink cleaner.
First I'd like to share the updated chart, I hope some of you will find it helpful, I know color charts like these help me a lot (usually when I'm doing my stamping), but if you are looking to pick up some new inks and wonder about the colors, this should be helpful as well. The only color that I am missing here is darkest gray, hoping to get it soon; the lightest colors here are a bit different from what they are in real life, it is quite hard to capture the true color on camera. Click the image below to enlarge it.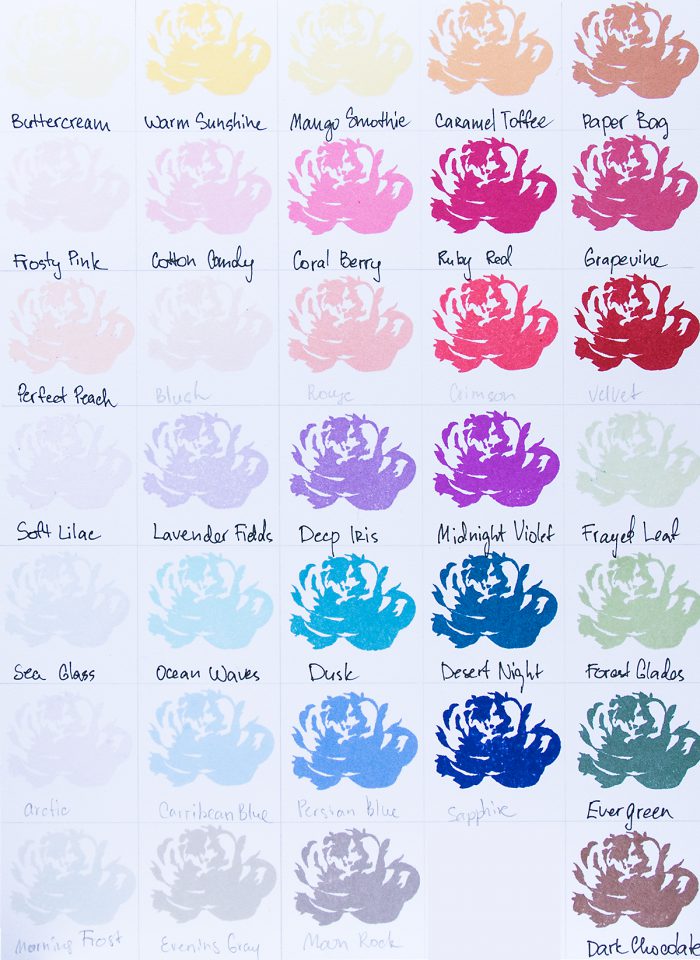 The majority of these colors are released in groups of 4 making it very easy for stampers who enjoy multi layer images to create beautiful impressions (and Altenew also has mini ink cubes and full size ink pads in groups of four – I have large sets linked below). There are however a few colors (Mango Smoothie, Cotton Candy, Peach Perfect and Dark Chocolate) that are not a part of any set, but they still work nicely with other colors.
Seeing colors in a color chart is one thing, but seeing how they actually work on a stamped image is something totally different, so here I have another chart where I used a 4-layer rose to stamp the recommended color combos and also a few color combos that I enjoy using. I've included the name of the 4 ink pad set (if it was used for stamping) and also names of the ink pads going from light to dark on these samples: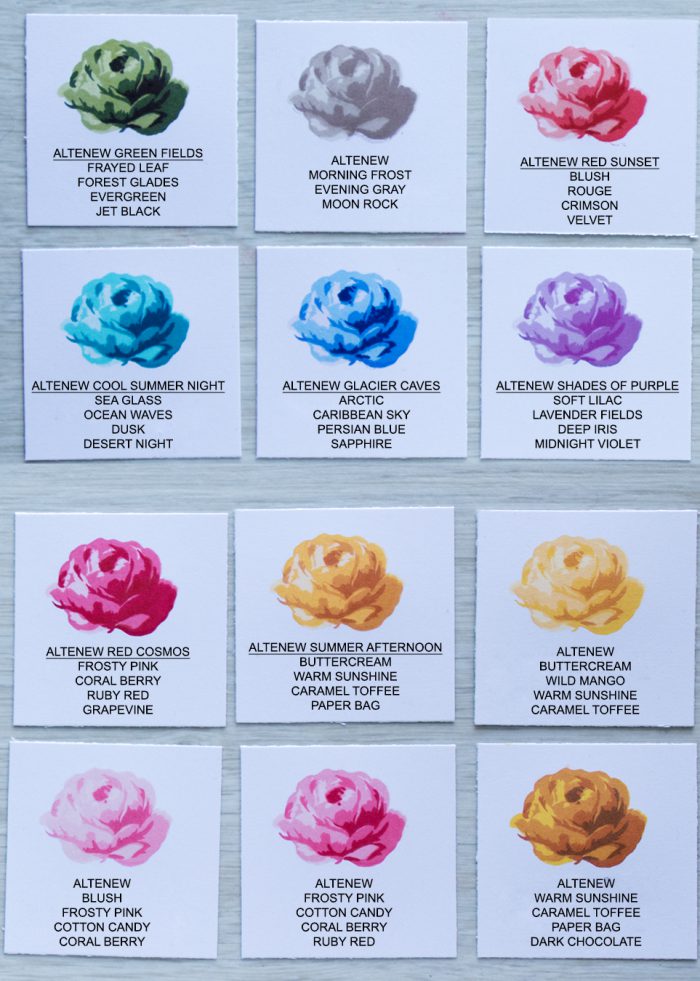 I also would like to share a few of my notes/tips:
GREEN FIELDS | this is a nice green, perfect for stamping leaves. If you want a lighter image you can start with the lightest gray, Morning Frost, and then use Frayed Leaf and Forest Glades. This gives a much lighter green combo.
RED SUNSET | this is a beautiful peachy-red set. I want to try stamping flowers using the two lighter colors (Blush and Rouge) along with a Perfect Peach color from another set for a peach-colored flower.
COOL SUMMER NIGHT | Fabulous teal color, very beautiful and warm.
GLACIER CAVES | Also a beautiful blue, but its a cold blue.
SHADES OF PURPLE | Nice purple combo, however the darkest color, Midnight Violet, is very vibrant compared to the 3 other colors, which seem more muted.
RED COSMOS | The original red-pink combo, works great with new pinks, there's an example of a flower stamped using Blush and Cotton Candy and other one using Cotton Candy in between the Frosty Pink and Coral Berry.
SUMMER AFTERNOON | The original yellow combo, it works okay with the Mango Smoothie (the Warm Sunshine and Mango Smoothie do look very similar and aren't always distinguishable on a layered flower) and also work great with Dark Chocolate (skip the first Buttercream).
I also want to link to some of my older projects to share a closer look at some of these sets. I don't yet have any cards featuring new inks, but I do have many using previously-released colors. Click the image to go to a blog post.
Cool Summer Night + Green Fields

Cool Summer Night

Frosty Pink + Cotton Candy and Sea Glass

Coral Berry + Ruby Red + Grapevine

Frosty Pink + Cotton Candy + Coral Berry

Buttercream + Mango Smoothie + Warm Sunshine

Sea Glass + Ocean Waves + Dusk

Buttercream + Warm Sunshine + Caramel Toffee

Soft Lilac + Lavender Fields + Midnight Violet
SUPPLIES
I'm listing the products I used below. Click on the link to go directly to the product. Where available I use compensated affiliate links which means if you make a purchase I receive a small commission at no extra cost to you. Thank you so much for your support!

Altenew Coral Berry Dye Ink Pad
Shop at:
SSS | AN

Altenew Frosty Pink Dye Ink Pad
Shop at:
SSS | AN

Altenew Warm Sunshine Dye Ink Pad
Shop at:
SSS | AN

Altenew Jet Black Dye Ink Pad
Shop at:
SSS | AN

Altenew Buttercream Dye Ink Pad
Shop at:
SSS | AN

Altenew Caramel Toffee Dye Ink Pad
Shop at:
SSS | AN

Altenew Ruby Red Dye Ink Pad
Shop at:
SSS | AN

Altenew Frayed Leaf Dye Ink Pad
Shop at:
SSS | AN

Altenew Forest Glades Dye Ink Pad
Shop at:
SSS | AN

Altenew Evergreen Dye Ink Pad
Shop at:
SSS | AN

Altenew Sea Glass Crisp Dye Ink
Shop at:
SSS | AN

Altenew Ocean Waves Crisp Dye Ink
Shop at:
SSS | AN

Altenew Dusk Crisp Dye Ink
Shop at:
SSS | AN

Altenew Cotton Candy Crisp Dye Ink Pad
Shop at:
SSS | AN

Altenew Mango Smoothie Crisp Dye Ink Pad
Shop at:
SSS | AN

Altenew Desert Night Crisp Dye Ink
Shop at:
SSS | AN

Altenew Midnight Violet Crisp Dye Ink
Shop at:
SSS | AN

Altenew Grapevine Crisp Dye Ink Pad
Shop at:
SSS | AN

Altenew Glacier Caves Crisp Dye Ink Pad Pack
Shop at:
SSS | AN

Altenew Arctic Crisp Dye Ink
Shop at:
SSS | AN


Shop at:
SSS | AN

Altenew Carribean Sky Crisp Dye Ink
Shop at:
SSS | AN

Altenew Crimson Crisp Dye Ink Pad
Shop at:
SSS | AN

Altenew Evening Gray Crisp Ink Pad
Shop at:
SSS | AN

Altenew Moon Rock Crisp Dye Ink Pad
Shop at:
SSS | AN

Altenew Morning Frost Crisp Dye Ink Pad
Shop at:
SSS | AN

Altenew Persian Blue Crisp Dye Ink Pad
Shop at:
SSS | AN

Altenew Rouge Crisp Dye Ink Pad
Shop at:
SSS | AN

Altenew Sapphire Crisp Dye Ink Pad
Shop at:
SSS | AN

Altenew Velvet Crisp Dye Ink Pad
Shop at:
SSS | AN

Altenew Cool Summer Night Oval Set
Shop at:
SSS | AN

Altenew Paper Bag Crisp Dye Ink Pad
Shop at:
SSS | AN

Altenew Deep Iris Crisp Dye Ink Pad
Shop at:
SSS | AN

Altenew Lavender Fields Crisp Dye Ink Pad
Shop at:
SSS | AN

Altenew Soft Lilac Crisp Dye Ink Pad
Shop at:
SSS | AN

Altenew Dark Chocolate Crisp Dye Ink Pad
Shop at:
SSS | AN

Altenew Peach Perfect Crisp Dye Ink Pad
Shop at:
SSS | AN

Altenew Four Scoops Oval Set Crisp Dye Ink Pads
Shop at:
SSS | AN

Altenew Green Fields Oval Set Crisp Dye Ink Pads
Shop at:
SSS | AN

Altenew Red Cosmos Oval Set Crisp Dye Ink Pads
Shop at:
SSS | AN

Altenew Shades Of Purple Oval Set Crisp Dye Ink Pads
Shop at:
SSS | AN

Altenew Summer Afternoon Oval Set Crisp Dye Ink Pads
Shop at:
SSS | AN

Altenew Warm Gray Oval Set Crisp Dye Ink Pads
Shop at:
SSS | AN