Hello everyone and thanks so much for stopping by to help celebrate the launch of Hero Arts June 2018 My Monthly Hero Kit (more about the kit, blog hop and giveaway below). I have one hot tropical card idea to share using this month kit only and also a bunch of Summer cards using add-on sets. Here's a look at all of the cards I made: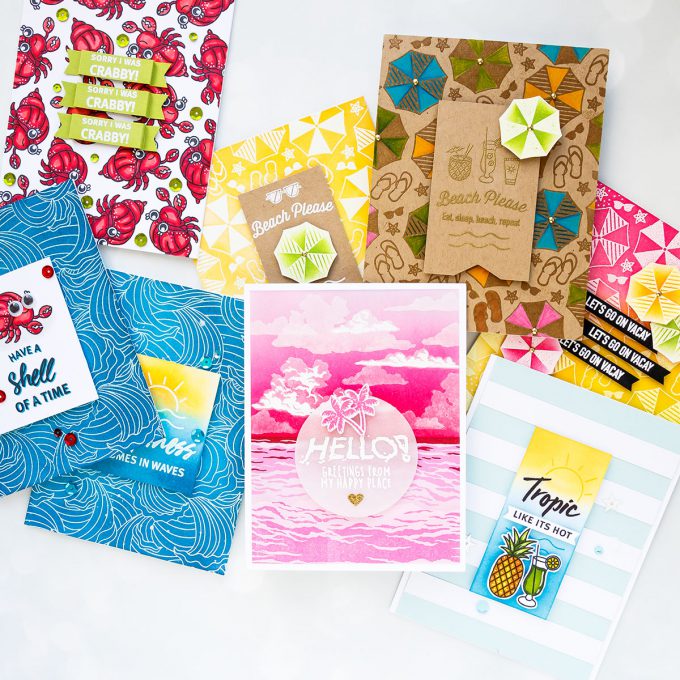 Like this project? Pin it and save for later | Curious about my project photography? Click for details. 
Not going to lie, I went a little bit overboard with the cards featuring the add on stamp sets because I just loved them. These are so very much my style and I simply couldn't stop playing with them!
If you are visiting my blog for the first time or have not yet subscribed – be sure to do so! I share lots of handmade projects every week delivering them straight to your inbox! I also occasionally share information about crafty sales and new product releases I love. Subscribe here.
VIDEO TUTORIAL
As always, I filmed a video tutorial showing how to create this project from start to finish. I'm hoping you'll enjoy it. Watch it below or on my Youtube channel.
Like this video? Please give it a big thumbs up (you can do this on Youtube video page right under the video) and share with a crafty friend! Leave me a comment too, I love hearing from you!
CARD DETAILS USING KIT ONLY
This month kit is all about the sea! The card I made pictures a beautiful summer sunset by the sea in hot pink and red colors. I wanted to walk away from the traditional blues here and instead used pinks.
I used my mini MISTI and several colors of ink from Hero Arts. June kit features and image that is color layering ocean or sea. Hero Arts is well known for their fabulous color layering images and I am a huge fan of their sets (I film regular monthly videos with the Hero Arts color layering sets called Color Layering with Yana).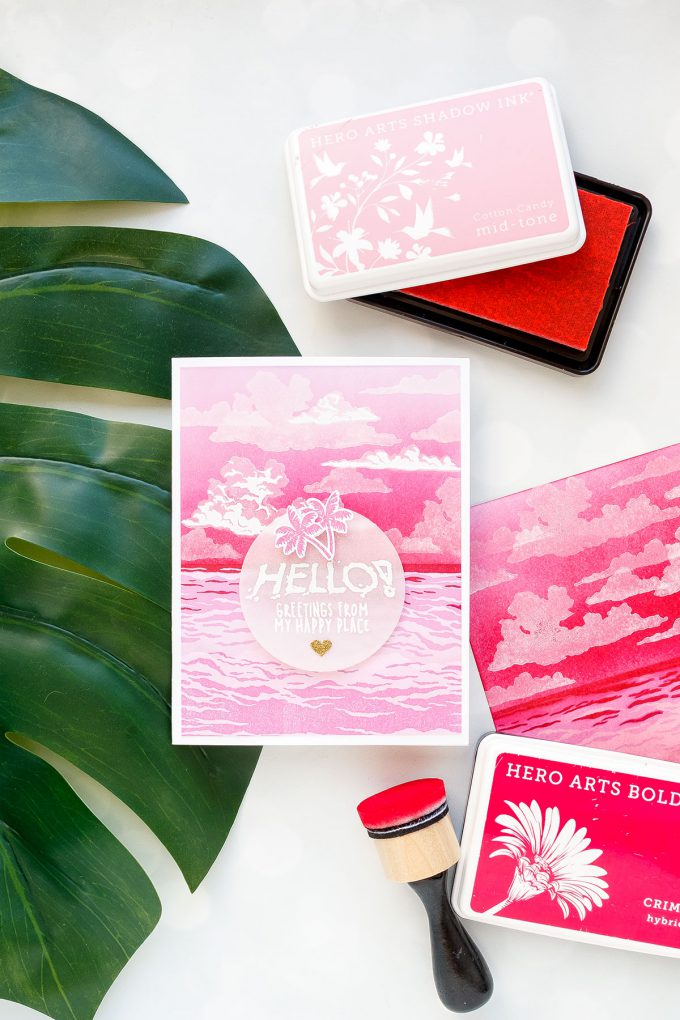 To stamp the color layering water for my card I used pinks – Cotton Candy, Ultra Pink and Crimson. I stamped the layering water image twice to extend it on my card – so there's no shore, just pretty water and gorgeous sky.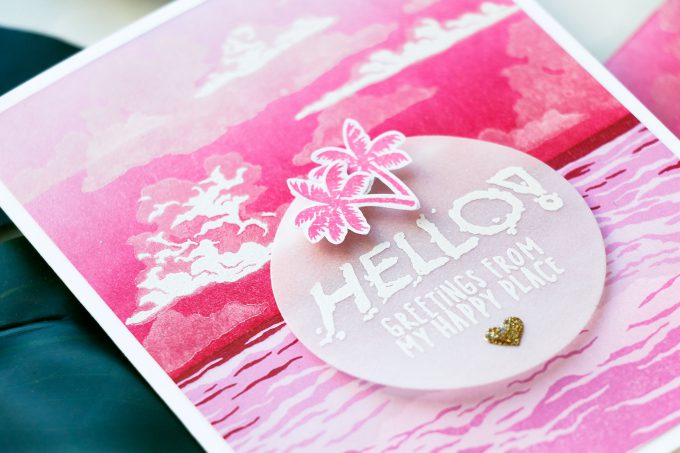 Once my stamping was done I used ink blending tool and same inks I used for stamping to add some blending. I blended Cotton Candy ink where my two water images met to fix the white area and also blended Crimson above the water to create a red sky.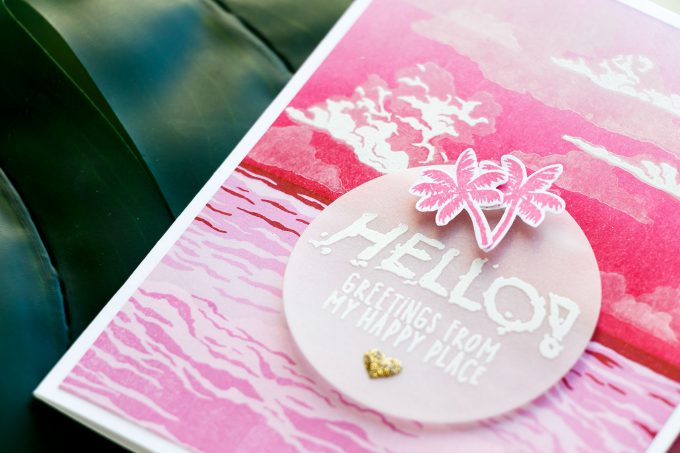 There are several cloud images in this month kit, all are layering and have 2 layers each. Clouds, because they are white, are tricky to stamp. I found I liked mine best when stamped in white for the base layer and heat embossed in white for the detail layer.
I finished my card by adding a vellum sentiment circle with a heat embossed "Hello! Greetings From My Happy Place".
The kit is available for a limited time only – once it's gone, it's gone. If you love it – grab it now!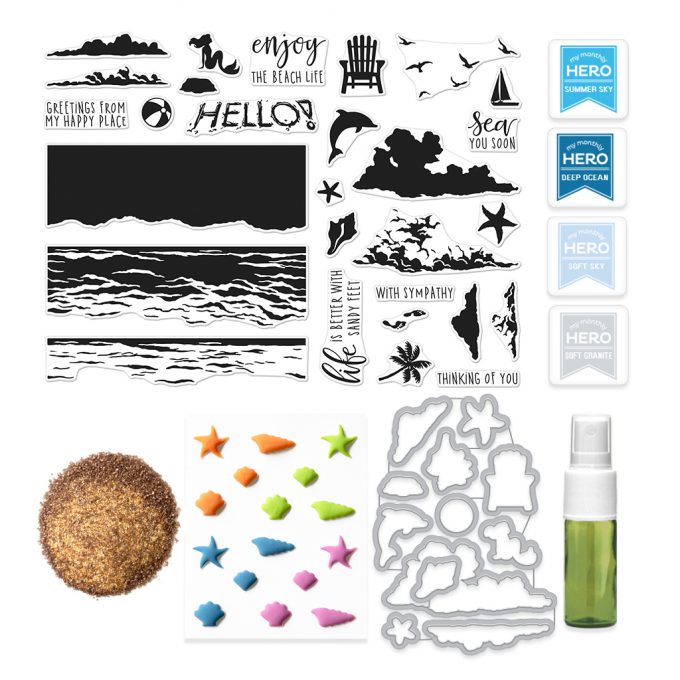 You can now subscribe to receive the kit monthly and never miss one!
CARDS DETAILS USING ADD-ONS
I loved the add on stamp sets available from Hero this month and I could not get myself to put them down. I made a number of cards using add-ons, sharing them all below.
I love to play with background stamps and there are two fabulous backgrounds this month. For the 3 cards below I used Beach Umbrellas cling background stamp. For the card you see immediately below I white heat embossed umbrellas onto white and did simple ink blending to create a colorful background.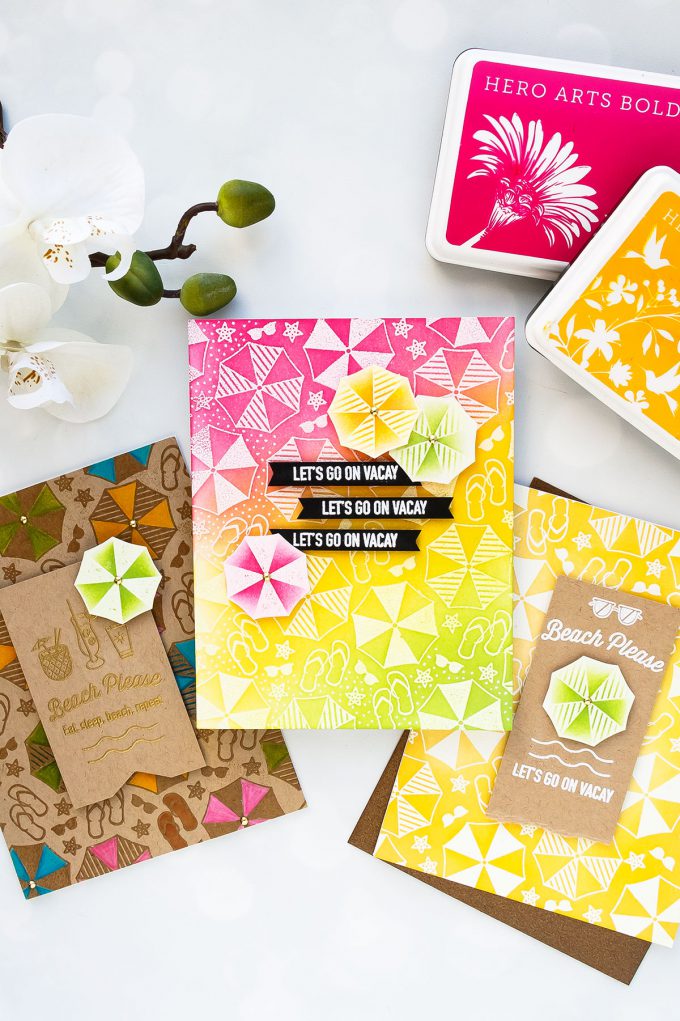 I used Green Hills, Rose Madder and also Butter Bar to create a diagonal ink blended look. I love this beach umbrellas background and it's one of the best background stamps I've ever seen for summer. To finish this card I added Let's Go On Vacay sentiment heat embossed 3 times onto black and also added additional beach umbrellas as embellishments .
For my 2nd card (below) I wanted to have a sandy look and feel to my umbrellas, I actually wanted to make it look like as it they are in the sand so I used kraft paper and clear heat embossed this background onto kraft. Next, to add color to these umbrellas I used my Polychromos pencils.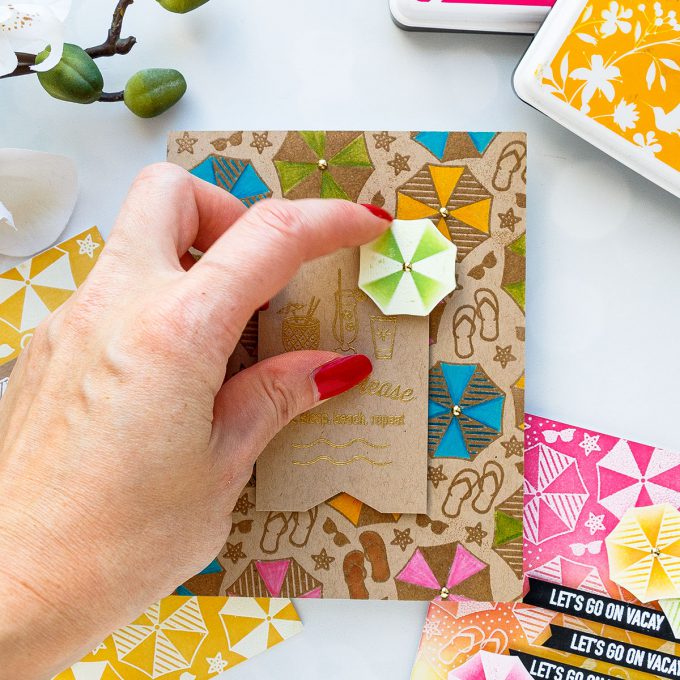 To spice my umbrellas up I decided I wanted to add little brads to emphasize this umbrella look. You might have noticed a tiny gold cap on the 3 umbrellas on my previous card – that's what those were, they were tiny gold brads. I used my Tool n One and poked holes in the middle of my colored umbrellas and added gold brads onto each hole to make these umbrellas look a bit more realistic.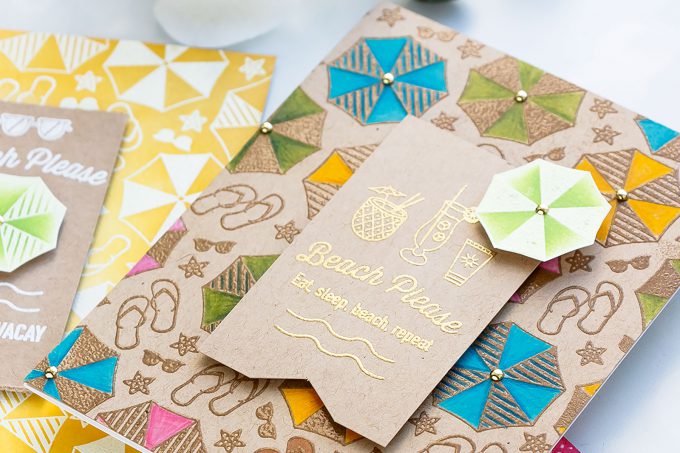 To finish this card I gold heat embossed little drinks and also a sentiment that reads Beach, Please – Eat Sleep, Beach, Repeat on to same kraft paper, I cut it into a pennant and foam mounted onto the card.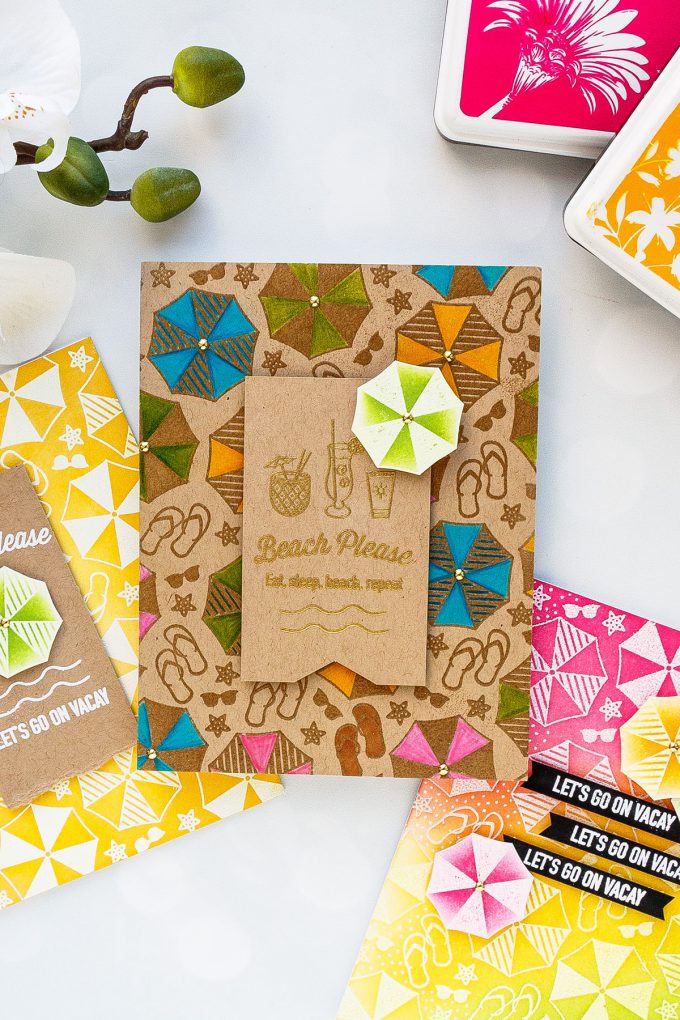 I also wanted to add an interactive object onto my card, so I turned one of the umbrellas into a little spinner – so you can actually spin the green umbrella on this card. I think it's so fun and very easy to do too, you just need a brad for this.
Another awesome background stamp that is an add on this month is Abstract Waves stamp and it's just an awesome stamp for anything that is sea related. So it's not just one for summer, but can be used all year round with fun sea critters.
Here I once again heat embossed it in white on white and blended Hero Arts Aquatic and Navy ink turning this background into sea blue one and not white. To add some shimmer to this background I used Hero Arts White Iridescent Shimmer mist – this was an add on in one of Hero's kits a few month ago – I've been using it a lot lately to add lovely shimmery shine and splatter to my cards.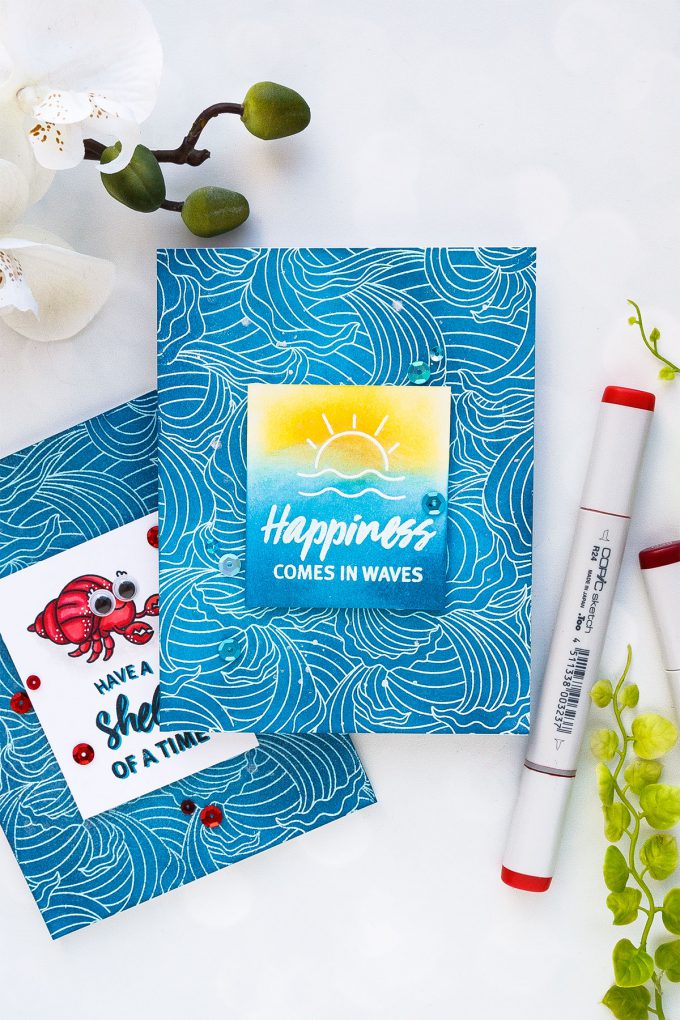 To create a sentiment for this card I used images and sentiment from the Beach Messages stamp set. I white heat embossed Happiness Comes in waves, added a sun a waves image and blended yellow and blue ink creating a quick ink blended sunset. I used Hero's Frost Sequin Mix to embellish this card.
For the card below I stamped a crab and "Have a shell of a time" sentiment. I stamped sentiment twice – once in black and once in blue to have a drop shadow.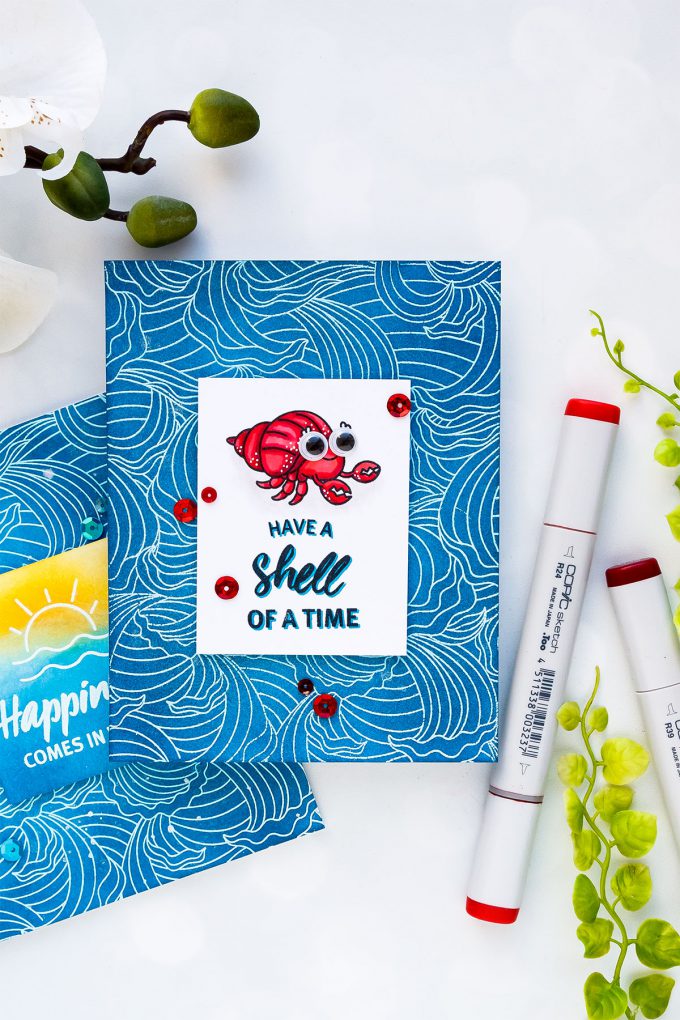 I colored crab using Copic markers, added white pen details and google eyes. I also used red sequins to embellish this card.
I loved this crab image. He's so adorable and unique, I have not seen a crab image before, nor do I have one in my stash. And whenever I come across and image like that I immediately want to use to make a pattern. So here I used it to make a crabby pattern for another card.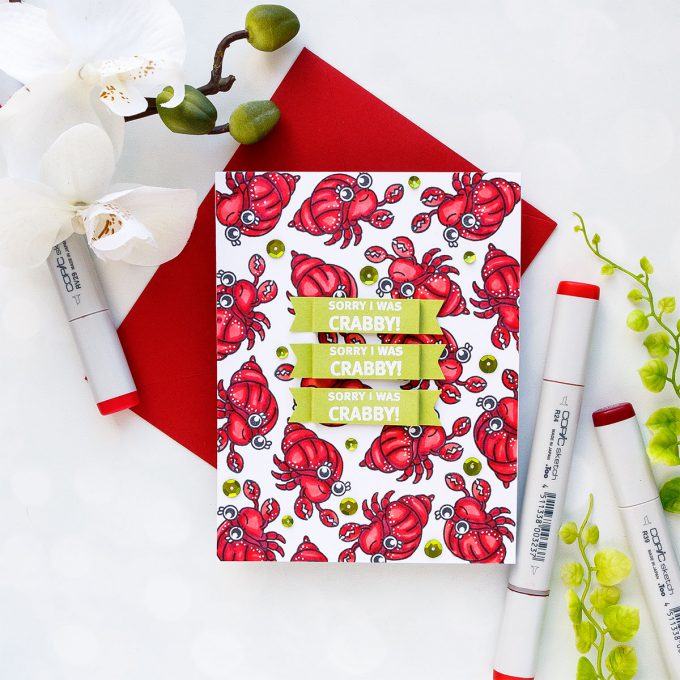 I stamped crab repeatedly onto white cardstok panel in alcohol marker friendly ink – I made sure to rotate the image to make this pattern appear random and unique and than I just used my Copics and colored each crab red.
The colors I used were R39, R27 and R22. I also used a white gel pen once the Copic coloring was dry to add white pen details to this image. You do need to wait for the alcohol ink to dry before adding the white pen detail as if you don't – the ink will eat up the white pen and it won't be nice and true white.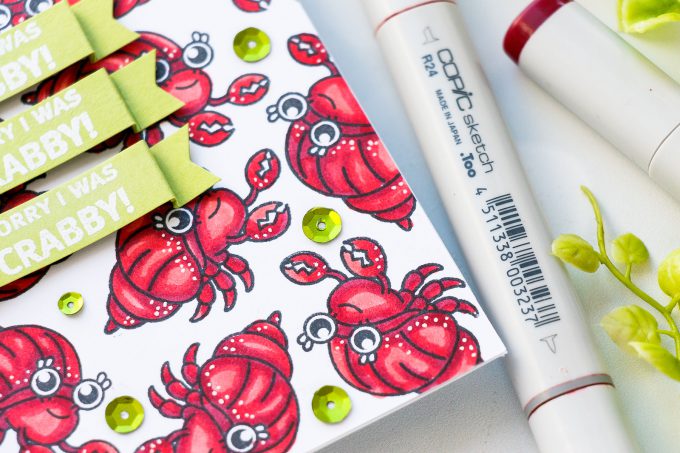 I competed this card by adding Sorry I Was Crabby sentiment – I white heat embossed it onto Simon's Green Apple cardstock 3 times and cut into 3 cute banners for my card. I also added Hero Arts ombre sequins in green in-between my crabs filling in any empty spaces.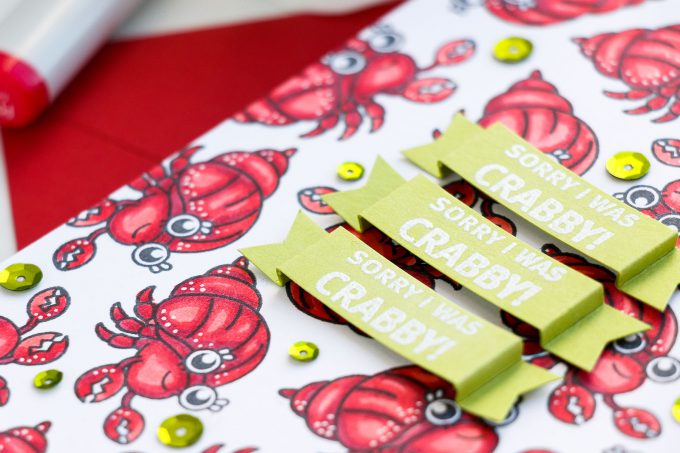 Moving on! Next I wanted to use the drink and pineapple image from the Beach Messages stamp set to make some Beach Towel cards. I stamped Tropic Like It's Hot sentiment in Black ink, added a sun stamped in yellow and waves stamped in blue.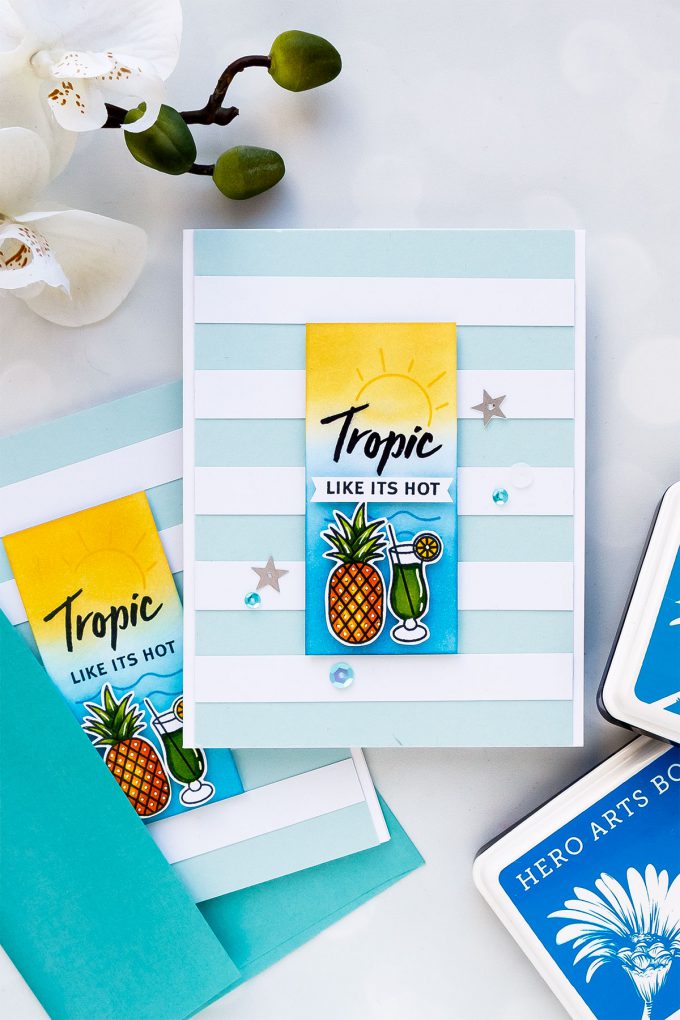 I blended yellow and blue ink to create a sunset background. The blue ink blended smeared some black stamping a bit, so I had to re-stamp "Like It's Hot" onto another piece of cardstock and foam mounted it onto my panel.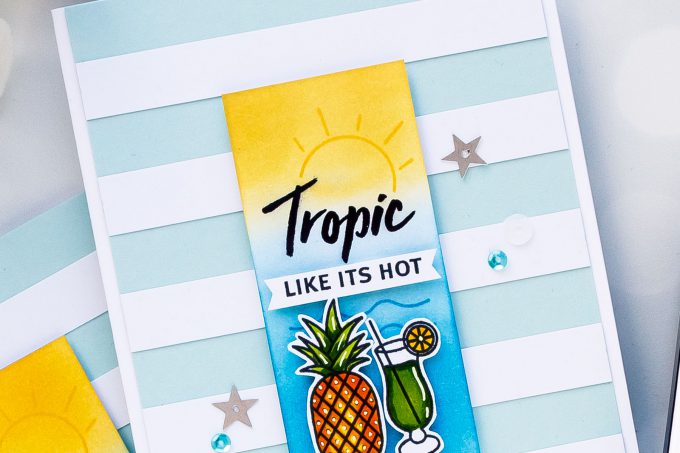 I also stamped and colored a drink and a pineapple. I used my Copics and a white pen to make these images come to life. I cut them out using scissors and foam mounted onto the panel.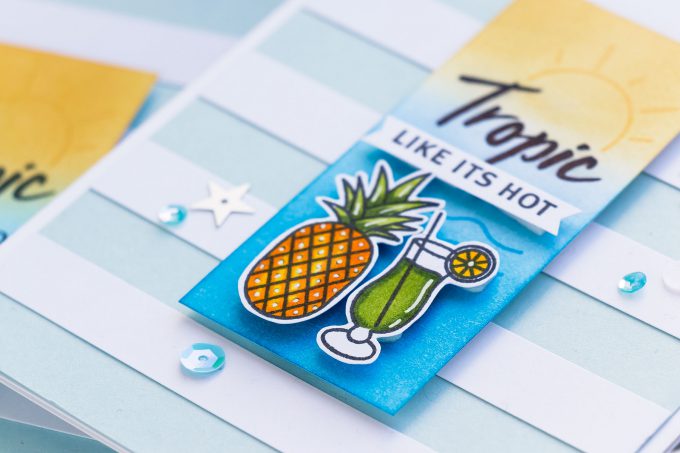 I wanted to create a beach towel look for the background of this card. I took a panel of light blue cardstok as my background, this is Sea Glass cardstock from Simon and also white cardstock. I cut the white paper into half an inch strips, added double sided tape from the back and adhered white strips onto my blue background at half an inch intervals making a striped background that looks like a beach towel.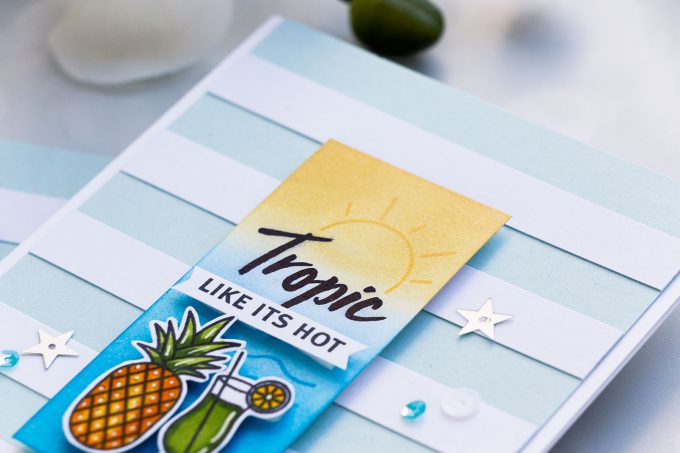 Seriously, does it not look like that? And it was so easy to make! I'm tempted to try and use other colors of cardstock and i've also pulled out some of my older striped stamp sets to be able to stamp the colorful stripes instead of using cardstock.
JUNE ADD-ONS
There are several optional add-on items:

Hero Arts Abstract Wave Bold Prints
Shop at:
SSS | HA

Hero Arts Beachy Bold Prints
Shop at:
SSS | HA

Hero Arts Wave & Sea Confetti Die
Shop at:
SSS | HA

Hero Arts You & Me By The Sea
Shop at:
SSS | HA

Hero Arts Seas The Day Seagulls
Shop at:
SSS | HA

Hero Arts Seal of Approval
Shop at:
SSS | HA

Hero Arts Beach Frame Fancy Die
Shop at:
SSS | HA

Hero Arts Seal of Approval Frame Cuts
Shop at:
SSS | HA

Hero Arts Beach Messages
Shop at:
SSS | HA

Hero Arts Beach Please Stamp & Cut
Shop at:
SSS | HA

Hero Arts Seas the Day Seagulls Frame Cuts
Shop at:
SSS | HA

Hero Arts Liquid Watercolor Dark Teal
Shop at:
SSS | HA
HOP ALONG WITH US!
The next stop on this hop is fabulous Michelle Short. You can also start over at The Hero Arts Blog.
GIVEAWAY!
Hero Arts is giving away one kit as a prize to one blog reader – selected from the comments across all of the blogs in the hop so be sure to leave a comment for your chance to win! The giveaway closes Sunday, June 10th at 11:59pm, and the winner will be announced the following week on the Hero Arts blog.
SUPPLIES
I'm listing the products I used below. Click on the link to go directly to the product. Where available I use compensated affiliate links which means if you make a purchase I receive a small commission at no extra cost to you. Thank you so much for your support

My Monthly Hero Kit June 2018
Shop at:
HA

Hero Arts Abstract Wave Bold Prints
Shop at:
SSS | HA

Hero Arts Beachy Bold Prints
Shop at:
SSS | HA

Hero Arts Beach Messages
Shop at:
SSS | HA

Hero Arts Beach Please Stamp & Cut
Shop at:
SSS | HA

Hero Arts Classic Vellum Layering Paper
Shop at:
SSS | SC | HA

Hero Arts White Iridescent Shimmer Spray
Shop at:
SSS | SC | HA

Hero Arts Ink Pad Intense Black Ink
Shop at:
SSS | SC | HA | AZ

Hero Arts Butter Bar Ink Pad
Shop at:
SSS | SC | HA | AZ

Hero Arts Cotton Candy Ink Pad
Shop at:
SSS | SC | HA | AZ

Hero Arts Ultra Pink Ink Pad
Shop at:
SSS | SC | HA | AZ

Hero Arts Rose Madder Hybrid Ink Pad
Shop at:
SSS | SC | HA | AZ

Hero Arts Crimson Hybrid Ink Pad
Shop at:
SSS | SC | HA | AZ

Hero Arts Hybrid Ink Pad Aquatic
Shop at:
SSS | SC | HA | AZ

Hero Arts Navy Ink Pad
Shop at:
SSS | SC | HA | AZ

Hero Arts Green Hills Ink Pad
Shop at:
SSS | SC | HA | AZ

Hero Arts Unicorn White Pigment Ink Pad
Shop at:
SSS | HA | AZ

Hero Arts Ombre Sequins Green
Shop at:
SSS | SC | HA | AZ

Hero Arts Frost Sequin Mix
Shop at:
SSS | HA

Hero Arts Heat Embossing Gun
Shop at:
SSS | SC | HA | AZ

Hero Arts White Detail Embossing Powder
Shop at:
SSS | HA

Hero Arts Clear Embossing Powder
Shop at:
SSS | SC | HA | AZ

Hero Arts Self-adhesive Googly Eyes
Shop at:
SSS | SC | HA | AZ

Hero Arts Ultra Clean Stamp Cleaner
Shop at:
SSS | HA

Spellbinders Magnetic Handy Mat
Shop at:
SSS | SC | SPEL | AZ

Spellbinders Tool 'n One
Shop at:
SSS | SC | SPEL | AZ

Neenah 80LB Solar White Cardstock
Shop at:
SSS | AZ

Neenah 110 Lb Solar White Cardstock
Shop at:
SSS | AZ

Simon Says Stamp Black Cardstock
Shop at:
SSS

Neenah Classic Crest 80 Lb Desert Storm
Shop at:
SSS | AZ

Simon Says Stamp Green Apple Cardstock
Shop at:
SSS

Simon Says Stamp Sea Glass Cardstock
Shop at:
SSS

Faber-Castell Polychromos Colored Pencils
Shop at:
AN

Faber-Castell Polychromos 12 Set
Shop at:
SSS | AZ | AN

Faber-Castell Polychromos 24 Set
Shop at:
AZ | AN

Faber-Castell Polychromos 36 Set
Shop at:
SSS | AZ | AN

Faber-Castell Polychromos 60 Set
Shop at:
AZ | AN

Faber-Castell Polychromos 120 Set
Shop at:
AZ | AN

ScraPerfect Crafting Pouch
Shop at:
SSS | AZ

Versamark Watermark Emboss Ink Pad
Shop at:
SSS | HA | AZ

Mini Misti Stamping Tool
Shop at:
SSS | SC | HA | AZ

Ranger Mini Round Foam Refils
Shop at:
SSS | SC | AZ

Ranger Mini Round Ink Blending Tools
Shop at:
SSS | SC | AZ

Copic Sketch Marker Y15 Cadmium Yellow
Shop at:
SSS | AZ

Copic Sketch Marker YR14 Caramel
Shop at:
SSS | AZ

Copic Sketch Marker R22 Light Prawn
Shop at:
SSS | AZ

Copic Sketch Marker R27 Cadmium Red
Shop at:
SSS | AZ

Copic Sketch Marker R39 Garnet
Shop at:
SSS | AZ

Copic Sketch Marker YG25 Celadon Green
Shop at:
SSS

Copic Sketch Marker YG67 Moss
Shop at:
SSS | AZ

Sponge Dauber 40 with Storage Box
Shop at:
SC | AZ

Tonic Spring-cut Fine Tip Detail Scissors
Shop at:
SSS

Scor-Tape 1/8 Inch Crafting Tape
Shop at:
SSS | AZ

Tonic Studios 8.5 Inch Paper Trimmer
Shop at:
SSS | SC | AZ

Crystal Ninja Crystal Katana Pick Up Tool
Shop at:
SSS | AZ

Sakura Classic White Bold Line 10 Pen
Shop at:
SSS

Tonic Easy Clean Mat
Shop at:
SSS

Scrapbook Adhesives White Foam Squares
Shop at:
SSS | SC | AZ

Tonic Deluxe Adhesive Nuvo Glue
Shop at:
SSS | SC | AZ