Hello crafters! Today I'm creating Birthday cards with new products Spellbinders and Carisa Wiley. Spellbinders has teamed up with Carissa to bring us a new influencer collection called It's My Party and it is all about creating those party cards for different occasions. This is a collection of hot foil plates, coordinating dies, and stencils, and it is designed to help you make party cards in no time!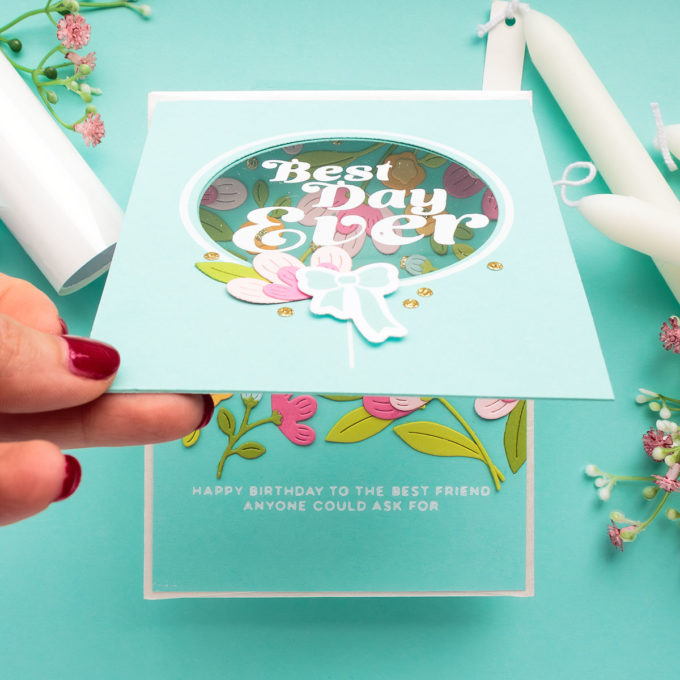 Like this project? Pin it and save for later | Curious about my project photography? Click for details. 
There are several products in this release and if you want it all – you can get a special bundle and save! By the way, Spellbinders has a new promotion running this week – you can get $25 off orders of $125 or more. If you want to get this collection and save, you can get the bundle, add a few other products to get your order to the $125 mark and you'll be able to save plus get free shipping if you are shopping for the new few days on the Spellbinders US website. And there is a similar promotion on the Spellbinders UK website.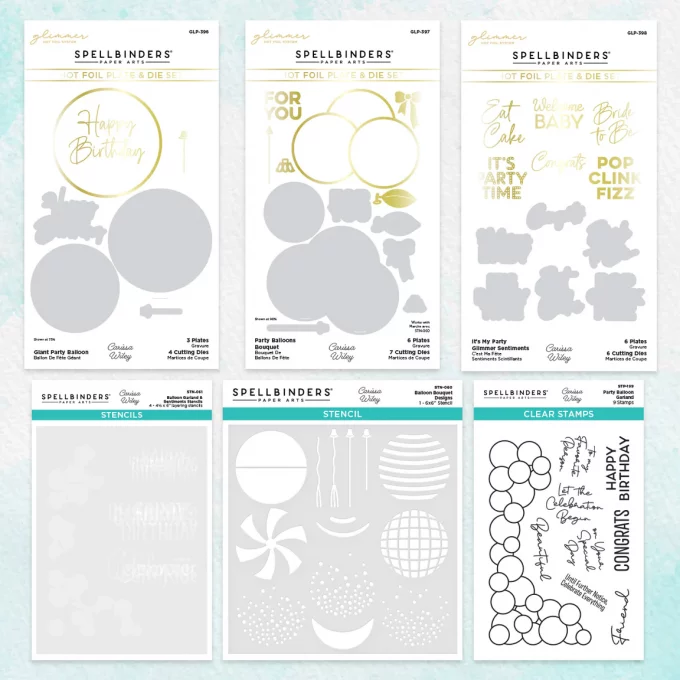 There is also a supportive collection from Spellbinders called It's My Party Too and it features 2 large embossing folders for us to play with along with 4 different hot foil plate sentiments for Birthdays. I never have enough birthday cards so of course I was excited to dig into these products and create Birthday cards using them.
VIDEO TUTORIAL
Watch the video below or on my Youtube channel.
CARD DETAILS
Carissa has a ton of inspiration on her blog and social media showing how you can use her products and all sorts of things you can create using her collection. I wanted to do something different, I wanted to show you how you can combine these with some floral dies you might already have in your stash to create birthday cards. I have several ideas, I have a window card, I have a shaker, and a faux window card for you.
I wanted to use Carissa's Big Birthday Balloon Glimmer hot foil plate as the focal point for my cards and I knew I wanted to span the foiled sentiments across the balloon. In order to do that I knew I'd need to use heat-resistant acetate, so I used the Spellbinders Glimmer Specialty Clear Film to foil my sentiments. I used opaque white foil for most of the foiling today.
WINDOW BIRTHDAY CARD
Here's what it looks like when you begin to open it: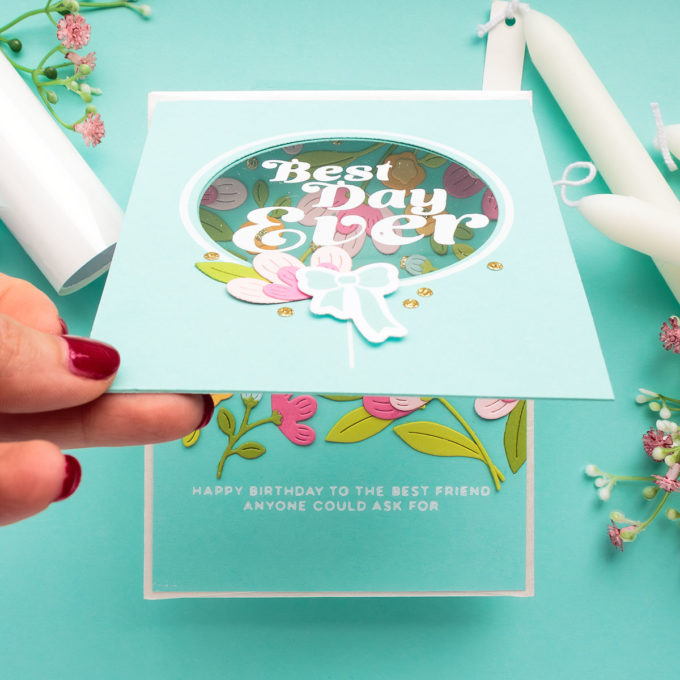 This one is a true window card with foiling on the outside, sentiment foiled on acetate and sandwiched between the front panel and card base, and beautiful flowers on the inside of the card.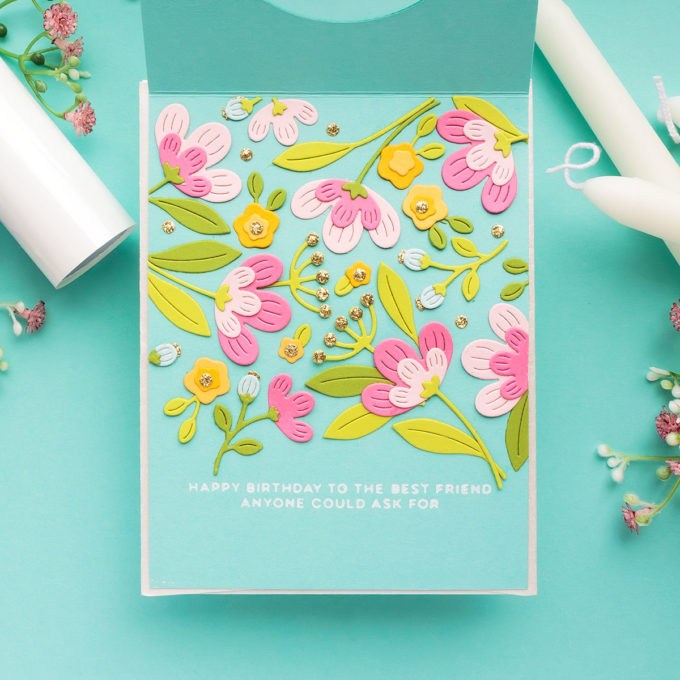 Here are some close-up photos:
The inside features not only beautiful flowers from the Parcel & Post Mailbox die set, but also a sentiment from my Inside Card Sentiments glimmer plate set.
FAUX WINDOW BIRTHDAY CARD
This next card is a faux window one. There's no opening to the inside of the card and you have a full blank page on the inside to write a message. I used the exact same supplies here: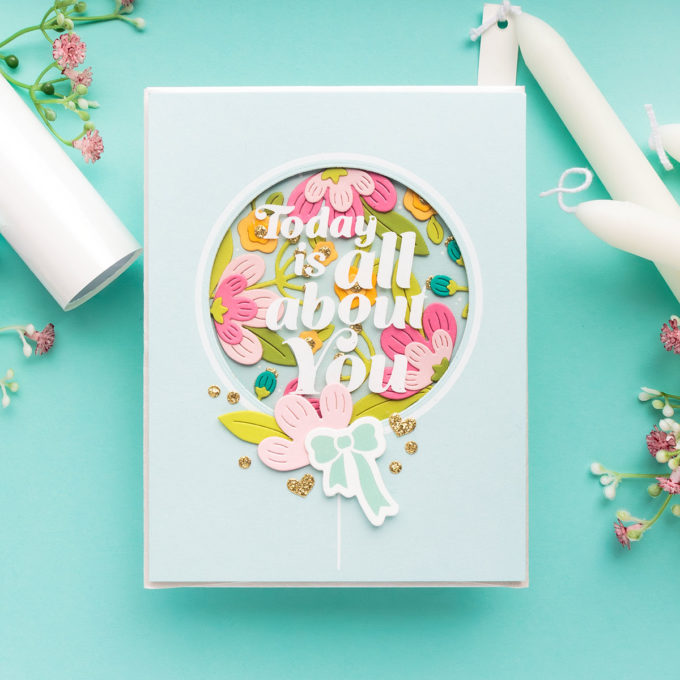 Here are some close-up images:
BIRTHDAY SHAKER WINDOW CARD
My last card is another faux window one, but it features a shaker. I did
Here are some close-up images:
Have fun crafting!
SUPPLIES
I'm listing the products I used below. Click on the link to go directly to the product. Where available I use compensated affiliate links which means if you make a purchase I receive a small commission at no extra cost to you. Thank you so much for your support!

Spellbinders It's My Party – Want It All Party Pack
Shop at:
SB USA

Spellbinders Giant Party Balloon Glimmer Hot Foil Plate & Die Set
Shop at:
SB USA | SB UK

Spellbinders It's My Party Glimmer Sentiments Hot Foil Plate & Die Set
Shop at:
SB USA | SB UK

Spellbinders Party Balloon Garland Clear Stamp Set
Shop at:
SB USA | SB UK

Spellbinders Balloon Garland & Sentiments Stencil
Shop at:
SB USA | SB UK

Spellbinders Balloon Bouquet Designs Stencil
Shop at:
SB USA | SB UK

Spellbinders Glimmering Poppin' Birthday Hot Foil Plate & Die Set
Shop at:
SB USA | SB UK

Spellbinders Floating Balloons 3d Embossing Folder
Shop at:
SB USA | SB UK

Spellbinders Glimmering All About You Hot Foil Plate & Die Set
Shop at:
SB USA | SB UK

Spellbinders Glimmering Hooray Hot Foil Plate & Die Set
Shop at:
SB USA | SB UK

Spellbinders Glimmering Best Day Hot Foil Plate & Die Set
Shop at:
SB USA | SB UK

Spellbinders Parcel & Post Mailbox Etched Dies
Shop at:
SSS | SC | SB USA | SB UK

Spellbinders Inside Card Glimmer Sentiments Glimmer Hot Foil Plate
Shop at:
SSS | SC | SB USA | SB UK

Spellbinders Platinum 6 Die Cutting Machine
Shop at:
SSS | SC | SB USA | SB UK | AMZ

Spellbinders New & Improved Platinum 6 Machine With Universal Plate System
Shop at:
SSS | SC | SB USA | SB UK

Spellbinders Glimmer Hot Foil 2 Rolls – Opaque Black & White Pack
Shop at:
SSS | SC | SB USA | SB UK

Spellbinders Glimmer Hot Foil Rolls Variety 4-pack Satin Pastels
Shop at:
SSS | SB USA

Spellbinders Glimmer Hot Foil System (Platinum)
Shop at:
SC | SB USA | SB UK

Spellbinders Glimmer Hot Foil System (Bronze)
Shop at:
SSS | SC | SB USA | SB UK | AMZ

Spellbinders Glimmer Specialty Clear Film Sheets
Shop at:
SSS | SC | SB USA

Neenah 110 Lb Solar White Cardstock
Shop at:
SSS | AMZ

Simon Says Stamp Cardstock Gold Glitter
Shop at:
SSS

Simon Says Stamp Sea Glass Cardstock
Shop at:
SSS

Spellbinders Beeswax Color Essentials Cardstock
Shop at:
SC | SB USA

Spellbinders Glacier Color Essentials Cardstock
Shop at:
SC | SB USA | SB UK

Spellbinders Saffron Color Essentials Cardstock
Shop at:
SB USA

Spellbinders Fruit Punch Color Essentials Cardstock
Shop at:
SC | SB USA

Spellbinders Rainforest Color Essentials Cardstock
Shop at:
SC | SB USA

Spellbinders Peridot Color Essentials Cardstock
Shop at:
SC | SB USA

Spellbinders Teal Topaz Color Essentials Cardstock
Shop at:
SC | SB USA

Hero Arts Hero Hues Premium Cardstock Peony
Shop at:
SSS | SC | HA | AMZ

Spellbinders Tool 'n One – White
Shop at:
SSS | SC | SB USA | SB UK | AMZ

Spellbinders 9″ Pro Shears
Shop at:
SSS | SC | SB USA | SB UK

Spellbinders Best Ever Craft Tape
Shop at:
SSS | SC | SB USA | SB UK | AMZ

Spellbinders Best Ever Craft Tape 0.25″
Shop at:
SSS | SC | SB USA

Spellbinders Best Ever Craft Tape 1.25″
Shop at:
SSS | SC | SB USA

Darice Adhesive Foam 33 Double Sided Strips
Shop at:
SSS | AMZ

Spellbinders Teal Mix Color Essential Gems
Shop at:
SSS | SB USA | SB UK

Tonic Studios 8.5 Inch Paper Trimmer
Shop at:
SC | AMZ | GBS

Jewel Picker Tool
Shop at:
SSS | SC | SB USA | SB UK | AMZ

Spellbinders Aura Opalescent Color Essentials Sequins
Shop at:
SSS | SC | SB USA | SB UK

Bearly Art Mini Precision Craft Glue
Shop at:
SSS | SB USA | AMZ

White Foam Squares
Shop at:
SSS | SC | SB USA | AMZ

Tonic Spring-cut Fine Tip Detail Scissors
Shop at:
SSS | AMZ

Simon Says Stamp Pawsitively Everything 6 Inch T Square Ruler
Shop at:
SSS