Hello everyone and thanks so much for stopping by to help celebrate the launch of Hero Arts April My Monthly Hero Kit (more about the kit, blog hop and giveaway below). I have a bunch of card ideas to share using this month kit and add-on items.
Hero's kits are very different every month and for the month of April they decided to go with a celebration theme! Fiesta, Cinco De Mayo, Birthday – these are the images and messages that you'll be able to find in this kit.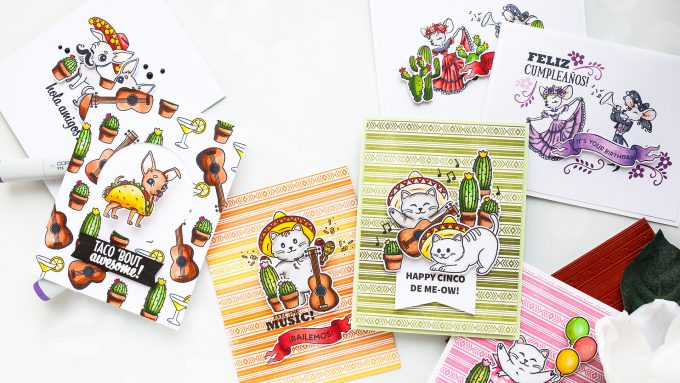 Like this project? Pin it and save for later | Curious about my project photography? Click for details. 
If you are visiting my blog for the first time or have not yet subscribed – be sure to do so! I share lots of handmade projects every week delivering them straight to your inbox! I also occasionally share information about crafty sales and new product releases I love. Subscribe here.
VIDEO TUTORIAL
As always, I filmed a video tutorial showing how to create this project from start to finish. I'm hoping you'll enjoy it. Watch it below or on my Youtube channel.
Like this video? Please give it a big thumbs up (you can do this on Youtube video page right under the video) and share with a crafty friend! Leave me a comment too, I love hearing from you!
CARDS DETAILS – USING THE APRIL CARD KIT ONLY
I liked images on the mice in my kit so I decided to use both and create a little scene. I stamped them in alcohol marker friendly ink and colored using various shades of Copic markers. I used C7, C5 and C3 for the musician's outfit, V17, V15 and V12 for the dress, shirt and flowers and C1, C3 and YR00 to color the skin.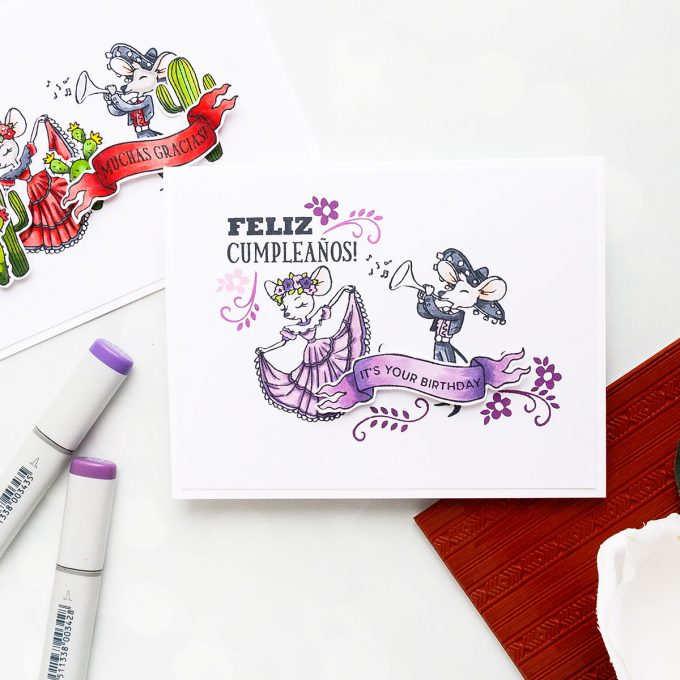 My main sentiment reads Feliz Cumpleanos which is Spanish for Happy Birthday and I also have an additional banner sentiment that reads It's Your Birthday. I foam mounted the banner onto the card for a pop of dimension and added some simple solid stamping in Purple Ombre ink to fill in the white space.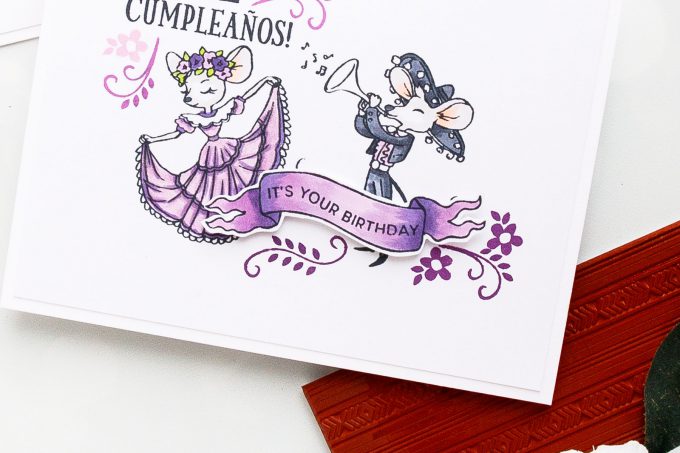 My second card using just the kit is very similar to the first one but is done in different colors. Instead of Purples I used Reds and I went with R22, R24 and R38. I also added several blooming cacti to set the scene.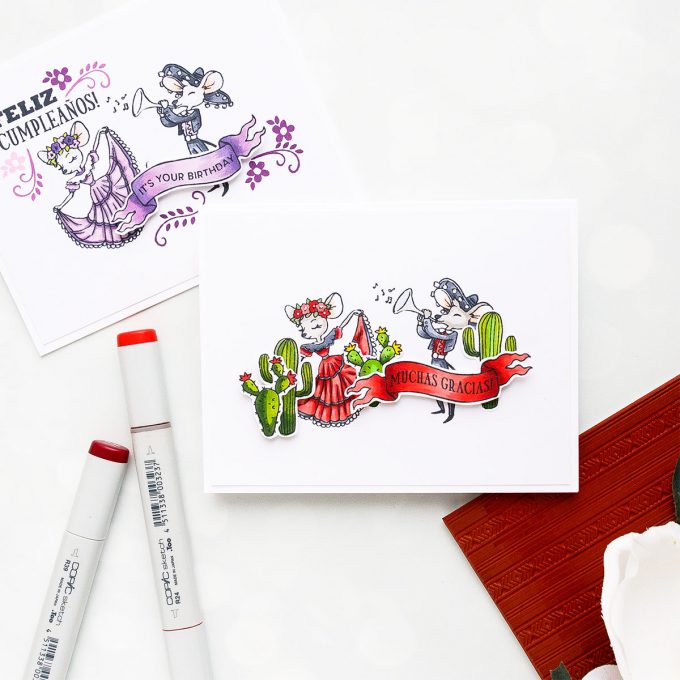 CARDS DETAILS – USING THE APRIL CARD KIT & ADD ONS
My favorite add on this month is definitely the set with the cats – Cinco De Meow so I used this set to make a few celebratory cards. I love to play dress up with my critter stamps so I wanted to be able to use the hat from one of the cats on the other cat images. I stamped the images I needed, colored and cut them out and arranged into a fun little scene.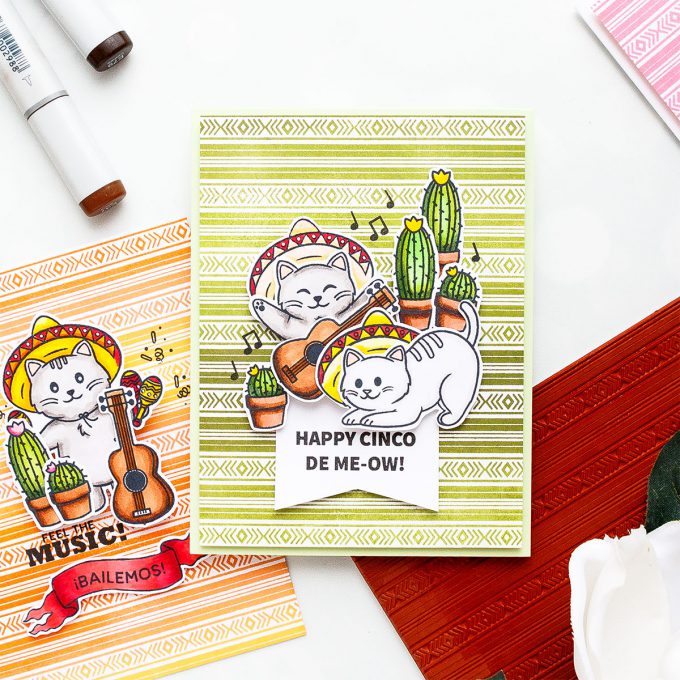 To create a background for my kitty cards I used the add on background stamp – Blanket Pattern Bold Print background and I stamped it with the help of my stamp platform using various colors of ink from Hero Arts. I think is such a cool stamp – the design is really perfect for Fiesta theme. I found that this image looks best when stamped with Hero's Ombre inks – because these kinds of blankets usually come in various colors so by using an ombre ink pad you can add those various colors to your image rather easily.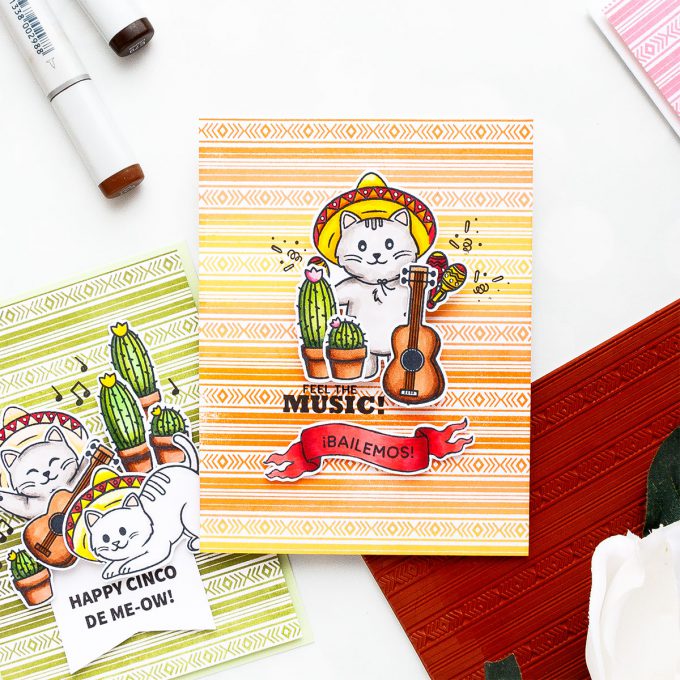 For my next card I just had to use a wobble Spring – I use a mini one, a regular size would have been better, but I only have minis in my stash, I used it to adhere the standing up cat, I added a guitar and two little cacti images onto a yellow and orange blanket background.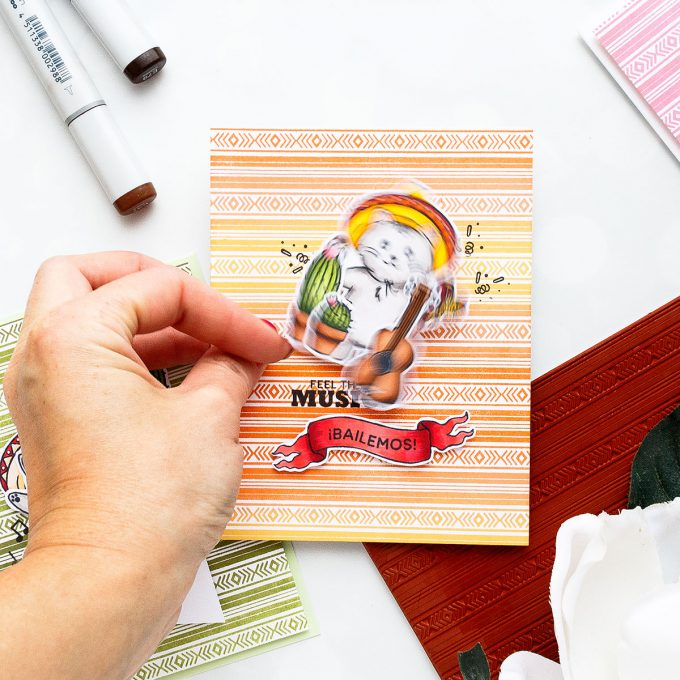 For my sentiment I used messages from the kit and I stamped Feel the Music in black onto the background and added a banner colored in red to match the details on the hat and stamped Bailemos which is Spanish for Let's Dance.
I also wanted to show you that the Cinco De Meow set can be used for a Birthday Card without any Spanish reference. I stamped the same blanket background in just one color of ink – pink and it now looks like a regular background.
I also stamped and cut out a few kitties – one kitty in the box and I colored the box pink and added white polka dots using a white gel pen and I also have another kitty colored using W1 marker to make it look white. So by changing up the colors but still using same images I was able to make a card for a completely different occasion. I finished this one with Happy Birthday to Meow sentiment, added some more cacti and some colorful balloons and called this card done.
If you are not into cats, Hero Arts also has a dog stamp set to play with this month. The set is called it Fiesta Time and it features 3 fun images of chihuahua.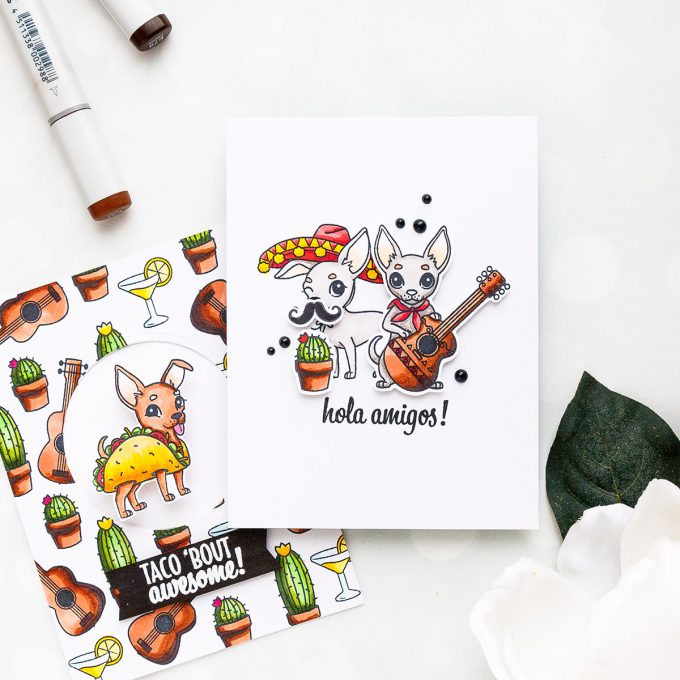 I used 2 of the 3 images to make an Hola Amigos card – I stamped one of the dogs and the sentiment onto the background panel and also shaped another one onto another panel to cut it out and foam mount onto the card. I added a little potted cactus and embellished this card with Nuvo Drops in black.
For my last card for today I did something I love doing the most – I stamped a background pattern using cacti, guitar and the little margarita cocktail glass – all of those are from the Cinco De Mayo set and I colored them using Copic markers using the same colors as before.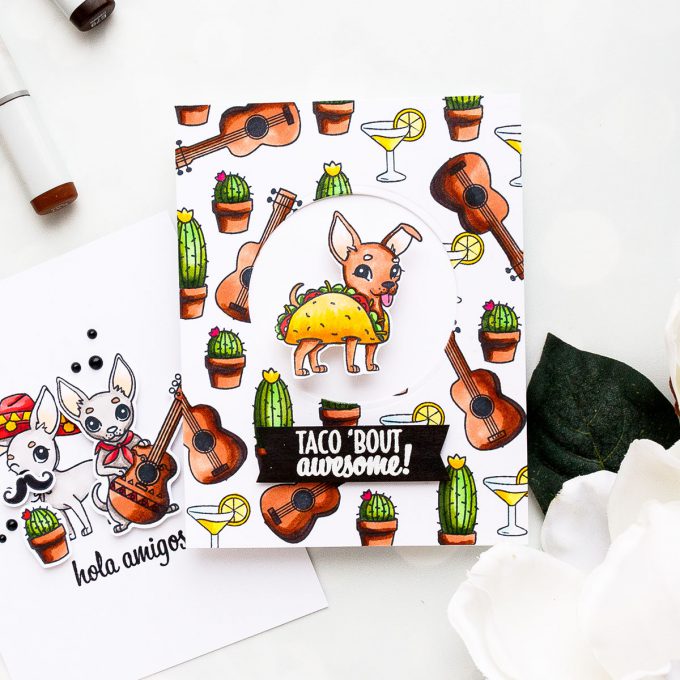 For the focal point for this card I stamped, colored and cut out a little chihuahua dressed up as a taco image, I adhered my background otno an A2 side folding card base, die cut a circle opening to make it into a window card and used a mini wobble spring to adhere the taco chihuahua on the inside of the card – so you can see it on the outside and on the inside too. I added Taco About Awesome sentiment white heat embossed onto black paper and that finished this card.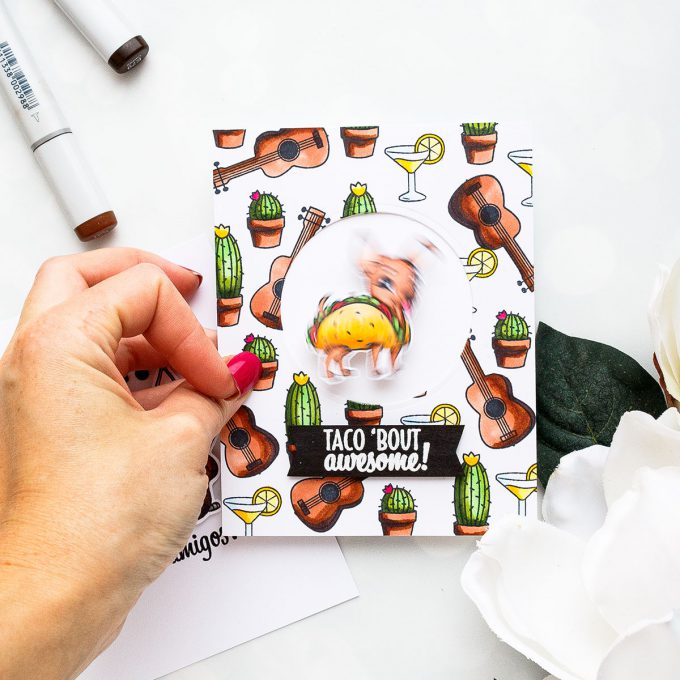 So thats all of the card ideas that I have using Hero Arts April My Monthly Hero Kit. Which one did you like the best?
MY MONTHLY HERO APRIL 2018 KIT
The kit is available for a limited time only – once it's gone, it's gone. If you love it – grab it now!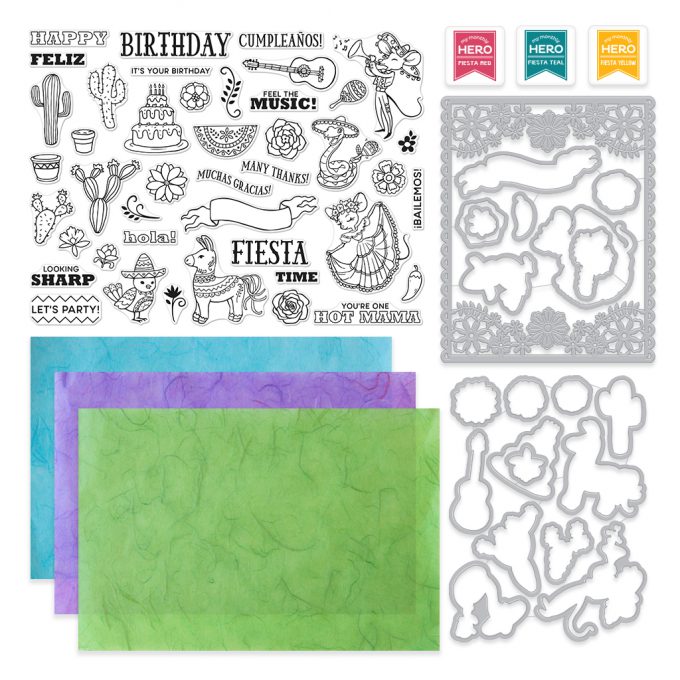 You can now subscribe to receive the kit monthly and never miss one!
KIT & KIT ADD-ONS
There are several optional add-on items:

Hero Arts Get Them All April Add-ons
Shop at:
HA

Hero Arts CG734 Blanket Pattern Bold Prints
Shop at:
SSS | HA

Hero Arts PD119 Liquid Watercolor Purple
Shop at:
SSS | HA

Hero Arts DI497 Cinco de Meow Frame Cuts (D)
Shop at:
SSS | HA

Hero Arts DI495 Shake Your Bones Frame Cuts (D)
Shop at:
SSS | HA

Hero Arts DI494 It's Fiesta Time Frame Cuts (D)
Shop at:
SSS | HA

Hero Arts CM254 Cinco de Meow
Shop at:
SSS | HA

Hero Arts CM253 Shake Your Bones
Shop at:
SSS | HA

Hero Arts CM252 It's Fiesta Time
Shop at:
SSS | HA

Hero Arts My Monthly Hero Kit April 2018
Shop at:
HA
HOP ALONG WITH US!
The Hero Arts Blog
Laurie Willison
Yana Smakula – you are here!
Janette Kausen
Nichol Spohr
Ilina Crouse
Kathy Racoosin
Clare Prezzia
Lydia Fiedler
Jessica Frost-Ballas
Kelly Latevola
Jana Millen
Amy Tsuruta
Emily Midgett
May Park
Libby Hickson
GIVEAWAY!
Hero Arts is giving away one kit as a prize to one blog reader – selected from the comments across all of the blogs in the hop so be sure to leave a comment for your chance to win! The giveaway closes Sunday, April 8th at 11:59pm, and the winner will be announced the following week.
SUPPLIES
I'm listing the products I used below. Click on the link to go directly to the product. Where available I use compensated affiliate links which means if you make a purchase I receive a small commission at no extra cost to you. Thank you so much for

Hero Arts My Monthly Hero Kit April 2018
Shop at:
HA

Hero Arts CG734 Blanket Pattern Bold Prints
Shop at:
SSS | HA

Hero Arts CM254 Cinco de Meow
Shop at:
SSS | HA

Hero Arts DI497 Cinco de Meow Frame Cuts (D)
Shop at:
SSS | HA

Hero Arts CM252 It's Fiesta Time
Shop at:
SSS | HA

Hero Arts DI494 It's Fiesta Time Frame Cuts (D)
Shop at:
SSS | HA

Hero Arts Snow Layering Papers
Shop at:
SSS | SC | HA | AZ

Simon Says Stamp Black Cardstock
Shop at:
SSS

Hero Arts 12 Mix Notecards Foliage Cards
Shop at:
SSS | HA | AZ

Spellbinders Standard Circles LG Dies
Shop at:
SSS | SC | SPEL | AZ

Spellbinders Platinum Die Cutting Machine
Shop at:
SSS | SC | SPEL | AZ

ScraPerfect Crafting Pouch
Shop at:
SSS | AZ

Hero Arts Heat Embossing Gun PW200
Shop at:
SSS | SC | HA | AZ

Hero Arts White Embossing Powder PW110
Shop at:
SSS | SC | HA | AZ

Versamark Watermark Emboss Ink Pad
Shop at:
SSS | HA | PTI | AZ

Hero Arts Ombre Hydrangea Ink Pad
Shop at:
SSS | SC | HA | AZ

Hero Arts Ombre Lime to Forever Green Ink Pad
Shop at:
SSS | SC | HA | AZ

Hero Arts Ombre Butter To Orange Ink Pad
Shop at:
SSS | SC | HA | AZ

Mini Misti Stamping Tool
Shop at:
SSS | SC | AZ

Art Impressions Mini Action Wobble
Shop at:
SSS | SC

Hampton Art Mini Action Wobbles 12 Pack
Shop at:
SSS

Action Wobble Springs 12 Pack Wobblers
Shop at:
SSS

Action Wobble Springs 6 Pack Wobblers
Shop at:
SSS

Sakura Quickie Glue Pen
Shop at:
SSS | AZ

Memento Tuxedo Black Ink Pad
Shop at:
SSS | AZ

Tonic Ebony Black Nuvo Crystal Drops
Shop at:
SSS

Copic Sketch Marker Y15 Cadmium Yellow
Shop at:
SSS | AZ

Copic Sketch Marker Y19 Napoli Yellow
Shop at:
SSS | AZ

Copic Sketch Marker YR04 Chrome Orange
Shop at:
SSS | AZ

Copic Sketch Marker YR00 Powder Pink
Shop at:
SSS

Copic Sketch Marker R22 Light Prawn
Shop at:
SSS | AZ

Copic Sketch Marker R24 Prawn
Shop at:
SSS | AZ

Copic Sketch Marker R27 Cadmium Red
Shop at:
SSS | AZ

Copic Sketch Marker R39 Garnet
Shop at:
SSS | AZ

Copic Sketch Marker YG03 Yellow Green
Shop at:
SSS | AZ

Copic Sketch Marker YG17 Grass Green Bold
Shop at:
SSS | AZ

Copic Sketch Marker YG63 Pea Green
Shop at:
SSS | AZ

Copic Sketch Marker YG67 Moss
Shop at:
SSS | AZ

Copic Sketch Marker W1 Warm Gray
Shop at:
SSS | AZ

Copic Sketch Marker W3 Warm Gray
Shop at:
SSS | AZ

Copic Sketch Marker C3 Cool Gray Grey
Shop at:
SSS | AZ

Copic Sketch Marker C5 Cool Gray Grey
Shop at:
SSS | AZ

Copic Sketch Marker C7 Cool Gray
Shop at:
SSS | AZ

Copic Sketch Marker E33 Sand
Shop at:
SSS | AZ

Copic Sketch Marker E37 Sepia
Shop at:
SSS | AZ

Copic Sketch Marker E79 Cashew
Shop at:
SSS | AZ

Copic Sketch Marker V12 Pale Lilac
Shop at:
SSS | AZ

Copic Sketch Marker V15 Mallow
Shop at:
SSS | AZ

Copic Sketch Marker V17 Amethyst
Shop at:
SSS | AZ

Copic Sketch Marker Y21 Buttercup
Shop at:
SSS | AZ

Copic Sketch Marker E51 Milky White Cream
Shop at:
SSS

Art Impressions Mini Action Wobbles
Shop at:
SSS

Tim Holtz Tonic Craft Stamp Platform
Shop at:
SSS | SC | AZ

Tonic Spring-cut Fine Tip Detail Scissors
Shop at:
SSS

Scor-Tape 1/8 Inch Crafting Tape
Shop at:
SSS | AZ

Tonic Aqua Shimmer Pen Nuvo 2 Pack
Shop at:
SSS | SC | AZ

Scrapbook Adhesives White Foam Squares
Shop at:
SSS | SC | AZ