Hello, crafters. Welcome back for another Yippee For Yana video! As you may or may not know, I am Ukrainian and I am currently located in western Ukraine. You might think this is not the time for me to be making cards and filming videos, but card making has always been my therapy and it is even more so now. I will continue to create cards and film videos for as long as I can. And I thank you for your support.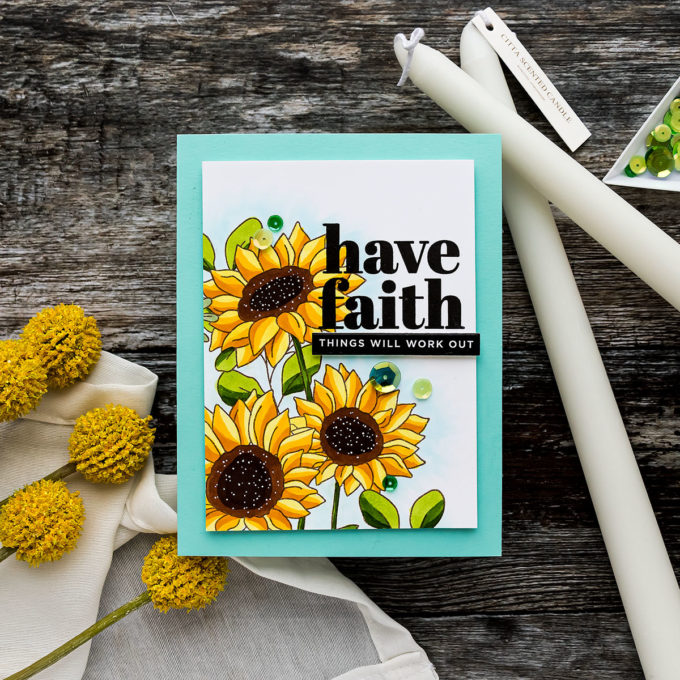 Like this project? Pin it and save for later | Curious about my project photography? Click for details. 
VIDEO TUTORIAL
Watch the video below or on my Youtube channel.
CARD DETAILS
Instagram is booming with blue and yellow cards these days. There are so many amazingly inspiring projects featuring the two colors of the Ukrainian flag – blue, for clear blue sky, and yellow, for fields of wheat or fields of sunflowers which is a national flower of Ukraine.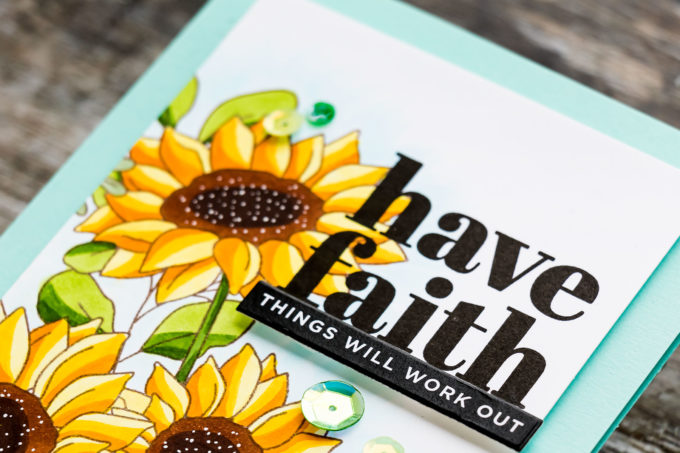 I was inspired by all your projects, I wanted to create a sunflower card myself. Simon Says Stamp has several amazing stamp sets that feature sunflowers, either alone or in combination with other flowers. I picked the Sunflower Garden stamp set.
I love all things abstract and I also love to experiment with my Copic markers. This led me to a different way to color which I like to call Copic Blend Free coloring. I say Copic because I use Copic markers for this technique, but other alcohol markers work just as well.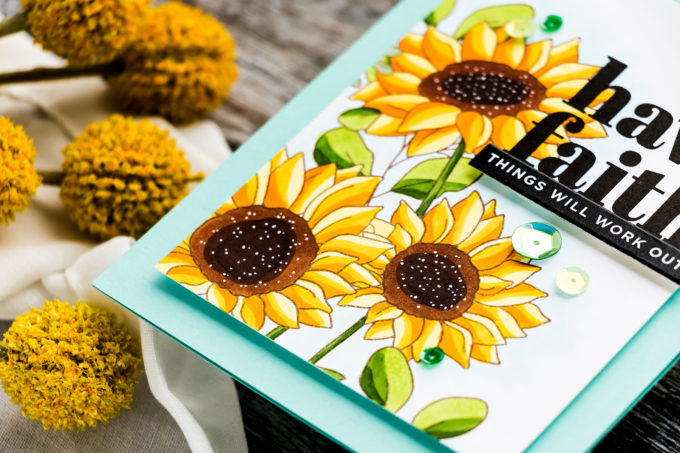 The finished image has a modern graphic colored look to it, and the best part about it is you don't need alcohol markers that blend well together, in fact, the greater difference in color or shade of your markers, the better it is for this technique.
I stamped the image in Versafine Vintage Sepia ink, I didn't want to use black, as I opted for softer colors. You can also try stamping in the type and color of ink you use for no-line Coloring, and use this coloring technique for a no-line colored result. I imagine that would look quite beautiful. I'm hoping to try it one day.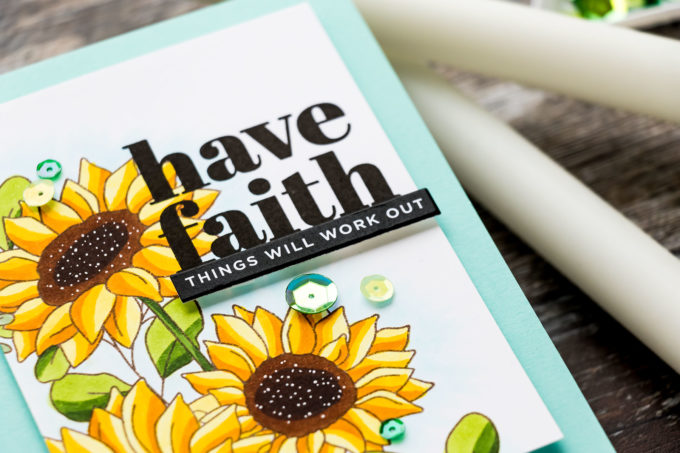 My stamping was done on Simon's 130lb cardstock as I love this paper for coloring with Copic markers. I used my heat tool and heat set the ink as the type of ink I used is not Copic markers friendly and it bleeds when it comes in contact with alcohol. I trimmed my panel to 3 1/2 x 4 3/4" and began coloring. The idea is not to do any blending. To achieve this, you need to let the ink you've applied dry before you apply the next color on top.
You can use this coloring method with many different images and I've demonstrated the technique in the past featuring both small and large images. It works not only for flowers but other types of images too.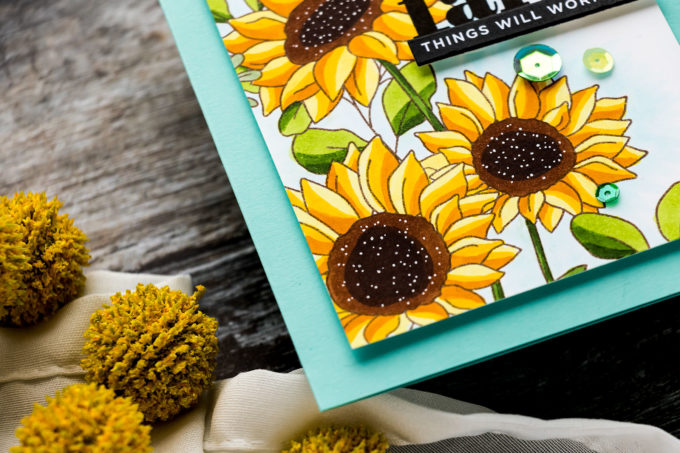 The darker you go, the less of an area you cover. Remember not to blend anything, just apply a solid layer of color. It is up to you how many marker colors to use to color your image in this way. I would say use 3 markers, a light, a medium, and a dark. If you have a big marker collection you can add a 4th or even a 5th color to add greater color variation to the flowers, especially if you are coloring a larger image.
I love this coloring method and the final result. It looks very different from the blended coloring. I know this is not for everyone, but ever so often I like to color this way. If you struggle with blending using your alcohol markers, this might be a very easy way for you to color.
Next, I stamped a sentiment for my card – I selected one that reads Have Faith. We all need to have faith these days and believe in a peaceful tomorrow. Here I used Versafine Onyx Black ink to add more contrast to the sentiment.
To add detail to the flower centers I used my 0.5 Sakura Gel Roll pen and added white dots in small clusters onto the brown centers. They helped create the highlights for the seeds.
I foam mounted this panel onto a light blue card base and added a "things will work out" sub sentiment cut out from one of Simon's pre-printed sentiment strips. I also embellished my card with the Four Leaf Clover sequins from Simon.
Thank you for spending time with me today. Thank you for your encouraging comments, emails, and DMs. I have faith and I hope peace will be here soon.
SUPPLIES
I'm listing the products I used below. Click on the link to go directly to the product. Where available I use compensated affiliate links which means if you make a purchase I receive a small commission at no extra cost to you. Thank you so much for your support!

Simon Says Clear Stamps Sunflower Garden
Shop at:
SSS

CZ Design Sentiment Strips Reverse Well Wishes
Shop at:
SSS

CZ Design Clear Stamps Well Wishes
Shop at:
SSS

Simon Says Stamp Sequins Four Leaf Clover
Shop at:
SSS

Simon Says Stamp Mega Thick White Cardstock 130LB
Shop at:
SSS

Mini MISTI Stamping Tool
Shop at:
SSS

MISTI Stamping Tool
Shop at:
SSS

Tsukineko Versafine Onyx Black Ink
Shop at:
SSS

Copic Sketch Marker Y13 Lemon Yellow
Shop at:
SSS

Copic Sketch Marker Y19 Napoli Yellow
Shop at:
SSS

Copic Sketch Marker YR14 Caramel
Shop at:
SSS

Copic Sketch Marker YG03 Yellow Green
Shop at:
SSS

Copic Sketch Marker YG17 Grass Green
Shop at:
SSS

Copic Sketch Marker B000 Pale Porcelain
Shop at:
SSS

Copic Sketch Marker YG67 Moss
Shop at:
SSS

Copic Sketch Marker E37 Sepia
Shop at:
SSS

Copic Sketch Marker E79 Cashew
Shop at:
SSS

Fun Foam Sheets
Shop at:
SSS

Simon Says Stamp 2 Dot Runner Refills Adhesive
Shop at:
SSS

Bearly Art Mini Precision Craft Glue
Shop at:
SSS

Wagner Precision Heat Tool
Shop at:
SSS

Sakura Classic White Gelly Roll Pens Set of 3
Shop at:
SSS