Hello friends! Today I wanted to share some of my favorite Spellbinders Clubs for 2023. As you know, I work for Spellbinders and I get to create with many of their products ahead of the release date, especially Clubs. The March 2023 Clubs are particularly inspiring and so I decided I would share my favorite March 2023 Clubs with you.
Spellbinders Club Kits is a subscription program. One can join and cancel any time, there is no minimum commitment. You can read more about how the program works HERE. Clubs are available in the USA and UK.
There are 8 different Clubs to chose from, depending on what kind of crafting you like to do: Quick & Easy Card Kit (great for beginners), Small Die, Large Die, Stitching Die (fantastic kit if you enjoy stitching), Glimmer Hot Foil Kit, Clear Stamp & Die Kit, Embossing Folder and 3D Embossing Folder Clubs. You can also get the "Total Package" which includes all 8 Clubs and offers a deeper discount.
STITCHING DIE OF THE MONTH | MARCH 2023
The Stitching Die is my top favorite for this month.
March 2023 Stitching Die of the Month
I've grown to love stitching and I enjoy doing it while watching a show on Netflix. It is such a relaxing activity, I find it calms me down. The die for this month is very creative – there is a method to stitch it, where you need to stitch every other hole and next add a folded die-cut petal on top. It is very cool and not like anything I've seen before.
I did Fruit Punch cardstock from Spellbinders for the hot pink card and Peony from Hero Arts for the petal. I love this look! I stitched the card using pale pink DMC thread. You can see close-up photos below: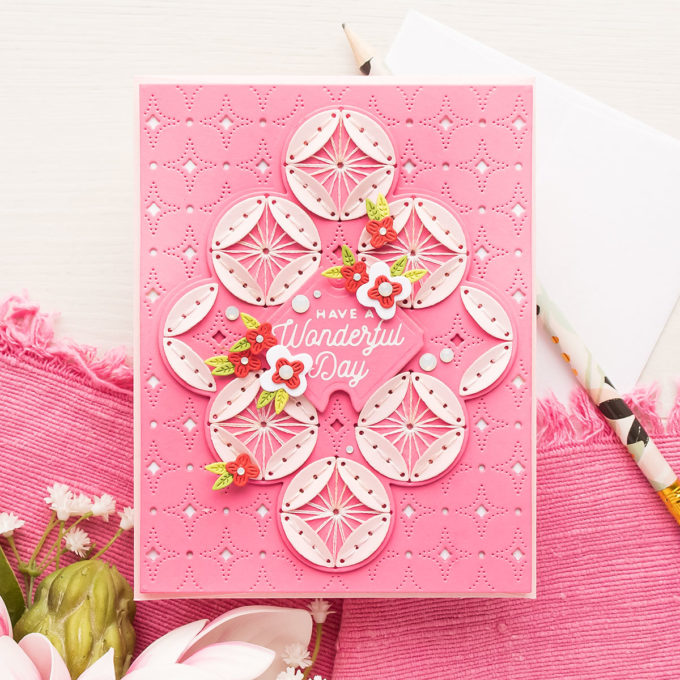 The sentiment for this card comes from the Sealed Glimmer Sentiments set and I foiled it in Opaque White Foil – I love how white-white this foil looks! Just like embossing powder. I also added some flowers from the Large Die of the Month for March 2023 which is a beautiful dimensional tree set.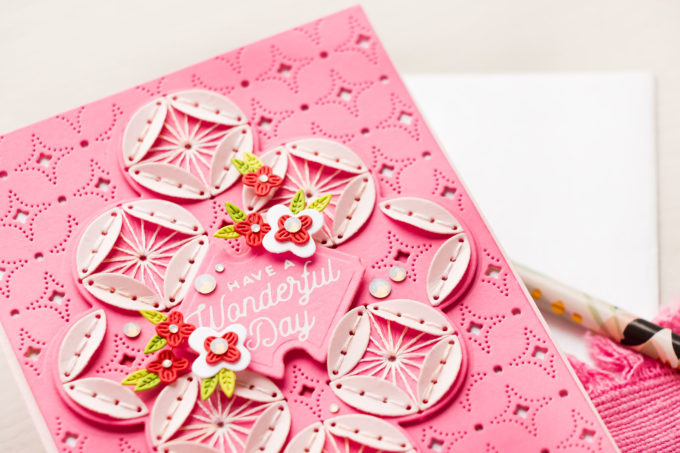 For the other card, I used Brushed White cardstock (did I mention how much I love this paper?) and vellum for the petals and this gave a very airy look and feel, I love it! The sentiment was made using my Wonderful Script Sentiments dies: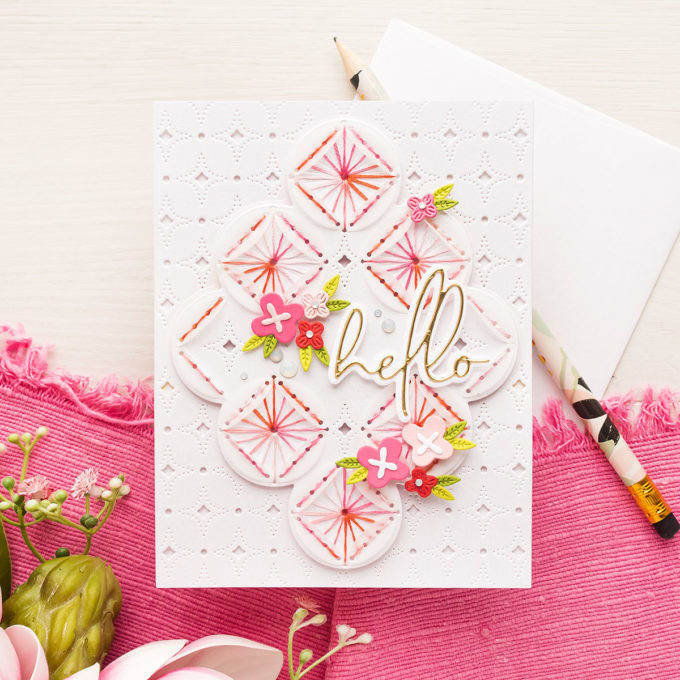 Here are some close-ups:
GLIMMER HOT FOIL KIT OF THE MONTH | MARCH 2023
Another favorite this month is the Glimmer Hot Foil Kit.
March 2023 Glimmer Hot Foil Kit of the Month
Goodness! Foil it in satin gold and color using alcohol markers or foil it in white on colored cardstock for stunning results! I had so much fun creating this card and coloring the dainty flowers using my OLO markers: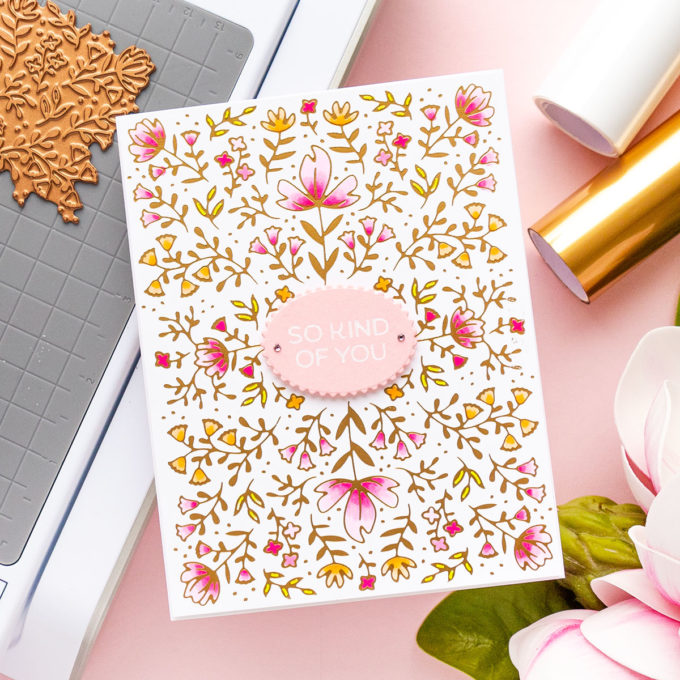 3D EMBOSSING FOLDER OF THE MONTH | MARCH 2023
The 3D Embossing Folder for March is another product I absolutely adore.
March 2023 3D Folder of the Month
I think it is very versatile and timeless and can be used many-many times. Here I first added color to the Brushed white cardstock panel using OLO markers – I wanted to create a watercolored-like look and I used the palest colors I could find and I bled them out using a ZERO marker. Next, I embossed the panel using the 3D folder and added a stitched element on top. Love!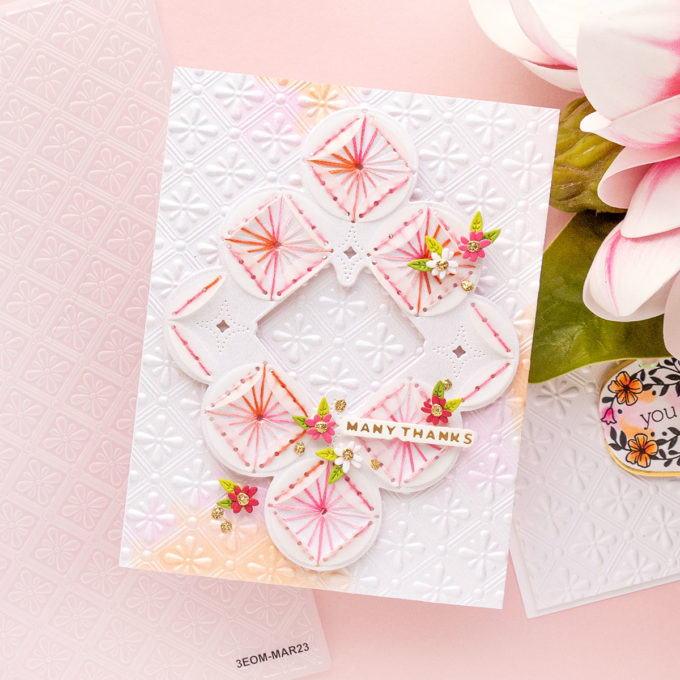 Which one is your favorite this month?
SUPPLIES
I'm listing the products I used below. Click on the link to go directly to the product. Where available I use compensated affiliate links which means if you make a purchase I receive a small commission at no extra cost to you. Thank you so much for your support!

Spellbinders The Total Package Club Membership
Shop at:
SB USA | SB UK

Spellbinders Quick & Easy Card Kit of the Month Membership
Shop at:
SB USA | SB UK

Spellbinders Small Die Of The Month Membership
Shop at:
SB USA | SB UK

Spellbinders Large Die Of The Month Membership
Shop at:
SB USA | SB UK

Spellbinders Stitching Die of the Month Club
Shop at:
SB USA | SB UK

Spellbinders Glimmer Hot Foil Kit of the Month Club
Shop at:
SB USA | SB UK

Spellbinders Clear Stamp & Die of the Month Club
Shop at:
SB USA | SB UK

Spellbinders Embossing Folder of the Month
Shop at:
SB USA | SB UK

Spellbinders 3D Embossing Folder of the Month Club
Shop at:
SB USA | SB UK

Spellbinders Wonderful Script Sentiments Dies
Shop at:
SSS | SC | SB USA | SB UK | CCC

Spellbinders Platinum 6 Die Cutting Machine
Shop at:
SSS | SC | SB USA | SB UK | AMZ

Spellbinders Platinum Die Cutting Machine
Shop at:
SSS | SC | SB USA | SB UK | AMZ

New & Improved Platinum Machine With Universal Plate System
Shop at:
SSS | SC | SB USA | SB UK | AMZ

New & Improved Platinum Six Machine With Universal Plate System
Shop at:
SSS | SC | SB USA | SB UK

Spellbinders Glimmer Hot Foil System (Platinum)
Shop at:
SB USA | SB UK

Spellbinders Glimmer Hot Foil System (Bronze)
Shop at:
SSS | SC | SB USA | SB UK | AMZ

Spellbinders Glimmer Hot Foil 4 Rolls – Satin Metallics Variety Pack
Shop at:
SB USA | SB UK

Spellbinders Brushed White Cardstock
Shop at:
SC | SB USA

Spellbinders Sealed Glimmer Sentiments Glimmer Hot Foil Plate
Shop at:
SB USA

Spellbinders Fruit Punch Color Essentials Cardstock
Shop at:
SC | SB USA

Spellbinders Glimmer Hot Foil 2 Rolls – Opaque Black & White Pack
Shop at:
SSS | SC | SB USA | SB UK

Spellbinders Vellum Sheets
Shop at:
SC | SB USA

Hero Arts Hero Hues Premium Cardstock Peony
Shop at:
SSS | SC | HA | AMZ

Olo Lavender Alcohol Markers – 8 Colors 4pc. Set 4
Shop at:
SSS | SB USA

Olo Autumn Alcohol Markers – 8 Colors 4pc. Set 2
Shop at:
SSS | SB USA

Olo Primary Alcohol Markers – 8 Colors 4pc. Set 7
Shop at:
SSS | SB USA

Olo Special Blend Alcohol Markers Set – 8 Colors 4pc.
Shop at:
SB USA

Olo Coral Tones Alcohol Markers Set – 8 Colors 4pc.
Shop at:
SB USA

Olo Pink Tones Alcohol Markers Set – 8 Colors 4pc.
Shop at:
SB USA

Olo Teal Tones Alcohol Markers Set – 8 Colors 4pc.
Shop at:
SB USA

Olo Purple Tones Alcohol Markers Set – 8 Colors 4pc.
Shop at:
SB USA

Olo Warm Gray Alcohol Markers – 8 Colors 4pc. Set 9
Shop at:
SSS | SB USA

Olo Cool Gray Alcohol Markers – 8 Colors 4pc. Set 8
Shop at:
SSS | SB USA

Olo Spring Alcohol Markers – 8 Colors 4pc. Set 2
Shop at:
SSS | SB USA

Olo Portrait Alcohol Markers – 8 Colors 4pc. Set 6
Shop at:
SSS | SB USA

Olo Forest Alcohol Markers – 8 Colors 4pc. Set 5
Shop at:
SSS | SB USA

Olo Winter Alcohol Markers – 8 Colors 4pc. Set 3
Shop at:
SSS | SB USA

Olo Zero Brush and Chisel Tip
Shop at:
SB USA