Hello crafters. In this video, we are talking about Monochromatic Color Scheme cards. Watch my Analogous Color Scheme Cards Video HERE. Color plays an important role when creating cards and it is typically the first thing I think about when I start working on a new project.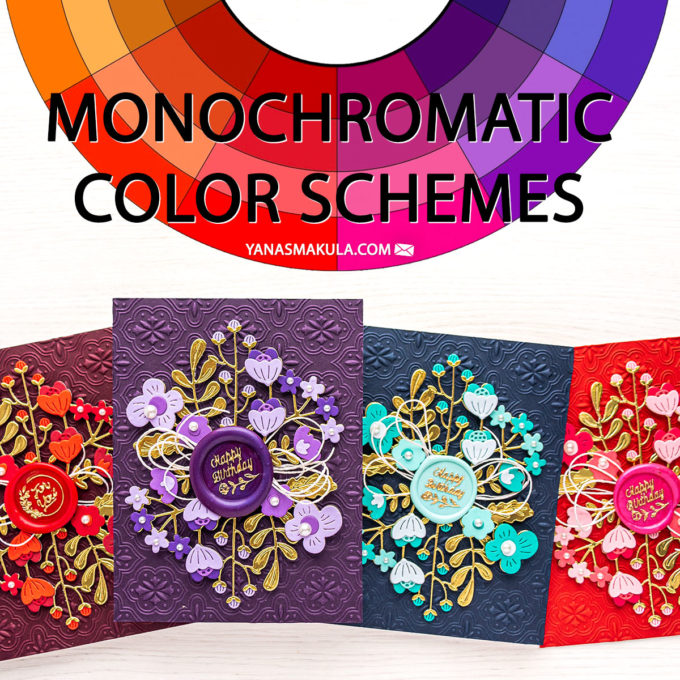 Like this project? Pin it and save for later | Curious about my project photography? Click for details. 
I often struggle with finding and using new color combinations for my handmade cards and I know many of you feel the same. For this video, I challenged myself to step outside my comfort zone and use monochromatic color schemes for my projects. 
PINK MONOCHROME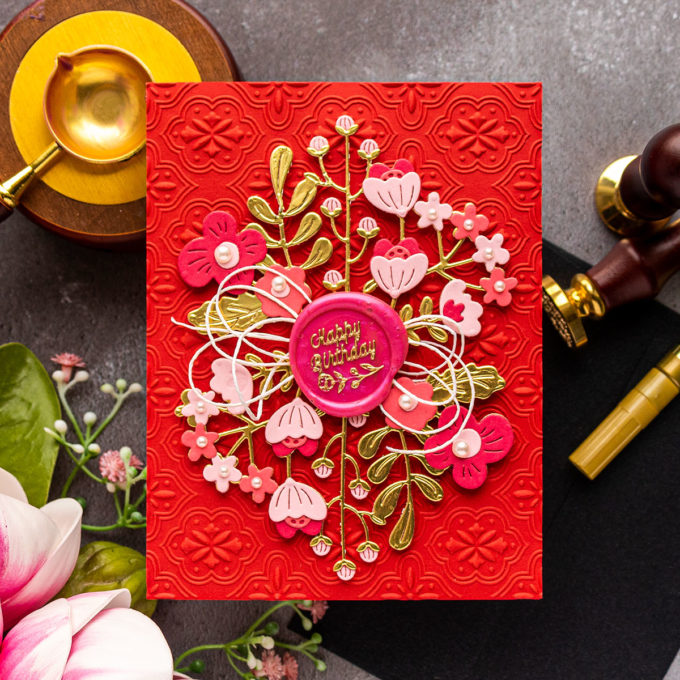 Cardstock colors used: Poppy Field, Wild Berry, Dahlia, Pink Sand.
Wax Beads colors used: Fuchsia
PURPLE MONOCHROME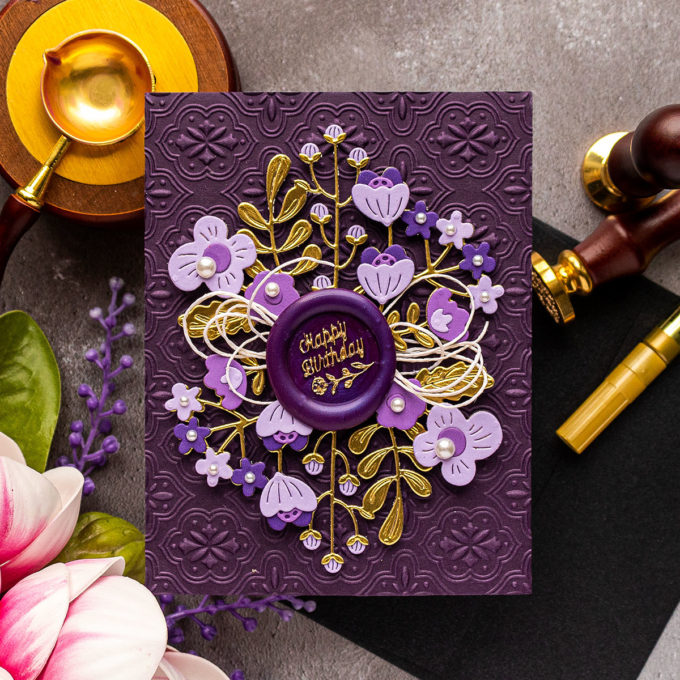 Cardstock colors used: Plum, Royal Amethyst, Lilac Blossom, and Purple Mist
Wax Beads colors used: Red and Royal Blue mixed together
RED MONOCHROME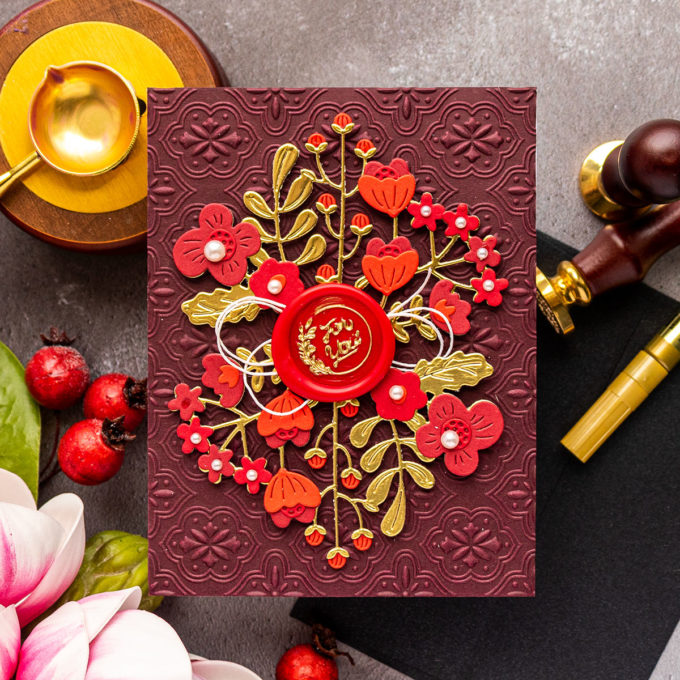 Cardstock colors used: Mahogany, Crimson, Phone Booth, and Poppy Field
Wax Beads colors used: Red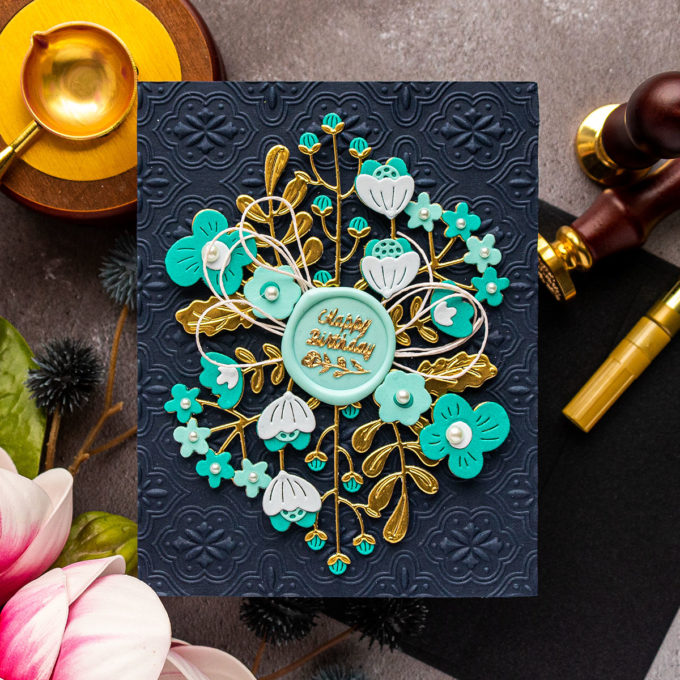 Cardstock colors used: Indigo, Lagoon, Teal Topaz and Glacier. 
Wax Beads colors used: Pastel Aqua
What does monochromatic mean? Plainly speaking, a card made using various shades of one color is monochromatic. When working with colored cardstock is it very easy to create monochromatic cards as colored cardstock is typically available in many beautiful shades. I used Spellbinders Color Essentials cardstock and the new Spellbinders Floral Reflection collection for the card ideas I have for you in this video. 
VIDEO TUTORIAL
Watch the video below or on my Youtube channel.
I hope you feel inspired to create! Have fun crafting.
SUPPLIES
I'm listing the products I used below. Click on the link to go directly to the product. Where available I use compensated affiliate links which means if you make a purchase I receive a small commission at no extra cost to you. Thank you so much for your support!

Spellbinders Tile Reflection 3d Embossing Folder
Shop at:
SB USA

Spellbinders Essential Floral Reflection Etched Dies
Shop at:
SB USA

Spellbinders Glimmer Essential Solid Floral Reflection Glimmer Hot Foil Plate
Shop at:
SB USA

Spellbinders Floral Reflection Bundle From the Floral Reflection Collection
Shop at:
SB USA

Spellbinders Floral Reflection Etched Dies
Shop at:
SB USA

Spellbinders Floral Reflection Sentiments Clear Stamp Set
Shop at:
SB USA

Spellbinders Tool 'n One – White
Shop at:
SB USA

New & Improved Platinum Machine With Universal Plate System
Shop at:
SSS | SB USA

New & Improved Platinum Six Machine With Universal Plate System
Shop at:
SSS | SB USA

Spellbinders Pink Cutting Plates Extended (C) 2-pack
Shop at:
SSS | SC | SB USA

Glassboard Studio True White Glass Craft Mat | YANA20 for 20% Off
Shop at:
GBS

Spellbinders A2 White Card Bases – Side Fold – 25 pack
Shop at:
SB USA

Spellbinders Pink Sand Color Essentials Cardstock
Shop at:
SC | SB USA

Spellbinders Purple Mist Color Essentials Cardstock
Shop at:
SB USA

Spellbinders Lilac Blossom Color Essentials Cardstock
Shop at:
SC | SB USA

Spellbinders Glacier Color Essentials Cardstock
Shop at:
SC | SB USA

Spellbinders Royal Amethyst Color Essentials Cardstock
Shop at:
SC | SB USA

Spellbinders Plum Color Essentials Cardstock
Shop at:
SB USA

Spellbinders Poppy Field Color Essentials Cardstock
Shop at:
SC | SB USA

Spellbinders Crimson Color Essentials Cardstock
Shop at:
SB USA

Spellbinders Wild Berry Color Essentials Cardstock
Shop at:
SC | SB USA

Spellbinders Teal Topaz Color Essentials Cardstock
Shop at:
SC | SB USA

Spellbinders Mahogany Color Essentials Cardstock
Shop at:
SB USA

Spellbinders Dahlia Color Essentials Cardstock
Shop at:
SC | SB USA

Spellbinders Phone Booth Color Essential Cardstock
Shop at:
SC | SB USA

Spellbinders Indigo Color Essentials Cardstock
Shop at:
SB USA

Spellbinders Mirror Gold Cardstock
Shop at:
SC | SB USA

Spellbinders Lagoon Color Essentials Cardstock
Shop at:
SB USA

Spellbinders Wax Seal Starter Kit
Shop at:
SB USA | SB UK

Decocolor Premium Rose Gold Metallic Marker
Shop at:
SB USA | SB UK

Decocolor Premium Gold Metallic Marker
Shop at:
SB USA | SB UK

Decocolor Premium Silver Metallic Marker
Shop at:
SB USA | SB UK

Spellbinders Sweet Happy Birthday Wax Seal Stamp
Shop at:
SB USA | SB UK

Spellbinders Royal Blue Wax Beads
Shop at:
SB USA | SB UK

Spellbinders Pastel Aqua Wax Beads
Shop at:
SB USA | SB UK

Spellbinders Fuchsia Wax Beads
Shop at:
SB USA | SB UK

Spellbinders Red Wax Beads
Shop at:
SB USA | SB UK

Spellbinders White Cord #10 20 M (21.54 Yards)
Shop at:
SSS | SC | SB USA | SB UK

Spellbinders White Foam Adhesive Squares Mix – 1mm
Shop at:
SC | SB USA

Spellbinders Fashion Oyster Color Essentials Pearl Dots
Shop at:
SSS | SC | SB USA | SB UK

Tonic Studios 8.5 Inch Paper Trimmer
Shop at:
SC | AMZ | GBS

Jewel Picker Tool
Shop at:
SSS | SC | SB USA | SB UK | AMZ

Bearly Art Mini Precision Craft Glue
Shop at:
SSS | SB USA | AMZ

White Foam Squares
Shop at:
SSS | SC | SB USA | AMZ

Tonic Spring-cut Fine Tip Detail Scissors
Shop at:
SSS | AMZ