Hello crafters! In this video, I am taking a look at a new collection from an amazing artist Dawn Woleslagle in collaboration with Spellbinders.
Dawn is the owner of Wplus9, it is a stamp company with some amazing designs, and I am a huge fan, I was on the Wplus9 design team many years ago and I still love their stamps – Dawn has her own unique signature style and it is very feminine and very beautiful. If you look at some of my older videos you'll find some card ideas that I did years ago with her stamps.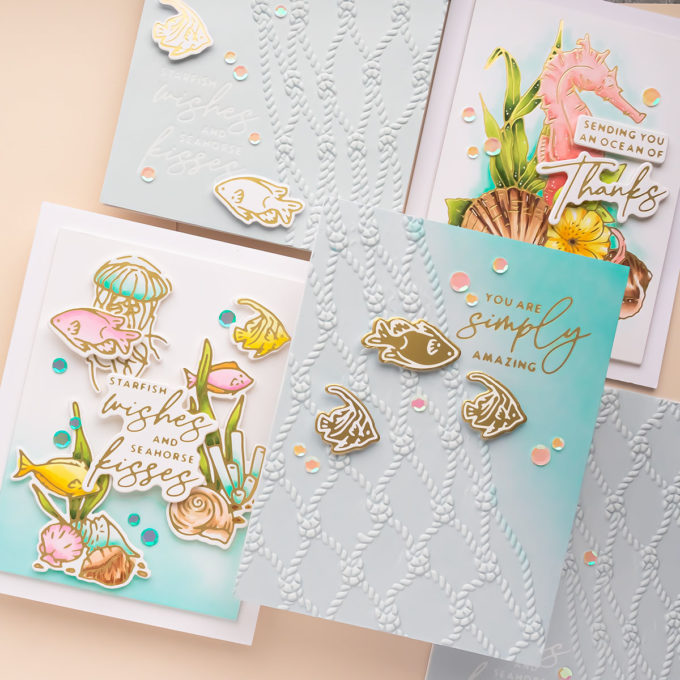 Like this project? Pin it and save for later | Curious about my project photography? Click for details. 
I am so thrilled to see a collection of products designed by Dawn and manufactured by Spellbinders. The collection is called Seahorse Kisses and it features just a handful of products, but absolutely phenomenal!
VIDEO TUTORIAL
Watch the video below or on my Youtube channel.
AN OCEAN OF THANKS CARD
I first wanted to do a card using the Seahorse glimmer plate. I it foiled in Matte Gold foil on Simon's 130lb cardstock. I picked some Copic markers and also some Olo markers to color this. I mentioned this in one of my previous videos – I now use both Copics and OLOs because I find that I can complement with Copic collection with the OLO colors.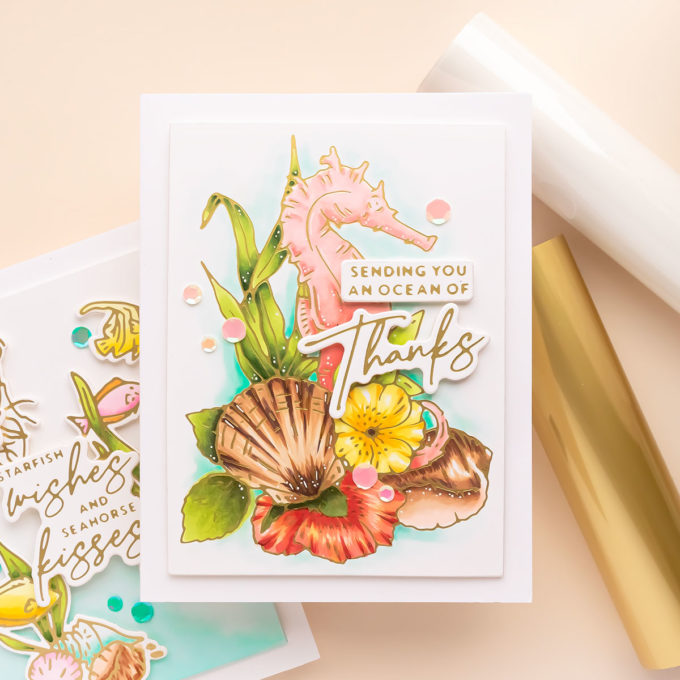 In addition to coloring the image, I also colored the background. I first used a very pale blue from OLO, that helped saturate the paper with ink, and later added BG11 Copic marker to add more teal to the background and also BG32 to add even darker teal. Adding this teal shading helped the image stand out, otherwise, it was kind of getting lost in that white background, so adding the teal helped create the illusion of the background.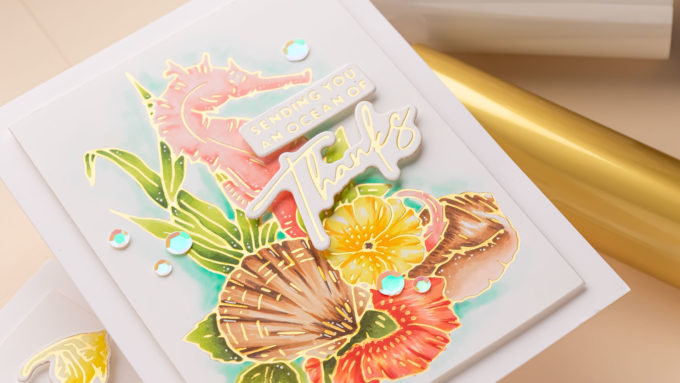 I trimmed this panel using a rectangle die and I foam-mounted it onto a white card base. I also added a ton of white dot details – I used my Sakura gelly roll pen in size 05.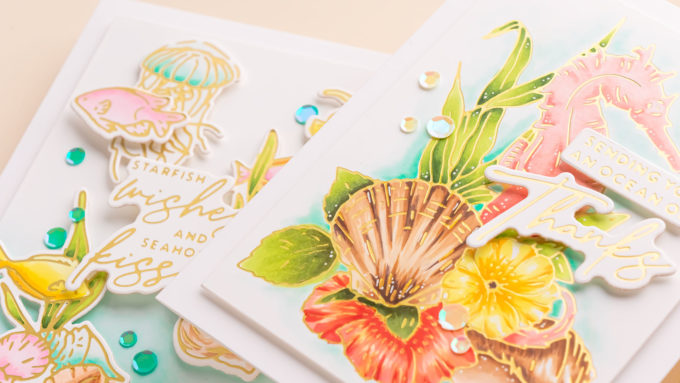 I foam mounted the sentiment that reads Sentiment you an Ocean of Thanks. I love that this sentiment has dies for both parts of the sentiment, giving me the opportunity to pop it over my background image. Not much else was done here, I just added some Aura sequins from Spellbinders and it just tied everything together.
STARFISH WISHES CARD
For my second card, I started by doing some ink blending using the Seafoam ink from Simon Says Stamp. I wanted to create the illusion of water with the subtle ink blending fading into white.
I colored the foiled images from the Under the Sea Glimmer Plate set and positioned them over the ink blended panel sitting a little scene. I also foam-mounted my ink-blended panel onto the A2 card base using a layer of white fun foam.
I added a foiled and die-cut sentiment in the center and I embellished this card using Spellbinders sequins in teal, this color worked well with the light teal ink blending in the background.
CAST AWAY DRY EMBOSSED CARDS
I have 2 more cards for you, and these focus more on the hot foiling technique and the dry embossing with the 3D embossing folder. I started by foiling sentiments in Opaque White and Matte Gold foil on Spellbinders Glacier cardstock.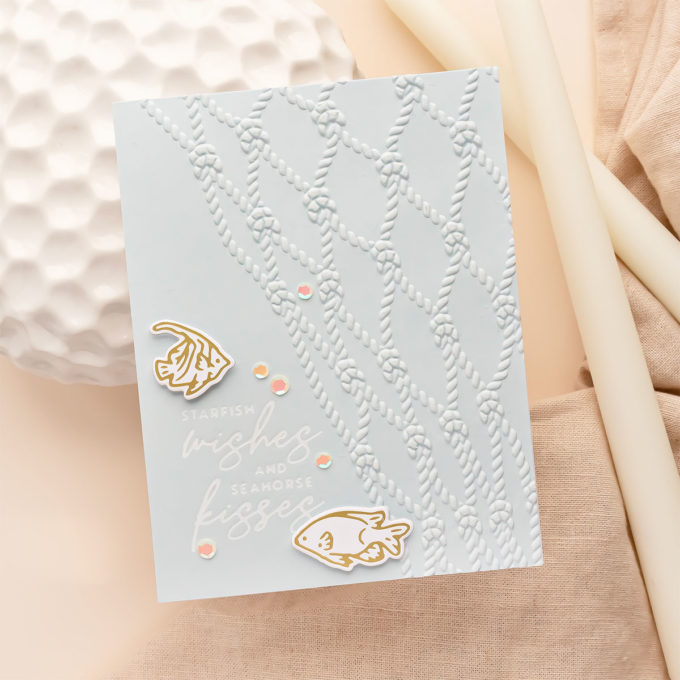 The design of the Cast Away embossing folder provides some free space, perfect for housing a sentiment. Next, I dry-embossed the panels and added ink to the raised areas using white pigment ink. I also added Seafoam ink blending to one of the panels: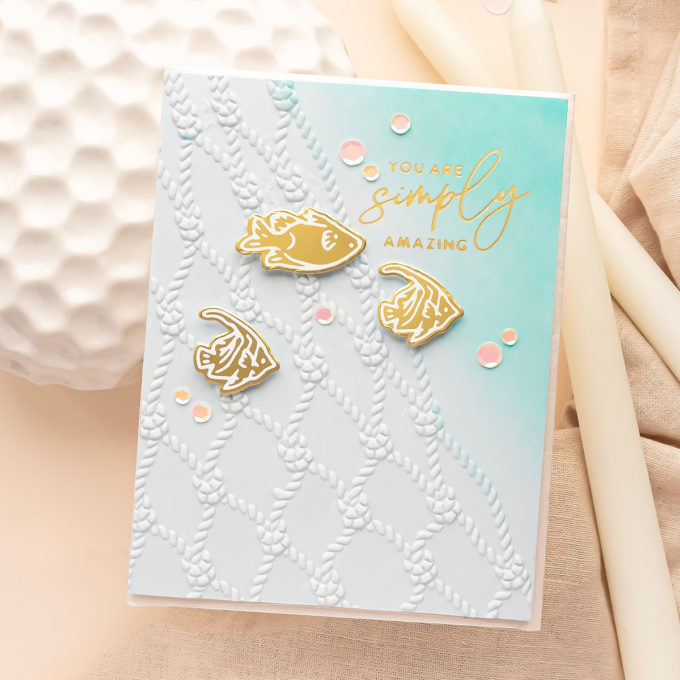 I also foiled the 2 individual fish images from the Under the Sea set and I was careful to also re-use the negative foil and create a negative foiled image. I love this technique! I didn't color the fish, as they weren't the focal point, and I simply added them to both cards using foam adhesive.
Lastly, I embellished my cards using Aura sequins: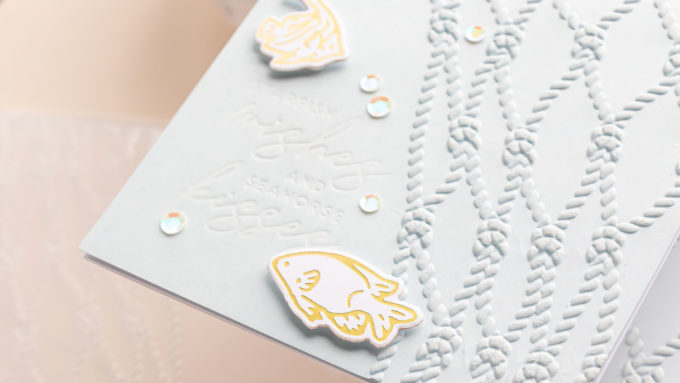 Have fun die-cutting!
SUPPLIES
I'm listing the products I used below. Click on the link to go directly to the product. Where available I use compensated affiliate links which means if you make a purchase I receive a small commission at no extra cost to you. Thank you so much for your support!

Spellbinders Seahorse Floral Glimmer Hot Foil Plate & Die Set
Shop at:
SSS | SC | SB USA | SB UK

Spellbinders Seahorse Kisses Sentiments Glimmer Hot Foil Plate & Die Set
Shop at:
SSS | SC | SB USA | SB UK

Spellbinders Under the Sea Glimmer Hot Foil Plate & Die Set
Shop at:
SSS | SC | SB USA | SB UK

Spellbinders Seahorse Garden Stamp & Die Set
Shop at:
SSS | SC | SB USA | SB UK

Spellbinders Cast Away 3D Embossing Folder
Shop at:
SSS | SC | SB USA | SB UK

Spellbinders Essential Glimmer Solid Square Glimmer Hot Foil Plate
Shop at:
SSS | SC | SB USA | SB UK

Simon Says Stamp Mega Thick White Cardstock 130LB
Shop at:
SSS

Spellbinders Glacier Color Essentials Cardstock
Shop at:
SC | SB USA | SB UK

Simon Says Stamp Blending Brush Set Large
Shop at:
SSS

Spellbinders Glimmer Hot Foil 2 Rolls – Opaque Black & White Pack
Shop at:
SSS | SC | SB USA | SB UK

Spellbinders Aura Opalescent Color Essentials Sequins
Shop at:
SSS | SC | SB USA | SB UK

Spellbinders Teal Opalescent Color Essentials Sequins
Shop at:
SSS | SC | SB USA | SB UK

New & Improved Platinum Six Machine With Universal Plate System
Shop at:
SSS | SC | SB USA | SB UK

Glimmer Hot Foil – Matte Gold
Shop at:
SSS | SC | SB USA | SB UK | AMZ

Glassboard Studio True White Glass Craft Mat
Shop at:
GBS

Spellbinders 9″ Pro Shears
Shop at:
SSS | SC | SB USA | SB UK

Spellbinders Tool 'n One – White
Shop at:
SSS | SC | SB USA | SB UK | AMZ

Spellbinders Universal Plates System
Shop at:
SSS | SC | SB USA | SB UK | AMZ

Olo Lavender Alcohol Markers – 8 Colors 4pc. Set 4
Shop at:
SSS | SB USA

Olo Autumn Alcohol Markers – 8 Colors 4pc. Set 2
Shop at:
SSS | SB USA

Olo Primary Alcohol Markers – 8 Colors 4pc. Set 7
Shop at:
SSS | SB USA

Olo Special Blend Alcohol Markers Set – 8 Colors 4pc.
Shop at:
SB USA

Olo Coral Tones Alcohol Markers Set – 8 Colors 4pc.
Shop at:
SB USA

Olo Pink Tones Alcohol Markers Set – 8 Colors 4pc.
Shop at:
SB USA

Olo Teal Tones Alcohol Markers Set – 8 Colors 4pc.
Shop at:
SB USA

Olo Purple Tones Alcohol Markers Set – 8 Colors 4pc.
Shop at:
SB USA

Olo Warm Gray Alcohol Markers – 8 Colors 4pc. Set 9
Shop at:
SSS | SB USA

Olo Cool Gray Alcohol Markers – 8 Colors 4pc. Set 8
Shop at:
SSS | SB USA

Olo Spring Alcohol Markers – 8 Colors 4pc. Set 2
Shop at:
SSS | SB USA

Olo Portrait Alcohol Markers – 8 Colors 4pc. Set 6
Shop at:
SSS | SB USA

Olo Forest Alcohol Markers – 8 Colors 4pc. Set 5
Shop at:
SSS | SB USA

Olo Winter Alcohol Markers – 8 Colors 4pc. Set 3
Shop at:
SSS | SB USA

Olo Zero Brush and Chisel Tip
Shop at:
SB USA

Simon Says Stamp White Pigment Ink Pad
Shop at:
SSS

Simon Says Stamp Pawsitively Saturated Ink Pad Seafoam
Shop at:
SSS

Jewel Picker Tool
Shop at:
SSS | SC | SB USA | SB UK | AMZ

Fun Foam Sheets
Shop at:
SSS | SB USA | AMZ

White Foam Squares
Shop at:
SSS | SC | SB USA | AMZ

Sakura Classic White Gelly Roll Pens Set of 3
Shop at:
SSS | SC | MFT