Hello! In this video, I have 5 oval-shaped cards with Spellbinders Stylish Ovals collection. I wanted to do something different and step away from the traditional rectangle or square card shapes.
Like this project? Pin it and save for later | Curious about my project photography? Click for details. 
I'm using products from the Stylish Ovals collection from Spellbinders to create these cards – this is new and beautiful, and it features quite a lot of different products – there's something for everyone. I have a quick overview in my video.
VIDEO TUTORIAL
Watch the video below or on my Youtube channel.
STYLISH OVAL FLORAL BIRD CARD DETAILS
My first card uses the bird glimmer plate + coordinating layering stencil: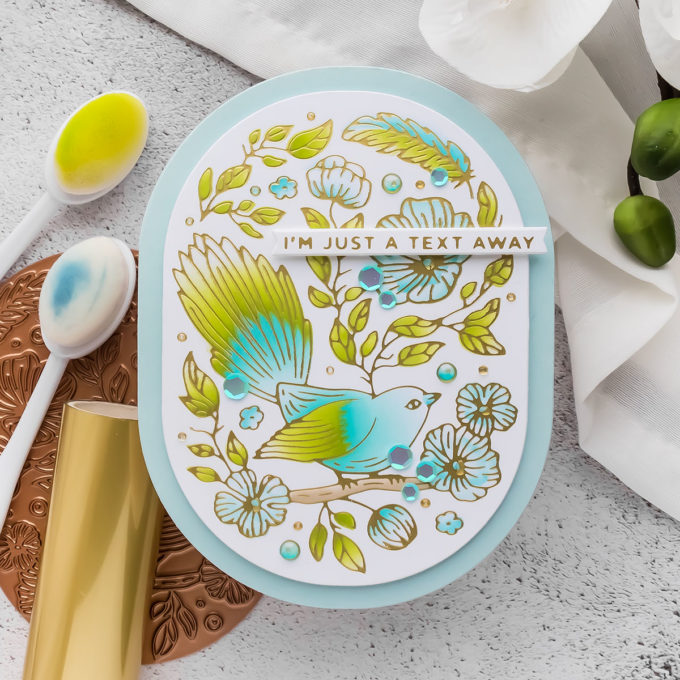 Here are some close-up images:
STYLISH OVAL HELLO YOU FLORAL CARD DETAILS
My next card uses the Hello You Floral die set along with the Infinity Punch & Pierce die, which was dry embossed for part of the background and also die cut to create a white die-cut frame:
Here are some close-up images:
This is another card using the same floral set, but with a simplified background, here I just die-cut an oval from Sea Glass cardstock. I added the "Hello You" sentiment that comes with this set and simply had it follow the curve of the oval: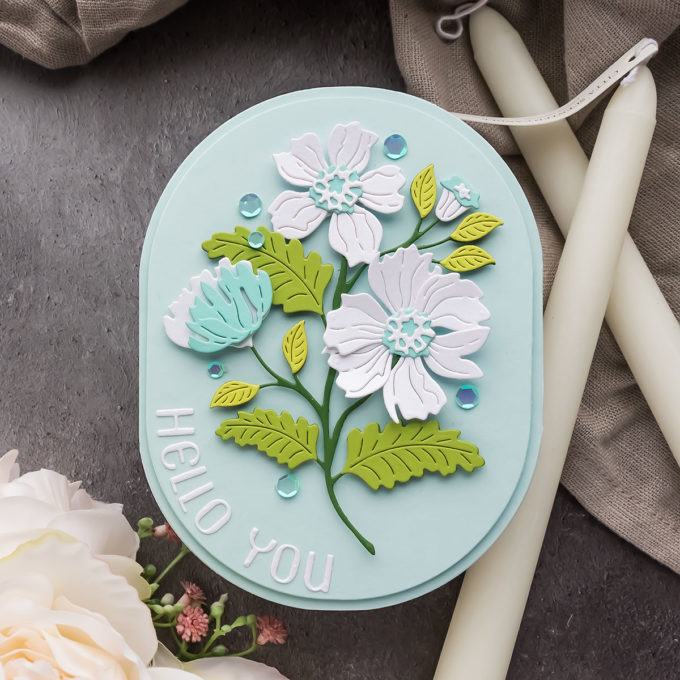 My next 2 cards use this floral die differently, without the stem, in a different arrangement. The first card uses the Infinity Punch & Pierce place to add hot foiling, you can see a faint foiled design in the background:
And the 2nd card features a simple die-cut background: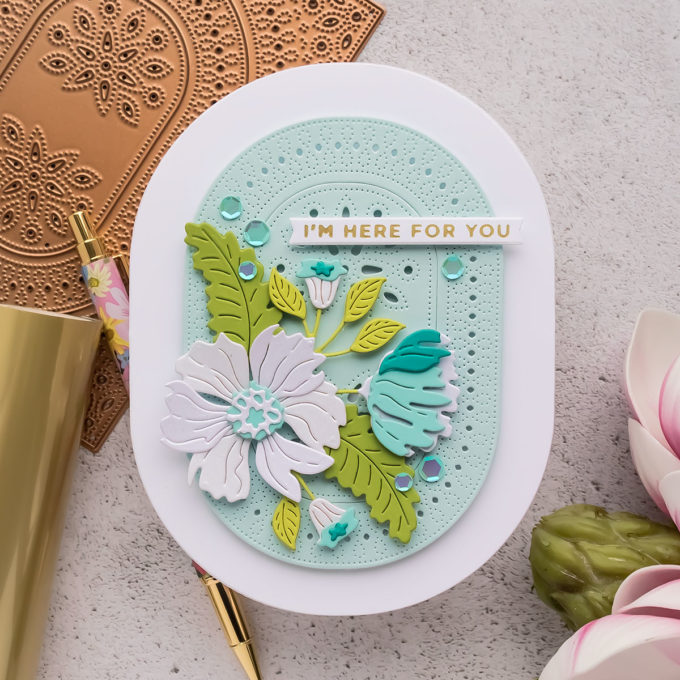 Which one is your favorite? Let me know if the comments below! Have fun die-cutting!
SUPPLIES
I'm listing the products I used below. Click on the link to go directly to the product. Where available I use compensated affiliate links which means if you make a purchase I receive a small commission at no extra cost to you. Thank you so much for your support!

Spellbinders Essential Stylish Ovals Etched Dies
Shop at:
SSS | SC | SB USA | SB UK

Spellbinders Beautiful Butterflies 3d Embossing Folder
Shop at:
SSS | SC | SB USA | SB UK

Spellbinders Stylish Oval Thanks Glimmer Hot Foil Plate & Die Set
Shop at:
SSS | SC | SB USA | SB UK

Spellbinders Stylish Oval Birthday Wishes Clear Stamp Set
Shop at:
SSS | SC | SB USA | SB UK

Spellbinders Stitched Floral Flip Frame Etched Dies
Shop at:
SSS | SC | SB USA | SB UK

Spellbinders Stylish Oval Floral Bird Layering Stencils
Shop at:
SSS | SC | SB USA | SB UK

Spellbinders Stylish Oval Hello You Floral Etched Dies
Shop at:
SSS | SC | SB USA | SB UK

Spellbinders Stylish Oval Floral Bird Glimmer Hot Foil Plate
Shop at:
SSS | SC | SB USA | SB UK

Spellbinders Infinity Punch & Pierce Plate Etched Dies
Shop at:
SSS | SC | SB USA | SB UK

Spellbinders Fluttering by Glimmer Hot Foil Plate & Die Set
Shop at:
SSS | SC | SB USA | SB UK

Spellbinders Fill My Heart Sentiments Clear Stamp Set
Shop at:
SSS | SC | SB USA | SB UK

New & Improved Platinum Six Machine With Universal Plate System
Shop at:
SSS | SC | SB USA | SB UK

Glimmer Hot Foil – Matte Gold
Shop at:
SSS | SC | SB USA | SB UK | AMZ

Glassboard Studio True White Glass Craft Mat
Shop at:
GBS

Spellbinders 9″ Pro Shears
Shop at:
SB USA | SB UK

Spellbinders Tool 'n One – White
Shop at:
SSS | SC | SB USA | SB UK

Spellbinders Universal Plates System
Shop at:
SSS | SC | SB USA | SB UK | AMZ

Spellbinders Pink Cutting Plates Extended (C) 2-pack
Shop at:
SSS | SC | SB USA

Spellbinders Glimmer Hot Foil System (Platinum)
Shop at:
SC | SB USA | SB UK

Spellbinders Glimmer Hot Foil System (Bronze)
Shop at:
SSS | SC | SB USA | SB UK | AMZ

Spellbinders Teal Opalescent Color Essentials Sequins
Shop at:
SB USA | SB UK

Simon Says Stamp Sea Glass Cardstock
Shop at:
SSS

Spellbinders Brushed White Cardstock
Shop at:
SC | SB USA

Spellbinders Snowdrift Color Essentials Cardstock
Shop at:
SB USA

Spellbinders Rainforest Color Essentials Cardstock
Shop at:
SC | SB USA

Spellbinders Peridot Color Essentials Cardstock
Shop at:
SC | SB USA

Spellbinders Fern Color Essentials Cardstock
Shop at:
SC | SB USA

Spellbinders Teal Topaz Color Essentials Cardstock
Shop at:
SC | SB USA

Spellbinders Waterfall Color Essentials Cardstock
Shop at:
SB USA

Simon Says Stamp Pawsitively Saturated Ink Pad Latte
Shop at:
SSS

Simon Says Stamp Pawsitively Saturated Ink Pad Pearfection
Shop at:
SSS

Simon Says Stamp Pawsitively Saturated Ink Pad Limelicious
Shop at:
SSS

Simon Says Stamp Pawsitively Saturated Ink Pad Ocean
Shop at:
SSS

Simon Says Stamp Pawsitively Saturated Ink Pad Surf
Shop at:
SSS

Simon Says Stamp Pawsitively Saturated Ink Pad Seafoam
Shop at:
SSS

Spellbinders Best Ever Craft Tape
Shop at:
SSS | SC | SB USA | SB UK | AMZ

Simon Says Stamp Detail Round Blending Brushes
Shop at:
SSS

Simon Says Stamp Detail Flat Blending Brushes
Shop at:
SSS

Simon Says Stamp Blending Brush Set Small
Shop at:
SSS

Jewel Picker Tool
Shop at:
SSS | SC | SB USA | SB UK | AMZ

Fun Foam Sheets
Shop at:
SSS | SB USA | AMZ

Bearly Art Mini Precision Craft Glue
Shop at:
SSS | SB USA | AMZ

White Foam Squares
Shop at:
SSS | SC | SB USA | AMZ