Hello! Today I have an inspirational video featuring more new Christmas products from Spellbinders. August marks yet another fabulous Christmas release with several inspiring collections. My favorite collection from August is the Warm Wishes Camper which features just 4 products, the main die set being a very cool camper that, of course, we can dress up for Christmas.
Like this project? Pin it and save for later | Curious about my project photography? Click for details. 
VIDEO TUTORIAL
Watch the video below or on my Youtube channel.
The main camper die is pretty big and easily fills up an A2 card or even a bigger size card if you add the topper that comes with it. I am more of an A2 card size kind of girl, so I like that I can fit the camper on both landscape and portrait card orientations in the A2 size.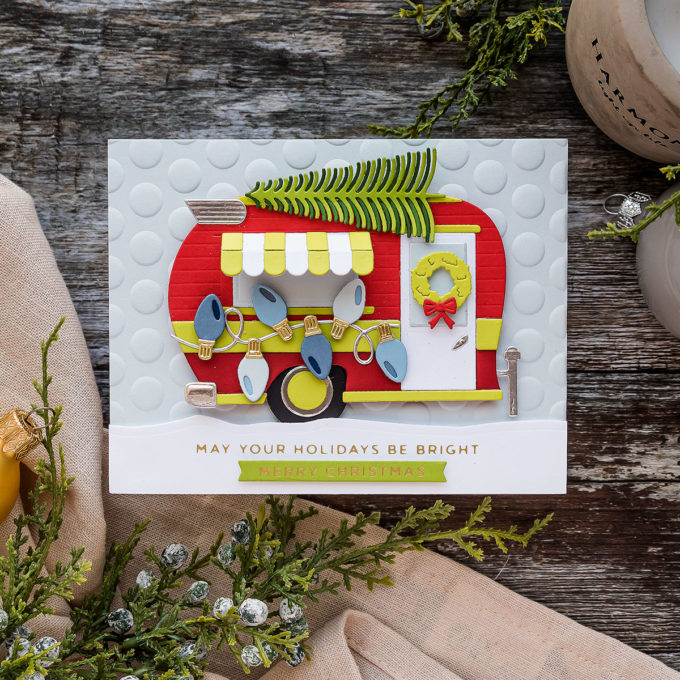 The camper die has detail added to it, so when you cut it, you don't even need to emboss it, it will automatically add the cool horizontal line detail. The die cuts the door for you allowing you to open it and maybe tuck something behind it. You can tuck a little family photo in there or write a small note or, stamp a sentiment. There's a slit above the window and that is there so that you can insert the awning, and of course, there's a die to cut the awning and also the awning detail to make it multi-colored.
While all of these elements do make the camper quite dimensional, they also all fold flat so that you can insert the camper into an envelope and mail it.
One die worth mentioning in this set is the snow bank die, it is small yet mighty! It is 5 1/2" long allowing you to create a snow bank to ground your camper on an A2 or 5×7 card. You simply cut it from white cardstock, if you have white glitter cardstock, you can use that, to really make it look like glistening snow, I just cut mine white regular white as I foiled sentiment on top of it.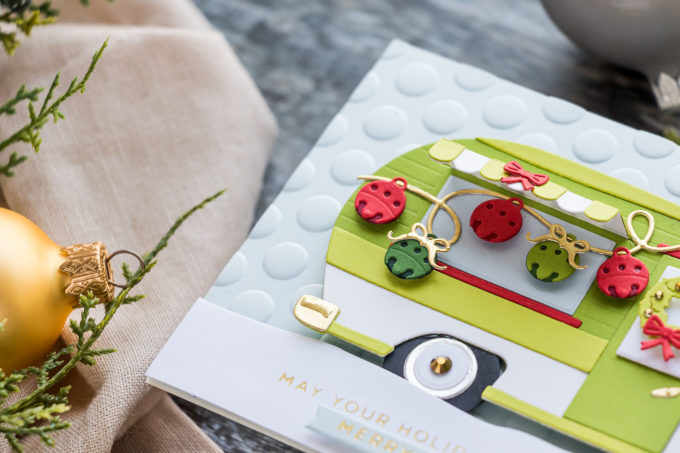 The camper die set also includes a little wreath die, and that is so so clever and of course, the perfect size to put on the camper door. And it also adds some basic detailing to the wreath making it look a little bit more realistic. There's even a die to cut a bow and, again, it is sized perfectly to go with that wreath you can also use the bow separately, here I adhered one onto the awning to decorate it even further. But imagine cutting a bunch of these bows and adding several onto the camper.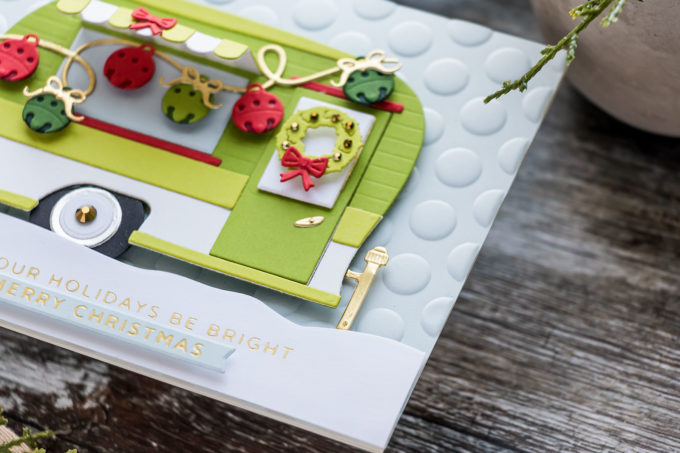 By now, you've probably noticed that I added Christmas lights to all of my campers – I used the More Holiday Decorations dies, I used them in my last videos where I showed the Sled dies from Spellbinders, and I still had these dies on my desk, and I figured these lights were the perfect addition to the camper die cut. Sure, they are a little bit too big, you can say they are oversized, but I love this oversized look and I love how they add festiveness to the campers. I used both the round and the oval lights, I do think the round ones are a better fit, the size and shape just work a little better here, but the oval ones look fine too.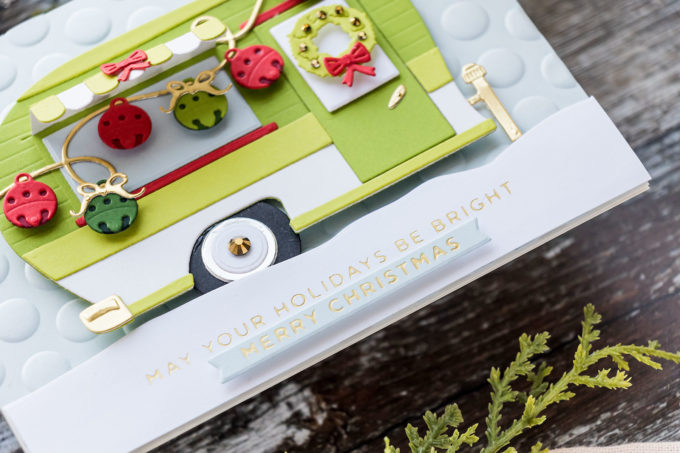 To create the cards with these campers I used the Glacier cardstock, I love the pale blue color, this is by far my most used cardstock color from Spellbinders, and embossed a panel using the Puff Dotty 3D embossing folder. These new folders require the Universal Plates system. I adhered my embossed panels onto A2 card bases, I went with the landscape top fold cards.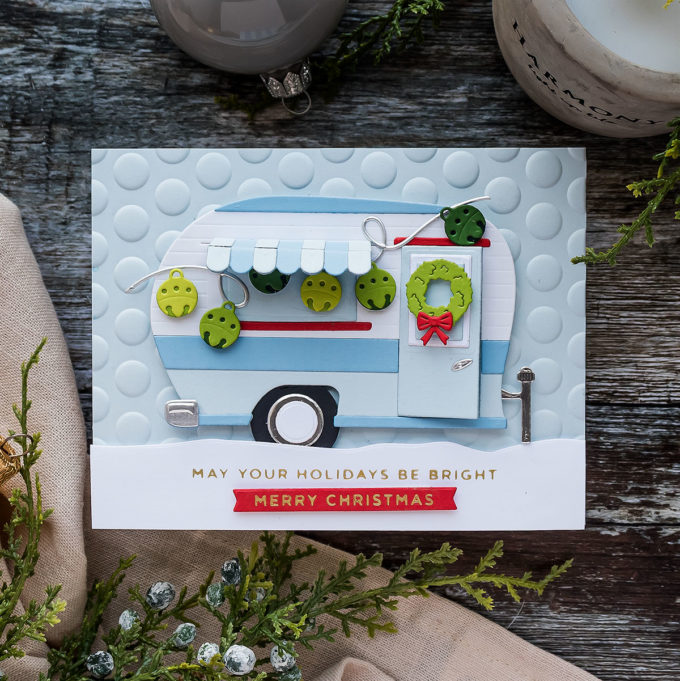 Next, I used Spellbinders pop-up die cutting sheets to pop up the snow banks onto the cards. I have previously foiled the sentiments on these die cuts, so I die cut first and later foiled them, that made it easier to align everything and I used the sentiments from the new Glitter Wishes Glimmer Plate set. I did my foiling in Matte Gold foil as that is my all-time favorite foil color. I also foiled a little Merry Christmas onto colored cardstock and I used the same cardstock colors as I did for the campers,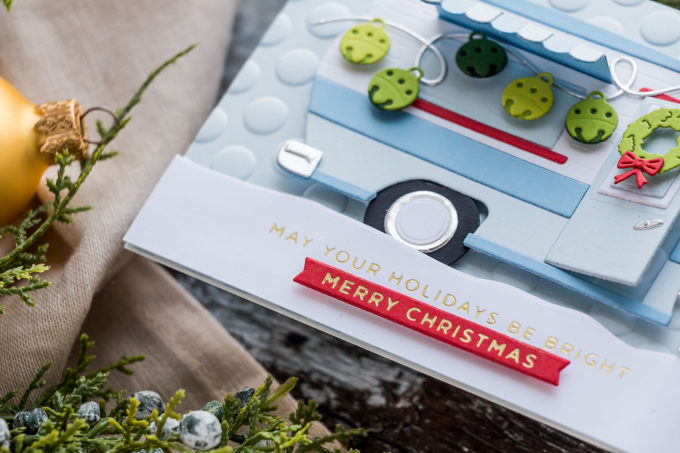 I added foam adhesive squares to the back of the campers and popped them up on the background. I did have to cut the wheel a little bit, to position the camper straight on the card, although you can have it titled if you want. The Puff Dotty embossed background provided a very cool texture and added lots of interest to the card.
Have fun crafting!
SUPPLIES
I'm listing the products I used below. Click on the link to go directly to the product. Where available I use compensated affiliate links which means if you make a purchase I receive a small commission at no extra cost to you. Thank you so much for your support!

Spellbinders Camper Life Etched Dies
Shop at:
SC | SB

Spellbinders Blizzard Stencil
Shop at:
SC | SB

Spellbinders Sweet & Savory Etched Dies
Shop at:
SC | SB

Spellbinders Sweet & Savory Sentiments Clear Stamp Set
Shop at:
SC | SB

Spellbinders Glitter Wishes Glimmer Hot Foil Plate & Die Set
Shop at:
SSS | SC | SB

Spellbinders More Holiday Decorations Etched Dies
Shop at:
SSS | SC | SB

Spellbinders Puff Dotty 3d Embossing Folder
Shop at:
SSS | SC | SB

Spellbinders Platinum 6 Die Cutting Machine
Shop at:
SSS | SC | SB | AMZ

Spellbinders Platinum Die Cutting Machine
Shop at:
SSS | SC | SB | AMZ

Glassboard Studio True White Glass Craft Mat | YANA20 for 20% Off
Shop at:
GBS

Spellbinders Universal Plates System
Shop at:
SSS | SC | SB | AMZ

Spellbinders Glimmer Hot Foil System
Shop at:
SSS | SC | SB | AMZ

Glimmer Hot Foil – Matte Gold
Shop at:
SSS | SC | SB | AMZ

Spellbinders Mirror Gold Cardstock
Shop at:
SB

Spellbinders Glacier Color Essentials Cardstock
Shop at:
SB

Spellbinders Raindrop Color Essentials Cardstock
Shop at:
SB

Spellbinders Poppy Field Color Essentials Cardstock 8.5″ X 11″
Shop at:
SB

Spellbinders Rainforest Color Essentials Cardstock
Shop at:
SB

Spellbinders Peridot Color Essentials Cardstock
Shop at:
SB

Spellbinders Phone Booth Color Essential Cardstock
Shop at:
SB

Spellbinders Partly Cloudy Color Essentials Cardstock
Shop at:
SB

Spellbinders Best Ever Craft Tape
Shop at:
SSS | SC | SB | AMZ

Tonic Spring-cut Fine Tip Detail Scissors
Shop at:
SSS | AMZ

Spellbinders Gold Mix Color Essential Gems
Shop at:
SSS | SC | SB

Spellbinders Pop-up Die Cutting Glitter Foam Sheets – Black & White
Shop at:
SSS | SC | SB

Jewel Picker Tool
Shop at:
SSS | SC | SB | PPP | AMZ

Fun Foam Sheets
Shop at:
SSS | SB | AMZ

Bearly Art Mini Precision Craft Glue
Shop at:
SSS | SB | AMZ

White Foam Squares
Shop at:
SSS | SC | SB | AMZ