Hello crafters. Today I have an inspirational video featuring more new Christmas products from Spellbinders. Christmas is my favorite holiday and making Christmas cards brings me immense joy. Today I have 5 card ideas for you, all created featuring one awesome die set from Spellbinders called Winter Welcome Sled. This die set is amazing! It is what the name suggests – a set of dies to make a sled, but it also includes several embellishments, such as a skate die, poinsettia dies and holiday greenery dies all designed to help you decorate your sled.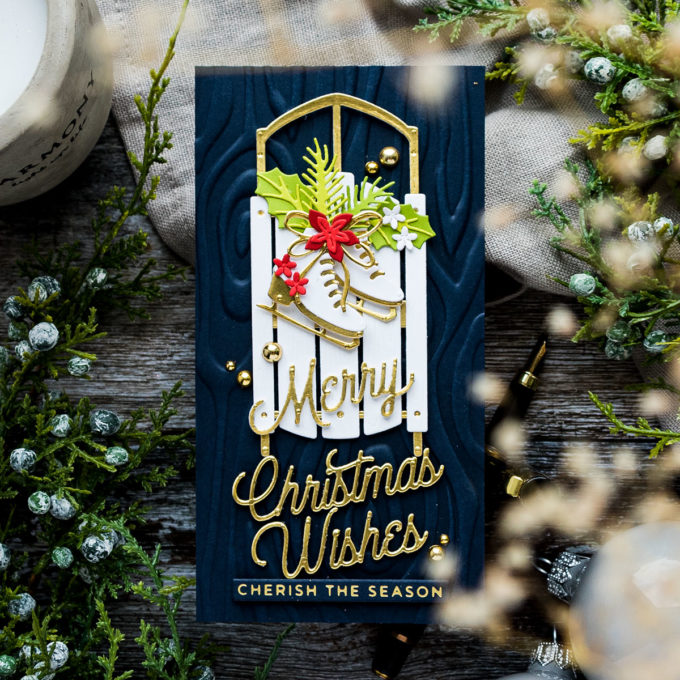 Like this project? Pin it and save for later | Curious about my project photography? Click for details. 
VIDEO TUTORIAL
Watch the video below or on my Youtube channel.
CARD DETAILS
Each of my 5 cards features a slightly different way to decorate a sled using both the dies included in the Sled die set as well as other dies from my stash.
I finished all 5 of my cards in the same way. I used the Knock on Wood 3D Embossing folder from Spellbinders and dry embossed a new gorgeous Indigo cardstock – this cardstock is so me, I love deep, dark, rich colors of cardstock, and this dark blue is simply amazing.
The sled die cut worked best on mini slimline card size, 3 1/4 x 6 1/4". This gives room to house the sled and pretty script sentiment at the bottom along with a foiled sentiment, too.
I used the Mix & Match Holiday Greetings dies to make sentiments for my cards. I cut each sentiment from Gold Mirror cardstock and either black or white fun foam from Spellbinders to pop it up. I also always want to add a foiled sentiment to my card, so I foiled one for each card. In most cases, my foiling was done of the same Indigo cardstock, so the sentiment blended with the background.
Lastly, I used Fashion Dots in Gold from Spellbinders to decorate each of my cards.
Have fun crafting!
SUPPLIES
I'm listing the products I used below. Click on the link to go directly to the product. Where available I use compensated affiliate links which means if you make a purchase I receive a small commission at no extra cost to you. Thank you so much for your support!

Spellbinders Winter Welcome Sled Etched Dies
Shop at:
SSS | SC | SB

Spellbinders Holiday Decorations Etched Dies
Shop at:
SSS | SC | SB | AMZ

Spellbinders Open House Topiary Dies
Shop at:
SSS | SC | SB | AMZ

Spellbinders Mini Christmas Sentiment Strips Glimmer Hot Foil & Die Set
Shop at:
SSS | SC | SB | AMZ

Spellbinders Parcel & Post Christmas Decorations Etched Dies
Shop at:
SSS | SC | SB

Spellbinders Christmas Blooms Dies
Shop at:
SSS | SC | SB | AMZ

Spellbinders Mix & Match Holiday Greetings Etched Dies
Shop at:
SSS | SC | SB

Spellbinders Glitter Wishes Glimmer Hot Foil Plate & Die Set
Shop at:
SSS | SC | SB

Spellbinders Open House Spring Dies
Shop at:
SSS | SC | SB | AMZ

Spellbinders More Holiday Decorations Etched Dies
Shop at:
SSS | SC | SB

Spellbinders Be Bold Uppercase Alphabet Etched Dies
Shop at:
SSS | SC | SB | AMZ

Spellbinders Blending Brushes
Shop at:
SC | SB

Spellbinders Knock on Wood 3d Embossing Folder
Shop at:
SSS | SC | SB

Spellbinders Platinum 6 Die Cutting Machine
Shop at:
SSS | SC | SB | AMZ

Spellbinders Platinum Die Cutting Machine
Shop at:
SSS | SC | SB | AMZ

Glassboard Studio True White Glass Craft Mat | YANA20 for 20% Off
Shop at:
GBS

Spellbinders Universal Plates System
Shop at:
SSS | SC | SB | AMZ

Spellbinders Glimmer Hot Foil System
Shop at:
SSS | SC | SB | AMZ

Glimmer Hot Foil – Matte Gold
Shop at:
SSS | SC | SB | AMZ

Spellbinders Mirror Gold Cardstock
Shop at:
SB

Spellbinders Raindrop Color Essentials Cardstock
Shop at:
SB

Spellbinders Poppy Field Color Essentials Cardstock 8.5″ X 11″
Shop at:
SB

Spellbinders Rainforest Color Essentials Cardstock
Shop at:
SB

Spellbinders Peridot Color Essentials Cardstock
Shop at:
SB

Spellbinders Dune Color Essentials Cardstock
Shop at:
SB

Spellbinders Phone Booth Color Essential Cardstock
Shop at:
SB

Spellbinders Partly Cloudy Color Essentials Cardstock
Shop at:
SB

Spellbinders Indigo Color Essentials Cardstock
Shop at:
SB

Spellbinders Best Ever Craft Tape
Shop at:
SSS | SC | SB | AMZ

Tonic Spring-cut Fine Tip Detail Scissors
Shop at:
SSS | AMZ

Spellbinders Fashion Gold Embellishments
Shop at:
SSS | SC | SB

Spellbinders Red Mix Color Essentials Gems
Shop at:
SSS | SC | SB

Spellbinders Pop-up Die Cutting Glitter Foam Sheets – Black & White
Shop at:
SSS | SC | SB

Simon Says Stamp Pawsitively Saturated Ink Pad Cappuccino
Shop at:
SSS

Jewel Picker Tool
Shop at:
SSS | SC | SB | PPP | AMZ

Fun Foam Sheets
Shop at:
SSS | SB | AMZ

Bearly Art Mini Precision Craft Glue
Shop at:
SSS | SB | AMZ

White Foam Squares
Shop at:
SSS | SC | SB | AMZ