Hello crafters. Today I'm sharing a partial 3D embossing technique that allows you to create beautiful embossed card backgrounds and leave a portion of the background flat to accommodate a stamped or foiled sentiment.
Like this project? Pin it and save for later | Curious about my project photography? Click for details. 
VIDEO TUTORIAL
Watch the video below or on my Youtube channel.
I'm using new 3D folders by Spellbinders. These are larger size folders, measuring 5.5 x 8.5" making them very versatile in terms of project size. They work for regular A2 cards, 5×7″, mini slimline, and regular slimline cards.
These folders add very beautiful detail to your paper by sculpting it into a work of art. I prefer to emboss these on colored cardstock. You'll get the best most detailed results with 3D folders when you pre-spray your paper with water before embossing it. I shared this tip in a different video showing Simon Says Stamp 3D embossing folders and you can apply this trick to these folders as well, although, for the most part, I've found I get beautifully detailed embossing without the need to add water. On some papers, I did need to spray the paper lightly to prevent the paper from cracking.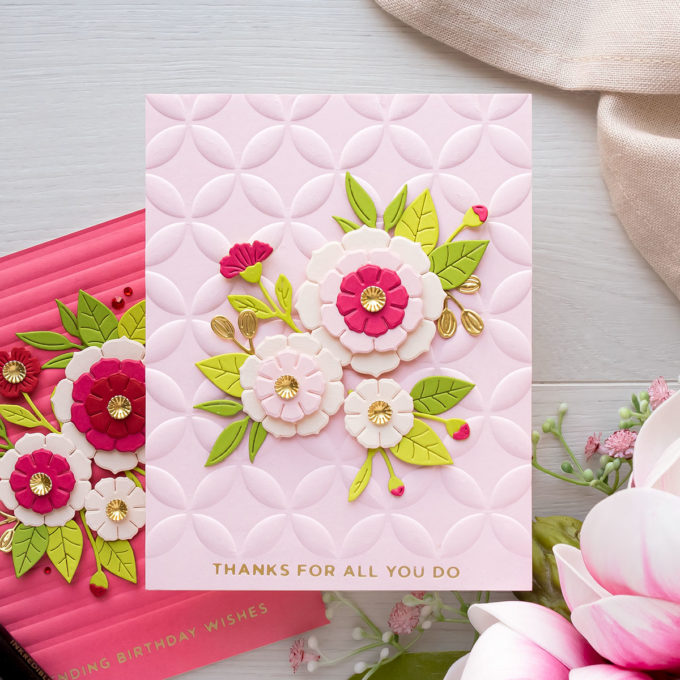 When working with these folders you'll need Spellbinders' new Universal Plates System. I have a separate video taking a closer look at this system and explaining it in detail. Watch below or on Youtube.
The system is compatible with Spellbinders Platinum and Platinum 6 machines (including Limited Edition Aqua machine) as well as Sixxix Bix Shot. You can also use these folders in your Platinum or Platinum 6 along with the old silver embossing plate from Spellbinders, some of you might have it. I don't have mine. Or you can also try to use several sheets of cardstock as a shim when embossing with these folders, but that won't give you consistently good results. If you like these folders I would recommend you get the Universal Plates System.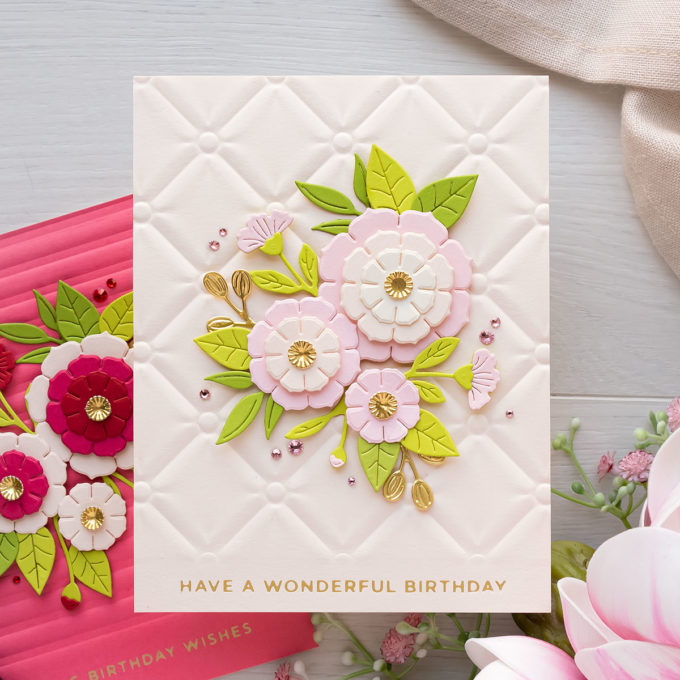 Leaving the portion of the background free from embossing allows us to add a stamped or foiled sentiment directly onto the background. I opted to use skinny strip sentiments for my cards created with Glimmer plates from the Just Wanted to Say set.
I love the simplicity of this design. And it is so easy to make, too. With this partially embossed design, you can decorate your card any way you want. I opted to use flowers from an older die set from Spellbinders – called I Dance (I shared some cards using this set HERE). It features these 3 large floral dies and some leaves.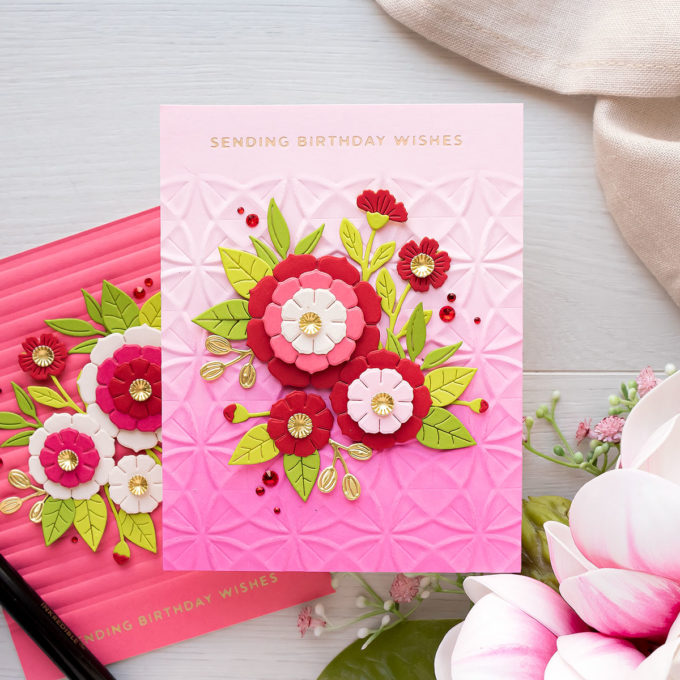 The two smaller flowers and buds were made using another die set called Wreath Builder, and in that set, you have several elements designed to create circular, oval, or square wreaths. I trimmed the parts I needed to make my floral clusters fuller and added the additional flowers.
I embellished most of these with some coordinating Spellbinders gems. These cards ended up being quite dimensional and are best if hand-delivered. I plan to gift them to my local friends.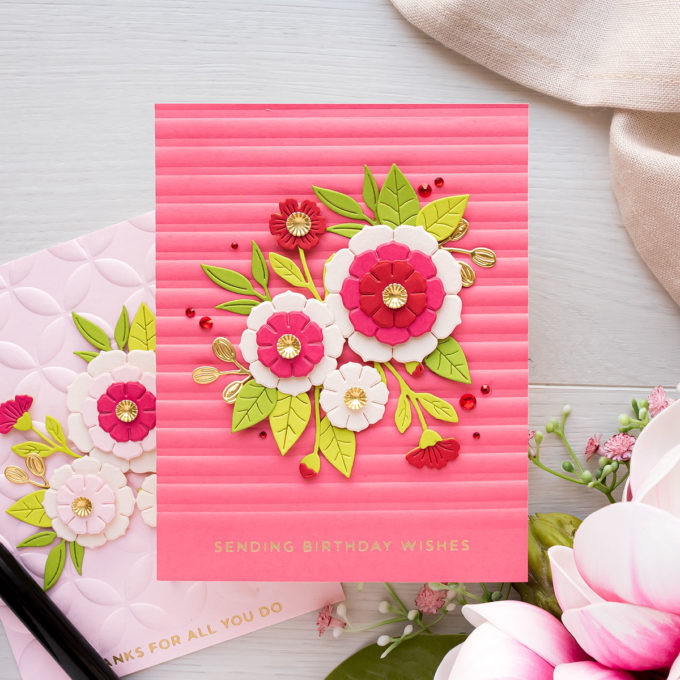 SUPPLIES
I'm listing the products I used below. Click on the link to go directly to the product. Where available I use compensated affiliate links which means if you make a purchase I receive a small commission at no extra cost to you. Thank you so much for your support!

Spellbinders Leafy 3d Embossing Folder
Shop at:
SSS | SC | SB

Spellbinders Tufted 3d Embossing Folder
Shop at:
SSS | SC | SB

Spellbinders Corrugated 3d Embossing Folder
Shop at:
SSS | SC | SB

Spellbinders Origami Folds 3d Embossing Folder
Shop at:
SSS | SC | SB

Spellbinders Puff Dotty 3d Embossing Folder
Shop at:
SSS | SC | SB

Spellbinders Circle Illusion 3d Embossing Folder
Shop at:
SSS | SC | SB

Spellbinders Beautiful Blooms 3d Embossing Folder
Shop at:
SSS | SC | SB

Spellbinders Tile Mosaic 3d Embossing Folder
Shop at:
SSS | SC | SB

Spellbinders Knock on Wood 3d Embossing Folder
Shop at:
SSS | SC | SB

Spellbinders Beveled Diamonds 3d Embossing Folder
Shop at:
SSS | SC | SB

Spellbinders Platinum 6 Die Cutting Machine
Shop at:
SSS | SC | SB | AMZ

Spellbinders Platinum Die Cutting Machine
Shop at:
SSS | SC | SB | AMZ

Limited Edition Platinum 6 Aqua Die Cutting and Embossing Machine
Shop at:
SB

Glassboard Studio True White Glass Craft Mat | YANA20 for 20% Off
Shop at:
GBS

Spellbinders Universal Plates System
Shop at:
SSS | SC | SB

Spellbinders Extended Cutting Plates
Shop at:
SSS | SC | SB

Spellbinders Mylar Shims F
Shop at:
SSS | SC | SB

Spellbinders Glimmer Hot Foil System
Shop at:
SSS | SC | SB | AMZ

Glimmer Hot Foil – Matte Gold
Shop at:
SSS | SC | SB | AMZ

Glimmer Hot Foil Roll – Aura
Shop at:
SSS | SC | SB | AMZ

I Dance Etched Dies from the Happy Dance Collection
Shop at:
SSS | SC | SB

Spellbinders Just Wanted to Say Collection Glimmer Hot Foil Plate
Shop at:
SC | SB

Spellbinders Wreath Builder Etched Dies
Shop at:
SSS | SC | SB

Spellbinders Mirror Gold Cardstock
Shop at:
SB

Spellbinders A2 White Card Bases – Side Fold – 25 pack
Shop at:
SB

Spellbinders Pink Sand Color Essentials Cardstock
Shop at:
SB

Spellbinders Alabaster Color Essentials Cardstock
Shop at:
SB

Spellbinders Rainforest Color Essentials Cardstock
Shop at:
SB

Spellbinders Peridot Color Essentials Cardstock
Shop at:
SB

Spellbinders Wild Berry Color Essentials Cardstock
Shop at:
SB

Spellbinders Barely Peach Color Essentials Cardstock
Shop at:
SB

Spellbinders Dahlia Color Essentials Cardstock
Shop at:
SB

Spellbinders Phone Booth Color Essential Cardstock
Shop at:
SB

Hero Arts Hero Hues Premium Cardstock Peony
Shop at:
SSS | SC | CCC | AMZ

Spellbinders Pink Mix Color Essential Gems
Shop at:
SSS | SC | SB

Spellbinders Red Mix Color Essentials Gems
Shop at:
SSS | SB

Tonic Studios 8.5 Inch Paper Trimmer
Shop at:
SC | AMZ | GBS

Jewel Picker Tool
Shop at:
SSS | SC | SB | MFT | AMZ

Bearly Art Mini Precision Craft Glue
Shop at:
SSS | SB | AMZ

White Foam Squares
Shop at:
SSS | SC | SB | AMZ