Hello crafters, today I'm sharing simple kinetic card ideas with the Spellbinders Dancing dies. I have 6 cards for you mixing and matching die sets from various collections.
Like this project? Pin it and save for later | Curious about my project photography? Click for details. 
VIDEO TUTORIAL
Watch the video below or on my Youtube channel.
Like this video? Please give it a big thumbs up (you can do this on Youtube video page right under the video) and share it with a crafty friend! Leave me a comment too, I love hearing from you!
CARD DETAILS
There's a collection from Spellbinders called Happy Dance and it features several cool die sets with a dancing/kinetic component. The collection allows you to create a female or a male figure and it lets you have their legs move to the left and right as if they are dancing.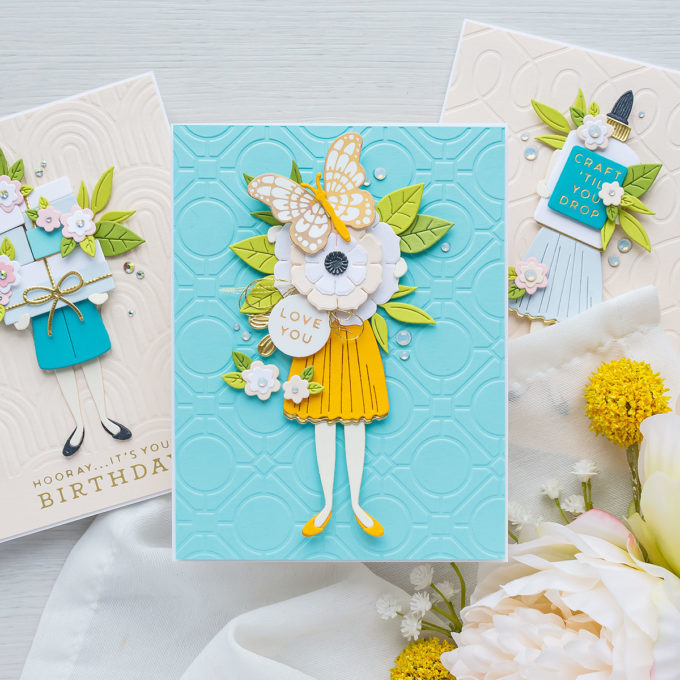 The figure can hold various objects thus adjusting the theme of the card to many different occasions. I used just the female set for my cards and I have several options and occasions to share, but there's also a male figure to help you create masculine cards.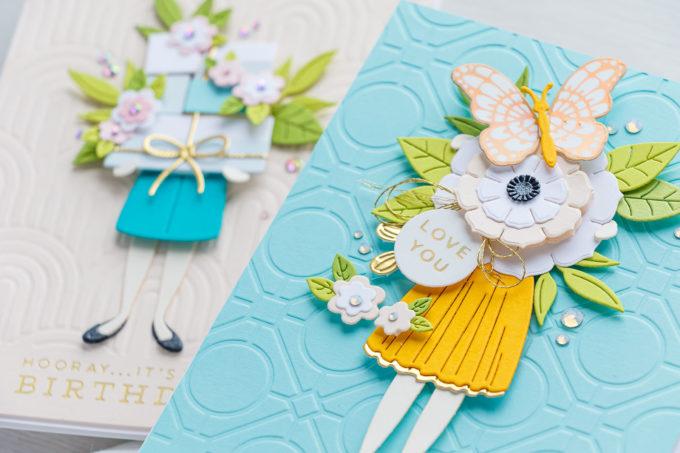 So the die set allows you to die-cut legs and arms, you can also add shoes and a skirt. The top part of the figure is hidden by whatever the figure is holding and she can hold various things, there are several options included in the Happy Dance collection, such as oversized flowers, a coffee cup, a bottle of glue, but she can also hold other objects made using dies you potentially already have in your stash.
Now if you remember, last year Spellbinders released another similar die set with a winter girl holding a stack of gifts – called Shopping Spree. These 2 die sets, the Shopping Spree and the I Dance are the same in size and the components are interchangeable. You can use the coat, the shoes, and even the gifts from the winter girl on this new die set and vice versa.
For each card, I dry embossed a background using a Spellbinders embossing folder to add a bit of texture to the background. I then added the legs, the skirt, and whatever object the girl was holding.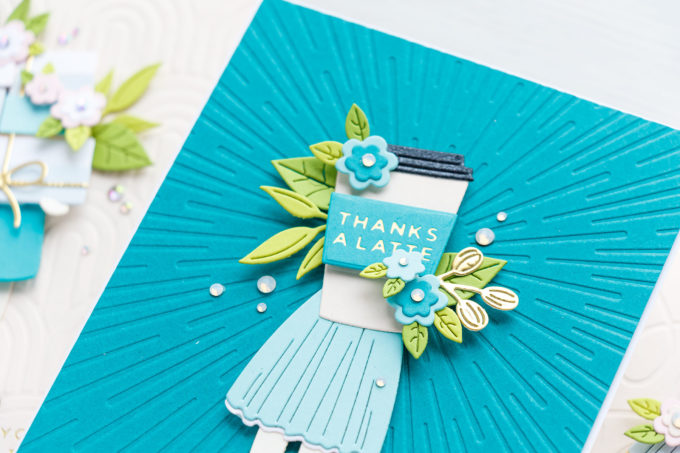 To animate each card and allow the legs to dance I added a small foam square inside the opening in the legs die cut. The die cut is designed to allow you to add a small foam square or a foam circle inside the opening. I then added another large foam square above it and foam-mounted the skirt with the object on top.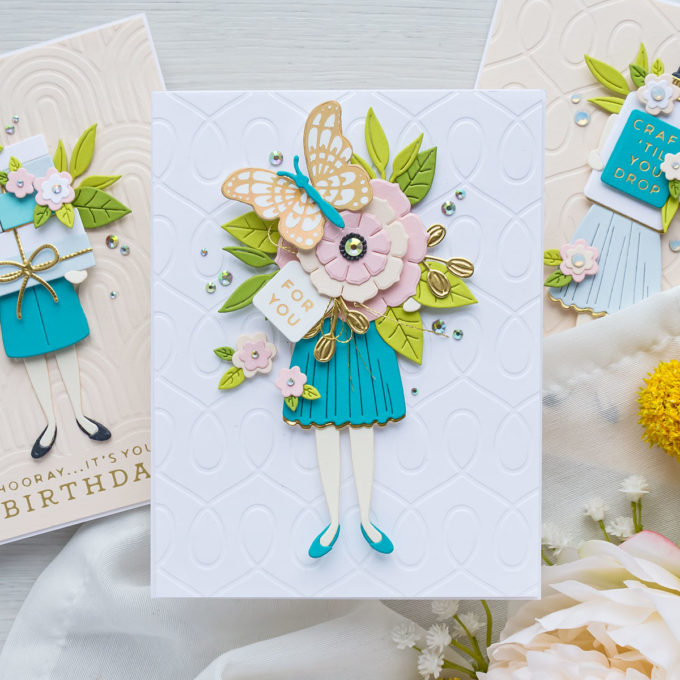 I also made one girl holding a stack of pretty parcels decorated with flowers, for this one I used the gifts die from the Shopping Spree die set.
And another girl holding a shopping bag filled with tulips. The shopping bag is from an older die set from Spellbinders called Shopping Bags from the Add to Cart collection by Becky Roberts. It is a bit too big for the girl, but since everything else is oversized, I thought it worked well for this design.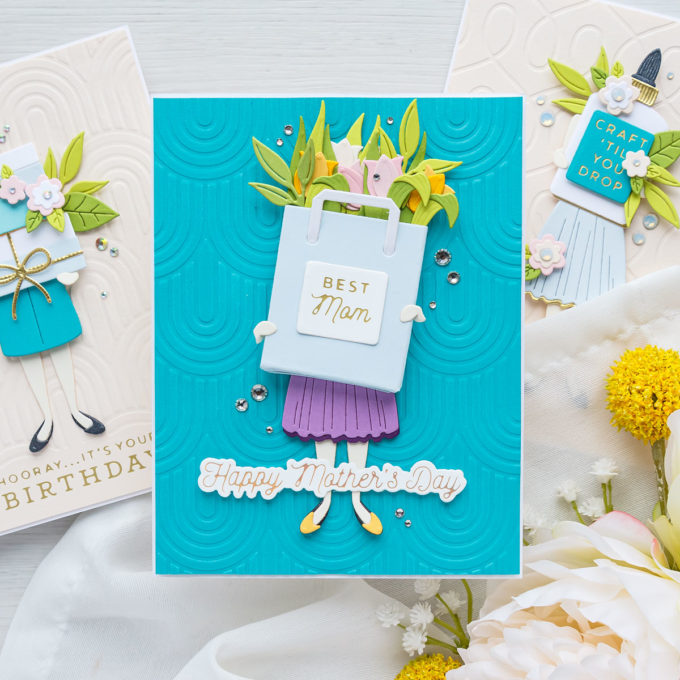 The tulips are from yet another set, it is actually from Vicky's Paint Your World collection from the Artful Tulip die set.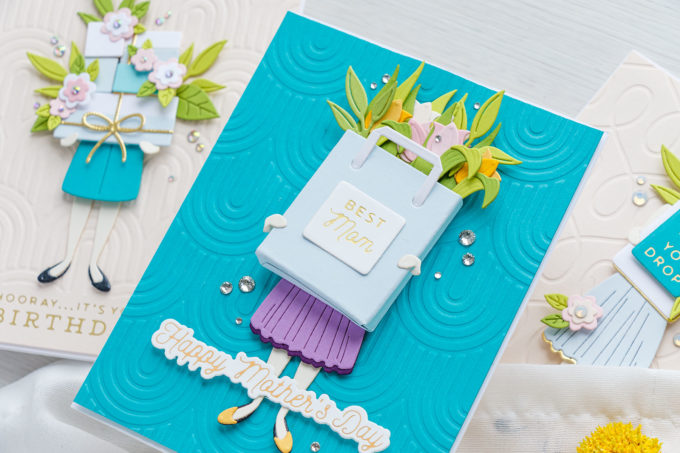 I think this die set is very versatile and it is one of those sets that allow you to breathe new life into some older die set you might already have in your stash. You can use some other flower dies to create a different type of bouquet for the girl to hold, you can use a teddy bear die, or a potted plant die – there are so many different options with this die set.
I hope you feel inspired to create!
SUPPLIES
I'm listing the products I used below. Click on the link to go directly to the product. Where available I use compensated affiliate links which means if you make a purchase I receive a small commission at no extra cost to you. Thank you so much for your support!

I Dance Etched Dies from the Happy Dance Collection
Shop at:
SSS | SC | SB

We Dance Glimmer Sentiments Glimmer Hot Foil Plate & Die Set from the Happy Dance Collection
Shop at:
SSS | SC | SB

Assorted Tags Etched Dies from the Celebrate You Collection
Shop at:
SSS | SC | SB

Shopping Bags Etched Dies from the Add to Cart Collection by Becky Roberts
Shop at:
SSS | SC | SB

Celebrate You Glimmer Sentiments Glimmer Hot Foil Plates from the Celebrate You Collection
Shop at:
SSS | SC | SB

Spellbinders Shopping Spree Dies
Shop at:
SSS | SC | SB | AMZ

Spellbinders Optical Arches Embossing Folder
Shop at:
SSS | SC | SB

Spellbinders Geo Screen Embossing Folder
Shop at:
SSS | SC | SB

Spellbinders Loops Embossing Folder
Shop at:
SSS | SC | SB

Spellbinders Artful Tulip Etched Dies
Shop at:
SSS | SC | SB

Spellbinders Glimmer Hot Foil System
Shop at:
SSS | SC | SB | AMZ

Glimmer Hot Foil – Matte Gold
Shop at:
SSS | SC | SB | AMZ

Spellbinders Cardstock
Shop at:
SB

Spellbinders A2 White Card Bases – Side Fold – 25 pack
Shop at:
SB

Limited Edition Platinum 6 Aqua Die Cutting and Embossing Machine
Shop at:
SB

Spellbinders Platinum 6 Die Cutting Machine
Shop at:
SSS | SC | SB | AMZ

Spellbinders Platinum Die Cutting Machine
Shop at:
SSS | SC | SB | AMZ

Spellbinders Silver Mix Color Essential Gems
Shop at:
SSS | SB

Spellbinders Crystal Mix Color Essential Gems
Shop at:
SSS | SC | SB | AMZ

Bearly Art Mini Precision Craft Glue
Shop at:
SSS | SB | AMZ

White Foam Squares
Shop at:
SSS | SC | SB | AMZ