One of my favorite parts about cardmaking is photography! I am an amateur photographer (my hubby and his Dad are both very good at this and they always give me tips) and I love to creatively style my projects when I take photos for my blog. While there's still a lot for me to learn (I never change the settings on my camera as I am simply afraid to mess things up) I wanted to share a little bit about various props I use to make my photos better.
I am breaking this post into a few sections for easy reading/scanning. I hope you'll find this information useful! Feel free to share with your friends or ask questions in the comments section.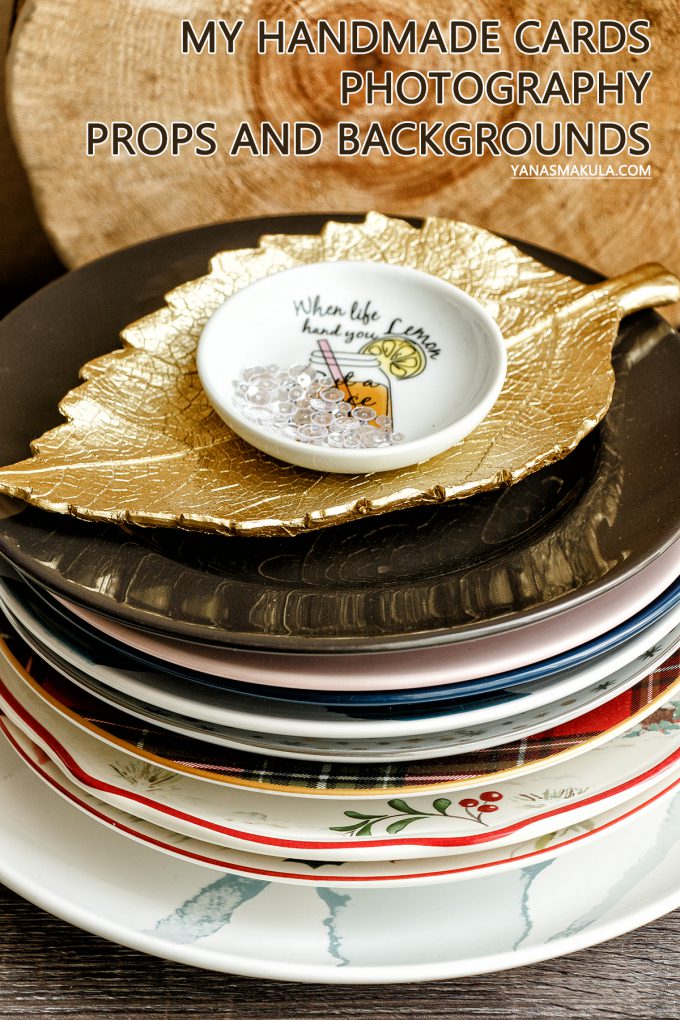 LAY FLAT PHOTOGRAPHY
Since our move to Arizona my space is very limited (we live in a one bedroom apartment), thus I prefer lay flat photography for my projects. What is "lay flat"? This simply means that the object you want to photograph lays flat on a surface and the camera is located directly above it.
With lay flat I need no more than 4 sq feet of space on my desk to take good photos. In the past I used to take different style photos (I still love and I take them from time to time) but that kind of styling requires a lot more room which I don't have.
BACKGROUNDS
When going for a lay flat picture one of the most important elements in your photo is the background. There are many different websites that sell gorgeous professional backdrops for photos (Debby Hughes has some listed on her blog). I am yet to shop there lol! Instead I use everyday household items and surfaces as backgrounds.
BACKGROUNDS – YOUR FURNITURE
One of the backgrounds I use most often is the surface of my computer desk. When I was shopping for this desk I knew I would use it for photos so I kept that in mind when picking out the color and texture of the wood. I love to use it for simple, almost one-layer light projects. The dark color of the background helps the card colors pop. Click image to see bigger photos.
BACKGROUNDS – ON THE FLOOR
For a light woodgrain background I like to use a floor board. This is an actual floor board I brought with me from Ukraine. My Mom has this exact floor in her bedroom and when she had this floor installed there was one left over board which I kept for my photos. I had it cut slightly smaller and now often use it when I need to take vertical or skinny horizontal photos. It is very narrow so it doesn't always work for every photo, but it works great for small 4 Bar cards.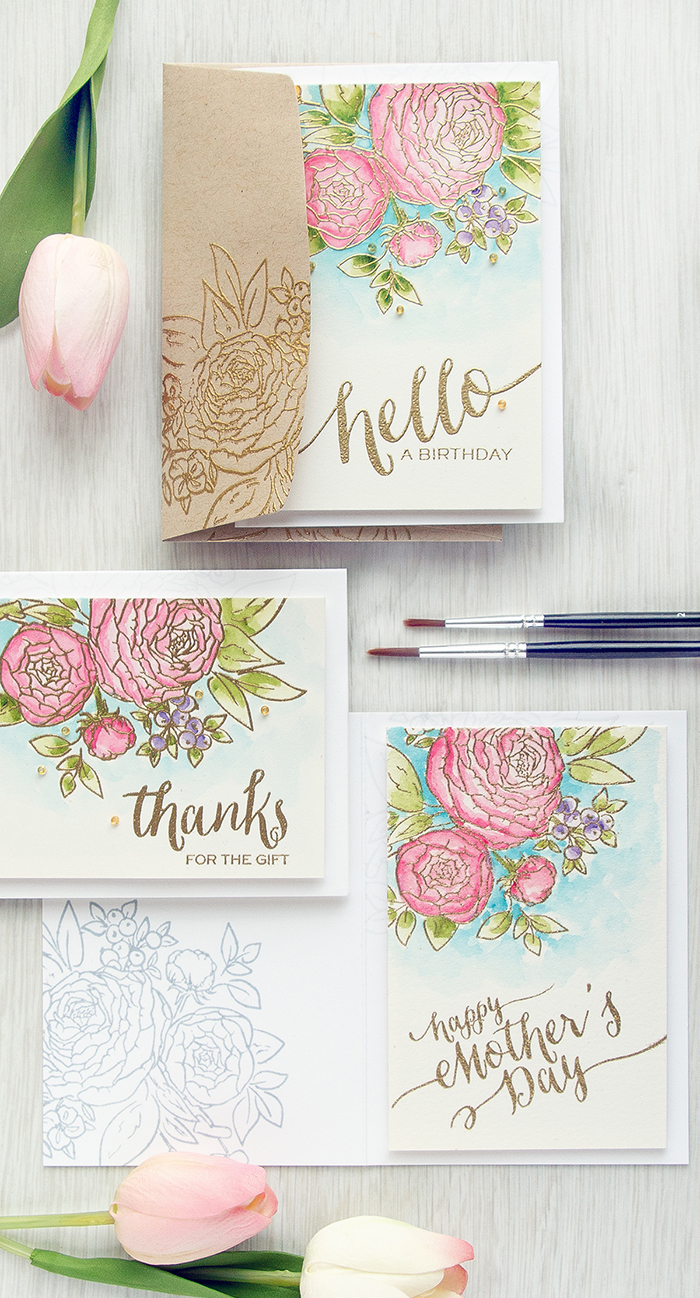 BACKGROUNDS – WOOD SLICE
This is something I recently bought for just $5 at Junk In The Trunk. This is a natural, unpolished, unstained, very uneven slice of wood. I find it works great for Fall or floral projects. I love to use it on my desk to "break up" the background and add some movement to my photo.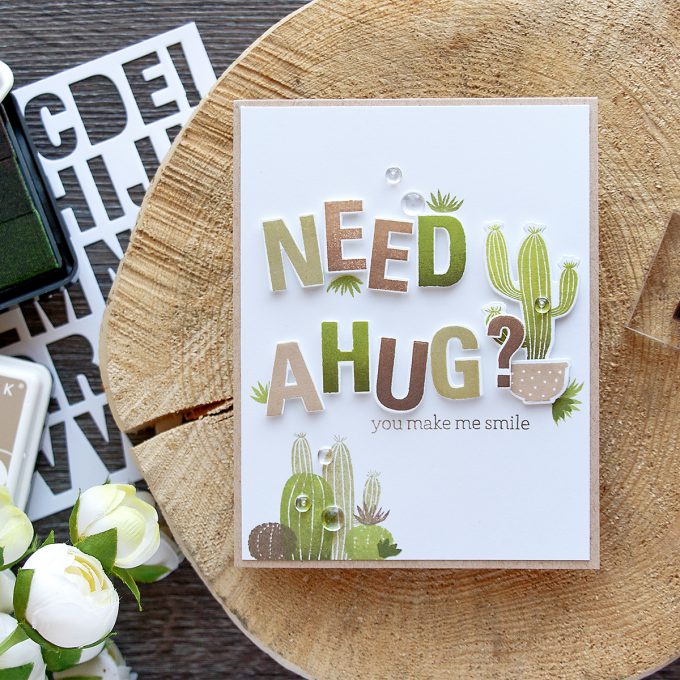 BACKGROUNDS FROM THE KITCHEN
Ceramic plates are fantastic for taking photos. I prefer to use matte plates, but shiny plates also work really well. These are regular dinner plates you can find at any store. I got mine from TJ Maxx, Walmart, Pier 1 and IKEA. I don't buy the whole plate set, only a single plate and keep it near my desk with all of my photo props (I don't keep these in the kitchen).
I only have a handful of plates as it's hard to find a good design that does not compete with the card, but rather complements it. Keep in mind even a plain white plate can work great as a background prop.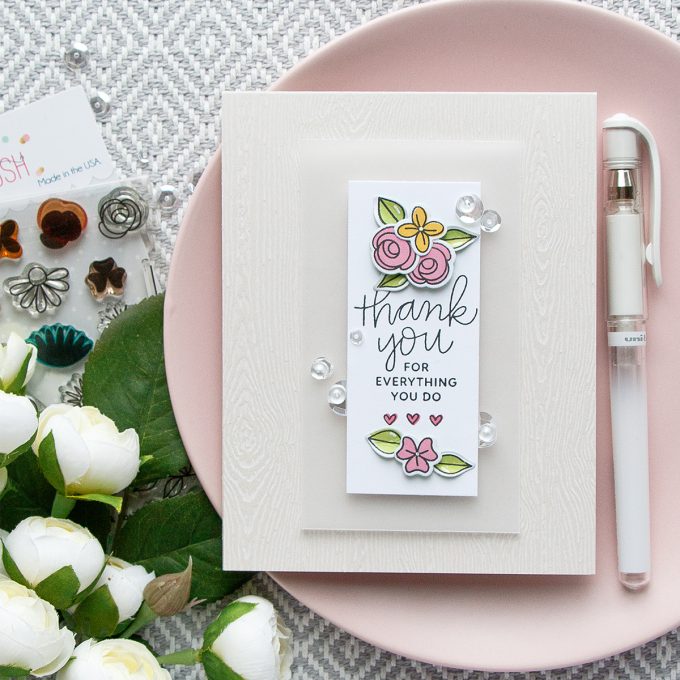 BACKGROUNDS FROM THE LINEN CLOSET
Neutral colored, natural fabric or non-shiny plastic placemats and napkins make great backgrounds. Bright colored items can be used as backgrounds as well, but you'll be limited to using them for just 1 or 2 projects, so don't go buying every color placemat you can find. You can find these at just about any home decor store. I bought mine at Ikea and Walmart.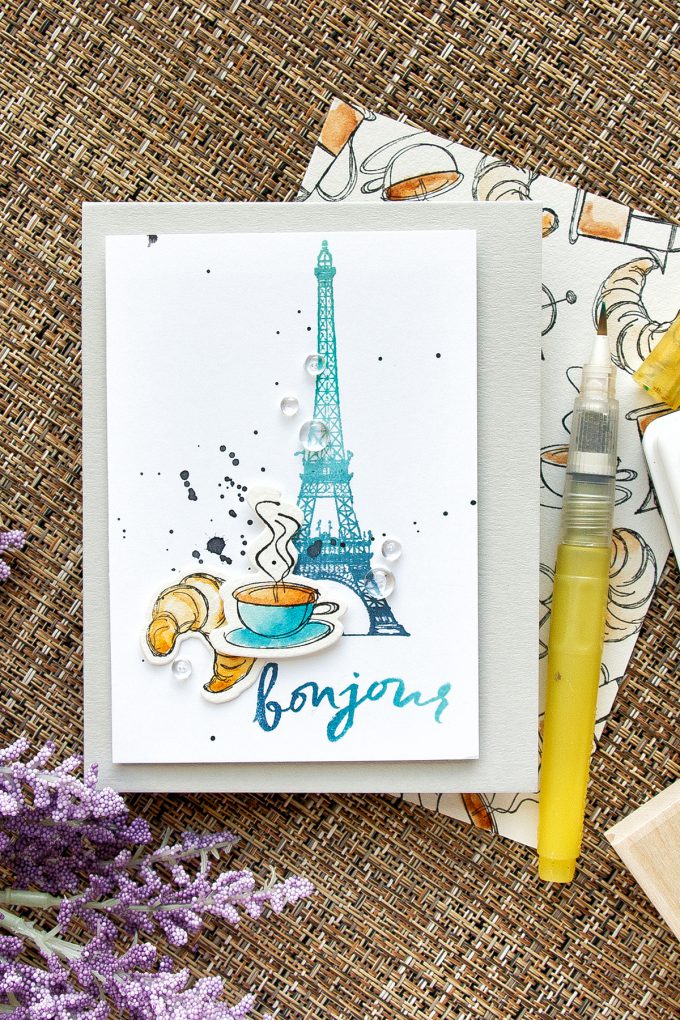 This is a $2 plastic placemat from Walmart
BACKGROUNDS – TILE
I was pleasantly surprised to learn that one can buy tile by 1 piece (instead of a pack) here in the USA. I went to Home Depot and Lowes and picked up a marble-looking tile (for under $2) and two self adhesive plastic tiles (for under $1 each). You might already have a pretty tile somewhere in your home, check the kitchen or bathroom floor or even the balcony for a nice background.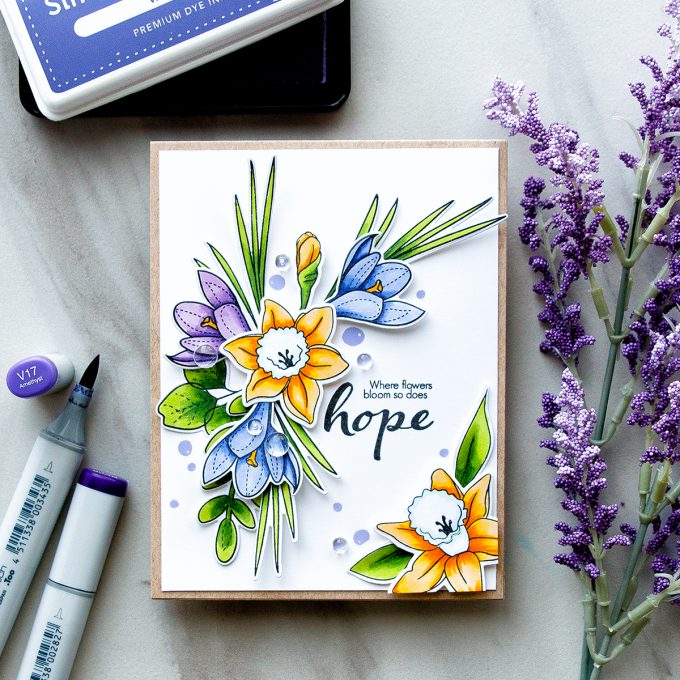 PHOTO PROPS
There are many, many items one can use a photo prop. I always look for simple home decor pieces to include in my photos (and decorate my home with) and I also tend to use my supplies in photos as well.
PHOTO PROPS – FLOWERS & GREENERY
I love to use silicone flowers for my photos (I also have some fabric flowers, but I don't quite love them as much, they don't look very real). I used to have a huge collection of flowers, now I scaled down to just a handful seasonal, however I am always looking for new florals to add to my collection.
I also love to use simple greenery instead of flowers. This doesn't always work, but it offers a nice change to my photos.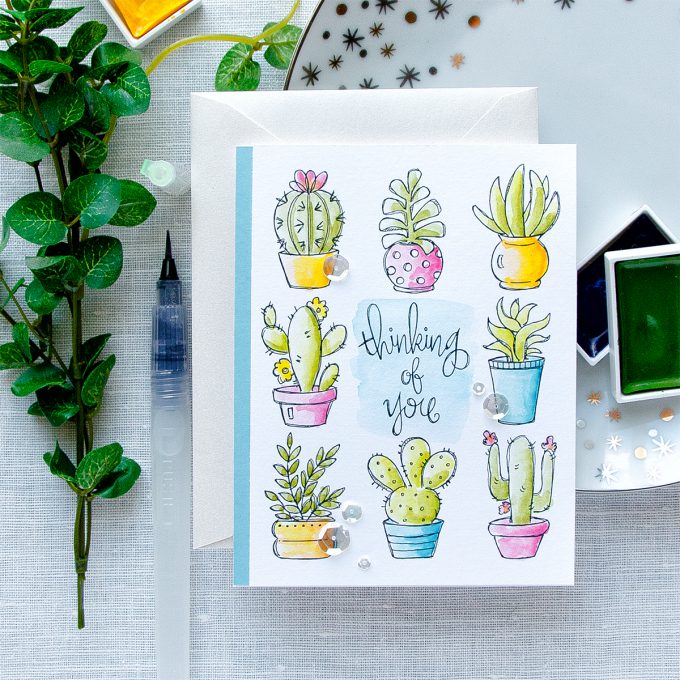 PHOTO PROPS – CRAFT SUPPLIES
Whenever I photo a project where I did a bit of coloring I try to include coloring mediums I used. Ink pads, brushes, even stamp sets all make great props for photos. Other ideas include: watercolor pans, pretty pens, pencils, stamp sets and dies, additional stamped and die cut pieces, washi tape, twine.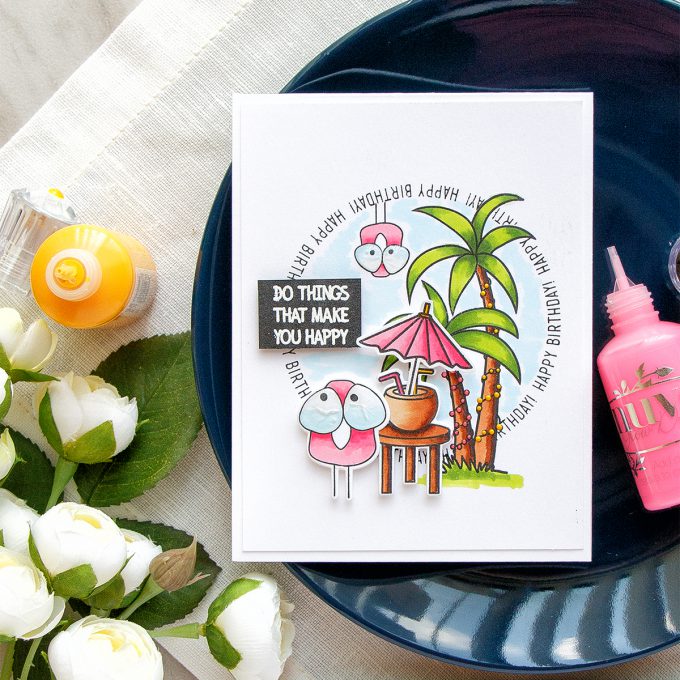 PHOTO PROPS – SEQUINS
Sequins make everything better! I seem to always sprinkle a few sparkling clear sequins from Pretty Pink Posh around my focal point. I love to use this particular sequin mix because it is a bit sparkly, it is clear (and thus goes well with any project) and has a good variety of sizes. I keep my photo sequins separately from my crafting sequins – they are stored in a small dish in my desk where I take my photos.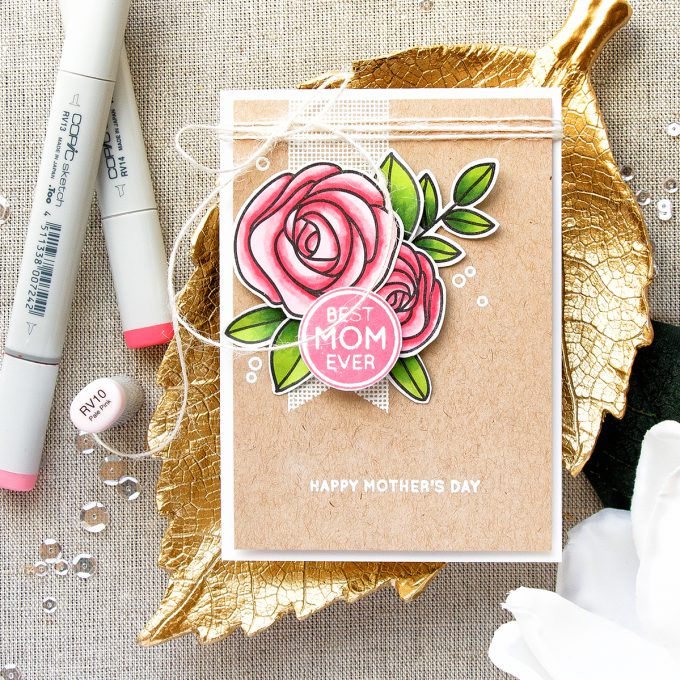 CAMERA & GEAR I USE
The camera I use to take photos is (affiliate link used at no additional cost to you) Canon EOS 7D MARK II along with EFS 18-135mm lens. I also have an external Flash which I used to use a lot (Speedlite 580EX II)  but hardly ever use these days as I much prefer taking photos with natural light next to a window. I use a step stool to be able to stand directly above my styled photo. I also often use one or two $1 whiteboards to reflect light and block the color from whatever color shirt or pants I'm wearing.
I take my photos in RAW and always edit them in Photoshop.
CONCLUSION
It is very easy to get carried away with all the specialty photo props and equipment. I am not saying do not invest in high quality professional items, but do first look around your home to see what you can use. You might have a gorgeous wood or tile floor or a beautiful collection of napkins and placemats that can be used as backgrounds. If you have a garden – you can try picking fresh flowers to use as props.
As for the camera – if you have good lights you can take wonderful photos using just your phone.
I hope this blog post has been useful and encouraging. Feel free to leave me a comment, ask questions, email. I am just an amature, but I love what I do and I think this is what matters most.