Hello, friends! Today I'm very excited to introduce you to my second collection of Glimmer Hot Plates with Spellbinders called Yana's Christmas Foiled Basics. This collection was designed on the success of my first collection, Foiled Basics and many items in this new line have a very similar look and feel to them, but with a Holiday twist.
Christmas is one of my favorite holidays and Christmas cards by far are my favorite to make. So I couldn't resist the opportunity to design several Christmas glimmer plates to create elegant foiled Christmas cards.
Like this project? Pin it and save for later
VIDEO TUTORIAL
In this video I'll show you each of the products in detail, I'll show you how to use some of the products, especially if there's a trick involved, and will provide various examples of how the glimmer plates can be used for YOUR Holiday Cardmaking.
Watch the video below or on my Youtube channel.
Like this video? Please give it a big thumbs up (you can do this on Youtube video page right under the video) and share it with a crafty friend! Leave me a comment too, I love hearing from you!
YANA'S CHRISTMAS FOILED BASICS
This is a small collection and it includes 6 glimmer plate sets!
A quick note – all of these are hot foil plates, meaning they require a hot foil system to use them. It can be a Glimmer Hot foil System from Spellbinders or another hot foil system. These products are not dies, they will not cut the designs out, they will stamp the designs, but will stamp them with foil.

Yana's Christmas Sentiments Glimmer Hot Foil Plate & Die Set
Shop at:
SSS | SC | SB

Christmas Organic Foliage Glimmer Hot Foil Plate & Die Set
Shop at:
SSS | SC | SB

Glimmer Gift Border Glimmer Hot Foil Plate
Shop at:
SSS | SC | SB

Christmas Foliage Background Glimmer Hot Foil Plate
Shop at:
SSS | SC | SB

Christmas Foliage Circle Border Glimmer Hot Foil Plate and Dies
Shop at:
SSS | SC | SB

Glimmer Winter Village Glimmer Hot Foil Plate
Shop at:
SSS | SC | SB
Let's start with the must-have set from this collection – a set of sentiments! There are 5 main sentiments in this set and each comes with a coordinating die. The sentiments read "Happy Holidays", "Season's Greetings", "Merry & Bright", "Joy to the World", and "Merry Christmas".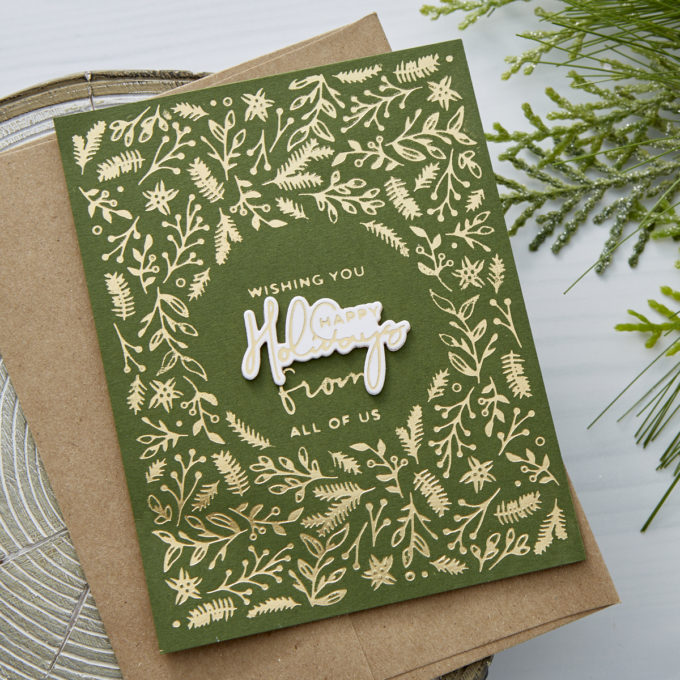 There are also additional skinny strip sentiments to help you create customized messages for your projects. The skinny strip sentiment read – "Wishing You", "Silent Night, Holy Night", "All Is Calm, All Is Bright". There is also a plate that says "From" and it can be paired with "All of Us". You can also pair "From" with another one that reads "Our Home to Yours". You also have numbers and these will help you create the date or the year. You have one plate that says 20 and then individual plates from 1 to 0 to create any date you need, 2020, 2021, 2022, 2023, and so on.
The Christmas organic foliage is exactly what it sounds like – a set of foliage to dress up your cards. These are larger size foliage, there are 10 pieces including 2 poinsettias. These are great to add as accents to your frames, backgrounds, and sentiments. You can foil these on white or colored cardstock, use colored foil and even color those in using watercolors or markers. The example below shows these colored with Copic markers:
The other set, the Christmas Foliage Circle Border also includes several foliage pieces, but they are much smaller in size, so these 2 sets are great to combine together to make wreaths for your Christmas cards or again, to use as accents and embellishments.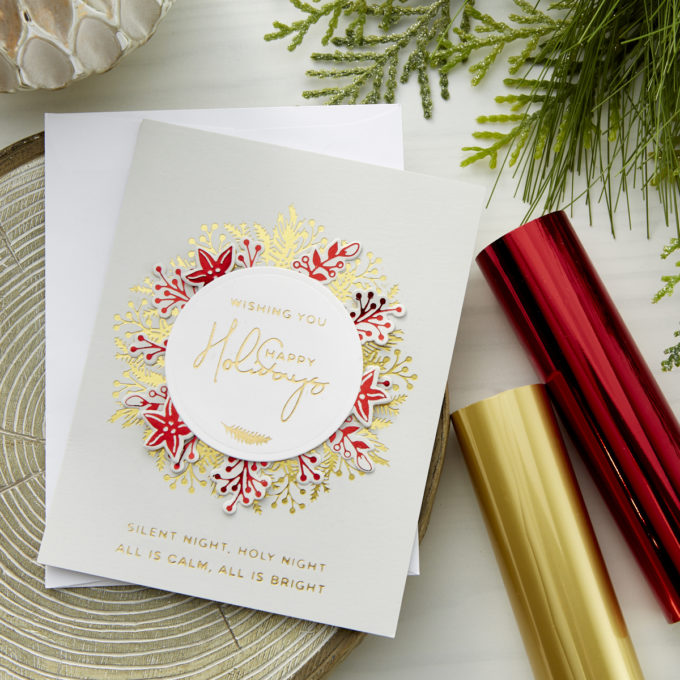 There is also, of course, a piece to build a wreath in the Christmas Foliage Circle Border set and the concept is the same as in my previous Foliage Circle Border set. You foil the foliage 3 times to create a full circle wreath for your card. So the same concept as here, but the design of the foliage lends itself forwards Christmas and the circle plate also has a different detail to it, is it one solid line.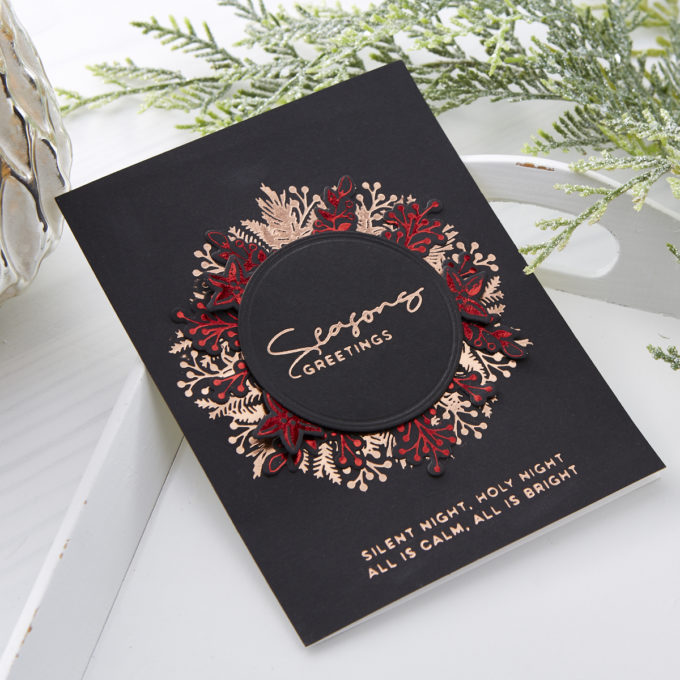 The foliage piece that makes the wreath can be used to make other shape wreaths, not just a circle wreath, here is one that has a square shape – here I foiled the wreath 4 times to create this shape. The set is quite versatile and designed to let you have the creative freedom to do what you like.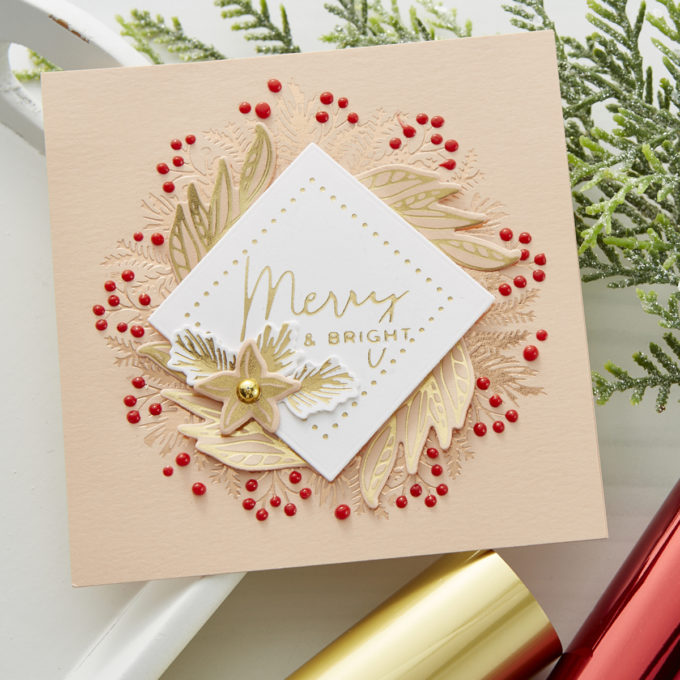 The next plate in this collection is a Gift Border! This is a fun one because you can use it all year round, not just for Christmas, but also for Birthday cards. You foil it twice to cover a full background for your card or use as a border – up to you!
The Christmas Foliage Background is probably my favorite plate from the whole collection. It does look weird because it is a half plate. It is not a full plate for 2 reasons – minimize the cost of the plate and to allow you to have better-foiled results. It is designed to be used on an A2 card, you just foil it twice and you'll have a full card background.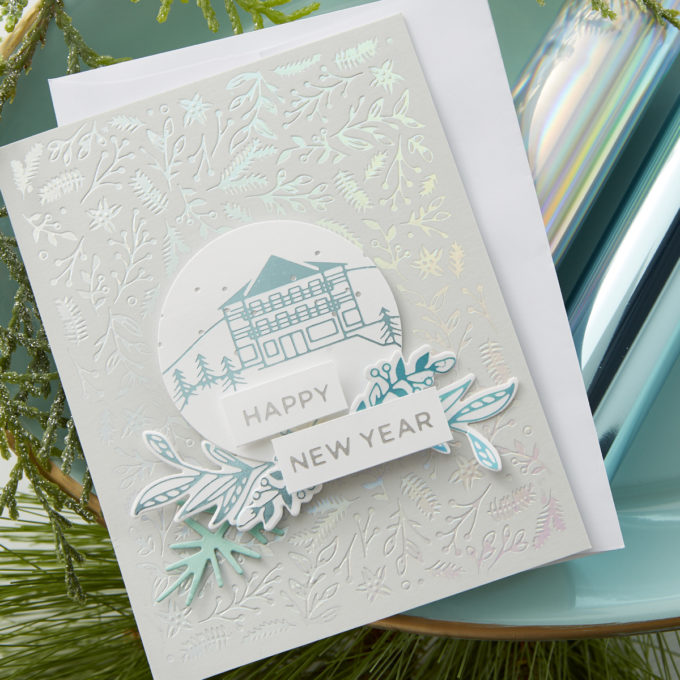 The space in the center is reserved for sentiment, you can add a foiled and die-cut circle if you like, add a sentiment and you have yourself a pretty card. Or skip a circle and just add a sentiment, perhaps add some foliage pieces and you have a gorgeous foiled card in no time!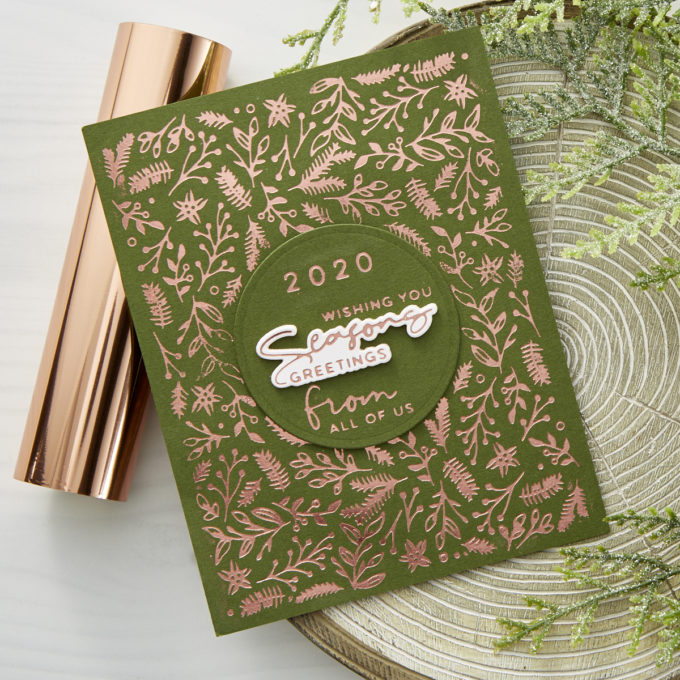 And last, but not least, is the Glimmer Winter Village set. Again, one of my favorites. There are 3 plates, these don't have coordinating dies, just the plates. You have 2 plates with pretty winter houses and also one plate with falling snow. You can foil the snow plate repeatedly to create as much or as little snow on your card. Add a sentiment and you have a gorgeous foiled card!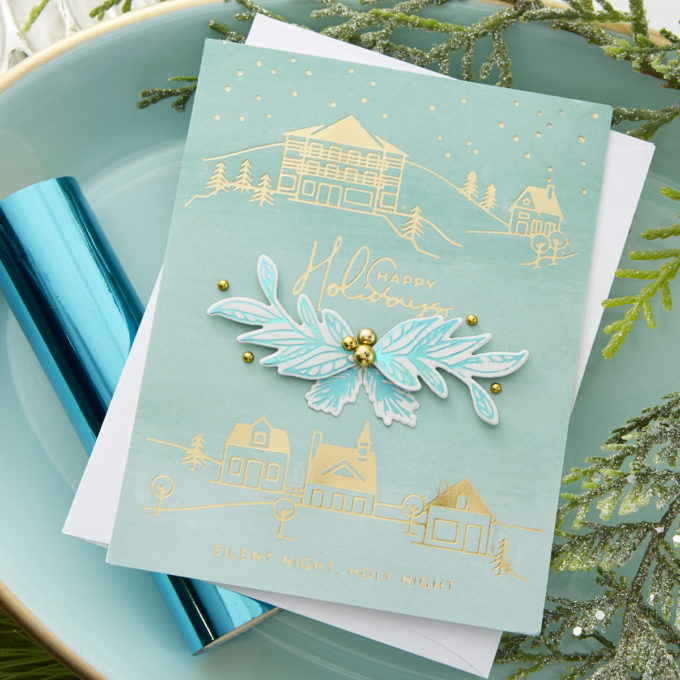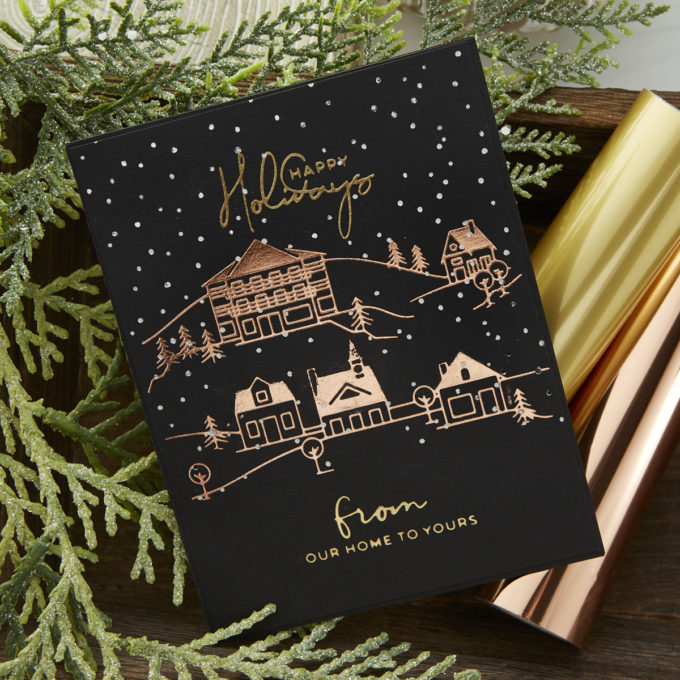 So these are all the products in my Yana's Christmas Foiled Basics collection with Spellbinders. I hope you'll enjoy using these plates in your card making and you'll have as much fun foiling them as I do.
SUPPLIES
I'm listing the products I used below. Click on the link to go directly to the product. Where available I use compensated affiliate links which means if you make a purchase I receive a small commission at no extra cost to you. Thank you so much for your support!