Hello, crafters! While I am away from my craft room (on a month-long work trip in China) and cannot make any new projects, I thought I would make a video showcasing some old card ideas that all have something in common. Since I love to use Nuvo Drops from Tonic Studios for my cards I decided to share 5 different ways you can use Nuvo Drops in card making!
Some of these might be obvious to you and I'm sure you are already using your Nuvo Drops in this way, but other ways might be new and if they are, I hope you'll give them a go in your crafting!
5 WAYS TO USE NUVO DROPS – VIDEO TUTORIAL
Watch video below or on Youtube:
#1 USE NUVO DROPS AS EMBELLISHMENT ON A CARD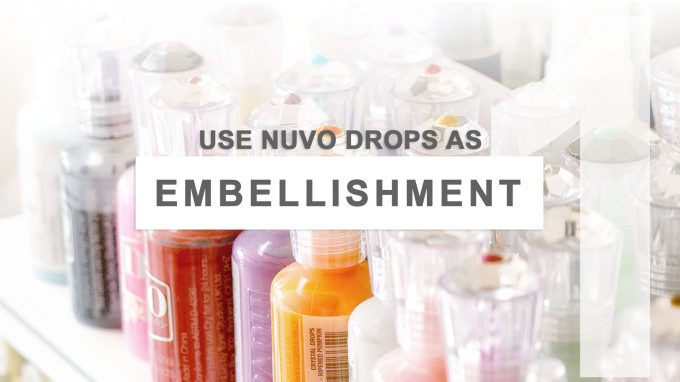 My favorite way, and the most popular way, to use Nuvo Drops is probably as a pretty round embellishment on a card. After all, this is the main purpose of this product and what it was designed to do.
Since Nuvo Drops come in so many different colors it's easy to match them to any project and use all the time. My favorite and most used drops, however, are white, black and clear. If you are new to this product and thinking about giving it a try these are the 3 colors I'd suggest to start with. Here are some card ideas (click thumbnail to see full post):
#2 USE NUVO DROPS ON ENTIRE BACKGROUND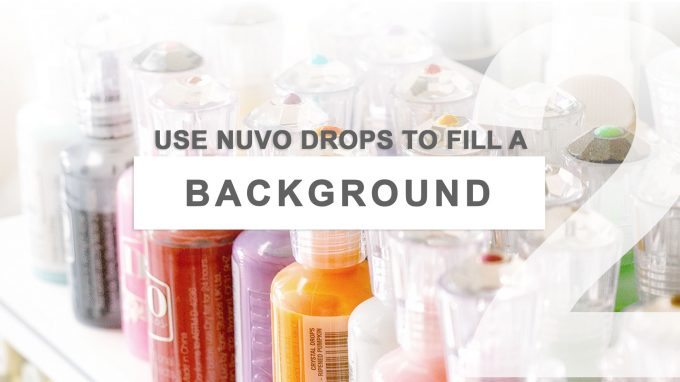 You can use your Nuvo Drops not only as an accent on a card, but to dress up and enhance an entire card background! I had a ton of white space on this butterfly card so to fill it in I used Nuvo Drops in coordinating colors and added lots of colorful drops in different sizes. It was very easy to do, yet the result is striking!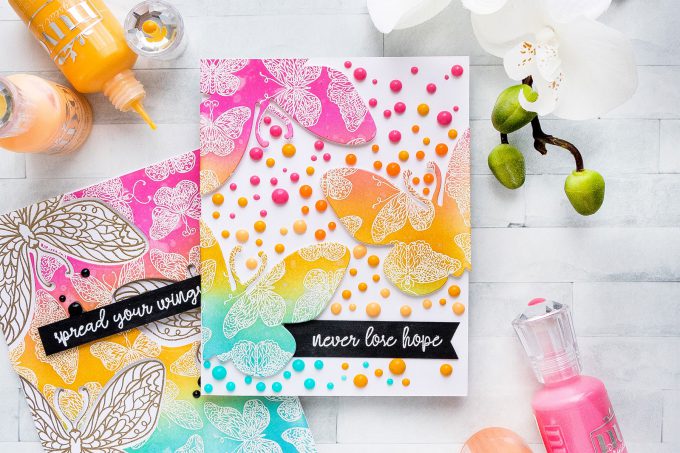 Here's another similar example, but with jewel drops, these are translucent, so they don't look as vibrant on a card, yet still add a ton of interest to your background: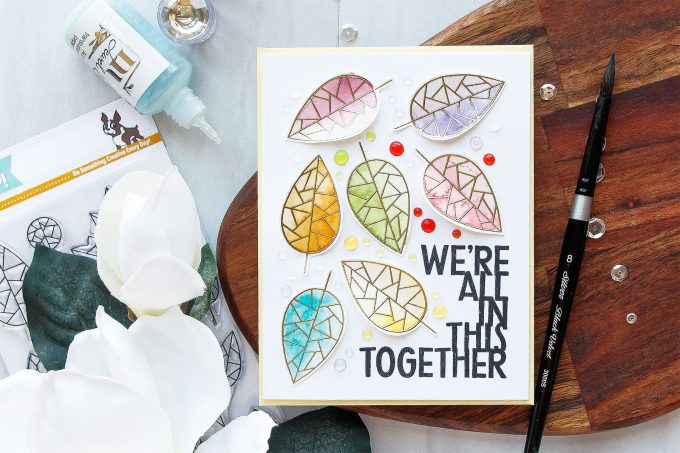 In the same way, if you have a background stamp you can use Nuvo Drops to dress it up and add to select sections of that background: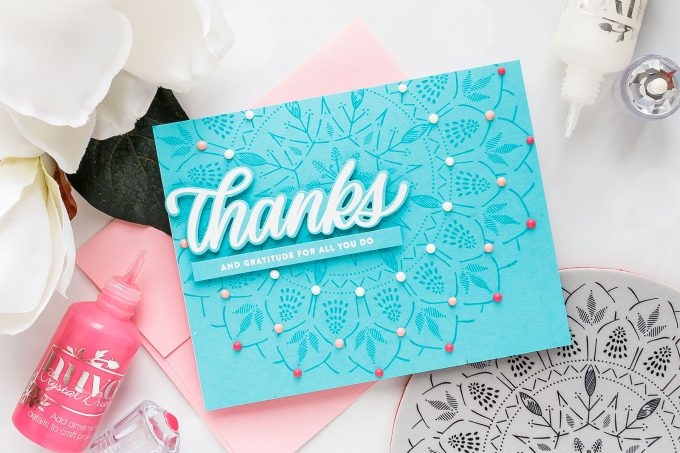 If you like to add scoring or dry embossing to your card backgrounds you can add drops on the intersections of the score lines. Here are a few examples with the gloss white and white pearl drops: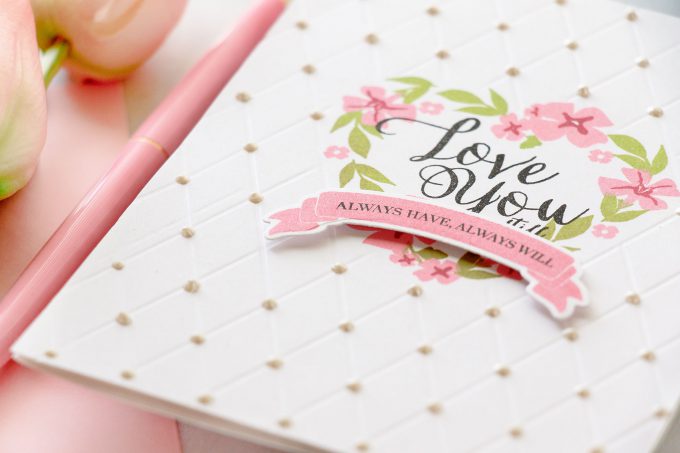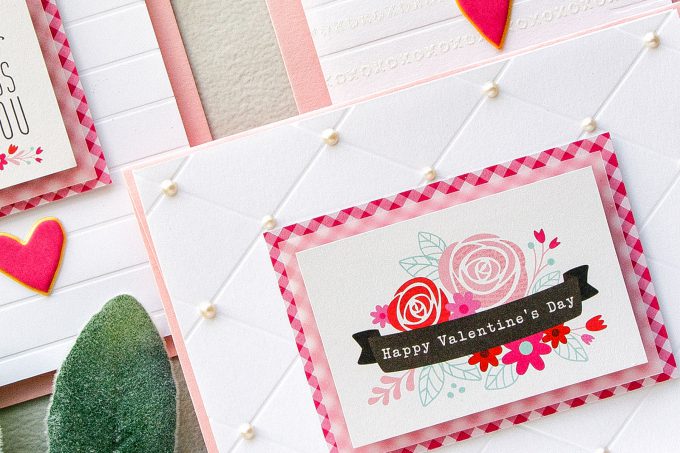 Here is another example of how Nuvo Drops can be used all over a background of the card: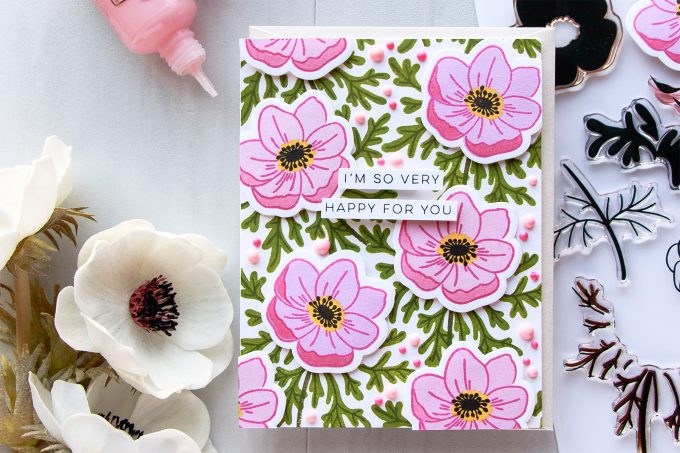 I also love to pair my Nuvo Drops with colored cardstock and use Drops as an extension of a design on the background like I have here on this colorful floral card. Pretty cool, right?
#3 USE NUVO DROPS AS FLOWER CENTERS
Another great way to use Nuvo Drops is as flower centers! Yes, you can add pretty dimensional centers to your stamped or die cuts flowers to make them pop! Here are a few examples of the cards I've made in the past using Nuvo Drops to make centers of my flowers: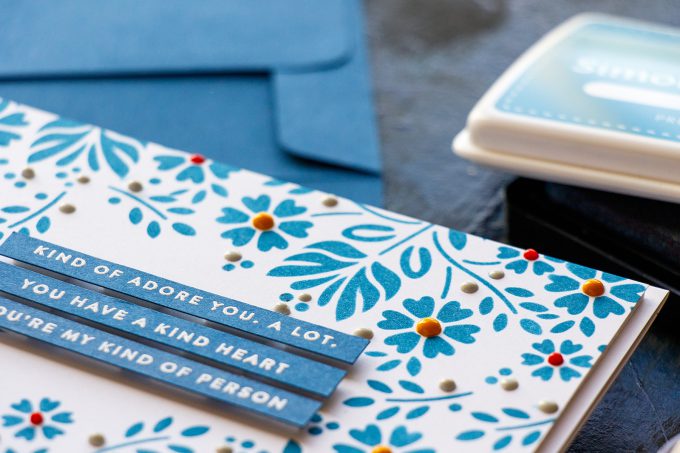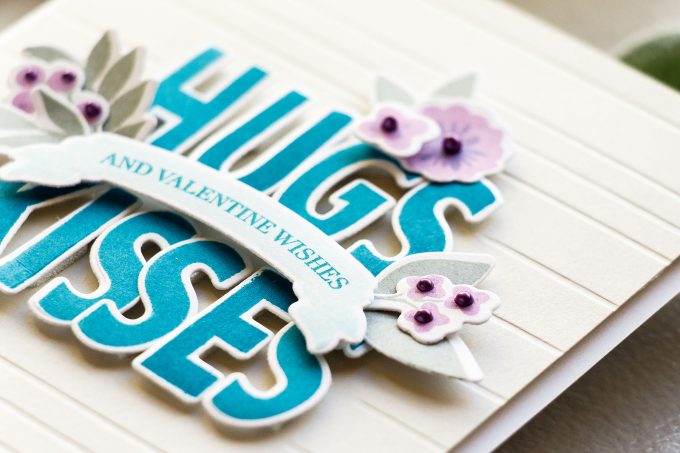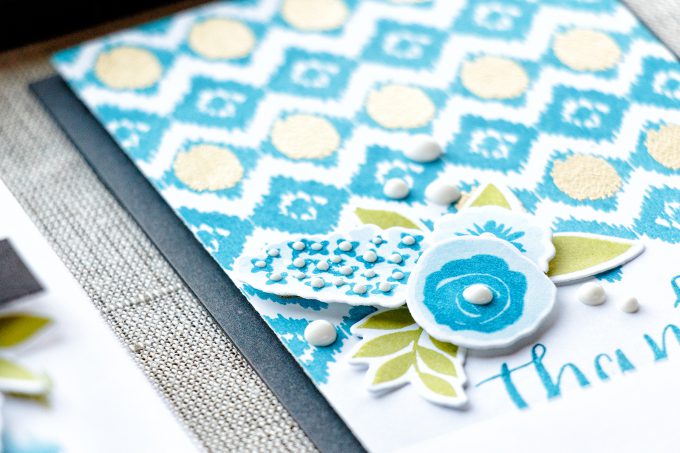 #3.1 USE NUVO DROPS AS BERRIES ON HOLIDAY CARDS
In the same way, you can use your Red Nuvo Drops as berries on Christmas cards. I love doing this and the results are always stunning! You can use red drops or clear drops over red stamped or colored berries.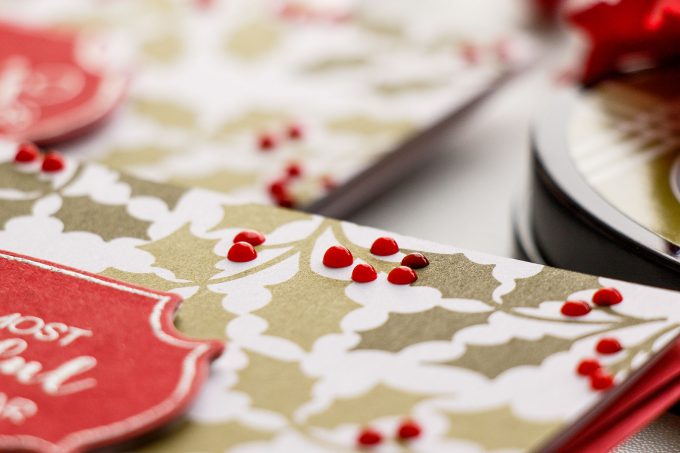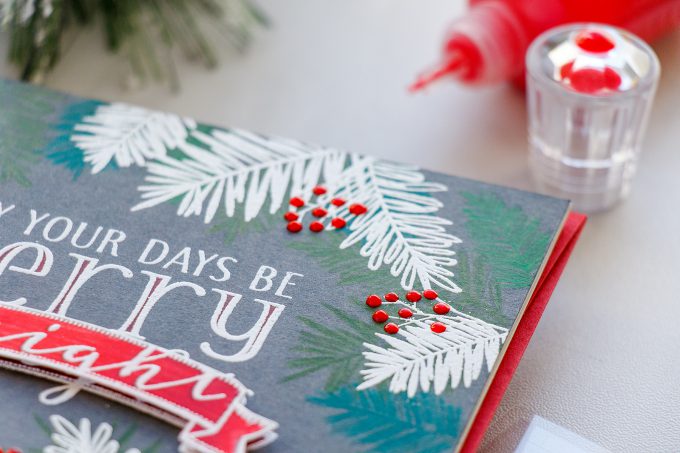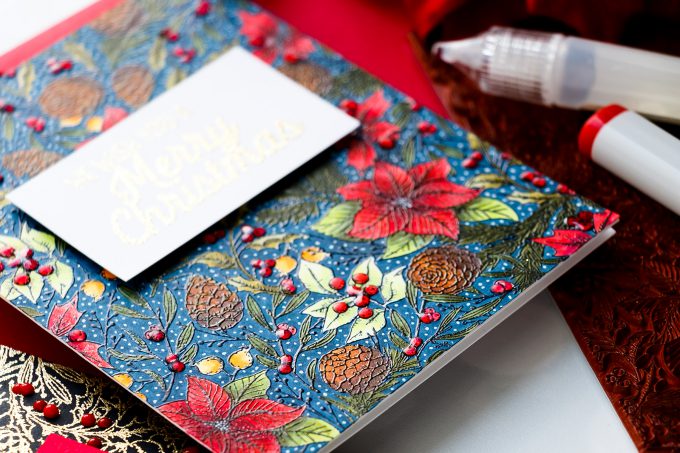 #4 COLOR WITH NUVO DROPS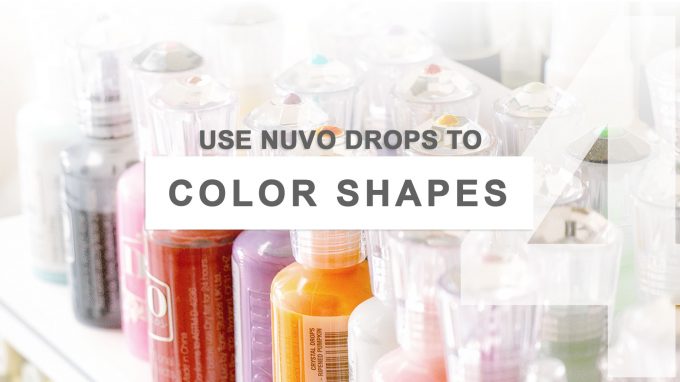 You'd be surprised, but you can color small shapes with your Nuvo Drops! I say small, because you don't want to apply a thick coat of Nuvo Drops over large area as it might crack. But you can easily add little colorful circles or ovals to color simple shapes on your cards.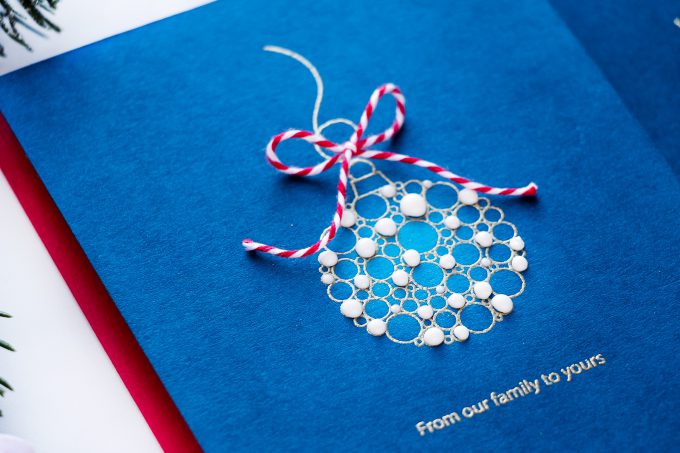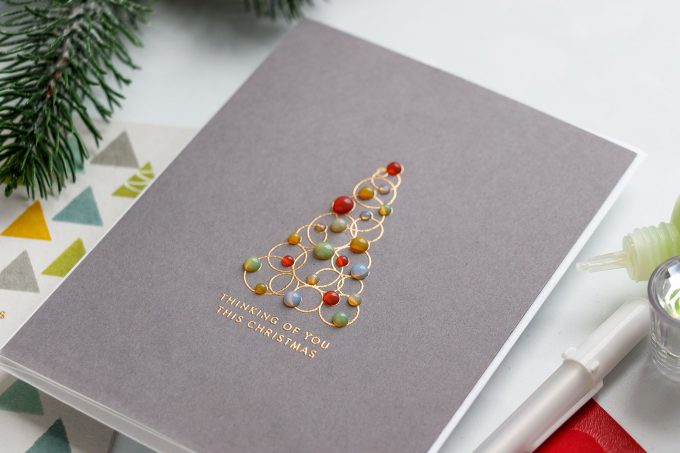 Here's my favorite one – where I used a few colors of Nuvo Drops to color lights on palm trees!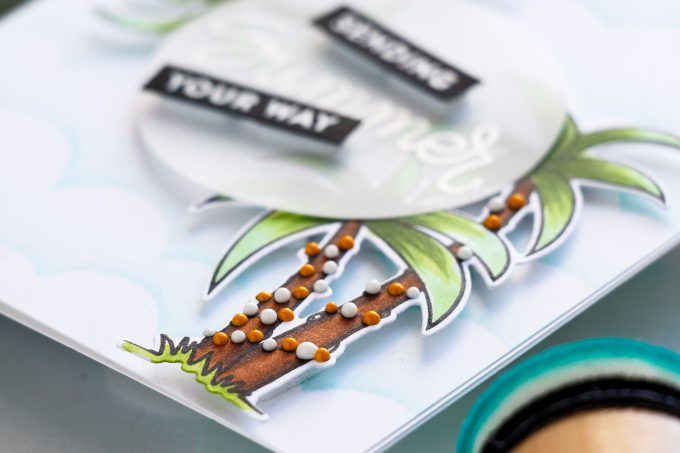 Or this one where I used white and red dots to make Christmas lights on a one layer Holiday card: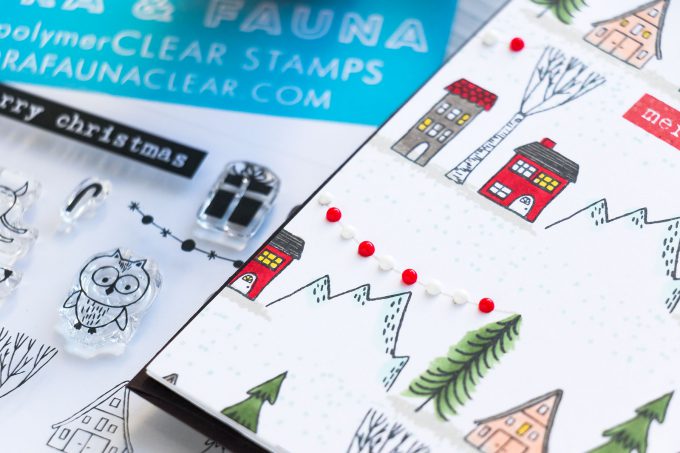 #5 USE NUVO DROPS AS WATER BUBBLES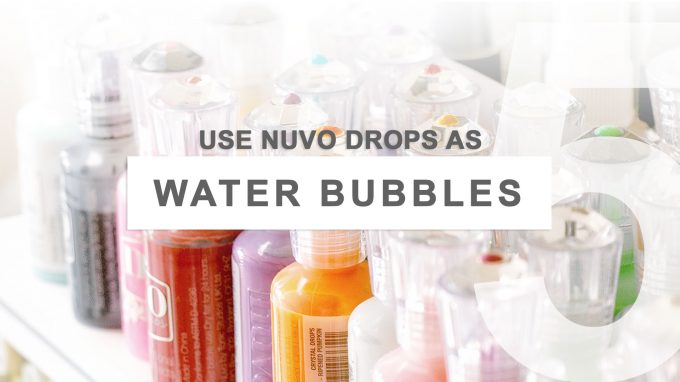 Another super fun way to use Nuvo Drops, clear drops specifically, is as water bubbles! You can use many other similar products for this effect, but I especially like how Nuvo Drops hold their form and give me perfect little water bubbles on my cards! BTW, if you want to add several drops that are connected to each other, first add a center one, let it dry and then add the other 2 drops on the sides. This way each drop will maintain its shape.
BONUS! USE NUVO DROPS WITH A STENCIL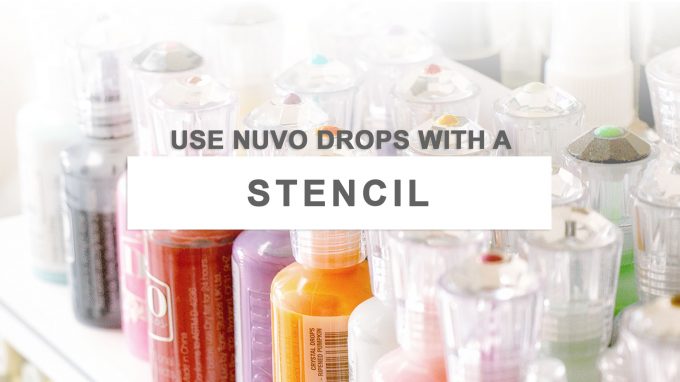 Another way to use Nuvo Drops is through a stencil! This not my idea, but something I saw my friend Marie do in her recent video. She blew my mind with this technique and I can't wait to give it a try myself. Please do go over to Marie's YouTube channel to watch her full video.
I hope you'll give these ideas a try! If you do, please to share online and tag me social media – I love seeing what you guys are making.
SHOP NUVO DROPS
I'm listing the products I used below. Click on the link to go directly to the product. Where available I use compensated affiliate links which means if you make a purchase I receive a small commission at no extra cost to you. Thank you so much for your support!
Amazon – https://amzn.to/2VAG0W1 | Simon Says Stamp – http://shrsl.com/1hb29 | Scrapbook.com – http://shrsl.com/1hb28 | Tonic Studios – http://shrsl.com/1hb2c
PIN/SAVE ME!
Save this image to one of your Pinterest boards to easily come back to this post in the future.