Hello, crafters! While I am away still from my craft room (on a month-long work trip in China that just got extended so it looks like I'll be staying here a bit longer) and cannot make any new projects, I decided to bring you inspiration by showcasing some old card ideas that all have something in common.
Last time I shared 5 Ways to Use Nuvo Drops in Card Making. In this post & video I'm featuring 5 ways to stamp backgrounds for handmade cards without the use of background stamps. This post focuses on using individual images and different types of backgrounds one can make using them.
5 WAYS TO STAMP BACKGROUNDS FOR HANDMADE CARD – VIDEO TUTORIAL
Watch video below or on Youtube:

Like this video? Please give it a "thumbs up", drop me a comment and share with a crafty friend. Thank you!
You can take pretty much any image, stamp it several times in one way or other and have a cool looking background and a completely different use of that stamp. My goal is to help you see your non background stamps in different way, help you use them in a different way for your cards possibly getting more bang for your buck.
RANDOM PATTERNS/BACKGROUNDS: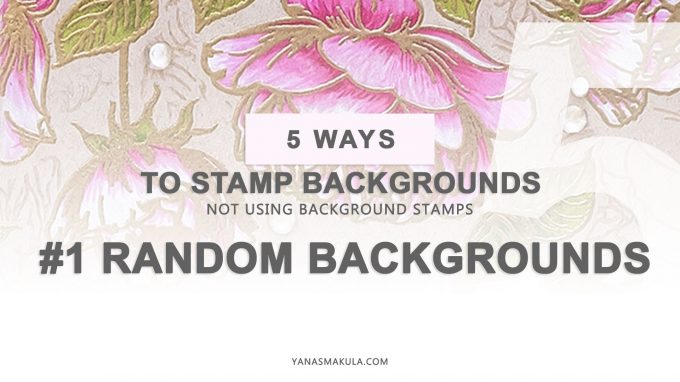 One of the most common ways I like to use my stamps to make backgrounds is by stamping images randomly on backgrounds of my card. These can be either solid images stamped in various colors of ink or outline images typically stamped in black ink and colored using some coloring medium or other.
Click thumbnails below to see each card/project in detail. Some have video tutorials available, some photo tutorials, some are just regular projects:
LINEAR PATTERNS/BACKGROUNDS:
If you like to have a little more order on your cards, you can try stamping simple linear backgrounds. What this means is that your images, be it one and same image or a grouping of different images from one stamp set or multiple sets are stamped on a straight horizontal, vertical or diagonal line.
BACKGROUNDS INCORPORATING TEXT: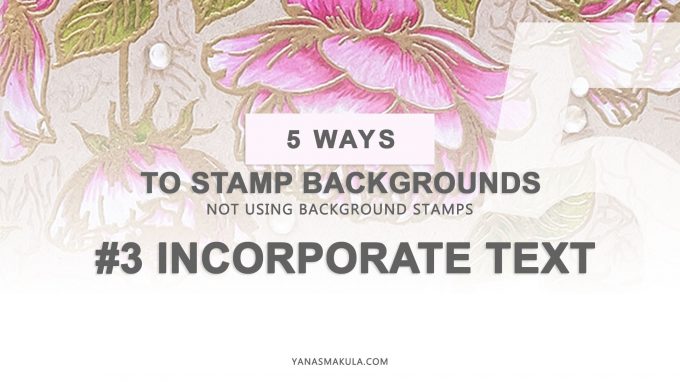 Another thing I like to do, is to incorporate words into my stamped patterns. They can make up a card sentiment, be a secondary card message, or act as a design element without any actual meaning. Here are some examples.
FLORAL & NATURE BACKGROUNDS:
Floral background are some of the easiest and prettiest to make. You start with a flower, add leaves and other small flowers to make a cluster and repeat. And if there's any space left fill it in with stamped dots. Easy and very pretty!
This works beautifully with all those color layering floral stamps, regardless of the size – I'm yet find one layering flower that doesn't make a pretty background pattern for a card.
PARTIAL/INCOMPLETE STAMPED BACKGROUNDS/PATTERNS: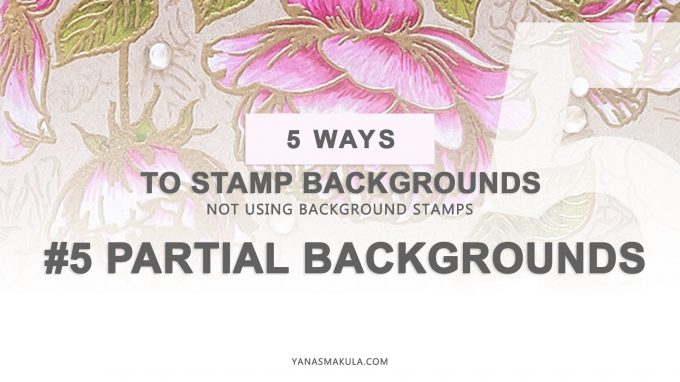 Finally, there are also cards with partial or incomplete stamped patterns and backgrounds and these, I feel, are best suited for beginners. This is typically a stamped pattern that covers just a portion of the card cascading from the top or bottom of your project like you see on these examples; or stamping coming in from the edges of the card leaving the center section free and available for the sentiment.
CONCLUSION
Do you have other tips and tricks for using your individual stamps to make backgrounds for cards? Share in the comments below! And while you are at it, let me know what product or idea you'd like featured in the next episode of this series?
PIN/SAVE ME!
Save this image to one of your Pinterest boards to easily come back to this post in the future.