A few weeks ago I had the pleasure of sharing a video tutorial on WPlus9 blog. I'm not going to profess my love for this brand and Dawn again (I seem to be doing that in every WPlus9-reated post I write), I'm just going to say – I love their products.
This time I had the opportunity to play with their felt – and oh boy! It cuts like butter and it holds its shape together so nicely (the only other felt that is like this that I know of is from Simon Says Stamp).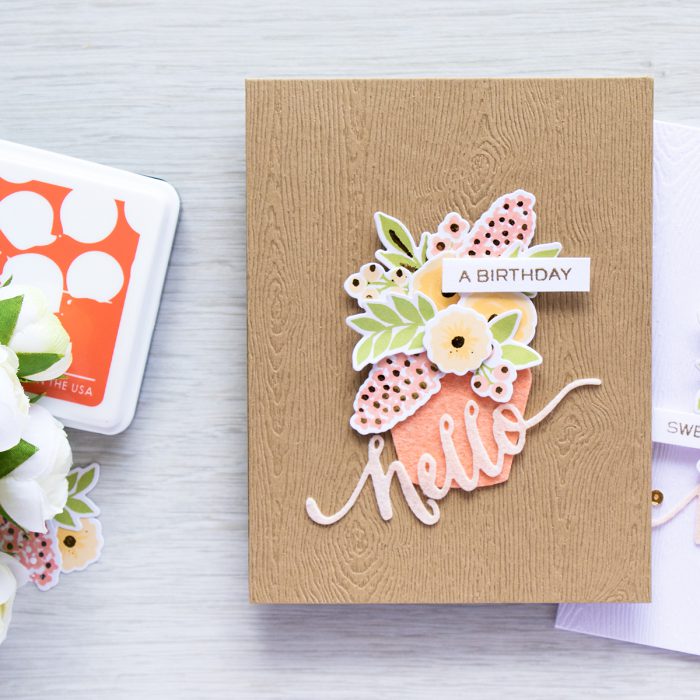 Like this project? Remember to pin it and save for later!
But this post is now really about felt or die cutting. Today I want to continue exploring ways to step up Color Layering images and ways to use less colors of ink. In my previous post for WPlus9 I used white pigment ink to mute the color of a dye ink and thus use less colors to stamp a beautiful floral bouquet. Today I'm inviting you to use heat embossing and later foiling to add beautiful foiled accents (and skip using one color of ink) for floral images.
VIDEO TUTORIAL – FOILED ACCENTS WITH HEAT EMBOSSING
I've filmed a video tutorial where I explain everything in detail. Watch my video below or on Youtube:
Like this video? Please give it a big thumbs up and share with a crafty friend! Drop me a comment too, I love hearing from you!
CARD DETAILS
The stamp set I used for this project is called Fresh Cut Florals, however many other floral (and probably not only floral sets) should work just fine.
The idea is to stamp the first and second layers using inks and do the final, top layer with the help of foil. Because foiling with heat embossing isn't going to be 100% perfect its best to use images that are small (like the centers on the flowers represented by dots). That way imperfections will be minimal and will not show up much.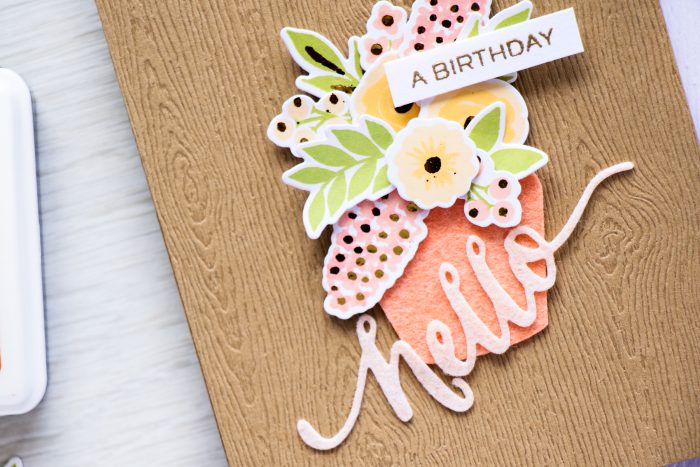 I had the best success by foiling dots with the help of this technique, I didn't much like the way I was able to foil lines (for example on the leaves); the sentiments didn't foil well at all. The reason for this is that embossing powder, when heated in the foiling machine spreads a bit and thus distorts distorting the final foiled image. It works okay for dots, but not for something that is detailed.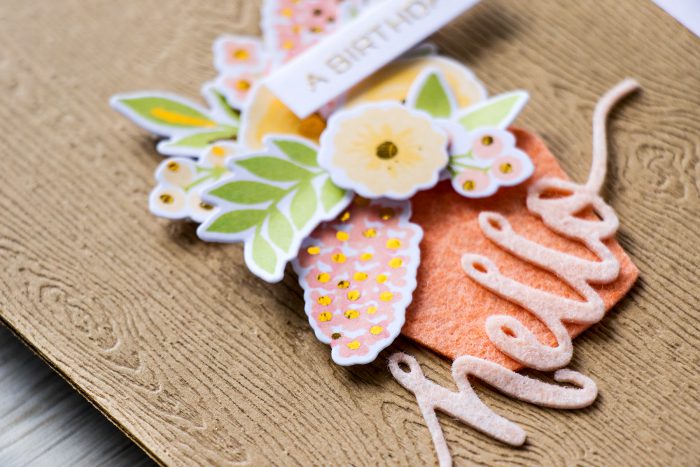 I stamped, heat embossed and foiled a bunch of images (it was very helpful to work in assembly line type fashion – something I learned from Jennifer McGuire).
To put these into cards I die cut jars to be used as flower pots. Instead of using cardstock I used WPlus9 Wool felt in Peach colors. I also die cut a Hello word, again out of felt. To make it easier to adhere it onto the jar and onto the card base I added a layer of adhesive before die cutting.
I made 3 cards in total (plus I had lots of left over stamped and foiled pieces that I used to make another card which I'll share later) and had a blast while I was at it. This did take quite a bit of time, I guess it would have taken less if I were to make less die cuts, but I didn't mint. Who doesn't want to spend extra time in the craft room, right?
Here are the other two cards I made – they are identical, the only difference is in the cardstock I used for the card base. The first one uses white woodgrain and the second one uses Spicy Yogurt.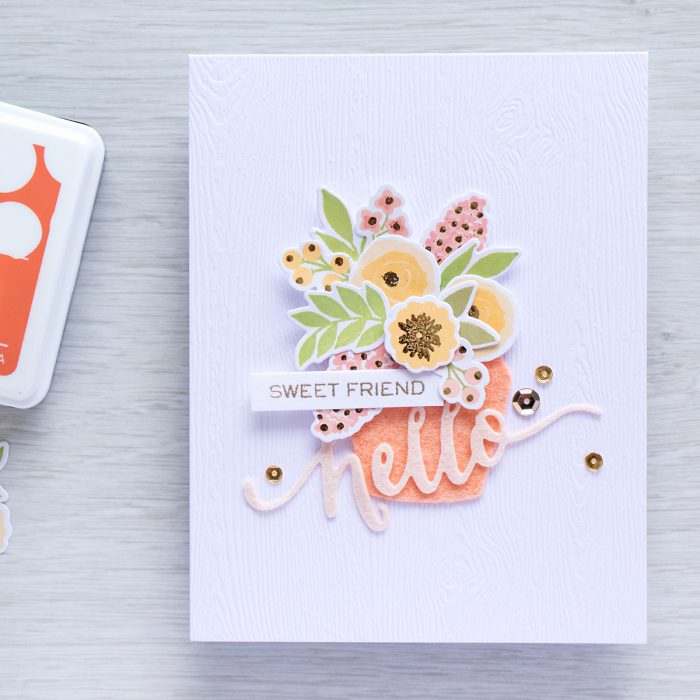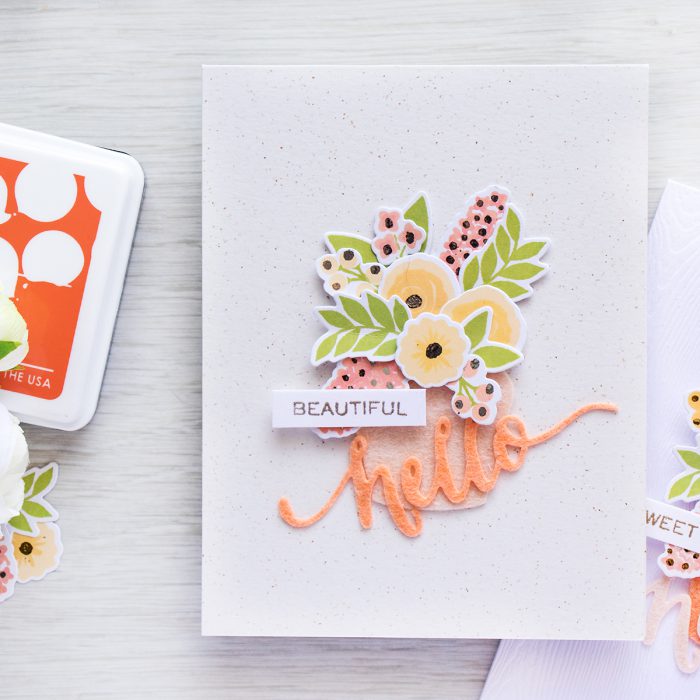 SUPPLIES
I'm listing the products I used below. Click on the link to go directly to the product. Where available I use compensated affiliate links which means if you make a purchase I receive a small commission at no extra cost to you. Thank you so much for your support!

Wplus9 Hand Lettered Hello Dies WP9D-084
Shop at:
SSS | WP9

Wplus9 Hand Lettered Hello Stamps
Shop at:
SSS | WP9

Wplus9 Fresh Cut Flowers Stamps CL-WP9FCF
Shop at:
SSS | WP9

Wplus9 Fresh Cut Flowers Dies WP9D-054
Shop at:
SSS | WP9

Wplus9 More Fresh Cuts Stamps CL-WP9MFC
Shop at:
SSS | WP9

Wplus9 More Fresh Cuts Dies WP9D-074
Shop at:
SSS | WP9

Wplus9 Preserves Jar Dies
Shop at:
SSS | WP9

WPlus9 Wild Mango Dye Ink Pad
Shop at:
WP9

WPlus9 Last Leaf Dye Ink
Shop at:
WP9

WPlus9 Miami Spice Dye Ink
Shop at:
WP9

WPlus9 Sweet Nectar Dye Ink
Shop at:
WP9

WPlus9 Hayride Dye Ink
Shop at:
WP9

WPlus9 Shades of Peach Wool Felt
Shop at:
WP9

Hero Arts Platinum Embossing Powder PW117
Shop at:
SSS | HA | AZ

Altenew Woodgrain White Cardstock
Shop at:
AN

Simon Says Stamp Woodgrain Cardstock White
Shop at:
SSS

Hero Arts Gold Embossing Powder PW100
Shop at:
SSS | SC | HA | AZ

Neenah 80 Solar White Paper Pack 250 Sheets
Shop at:
SSS | AZ

Spellbinders Artisan X-plorer Die Cutting Machine
Shop at:
SSS | SC | AZ

Altenew Spicy Yogurt Cardstock
Shop at:
AN

Tim Holtz Micro Serrated Scissors
Shop at:
SSS | AZ

EK Success Craft Tweezers
Shop at:
SSS | AZ

Ranger .5 Oz. Multi Medium Matte Adhesive
Shop at:
SSS | PPP | AZ

Versamark Watermark Emboss Ink Pad
Shop at:
SSS | HA | AZ

Stick It Adhesive Handy Pack 5 Sheets
Shop at:
SSS | SC | AZ

Scrapbook Adhesives Adhesive Sheets
Shop at:
SSS | AZ

Scrapbook Adhesives White Foam Squares
Shop at:
SSS | AZ

Royal Sovereign LAMINATOR Machine 9 Inch CS923

Shop at:
SSS | AZ

Heidi Swapp GOLD MINC Reactive Foil Roll 369973
Shop at:
SSS | AZ

EK Success Powder Tool Applicator
Shop at:
SSS | SC | AZ

Pretty Pink Posh 4MM Metallic Gold Sequins
Shop at:
SSS | PPP

Pretty Pink Posh 6MM Metallic Rose Gold Sequins
Shop at:
SSS

Heidi Swapp Silver and Gold Minc Reactive Foil Combo Pack
Shop at:
SSS | SC | AZ

Stampendous Stamp and Bond Adhesive Powder for Flock & Glitter
Shop at:
SSS | AZ