Hello there! A few days ago I shared a simple Holiday Mittens tutorial over on Spellbinders blog and I wanted to share it here as well. I used white, red and green felt and die cut several mittens using Spellbinders Holiday Smitten Mitten Steel Rule die.
I wanted to mention that as of September 2016 I am working as a trainee at Spellbinders office in Phoenix. While I do a lot of work for them and create lots of different projects I am only sharing what I truly love made using their products here on my blog.

I am also very much behind on the projects I want to share (I don't have to share them here, but I want to) and I'm hoping to catch up soon. If you'd love to see more of my Spellbinders projects you can find them on their blog every Thursday – I have a new video tutorial ever week.
These mittens that can be used as gift holders or Christmas tree ornaments or put together into a garland and they are very easy to make!
Like this project? Pin it and save for later!
VIDEO TUTORIAL
I've created a video tutorial where I am sharing everything in detail. You can watch it below or on my Youtube channel.
Like this video? Please give it a big thumbs up and share with a crafty friend! Leave me a comment too, I love hearing from you!
PROJECT DETAILS
I used a Steel Rule Die to create my mittens. With Steel Rule dies you can cut a lot of different materials and you can cut multiple layers at once. If you love creating home decor pieces or using not just paper when die cutting – you'll love working with this type of dies.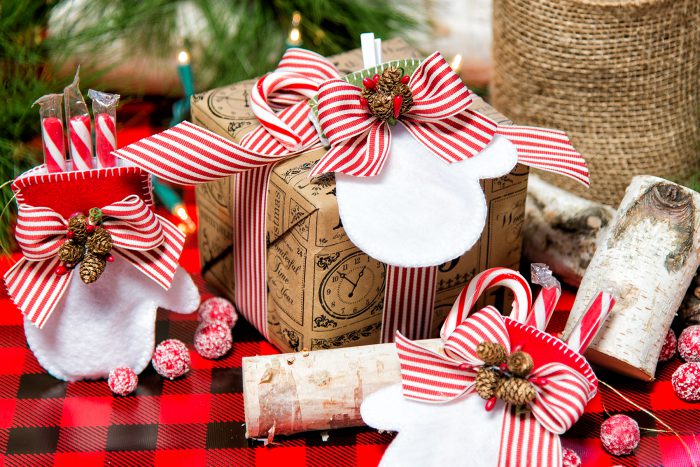 I used my Platinum 6 die cutting and embossing machine to do my die cutting; since I was using a smaller steel rule die I was able to use a smaller machine.
I used white felt for the mittens and red and green for the cuffs and I cut 2 layers in a single pass. To attach the cuffs onto my mittens and to attach the two mittens together to create gift holders I used a blanket stitch and white embroidery thread. There are many different kinds of stitches out there, if you don't know how to do them simply look them up on Youtube, there are lots of great instructional videos.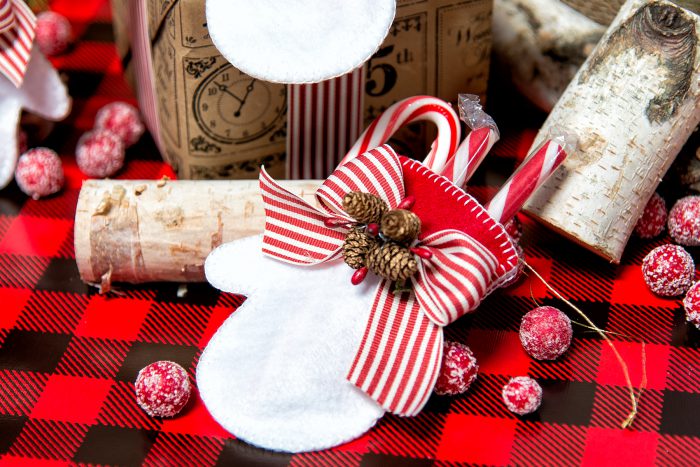 If you are making a garland or a Christmas ornament and don't want the mitten to be a gift holder you can skip attaching the two together. You could instead cut 2 cuffs for each mitten and have a cuff on the front and on the back. You could also add some batting on the inside and a make a dimensional plush mitten if you want.
Mittens like these can also be used to embellish pillows or blankets, or can also be used as place card holders on a holiday table. While my Mom was visiting us a few weeks ago we die cut several similar shapes as she wanted to use them to decorate a pillowcase.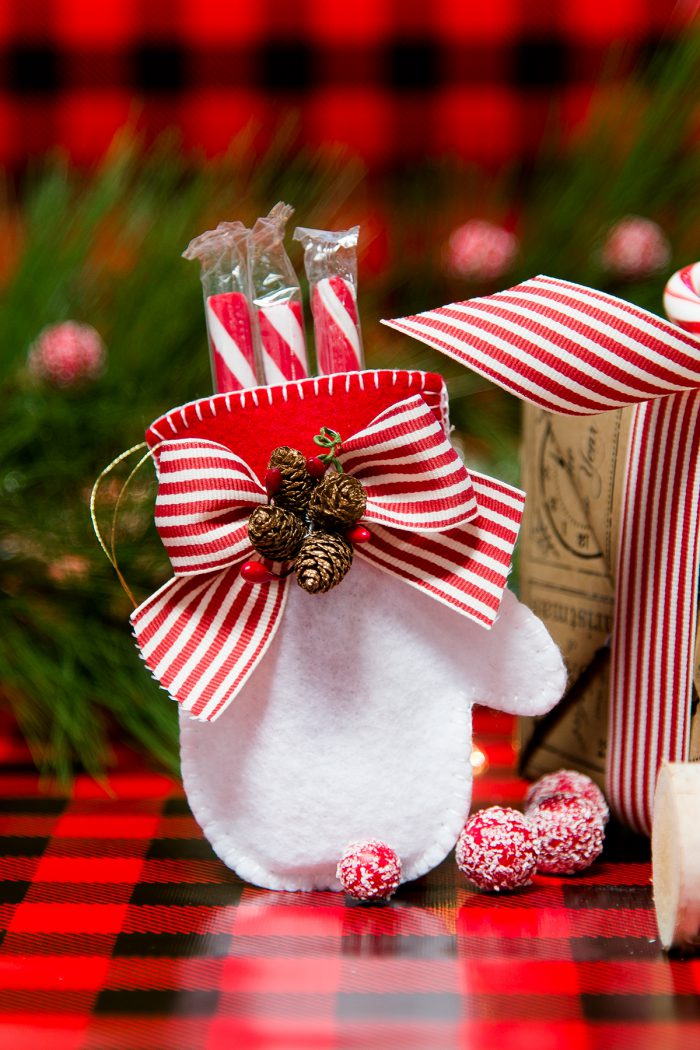 I used beautiful red and white stripe ribbon to decorate my mittens. I tied it into a bow and wrapped pine cone bunch around it. I used a hot glue gun to attach the ribbons to my mittens and I glued them in right under the cuffs. I also used gold thread and made a little ornament hanger.
SUPPLIES
I'm listing the products I used below. Click on the link to go directly to the product. Where available I use compensated affiliate links which means if you make a purchase I receive a small commission at no extra cost to you. Thank you so much for your support!

Spellbinders – Platinum 6 – Die Cutting and Embossing Machine
Shop at:
SC | AZ

Spellbinders Holiday Smitten Mitten Contour Steel Rule Die
Shop at:
SC | AZ

Simon Says Stamp Wool Felt Sheets Huge Assortment
Shop at:
SSS

DMC Metallic GOLD Embroidery Thread 284ZA
Shop at:
SSS | AZ

DMC Cotton Embroidery Floss White
Shop at:
SSS | AZ