Hello crafters! Today we are exploring the use of dark colors of cardstock for card backgrounds to make your card elements pop! I have 4 card examples for you, all created using a new Bibi's Hummingbirds collection products from my friend Bibi Cameron in collaboration with Spellbinders.
Like this project? Pin it and save it for later | Curious about my project photography? Click for details. 
VIDEO TUTORIAL
Watch the video below or on my Youtube channel.
DETAILS
Dark backgrounds are a wonderful way to draw the eye to the focal point of your card project and help it pop. All other colors instantly become much brighter and much more vivid when placed against a dark background. Now dark background doesn't automatically mean black, no. Although black is a great color to use, I've made many cards with a black background, you can just as easily use dark blue, dark purple, dark teal, and more!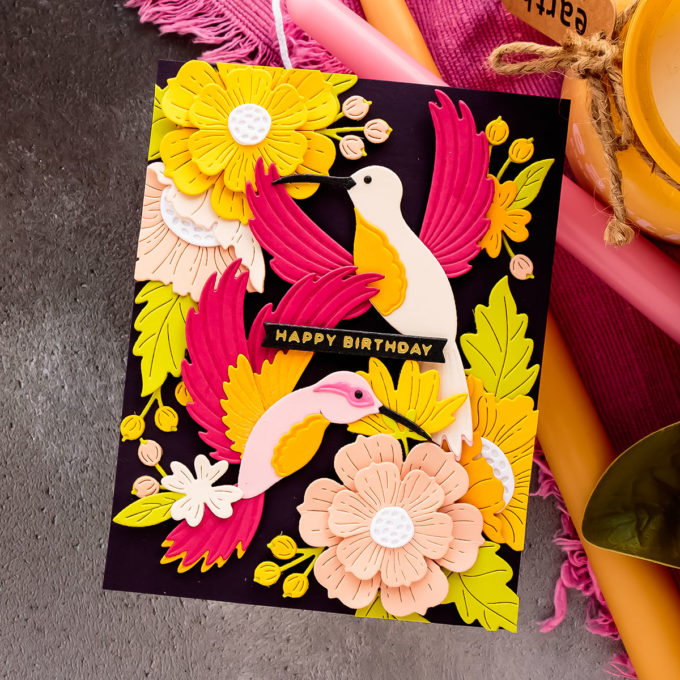 I started working on my cards by creating several hummingbirds using the absolutely brilliant Hummingbird and Lilly die set. You can use any products you might have in your stash to try creating with dark backgrounds. I first die-cut a bunch of pieces from various colors of cardstock and assembled one of the birds in flight. Notice the lever of feather detail on these – isn't it amazing? All of that debossing makes this bird pop!
The size of the die cut is also fabulous – perfect for A2 cards, but can also work for bigger projects if you are into bigger cards. I prefer to make A2. The bird is very easy to assemble – there are several pieces and you simply cut them from various colors of cardstock, you can also cut them from white cardstock and ink blend each piece to also have very cool color variations and blends, I've seen some amazing examples of these online. I used Spellbinders cardstock in several colors – Sunkissed, Tuscan, Persimmon, Pink Sand, Fruit Punch, and Wild Berry.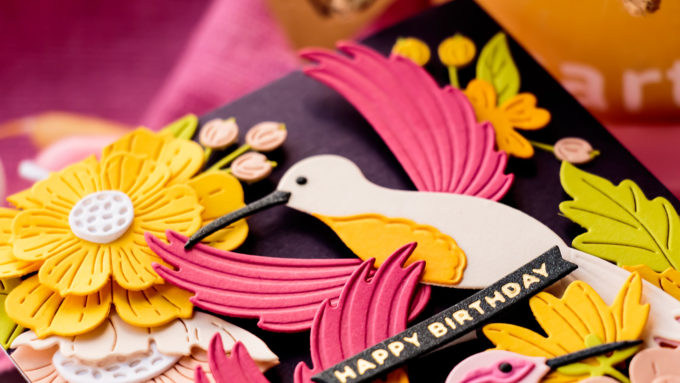 And I simply mixed the colors to create a bird – I made sure to use different colors for the wings, to create color variations, layer up the tail pieces, and add a contrasting color piece to the belly of the bird. I also used white for the bird's face and black for the beak. These are very easy to put together once you learn how to do it once and you won't be able to stop, these are super addictive! I find that using a pickup tool such as Crystal Katana or similar is helpful to pick up and position the pieces as some of them are quite small.
With my birds assembled, I used Bearly Art glue to glue the elements together and I moved on to working on the backgrounds. For my first card, I did a combination of hot foil stamping and die cutting to create a sentiment. I foiled "Wishing You a Birthday as" "as you". The missing word is "beautiful" or "wonderful" and it's a die cut. This sentiment is from my Anemone Blooms collection that was released earlier this year. The word die cut is from the Wonderful Script sentiments die set and the glimmer plates are from the Hello, Friend glimmer plates set.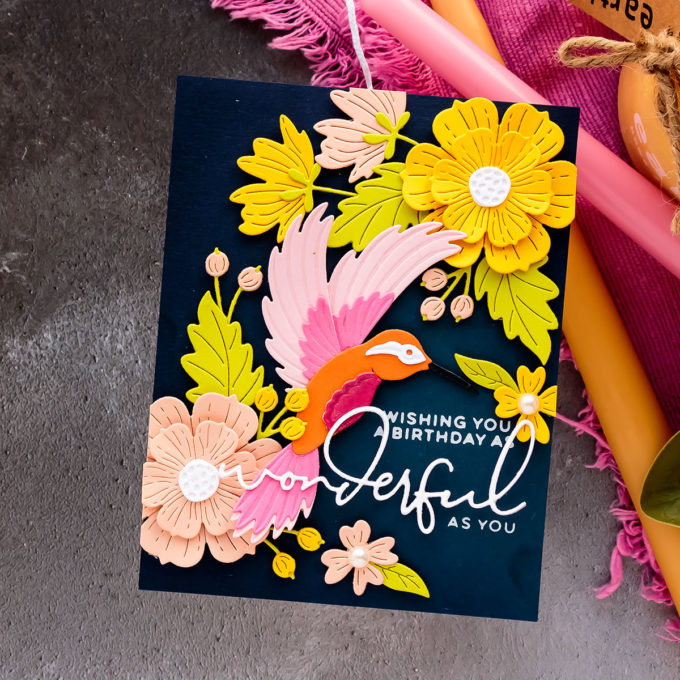 The cardstock I have here is the Spellbinders Indigo. It is a beautiful dark blue, and I particularly love this color for card backgrounds as it makes everything pop. Here I wanted to add a bit of something extra to it, some umph, if you will and so I did some basic ink blending around the edges. I used the Simon Says Stamp large ink blending brush and the darkest blue ink pad I could find in my stash, this happens to be Galaxy Pawsitively Saturated ink from Simon and I ink blended a heavy layer of this dark blue around the edges of my panel keeping the center free from blending. This helped darken the edges a bit, not much since I am already using a dark color cardstock, so I can't go much darker here, but it did help. The ink blending will lighten a bit, as the ink dries, you'll see it isn't as dark when I go to assemble the pieces.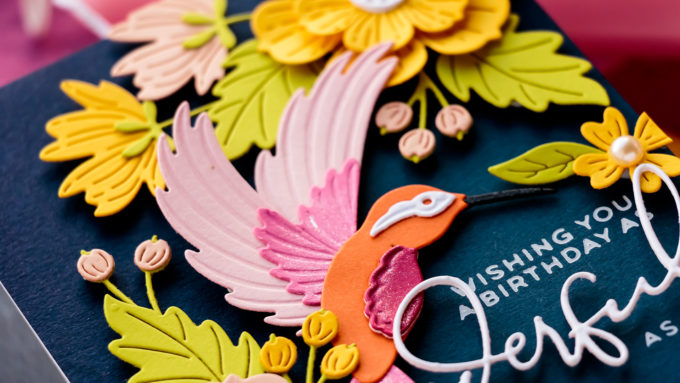 I decided to combine the gorgeous hummingbirds with the beautiful flowers from the Spellbinders January Large Die of the Month – Club Blooms, those are absolutely gorgeous flowers, they are still available and anyone can purchase them, but I don't think they'll be available for long. So if you want this set – go ahead and grab it, these are very, very beautiful flowers. of course, you can combine these hummingbirds with any other flowers you might have in your stash or some other greenery.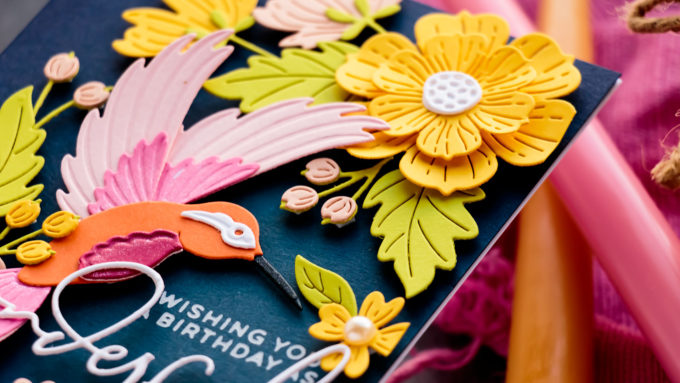 I used foam adhesive squares- regular thickness for some and thin foam adhesive squares for others to create a scene – so I have a sentiment, next, I added a hummingbird and framed it in using the beautiful flowers and leaves. My idea was to create lush vegetation behind my hummingbird as if the bird is in a beautiful flowering forest.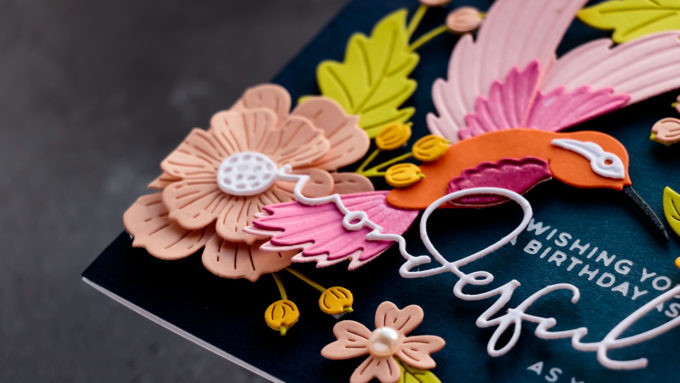 Here's a close-up of this card once finished – can you see how much more vivid the flowers look against the dark background? Absolutely gorgeous!
There are the other cards I have for you today featuring dark backgrounds, they are all made using the same supplies and the same technique: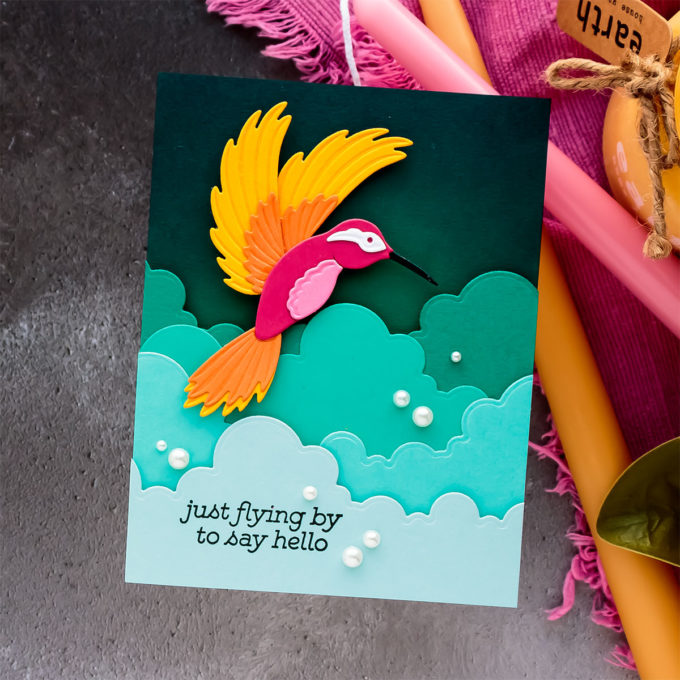 SUPPLIES
I'm listing the products I used below. Click on the link to go directly to the product. Where available I use compensated affiliate links which means if you make a purchase I receive a small commission at no extra cost to you. Thank you so much for your support!

Spellbinders Hummingbird and Lily Etched Dies
Shop at:
SSS | SC | SB USA | SB UK | AMZ

Spellbinders Pop-up Hummingbird Etched Dies
Shop at:
SSS | SC | SB USA | SB UK | AMZ

Spellbinders Hummingbird Card Creator Etched Dies
Shop at:
SSS | SC | SB USA | SB UK | AMZ

Spellbinders Hummingbird Sentiments Clear Stamp Set
Shop at:
SSS | SC | SB USA | SB UK | AMZ

Spellbinders Club Blooms – Large Die of the Month
Shop at:
SB USA | SB UK

Spellbinders Color Block Cloudscape Etched Dies
Shop at:
SSS | SC | SB USA

Spellbinders Hello, Friend Sentiments Glimmer Hot Foil Plate
Shop at:
SSS | SC | SB USA | SB UK | AMZ

Spellbinders Wonderful Script Sentiments Dies
Shop at:
SSS | SC | SB USA | SB UK | AMZ | MFT

Spellbinders Sealed Glimmer Sentiments Glimmer Hot Foil Plate
Shop at:
SSS | SC | SB USA | SB UK

Spellbinders Glimmer Hot Foil System (Bronze)
Shop at:
SSS | SC | SB USA | SB UK | AMZ

Spellbinders Tool 'n One
Shop at:
SSS | SC | SB USA | SB UK | AMZ

Spellbinders Glimmer Hot Foil – Matte Gold
Shop at:
SSS | SC | SB USA | SB UK | AMZ

Spellbinders Glimmer Hot Foil 2 Rolls – Opaque Black & White Pack
Shop at:
SSS | SC | SB USA | SB UK

Mini MISTI Stamping Tool
Shop at:
SSS | SC | HA | SB USA | AMZ

Simon Says Stamp Pawsitively Saturated Ink Pad Citrine
Shop at:
SSS

Simon Says Stamp Pawsitively Saturated Ink Pad Galaxy
Shop at:
SSS

Simon Says Stamp Pawsitively Saturated Ink Pad Sunbeam
Shop at:
SSS

Tsukineko Versafine Onyx Black Ink
Shop at:
SSS | SC | AMZ

Simon Says Stamp Card Stock Midnight Green
Shop at:
SSS

Spellbinders Tuscan Color Essentials Cardstock 8.5″ X 11″
Shop at:
SC | SB USA | SB UK

Spellbinders Sunkissed Color Essentials Cardstock 8.5″ X 11″
Shop at:
SC | SB USA | SB UK

Spellbinders Pink Sand Color Essentials Cardstock
Shop at:
SC | SB USA | SB UK

Spellbinders Onyx Color Essentials Cardstock 8.5″ X 11″
Shop at:
SB USA

Spellbinders Plum Color Essentials Cardstock
Shop at:
SB USA

Spellbinders Wild Berry Color Essentials Cardstock
Shop at:
SC | SB USA | SB UK

Spellbinders Indigo Color Essentials Cardstock
Shop at:
SB USA

Spellbinders Persimmon Color Essentials Cardstock
Shop at:
SC | SB USA | SB UK

Spellbinders Snowdrift Color Essentials Cardstock
Shop at:
SB USA

Spellbinders Rainforest Color Essentials Cardstock
Shop at:
SC | SB USA

Spellbinders Fruit Punch Color Essentials Cardstock
Shop at:
SC | SB USA

Simon Says Stamp Soft Navy Cardstock
Shop at:
SSS

Spellbinders Platinum 6 Die Cutting Machine
Shop at:
SSS | SC | SB USA | SB UK | AMZ

Spellbinders New & Improved Platinum 6 Machine With Universal Plate System
Shop at:
SSS | SC | SB USA | SB UK

Spellbinders 9″ Pro Shears
Shop at:
SSS | SC | SB USA | SB UK

Spellbinders Fashion Oyster Color Essentials Pearl Dots
Shop at:
SSS | SC | SB USA | SB UK

Tonic Aqua Shimmer Pen Nuvo
Shop at:
SSS | SC | AMZ | GBS

Spellbinders Best Ever Craft Tape
Shop at:
SSS | SC | SB USA | SB UK | AMZ

Jewel Picker Tool
Shop at:
SSS | SC | SB USA | SB UK | AMZ

Glassboard Studio True White Glass Craft Mat
Shop at:
GBS

Bearly Art Mini Precision Craft Glue
Shop at:
SSS | SB USA | AMZ

White Foam Squares
Shop at:
SSS | SC | SB USA | AMZ

Simon Says Stamp Thin 3d Foam Squares Black and White
Shop at:
SSS

Spellbinders Blending Brushes
Shop at:
SC | SB USA

Simon Says Stamp Blending Brush Set Large
Shop at:
SSS