Hello crafters! I've been meaning to share these cards and video for a long time, and I'm glad I finally managed! I present to you butterfly-shaped cards using the Butterfly dies from Bibi Cameron and Spellbinders.
Like this project? Pin it and save for later | Curious about my project photography? Click for details. 
Bibi's Butterflies was the debut collection Bibi designed for Spellbinders, it was released last year and it sold out so quickly that I never had the time to finish editing this video. Bibi has a new collection this year called Bibi's Hummingbirds and guess what? It is also sold out, I do have a video with those products, but I'm waiting for dies to come back in stock before I share it with you guys.
VIDEO TUTORIAL
Watch the video below or on my Youtube channel.
CARD DETAILS
The butterfly die, the one that I'm using in this video and for these cards is back in stock, it is a magnificent die. First of all, it is huge! This is a very large die, great to make those larger format cards! And shaped cards too! I've been really into shaped cards lately, you've probably seen my oval-shaped cards and my arch-shaped cards and these butterfly-shaped cards are no exception.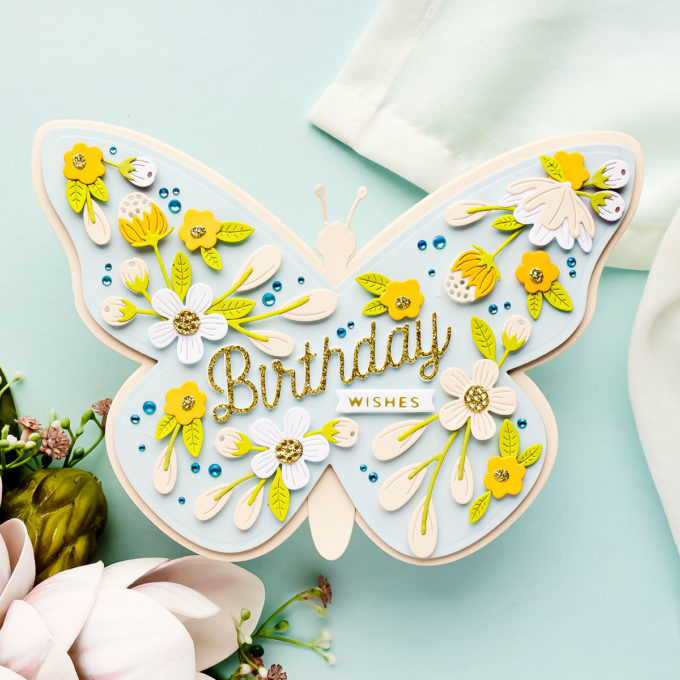 What I really wanted to do is I wanted to use the large butterfly shape to create a shaped card and then fill that shape using other supplies, and other dies from my stash. I first added a die-cut Birthday, I cut this one from gold glitter cardstock. And I then used the Spellbinders flower dies to fill in the rest of the shape. The flowers I used were the older flowers from the Be Bold Blooms die set and the Mini Blooms & Sprigs set.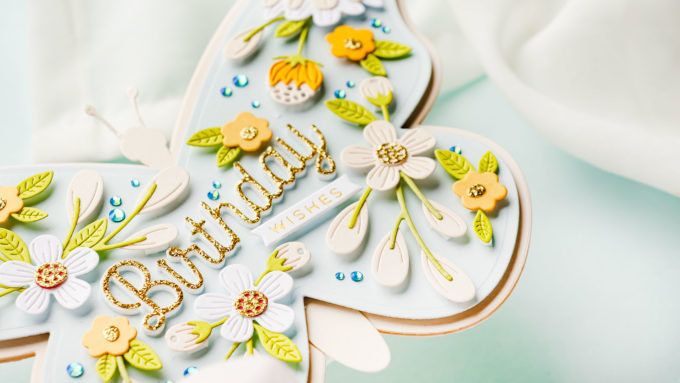 You can use any dies you have in your stash to re-create this idea. You have your sentiment in the center, and the sentiment can be anything you want, doesn't have to be a birthday one, I simply lack birthday cards all the time. So chose any sentiment you want, you can also stamp a sentiment in the center or hot foil it, or even press it using the new Spellbinders BetterPress system, I'm dying to try it! I've seen it, I've seen what it can do, but I've not used it myself. Anyhow, the recipe for this card is very simple – you do a sentiment in the center, surround it with pretty flowers and you are done!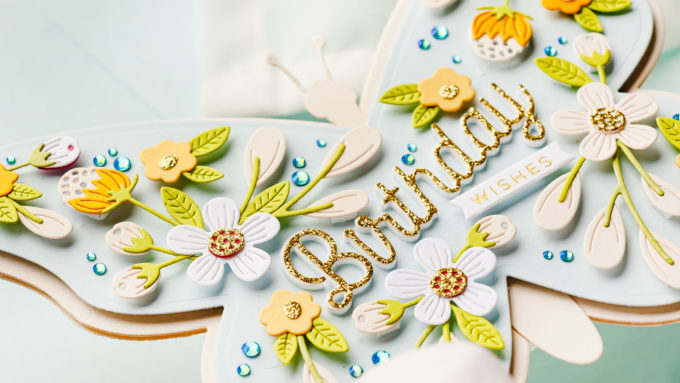 Now to make the card base for this card I did do some extensive die-cutting. First of all, I die-cut the card base from Spellbinders Bearly Peach cardstock. I made the fold at the top of the card. If you don't know how to make a shaped card base, watch some of my previous shaped cards videos, the concept is the same for every shape, you just need to decide where you want the fold to be, either at the top or on the side. Here, because of the shape, it made sense to have the fold at the top. I also die-cut a smaller butterfly, this one is included in this die set, so it's like a nesting butterfly, I cut that one from white cardstock to add to the inside of the card to house the message. And I also die-cut another large butterfly from the same Barely Peach cardstock to make sure the butterfly wings weren't cut at the top there, because of the fold.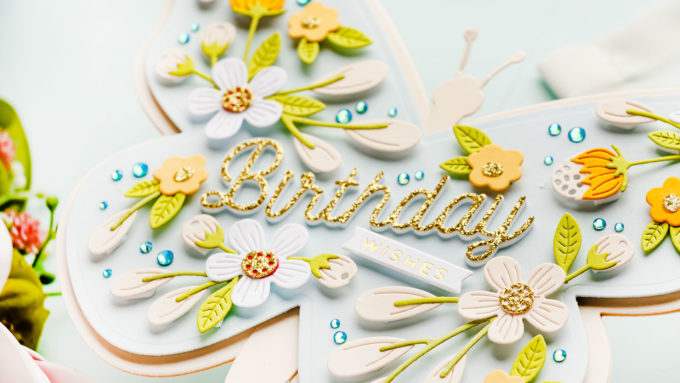 I next layered the butterfly body, which was cut from the same color cardstock and I foam mounted my floral sentiment layer on top. I used Glacier cardstock here – I love this color, I use it very often, and it is one of my favorites. I added a ton of gems in blue to fill in the gaps on this card and I love it! I love all of the florals and that sentiment at an angle. I also love that this is a shaped card, it has a lot of wow factor to it.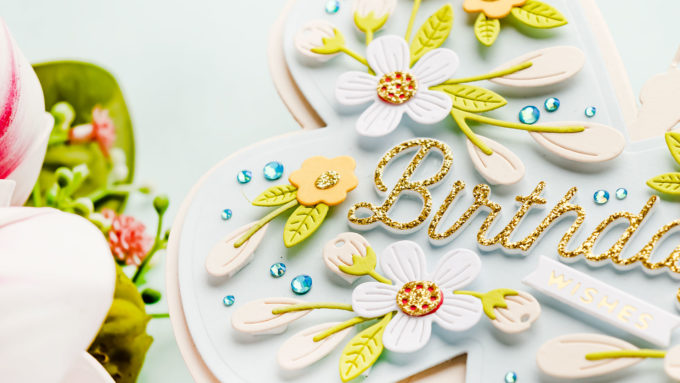 I also made another card, this one has a different layout. I did use just the smaller butterfly here, so this one is a touch smaller. Instead of filling the entire butterfly with flowers I just added one large foiled magnolia from one of my collections, so this is the Magnolia Blooms glimmer plate and coordinating die – I foiled it in Matte Gold foil and added some super basic coloring. You can see I only colored some of the petals and some of the leaves and even not full petals, but just sections.
I added the Birthday Wished sentiment and also filled the background using the pink gems!
Have fun die-cutting!
SUPPLIES
I'm listing the products I used below. Click on the link to go directly to the product. Where available I use compensated affiliate links which means if you make a purchase I receive a small commission at no extra cost to you. Thank you so much for your support!

Spellbinders Butterfly Card Creator Etched Dies
Shop at:
SSS | SC | SB USA | SB UK

Spellbinders Smooth Lines Mix & Match Sentiments Dies
Shop at:
SSS | SC | SB USA | SB UK

Spellbinders Magnolia Glimmer Blooms Glimmer Hot Foil Plate & Die Set
Shop at:
SSS | SC | SB USA | SB UK

Spellbinders Splatter Sentiments Glimmer Hot Foil Plate
Shop at:
SSS | SC | SB USA | SB UK

Spellbinders Mini Blooms and Sprigs
Shop at:
SSS | SC | SB USA | SB UK | AMZ

Spellbinders Be Bold Blooms Etched Dies from the Be Bold Collection
Shop at:
SSS | SC | SB USA | SB UK

Spellbinders Platinum 6 Die Cutting Machine
Shop at:
SSS | SC | SB USA | SB UK | AMZ

Spellbinders Platinum Die Cutting Machine
Shop at:
SSS | SC | SB USA | SB UK | AMZ

Spellbinders New & Improved Platinum Machine With Universal Plate System
Shop at:
SSS | SC | SB USA | SB UK | AMZ

Spellbinders New & Improved Platinum Six Machine With Universal Plate System
Shop at:
SSS | SC | SB USA | SB UK

Spellbinders Glimmer Hot Foil System (Bronze)
Shop at:
SSS | SC | SB USA | SB UK | AMZ

Spellbinders Glimmer Hot Foil System (Platinum)
Shop at:
SC | SB USA | SB UK

Simon Says Stamp Cardstock Gold Glitter
Shop at:
SSS

Spellbinders Glacier Color Essentials Cardstock
Shop at:
SC | SB USA | SB UK

Spellbinders Barely Peach Color Essentials Cardstock
Shop at:
SB USA

Glimmer Hot Foil – Matte Gold
Shop at:
SSS | SC | SB USA | SB UK | AMZ

Glassboard Studio True White Glass Craft Mat
Shop at:
GBS

Spellbinders Tool 'n One – White
Shop at:
SSS | SC | SB USA | SB UK | AMZ

Spellbinders Teal Mix Color Essential Gems
Shop at:
SSS | SB USA | SB UK

Spellbinders Pink Mix Color Essential Gems
Shop at:
SSS | SC | SB USA | SB UK

Jewel Picker Tool
Shop at:
SSS | SC | SB USA | SB UK | AMZ

Bearly Art Mini Precision Craft Glue
Shop at:
SSS | SB USA | AMZ

White Foam Squares
Shop at:
SSS | SC | SB USA | AMZ