Hello, there! Today I want to show you how you can stretch your dies and use them for multiple projects. I used a Filigree Booklet die set from the Vintage Elegance Collection by Becca Feeken to create several items to style a wedding.
Like this project? Pin it and save for later
This die set features several dies all designed to create a beautiful little book. There's a Booklet Cover die, a Booklet Body die and also two decorative insert dies. You will only need one of the inserts for this project. And you can also use similar type dies, similar inserts from Spellbinders for this project.
VIDEO TUTORIAL
As always, I filmed a video tutorial showing how to create this project from start to finish. I'm hoping you'll enjoy it. Watch it below or on my Youtube channel.
Like this video? Please give it a big thumbs up (you can do this on Youtube video page right under the video) and share with a crafty friend! Drop me a comment too, I love hearing from you!
PROJECT DETAILS
The great thing about the Filigree Booklet Die, the insert, is that it doesn't have an outer edge, so you can cut it in any size paper you like and you can also cut it multiple times. This is a great one to use for window cards and for shaker elements, too; and it is very similar in concept to the decorative insert from the Filigree Egg die I shared in one of my previous videos.
The pattern of this die can be almost seamlessly continued to create pretty much any size element you want, you are only be limited by the size of your die cutting machine. I used my Platinum 8 1/2 " die cutting machine and was able to turn a full letter sheet into a gorgeous filigree paper.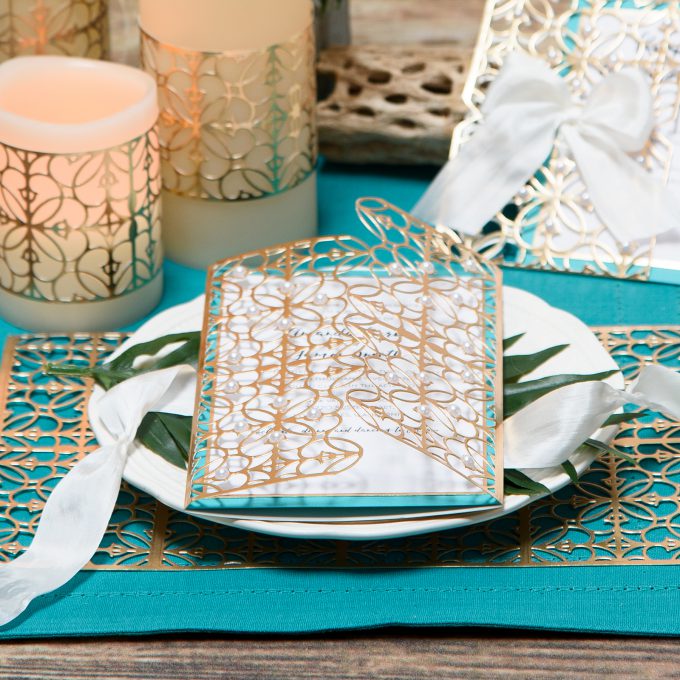 I created several elements using just one insert die –  a gatefold filigree cover for a card or a wedding invitation (I only cut the flaps and kept the back of the card solid – this saved me some time as I didn't have to do quite so much die cutting; I also used scissors and did a bit of fussy cutting and ended up having a decorative edge on my flaps); a placemat to have under the plate at the dinner table; a gatefold wrap for the RSVP card; a little table number card and several decorative wraps for the battery operated candles.
So there's a lot you can do using just one die – many different projects you can create. You can also use similar type dies, similar inserts from Spellbinders for this project, so be sure to check your stash – you might already have something similar you can cut multiple times to create a gorgeous and unique filigree paper.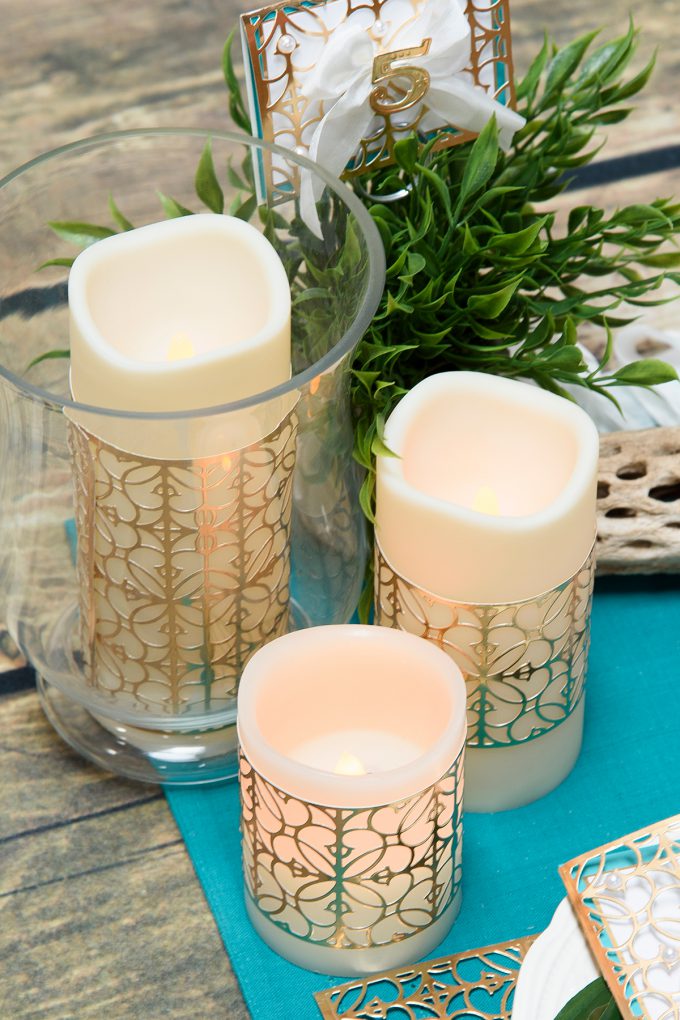 Have fun die-cutting!
SUPPLIES
I'm listing the products I used below. Click on the link to go directly to the product. Where available I use compensated affiliate links which means if you make a purchase I receive a small commission at no extra cost to you. Thank you so much for your support

Spellbinders Becca Feeken Filigree Booklet Dies S5-289
Shop at:
SC | SB | AZ

Spellbinders Victorian Numbers Dies S4-540
Shop at:
SC | SB | AZ

Spellbinders Platinum Die Cutting Machine
Shop at:
SSS | SC | SB | AZ

Spellbinders Tool 'n One
Shop at:
SSS | SC | SB | AZ

DoCrafts Gold & Silver A4 Mirror Board Pack
Shop at:
SSS | AZ

Altenew Gold Mirror Cardstock
Shop at:
AN