Hello crafters! Today I'm very excited to introduce you to my very first collection of hot foil plates for Spellbinders called Foiled Basics. Previously, I've briefly shared a bit about this collection when I posted a video showcasing Spellbinders Glimmer Foil Basics Project Kit featuring this collection and I shared 4 card ideas using the products from the line.
Today I'd like to show you each of the products in detail and provide various examples of how the products can be used in card making.
A quick note – all of these are hot foil plates, meaning they require a hot foiling system to use them. It can be a Glimmer Hot foil System from Spellbinders or another hot foil system. These are not dies.
COLLECTION VIDEO OVERVIEW
Watch the video below or on my Youtube channel.
Like this video? Please give it a big thumbs up (you can do this on Youtube video page right under the video) and share it with a crafty friend! Leave me a comment too, I love hearing from you!
I adore everything Glimmer. Foiling adds such gorgeous, exquisite effects to handmade cards, it is really impossible to resist. When I was designing my Foiled Basics collection I wanted to create a set of plates to be used together that would allow us, cardmakers, to smoothly and quickly build beautiful, one of a kind, cards.
FOLIAGE BORDER
The Foliage Border set is designed to take center stage on your handmade card be it an A2 project or bigger. There are 7 hot foil plates in this set – a foliage border, a circle, 2 flowers, and 3 branches or leaves. There are also 6 coordinating dies to cut these pieces out.
The circle plate has been designed so that it coordinates with the 3rd largest circle from the S4-114 set should you wish to die cut just the circle piece out. We didn't include a circle die in this set to keep the cost of the set to a minimum. A circle is such a widely used shape, I feel like everyone has circle dies of some sort in their stash so even if you don't have S4-114 set I'm sure you'll be able to find a circle die that works well here.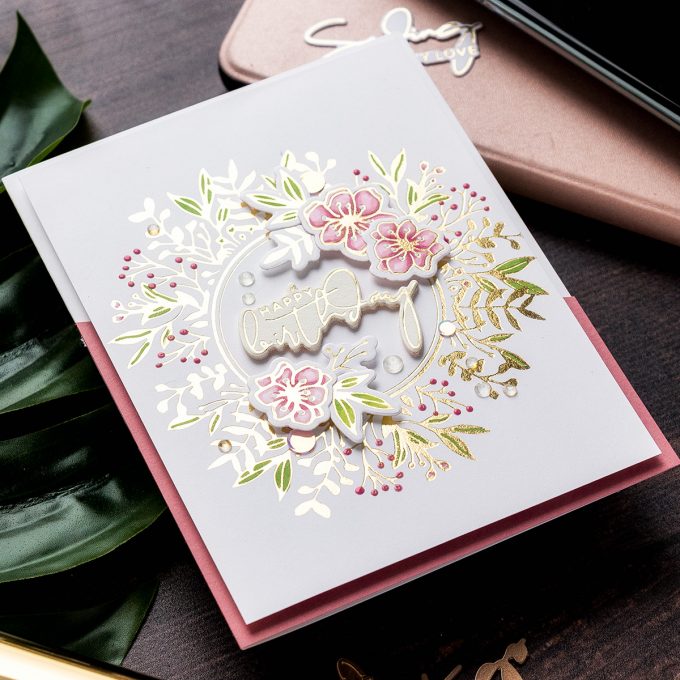 The foliage piece can be foiled once, twice or three times to create an accent or a full floral frame around a delicately foiled circle. Both can also be used separately – foil the foliage in the corners of your panel creating a rectangular or square frame.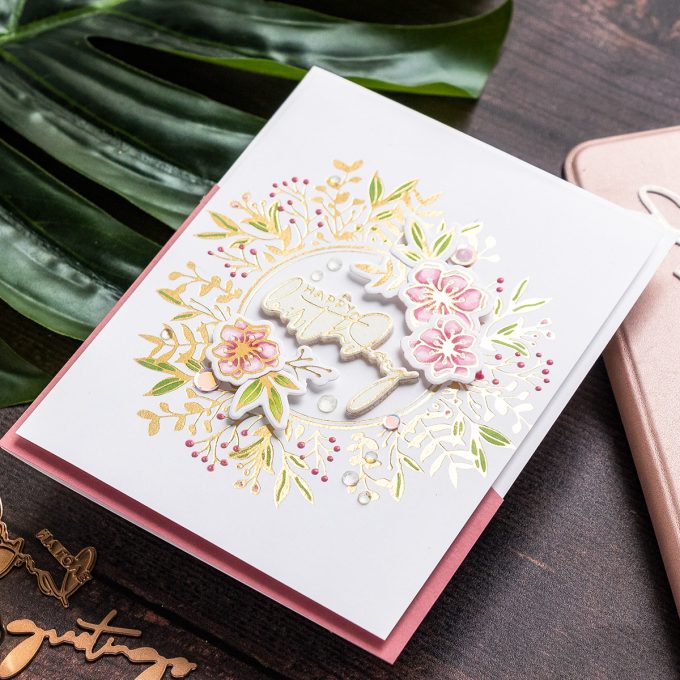 This set also has additional pieces that can be used to dress up your cards. And all of the pieces come with coordinating dies to make it easy to use them. You can layer the flowers on the circle, for example, to dress it up. Everything is designed to make it easy to use and everything coordinates.
ORGANIC FOLIAGE
Organic Foliage set features 6 plates and 6 coordinating dies that make beautiful organic foliage. These are meant to be used with the foliage border to enhance the border or, of course, they can be used alone as accents on cards. I love the fresh and modern look of these.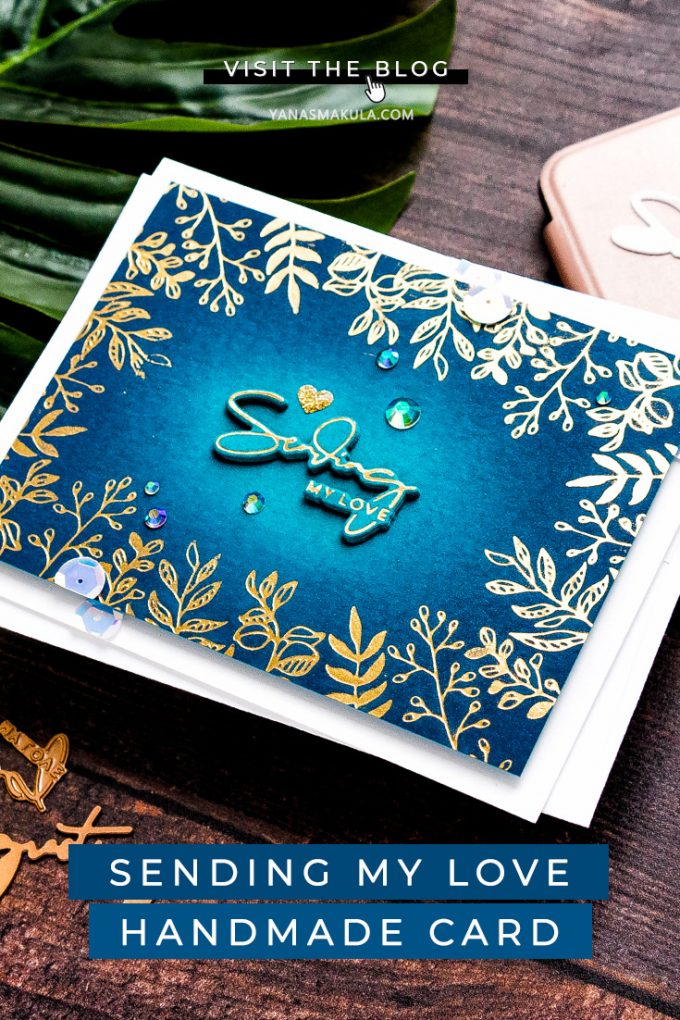 My favorite way to use them is to foil them in gold on various colors of cardstock, cut them out and use them as accents next to the flowers or next to the sentiments. For example, you can add additional foliage to the wreath to make it fuller, if you want.
POLKA DOT STRIP
Polka Dot Strip is designed to foil beautiful borders or even full backgrounds for your cards. You can use it on a portrait or on a landscape card. Or foil it multiple times to have a full foiled background.
I love polka dots and I really wanted to have a plate that would create fun background accents on my cards.
YANA'S SENTIMENTS
And finally, Yana's Sentiments is probably my favorite set in this collection. If features 5 sentiments that are most used in cardmaking.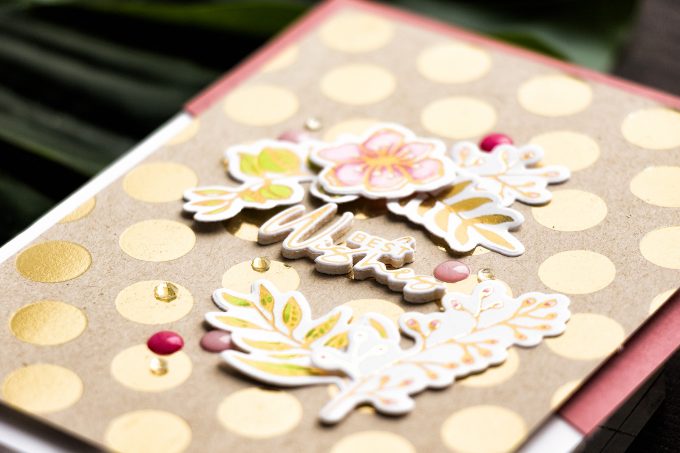 Each comes with a coordinating die allowing you to cut the message out and pop them over a foiled polka dot background, organic foliage or even house within a circle from the Foliage Border set.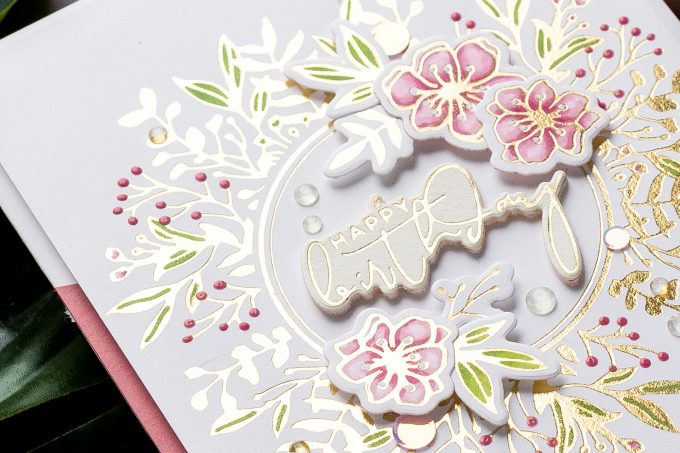 The sentiments read Sending my Love, Greetings, Thank You, Happy Birthday and Best Wishes. I feel like these are the most commonly used sentiments on cards. The sentiments have all been designed to fit inside the circle from the foliage border set, so everything coordinates and works well together.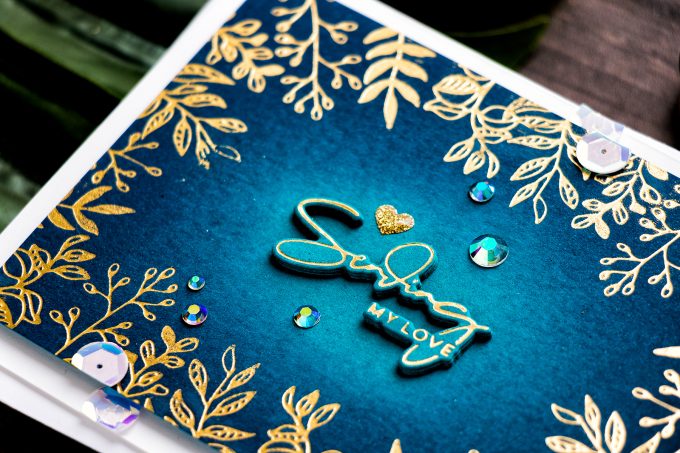 The final product in the Foiled Basics collection is the Organic Foliage.
So these are all the products in my Foiled Basics collection with Spellbinders. I hope you'll enjoy using these plates in your card making and you'll have as much fun foiling them as I do.
I hope you've found this video to be useful. I cannot wait to see what you'll create with these products. If you happen to make something, please share it online and tag me – I'd love to see what you guys are making.
Have fun foiling!
SHOP FOILED BASICS COLLECTION
I'm listing the products I used below. Click on the link to go directly to the product. Where available I use compensated affiliate links which means if you make a purchase I receive a small commission at no extra cost to you. Thank you so much for your support!

Polka Dot Strip Glimmer Hot Foil Plates from Foil Basics by Yana Smakula
Shop at:
SSS | SC | SB | AZ

Foliage Border Glimmer Hot Foil Plate & Die Set from Foil Basics by Yana Smakula
Shop at:
SSS | SC | SB | AZ

Organic Foliage Glimmer Hot Foil Plate & Die Set from Foil Basics by Yana Smakula
Shop at:
SSS | SC | SB | AZ

Yana's Sentiments Glimmer Hot Foil Plate & Die Set
Shop at:
SSS | SC | SB | AZ

Spellbinders Glimmer Hot Foil System
Shop at:
SSS | SC | SB | AZ

Spellbinders Yana's Foil Basics Project Kit
Shop at:
SB