Hello, friends! Welcome back for the mini-series featuring the How-To tutorials for the products from my Yana's De-Light-ful Christmas collection. You can find the collection introduction HERE and the how-to for the Glimmer Holly Background & Stencil HERE. In this post, I'm looking at the Joyful Glimmer Plate.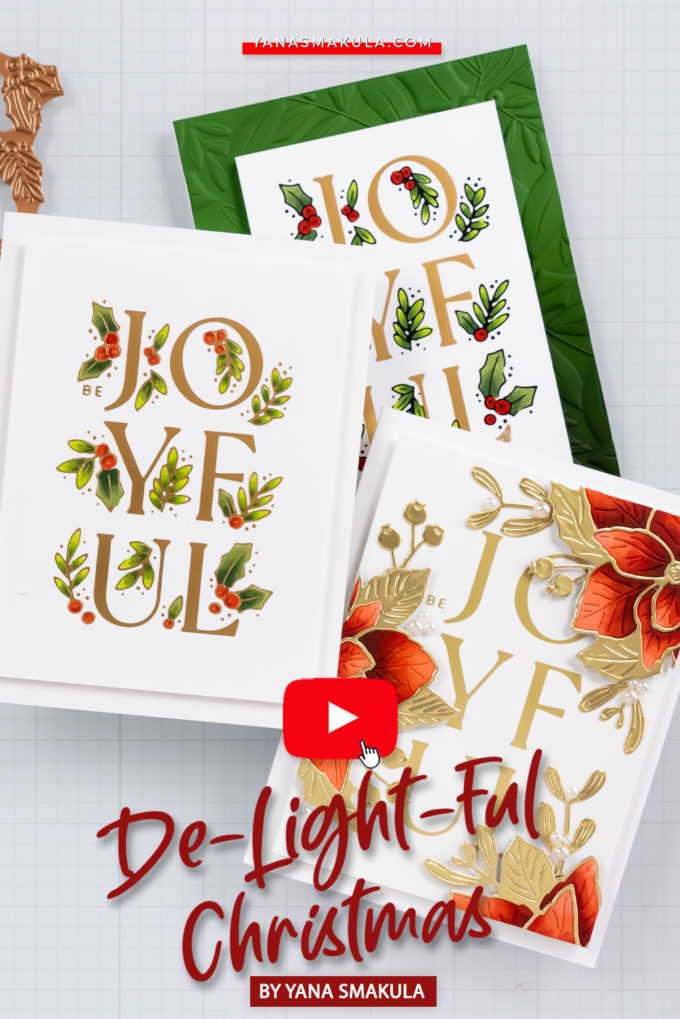 VIDEO TUTORIAL
Watch the video tutorial below or on my Youtube channel:
JOYFUL GLIMMER DETAILS
This is a two-part plate. There is one plate that says Be joyful and one more plate with the foliage. This one might look a little bit complicated, a little weird. You might be looking at it and wondering, what the heck is this? Well, this is designed to give you options. First of all, you can foil just the "be joyful" alone and use it as a large sentiment on your cards.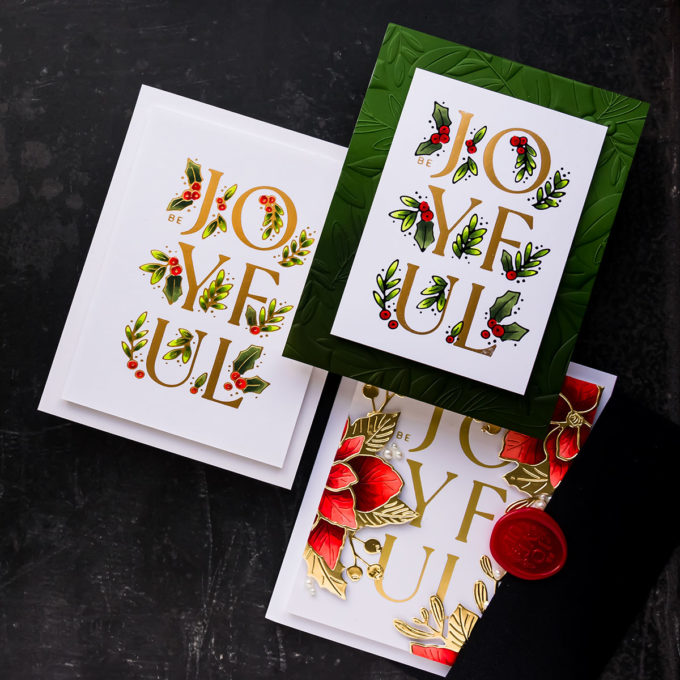 Or you can foil the two plates together so that you have a little bit of that beautiful foliage around the sentiment. This also gives you the opportunity to foil the images in two different colors of foil. Let's take a look at some examples.
BE JOYFUL AS A SENTIMENT
The "be joyful" sentiment is large and this can easily be the focal point of your card. It's very beautiful. It's very classy. It takes center stage on your project easily. You can use just the sentiment alone and combine it with other products from your stash.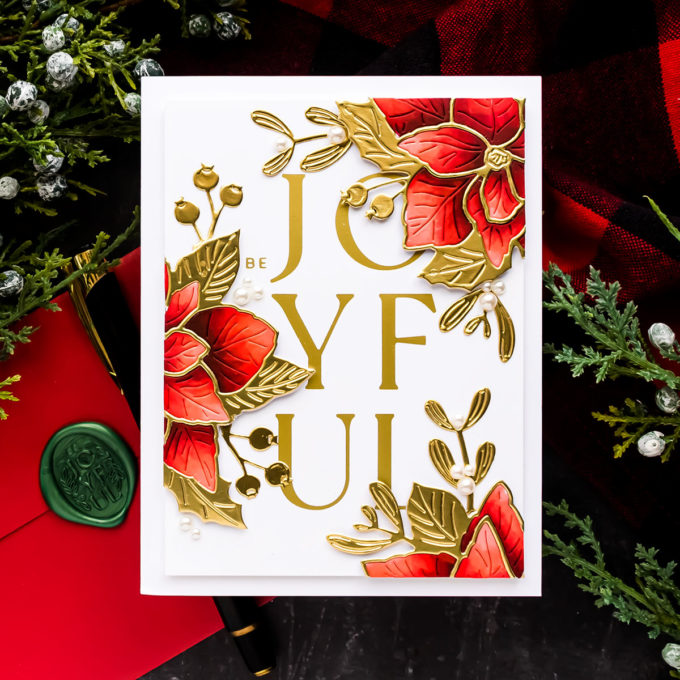 For my first card, I paired the Be Joyful sentiment with the Poinsettia Blooms die cut. I have one poinsettia die cut that I put together and cut apart and used it to frame the foiled sentiment.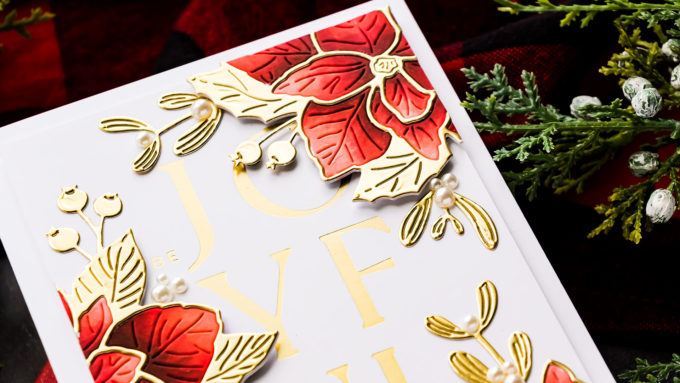 I trimmed the foiled sentiment panel to 3 3/4″ x 5″ and added poinsettias around it to frame it. I have another video coming soon to show you how to put the poinsettia together, stay tuned! I used a layer of fun foam to adhere and pop the sentiment layer up on my card. Next, I added the berry and leaf die cuts.
These are parts of the Poinsettia Blooms die cut. I cut these off intentionally, as I wanted to arrange them differently on my card. And I also cut additional pieces.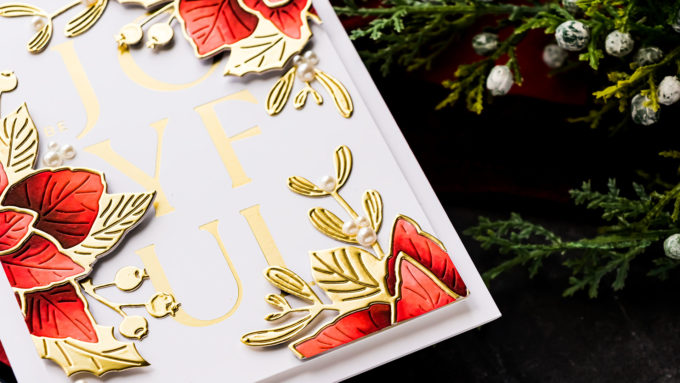 Lastly, I added a couple of Oyster White pearls from Spellbinders to dress it up. Card done!
BE JOYFUL WITH FOLIAGE
You have the option to add foliage. If you'd like to do that, first foil the "Be Joyful", next position the foliage plate over it and align (it is very easy), make sure to tape the foliage plate with low tack tape. Add foil and foil the foliage design.
I like to treat it as an outline image that can be colored. If you look closely, you'll notice the foliage also has little dots. So it's not just the outline images, not just the holly berries and leaves. But you also have tiny dots foiled on the background.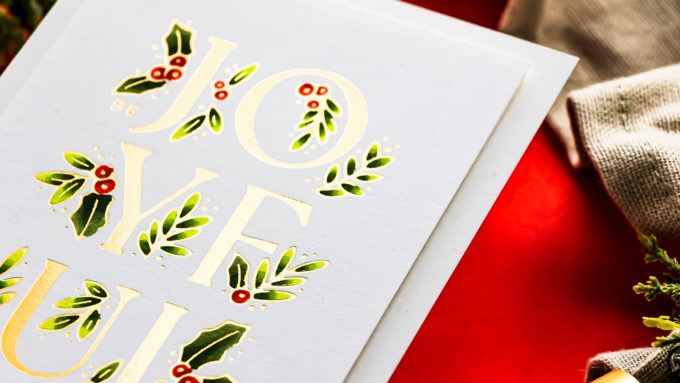 Whenever I color images, I love to add dots to my coloring using a pen, so when I was designing this plate, I thought, you know what? It would be awesome to add little dots to mimic the coloring that I typically do when I color images.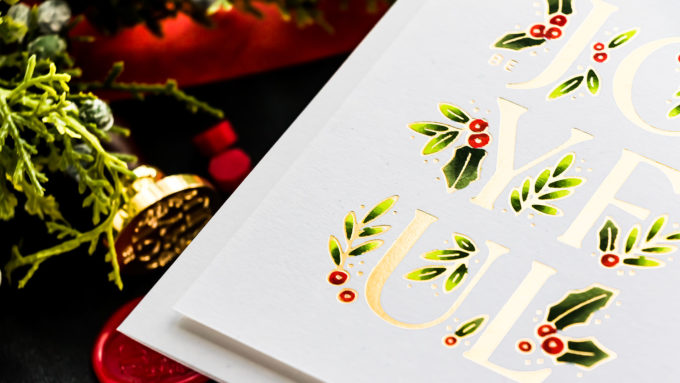 So that's what these dots are for. That's where they're there.
BE JOYFUL IN DIFFERENT COLORS OF FOIL
Now, you can, of course, also foil this using different colors of foil and foil on different colors of cardstock. Here, for example, I used matte gold foil and opaque black.
I added an embossed background (made using the 3D embossing folder from my collection), ink blended the bottom part of the background for a bit of a gradient and foam mounted the foiled panel on top.
So that's a look at the 3 different ways you can use the Be Joyful Glimmer Hot Foil plate from my collection. Cannot wait to see how you are going to use it! Have fun with your goodies.
SUPPLIES
I'm listing the products I used below. Click on the link to go directly to the product. Where available I use compensated affiliate links which means if you make a purchase I receive a small commission at no extra cost to you. Thank you so much for your support!

Spellbinders Poinsettia Bloom Etched Dies
Shop at:
SB USA | SB UK

Spellbinders Joyful Glimmer Hot Foil Plate
Shop at:
SB USA | SB UK

Spellbinders Holly & Foliage 3d Embossing Folder
Shop at:
SB USA | SB UK

Spellbinders Glimmer Hot Foil – Matte Gold
Shop at:
SSS | SC | SB USA | SB UK | AMZ

Spellbinders Glimmer Hot Foil 2 Rolls – Opaque Black & White Pack
Shop at:
SSS | SC | SB USA | SB UK

Spellbinders Glimmer Hot Foil System (Platinum)
Shop at:
SC | SB USA | SB UK

Spellbinders Glimmer Hot Foil System (Bronze)
Shop at:
SSS | SC | SB USA | SB UK | AMZ

Spellbinders Tool 'n One
Shop at:
SSS | SC | SB USA | SB UK | AMZ

Spellbinders Glacier Color Essentials Cardstock
Shop at:
SC | SB USA | SB UK

Spellbinders Mirror Gold Cardstock
Shop at:
SC | SB USA | SB UK

Spellbinders Platinum 6 Die Cutting Machine
Shop at:
SSS | SC | SB USA | SB UK | AMZ

Spellbinders New & Improved Platinum 6 Machine With Universal Plate System
Shop at:
SSS | SC | SB USA | SB UK

Spellbinders Tool 'n One – White
Shop at:
SSS | SC | SB USA | SB UK | AMZ

Simon Says Stamp Mega Thick White Cardstock 130LB
Shop at:
SSS

Neenah 80lb Solar White Cardstock
Shop at:
SSS | AMZ

Olo Lavender Alcohol Markers – 8 Colors 4pc. Set 4
Shop at:
SSS | SB USA

Olo Autumn Alcohol Markers – 8 Colors 4pc. Set 2
Shop at:
SSS | SB USA

Olo Primary Alcohol Markers – 8 Colors 4pc. Set 7
Shop at:
SSS | SB USA

Olo Special Blend Alcohol Markers Set – 8 Colors 4pc.
Shop at:
SB USA

Olo Coral Tones Alcohol Markers Set – 8 Colors 4pc.
Shop at:
SB USA

Olo Pink Tones Alcohol Markers Set – 8 Colors 4pc.
Shop at:
SB USA

Olo Teal Tones Alcohol Markers Set – 8 Colors 4pc.
Shop at:
SB USA

Olo Purple Tones Alcohol Markers Set – 8 Colors 4pc.
Shop at:
SB USA

Olo Warm Gray Alcohol Markers – 8 Colors 4pc. Set 9
Shop at:
SSS | SB USA

Olo Cool Gray Alcohol Markers – 8 Colors 4pc. Set 8
Shop at:
SSS | SB USA

Olo Spring Alcohol Markers – 8 Colors 4pc. Set 2
Shop at:
SSS | SB USA

Olo Portrait Alcohol Markers – 8 Colors 4pc. Set 6
Shop at:
SSS | SB USA

Olo Forest Alcohol Markers – 8 Colors 4pc. Set 5
Shop at:
SSS | SB USA

Olo Winter Alcohol Markers – 8 Colors 4pc. Set 3
Shop at:
SSS | SB USA

Olo Zero Brush and Chisel Tip
Shop at:
SB USA

Copic Sketch Marker YG03 Yellow Green
Shop at:
SSS | AMZ | MFT

Copic Sketch Marker YG17 Grass Green
Shop at:
SSS | AMZ | MFT

Copic Sketch Marker YG67 Moss
Shop at:
SSS | AMZ | MFT

Copic Sketch Marker YG63 Pea Green
Shop at:
SSS | AMZ | MFT

Copic Sketch Marker G94 Grayish Olive
Shop at:
SSS | AMZ | MFT

Spellbinders Fashion Oyster Color Essentials Pearl Dots
Shop at:
SSS | SC | SB USA | SB UK

Spellbinders Best Ever Craft Tape
Shop at:
SSS | SC | SB USA | SB UK | AMZ

Adhesive Tape
Shop at:
SSS | SC | SB USA

Tonic Studios 8.5 Inch Paper Trimmer
Shop at:
SC | AMZ | GBS

Fun Foam Sheets
Shop at:
SSS | SB USA | AMZ

Glassboard Studio True White Glass Craft Mat
Shop at:
GBS