Hello crafters! It's been a while! I went on a much-needed vacation for 2 weeks and I've just returned and while I did plan to edit this video and some other videos while I was vacationing I'm guilty to admit that I didn't. I've not been on a proper vacation in a very long time and I'm so glad that I've gone on this one, it was amazing.
Today we are making arch-shaped cards! I've seen this card shape all over the internet lately and in stationery stores and I really wanted to give this shape a go, give it a try, and see if this is something that I might be using over and over again.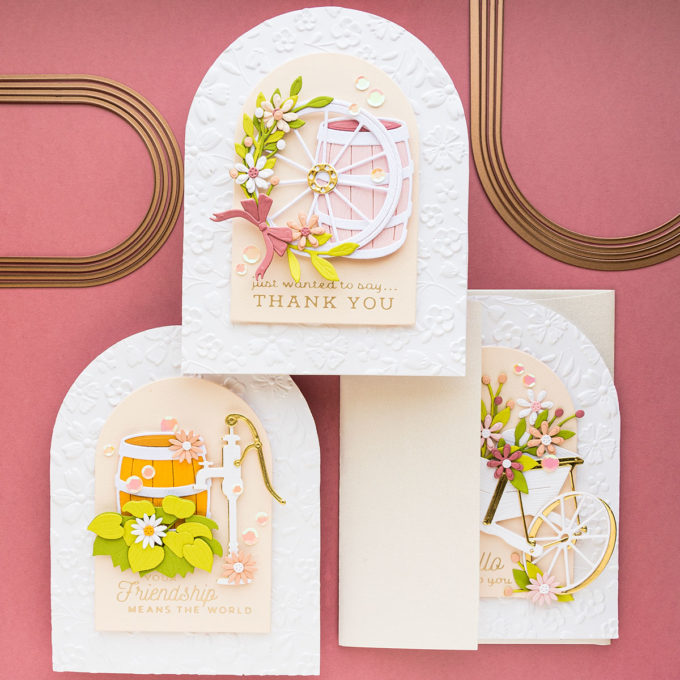 Like this project? Pin it and save for later | Curious about my project photography? Click for details. 
I used the Essential Arches from Spellbinders to create these arch-shaped cards. It is a great basic die, I can see myself using it again and again!
VIDEO TUTORIAL
Watch the video below or on my Youtube channel.
CARDS DETAILS
I die-cut shaped card bases using the largest arch die and A2 side folded card bases. Next, I die-cut 2 panels (one for the front and one for the back). The front panel was embossed using the Flower Frenzy 3D embossing folder.
Next, I die-cut panels using a smaller arch die from Barely Peach cardstock and used it to house the focal point and sentiment for these cards.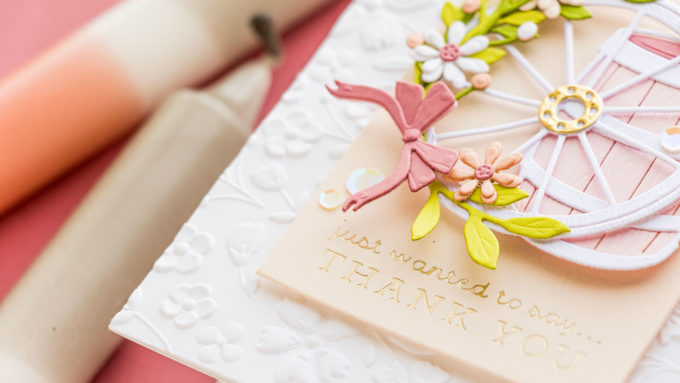 I foiled sentiments in Matte Gold foil on the bottom portion of the panel. The sentiments come from the Sentiments for Everyday set.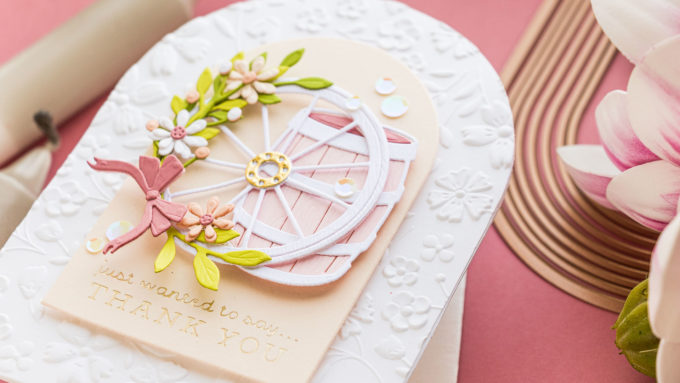 The focal points for these cards were created using dies from a new collection from Spellbinders in collaboration with Annie Williams – Country Road. Annie is a new influencer designer for Spellbinders, this is her debut collection and it is fabulous! Annie has an introductory blog post on the Spellbinders blog talking more about this collection, sharing what inspired these designs and these images. I think it is a beautiful collection, reminds me of the countryside, of summers in the countryside, it is very peaceful and tranquil.
Here I used the Country Wheelbarrow die to create that gorgeous white wheelbarrow and I also have some pretty fresh-picked flowers that were cut using the Garden Builder dies from Annies collection.
I used white woodgrain cardstock for the wheelbarrow and also added touches of gold using the Mirror Gold cardstock from Spellbinders and look how beautifully this turned out!
You can use Annie's die set to fill the wheelbarrow with all sorts of things, or you can shop your stash and use any other die cuts you might already have.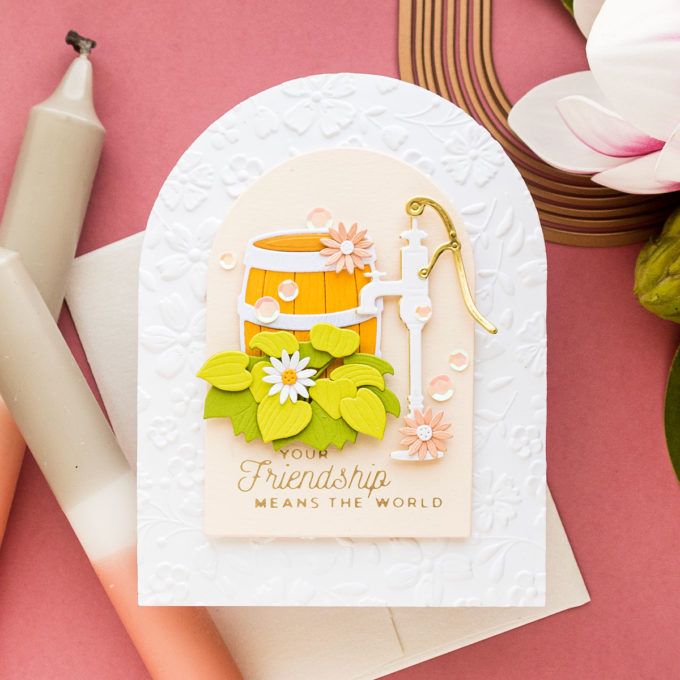 My last card (above) uses the barrel and water pump from the Rustic Garden die set. I also added hostas from the Garden Builder.
I hope you'll give this card shape a go, it does seem very unique and modern and it offers a lot of room to play!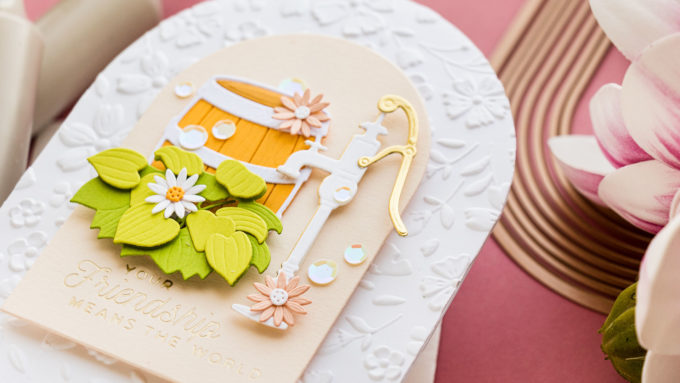 SUPPLIES
I'm listing the products I used below. Click on the link to go directly to the product. Where available I use compensated affiliate links which means if you make a purchase I receive a small commission at no extra cost to you. Thank you so much for your support!

Spellbinders Essential Arches Etched Dies
Shop at:
SSS | SC | SB USA | SB UK | AMZ

Spellbinders Country Wheelbarrow Etched Dies
Shop at:
SSS | SC | SB USA | SB UK

Spellbinders Rustic Garden Etched Dies
Shop at:
SSS | SC | SB USA | SB UK

Spellbinders Garden Builder Etched Dies
Shop at:
SSS | SC | SB USA | SB UK

Spellbinders Seasonal Décor Etched Dies
Shop at:
SSS | SC | SB USA | SB UK

Spellbinders Welcome Sign & Sentiments Clear Stamp & Die Set
Shop at:
SSS | SC | SB USA | SB UK

Spellbinders Flower Frenzy 3d Embossing Folder
Shop at:
SSS | SC | SB USA | SB UK

Spellbinders Sentiments for Everyday Glimmer Hot Foil Plate & Die Set
Shop at:
SSS | SC | SB USA | SB UK

Spellbinders Platinum 6 Die Cutting Machine
Shop at:
SSS | SC | SB USA | SB UK | AMZ

Spellbinders Platinum Die Cutting Machine
Shop at:
SSS | SC | SB USA | SB UK | AMZ

Spellbinders Glimmer Hot Foil System (Bronze)
Shop at:
SSS | SC | SB USA | SB UK | AMZ

Spellbinders New & Improved Platinum Machine With Universal Plate System
Shop at:
SSS | SC | SB USA | SB UK | AMZ

Spellbinders A2 White Card Bases – Side Fold – 25 pack
Shop at:
SB USA

Spellbinders Peach Sorbet Color Essentials Cardstock 8.5″ X 11″
Shop at:
SC | SB USA | SB UK

Spellbinders Velvet Rose Essentials Cardstock 8.5″ X 11″
Shop at:
SC | SB USA | SB UK

Spellbinders Pink Sand Color Essentials Cardstock
Shop at:
SC | SB USA | SB UK

Spellbinders Mirror Gold Cardstock
Shop at:
SC | SB USA | SB UK

Simon Says Stamp Woodgrain Cardstock White
Shop at:
SSS

Glimmer Hot Foil – Matte Gold
Shop at:
SSS | SC | SB USA | SB UK | AMZ

Glassboard Studio True White Glass Craft Mat
Shop at:
GBS

Spellbinders Tool 'n One – White
Shop at:
SSS | SC | SB USA | SB UK | AMZ

Spellbinders Snowdrift Color Essentials Cardstock
Shop at:
SB USA

Spellbinders Rainforest Color Essentials Cardstock
Shop at:
SC | SB USA

Spellbinders Peridot Color Essentials Cardstock
Shop at:
SC | SB USA

Spellbinders Barely Peach Color Essentials Cardstock
Shop at:
SB USA

Jewel Picker Tool
Shop at:
SSS | SC | SB USA | SB UK | AMZ

Fun Foam Sheets
Shop at:
SSS | SB USA | AMZ

Spellbinders Aura Opalescent Color Essentials Sequins
Shop at:
SSS | SC | SB USA | SB UK

Bearly Art Mini Precision Craft Glue
Shop at:
SSS | SB USA | AMZ

White Foam Squares
Shop at:
SSS | SC | SB USA | AMZ