Hello, friends. Once again I am thankful to say we are safe. I continue to create whenever I can to help with my anxiety. Today I'm sharing shaped cards in the shape of paintbrushes and paint palettes created with Color Your World collection products from Vicky Papaioannou & Spellbinders.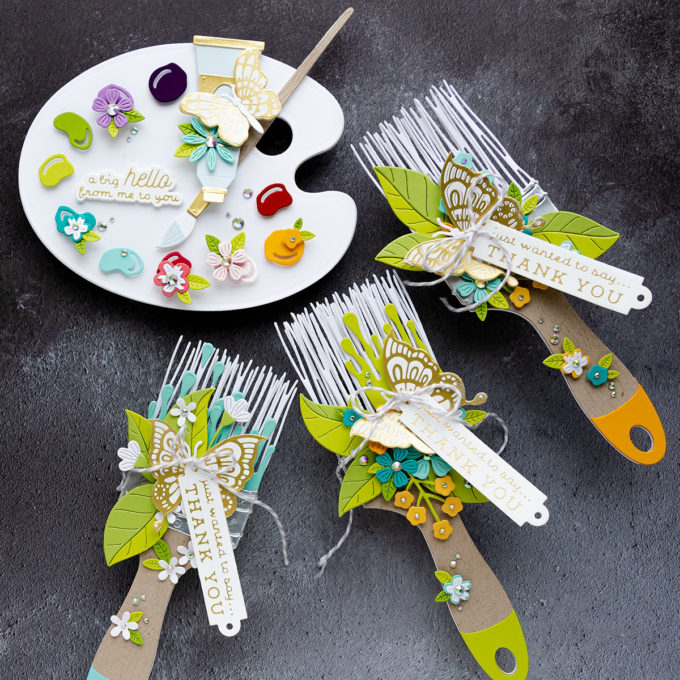 Like this project? Pin it and save for later | Curious about my project photography? Click for details. 
VIDEO TUTORIAL
Watch the video below or on my Youtube channel.
DETAILS
The paintbrushes are made into shaped cards. They open and offer a little bit of space on the inside to write a small message. These paintbrushes can be used as a decor piece in our craft rooms or can be given as a little card gift to a crafty friend. They can stand on their own, although they aren't very stable if poisoned vertically, they do stay in place nicely when placed horizontally.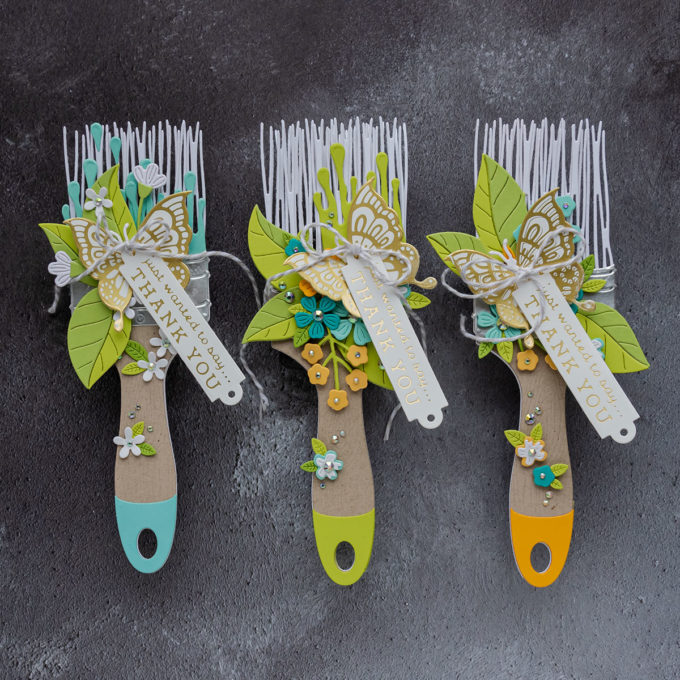 I "color-coded" each brush by adding a colored cardstock end piece to each. Instead of using the flowers and leaves included with the brushes, I used some of my favorite Spellbinders products to decorate them, plus a few new sets.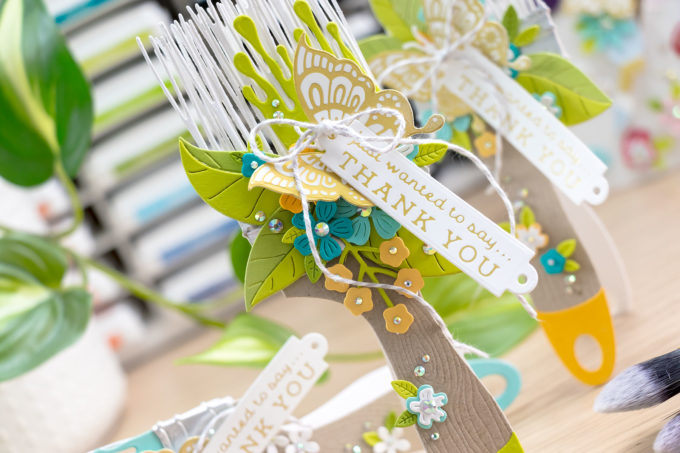 I used large leaves from the Lemon Zest die set and flowers from the Mini Blooms & Sprigs. The butterfly comes from a new Glimmer Edge Butterfly set (I love how it foils all the way to the edge).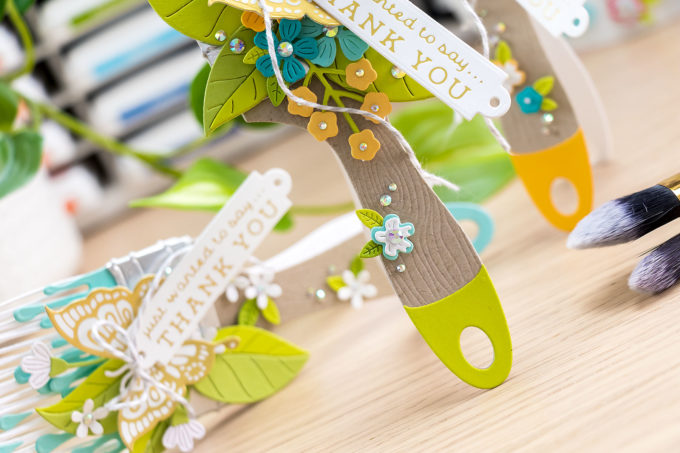 The sentiment comes from the new Sentiments for Everyday Glimmer set and the tag to cut it out if from the Sentiment Labels set.
The paint palette is also a shaped card, slightly larger than A2 and also embellished with die-cut flowers.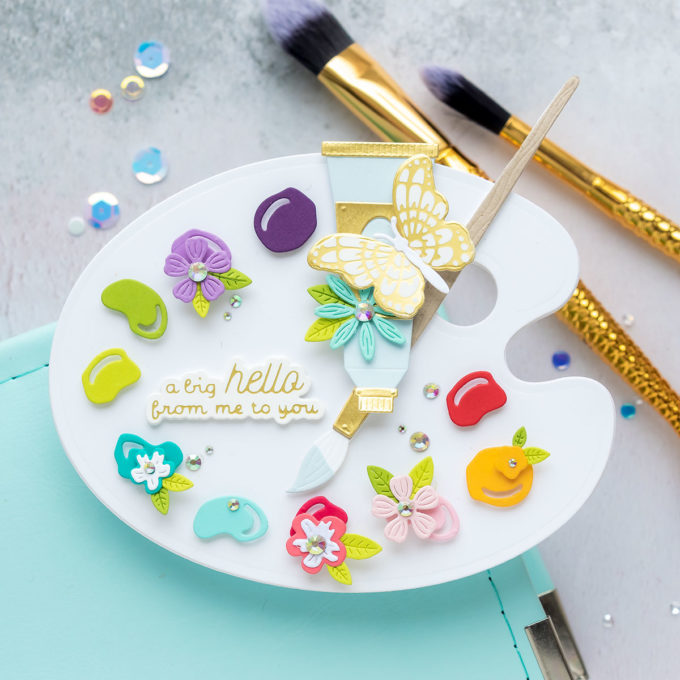 SUPPLIES
I'm listing the products I used below. Click on the link to go directly to the product. Where available I use compensated affiliate links which means if you make a purchase I receive a small commission at no extra cost to you. Thank you so much for your support

Spellbinders Paint Your World Want It All Bundle
Shop at:
SB

Spellbinders Painted Blooms Etched Dies
Shop at:
SC | SB

Spellbinders Paint Your World Sentiments Clear Stamp Set
Shop at:
SC | SB

Spellbinders Butterfly Burst Etched Dies
Shop at:
SC | SB

Spellbinders Artful Tulip Etched Dies
Shop at:
SC | SB

Spellbinders Artful Brush Etched Dies
Shop at:
SC | SB

Spellbinders Painter's Palette Etched Dies
Shop at:
SC | SB

Spellbinders Lemon Zest Etched Dies
Shop at:
SC | SB

Spellbinders Sentiment Labels Etched Dies
Shop at:
SC | SB

Spellbinders Sentiments for Everyday Glimmer Hot Foil Plate & Die Set
Shop at:
SSS | SC | SB

Spellbinders Glimmer Edge Butterflies Glimmer Hot Foil Plate & Die Set
Shop at:
SSS | SC | SB

Spellbinders Mini Blooms and Sprigs
Shop at:
SSS | SC | SB | AMZ

Spellbinders Glimmer Hot Foil System
Shop at:
SSS | SC | SB | AMZ

Glimmer Hot Foil – Matte Gold
Shop at:
SSS | SC | SB | AMZ

Glassboard Studio True White Glass Craft Mat | YANA20 for 20% Off
Shop at:
GBS

Glassboard Studio Super Strong Magnets | YANA20 for 20% Off
Shop at:
GBS

Glimmer Specialty Cardstock 10 Sheet Pack
Shop at:
SSS | SC | SB

Spellbinders Cardstock
Shop at:
SB

Spellbinders A2 White Card Bases – Side Fold – 25 pack
Shop at:
SB

Limited Edition Platinum 6 Aqua Die Cutting and Embossing Machine
Shop at:
SB

Spellbinders Platinum 6 Die Cutting Machine
Shop at:
SSS | SC | SB | AMZ

Spellbinders Platinum Die Cutting Machine
Shop at:
SSS | SC | SB | AMZ

Neenah Classic Crest 80 Lb Desert Storm
Shop at:
SSS | AMZ

Spellbinders Mirror Silver Cardstock
Shop at:
SB

Spellbinders Tool 'n One
Shop at:
SSS | SC | SB | AMZ

Spellbinders Best Ever Craft Tape
Shop at:
SSS | SC | SB

Simon Says Stamp Set of 4 Triangle Trays
Shop at:
SSS

Jewel Picker Tool
Shop at:
SSS | SC | SB | MFT | AMZ

Fun Foam Sheets
Shop at:
SSS | SB | AMZ

Bearly Art Mini Precision Craft Glue
Shop at:
SSS | SB | AMZ

White Foam Squares
Shop at:
SSS | SC | SB | AMZ

Spellbinders Crystal Mix Color Essential Gems
Shop at:
SSS | SC | SB | AMZ