Hello! Today we are talking about using grids when making cards! Grid-style cards are cards with multiple elements, where the placement of the element is defined by a grid.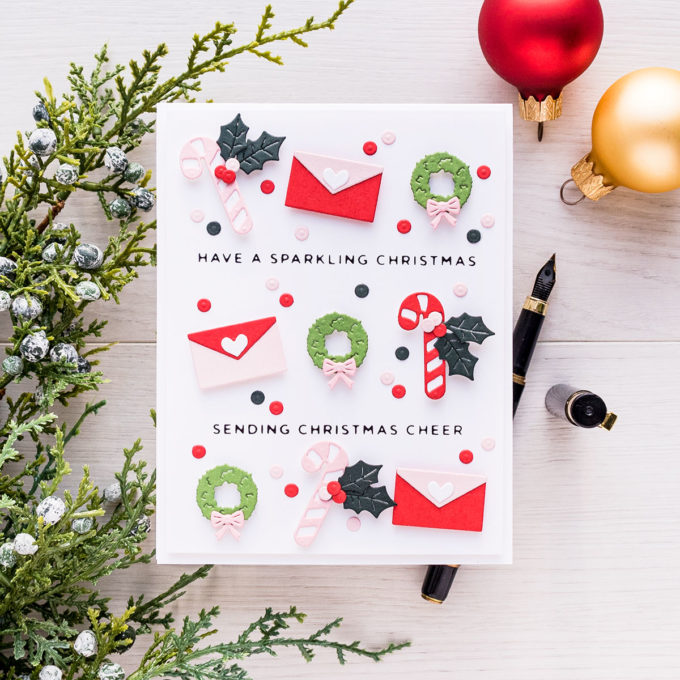 Like this project? Pin it and save for later | Curious about my project photography? Click for details. 
VIDEO TUTORIAL
Watch the video below or on my Youtube channel.
DETAILS
It is a very easy and fun type of card to make and one that works best when using smaller size elements. When you have a smaller die cut or smaller stamped image, the grid helps to house that element on your card without it looking weird or out of place. The grid helps to divide the card background into smaller sections that are easier to work with and easier to fill.
Example of 2×2 grid
If I can compare this to a blank page – a blank page usually feels rather intimidating because of all of that white or blank space. But as you scale the page down, as you make it smaller, it becomes less and less intimidating and makes it easier to work with. The same applies to grid-style cards. When you have a grid, it is easier to fill in the space of each section.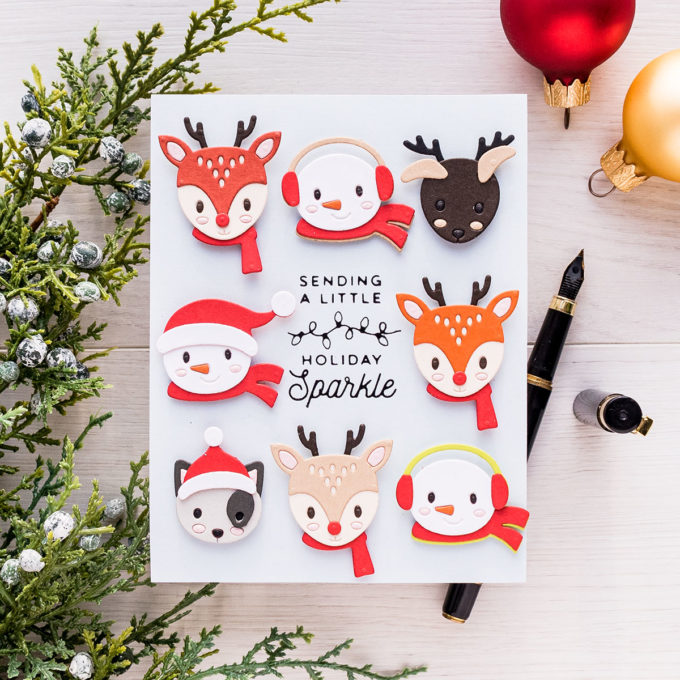 Example of 3×3 grid
If you want to use a larger sentiment, you can house it inside of one of the grid sections as shown on the examples above. The 2×2 one can have the sentiment in any section, while for the 3×3 it is best to place the sentiment in the center.
Have fun crafting!
SUPPLIES
I'm listing the products I used below. Click on the link to go directly to the product. Where available I use compensated affiliate links which means if you make a purchase I receive a small commission at no extra cost to you. Thank you so much for your support!

Spellbinders Special Pet Delivery Etched Dies
Shop at:
SSS | SC | SB USA

Spellbinders Dancin' Snowman Etched Dies
Shop at:
SSS | SC | SB USA

Spellbinders Dancin' Deer Etched Dies
Shop at:
SSS | SC | SB USA

Spellbinders Parcel & Post Mailbox Etched Dies
Shop at:
SSS | SC | SB USA

Spellbinders Christmas Mailbox Greetings Glimmer Hot Foil Plate
Shop at:
SSS | SC | CCC | SB USA

Spellbinders Christmas Blooms Dies
Shop at:
SSS | SC | SB USA | SB UK | AMZ

Spellbinders Camper Life Etched Dies
Shop at:
SSS | SC | SB USA

Spellbinders Holiday Express Etched Dies
Shop at:
SSS | SC | SB USA

Spellbinders Platinum 6 Die Cutting Machine
Shop at:
SSS | SC | SB USA | SB UK | AMZ

Spellbinders Platinum Die Cutting Machine
Shop at:
SSS | SC | SB USA | SB UK | AMZ

Glassboard Studio True White Glass Craft Mat | YANA20 for 20% Off
Shop at:
GBS

Spellbinders Glimmer Hot Foil System
Shop at:
SSS | SC | SB USA | SB UK | AMZ

Glimmer Hot Foil – Matte Gold
Shop at:
SSS | SC | SB USA | SB UK | AMZ

Glimmer Hot Foil Roll – Black
Shop at:
SC | SB USA | AMZ

Spellbinders Pink Sand Color Essentials Cardstock
Shop at:
SB USA

Spellbinders Glacier Color Essentials Cardstock
Shop at:
SB USA

Spellbinders Onyx Color Essentials Cardstock 8.5″ X 11″
Shop at:
SB USA

Spellbinders Poppy Field Color Essentials Cardstock
Shop at:
SB USA

Spellbinders Lunar Gray Color Essentials Cardstock
Shop at:
SB USA

Simon Says Stamp Card Stock Burnt Orange
Shop at:
SSS

Spellbinders Dune Color Essentials Cardstock
Shop at:
SB USA

Spellbinders Snowdrift Color Essentials Cardstock
Shop at:
SB USA

Spellbinders Silver Fox Color Essentials Cardstock
Shop at:
SB USA

Spellbinders Phone Booth Color Essential Cardstock
Shop at:
SB USA

Spellbinders Indigo Color Essentials Cardstock
Shop at:
SB USA

Spellbinders Saffron Color Essentials Cardstock
Shop at:
SB USA

Simon Says Stamp Dark Chocolate Cardstock
Shop at:
SSS

Spellbinders Fashion Gold Embellishments
Shop at:
SSS | SC | SB USA

Spellbinders Best Ever Craft Tape
Shop at:
SSS | SC | SB USA | SB UK | AMZ

Spellbinders Best Ever Craft Tape 0.25″
Shop at:
SSS | SC | SB USA

Tonic Studios 8.5 Inch Paper Trimmer
Shop at:
SC | AMZ | GBS

Jewel Picker Tool
Shop at:
SSS | SC | SB USA | SB UK | AMZ

Bearly Art Mini Precision Craft Glue
Shop at:
SSS | SB USA | AMZ

White Foam Squares
Shop at:
SSS | SC | SB USA | AMZ

Tonic Spring-cut Fine Tip Detail Scissors
Shop at:
SSS | AMZ

Simon Says Stamp Thin 3d Foam Squares Black and White
Shop at:
SSS