This post is also available in Українською мовою
Hello everyone! Today I have a fun and easy Christmas project to share with you – matching Christmas Ornaments.
This tutorial was shared on Trimcraft blog this fall. Click here to view it.
Every year I pick different colours for our Christmas tree decorations and this year is no different. My secret is – instead of buying new ornaments each year and spending lots of money I simply redecorate those that I already have.
This year I decided to use Dovecraft Christmas felt to change the colour of the gold ornaments to green, red and white.
I started with the following supplies – several old Christmas tree baubles, a few sheets of felt (one per ornament), a sheet of paper with printed tags (from the Nordic Christmas line), a few paper flowers, wooden buttons and pegs and some red and green twine from the 'Tis the Season collection: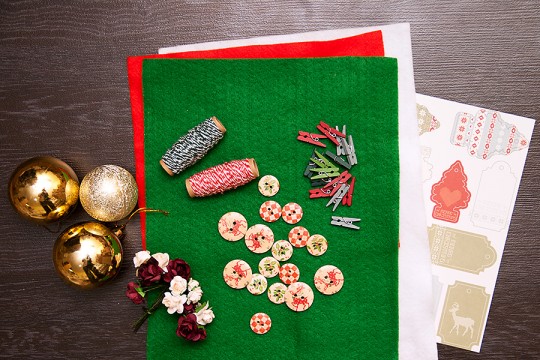 Step 1: cut a square out of felt. It doesn't have to be a perfect one, just eye ball it and cut. Leave the rest of the felt for a different project, don't throw away.
Step 2: add twine to your ornament. Depending of where you plan to hang it (on a tree or somewhere around the house) use a long or short piece of twine. Make it a least a few inches longer than the existing thread is, but don't cut off the the one there already is, you might need it next year.
Step 3: wrap felt around the bauble, make sure to get twine out: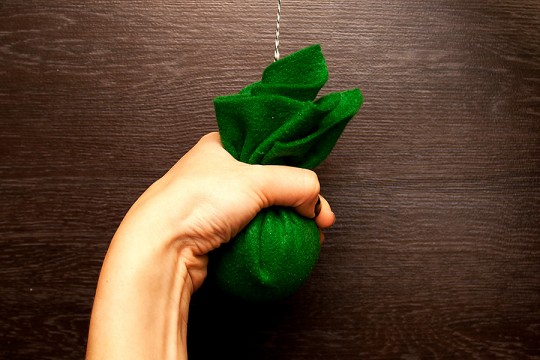 Step 4: us another piece of twine to tie felt: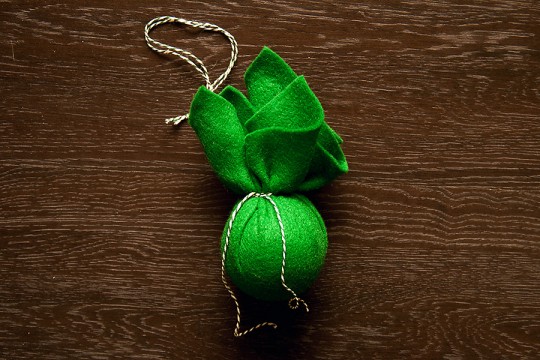 Step 5: cut a tag out of paper, add an eyelet (optional) and thread twine through: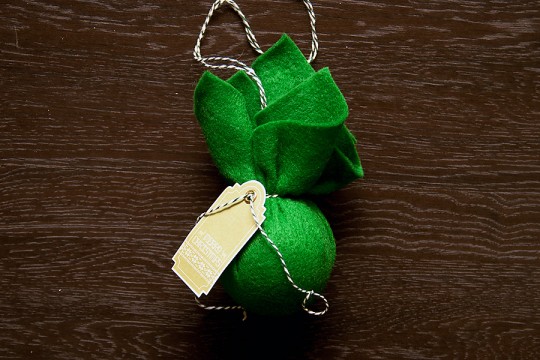 here's a close up: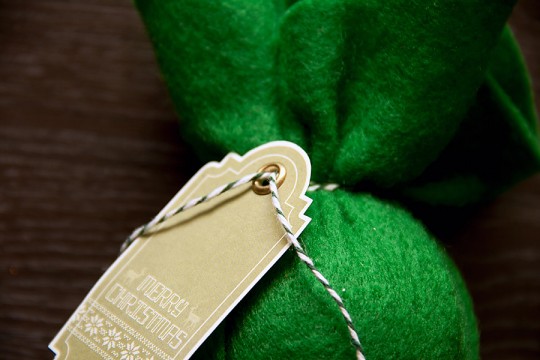 Step 6: tie twine into a little bow. Add one or two paper flowers, curl the stems:
Step 7: Cut or punch leaves out of double sided cardstock (the one I'm using is from the Nordic Christmas paper pad, I used Dovecraft Holly Leaves 2″ punch to cut the leaves), score the leaves in the middle and fold them a bit, curl them, make them look a bit more realistic, if you have ink – ink up the edges a bit:
Adhere leaves behind the flowers. Finally add a wooden peg, some gems and maybe a button.
Your ornament is ready! Hang it on your Christmas Tree or around the house. And if you need a different colour of the ornament next year simply remove the felt and reuse your bauble again!