Hi everyone! A couple days ago I shared a gift packaging idea on a Ukrainian Spellbinders website what I run together with my hubby. We have small design team there and we did a Spring Flower blog hop there where everyone shared a project using the Create A Flower die from Spellbinders. I used gorgeous Daffodil flowers to embellish the box, it turned out so beautifully that I thought I'd share it here as well. So here it is!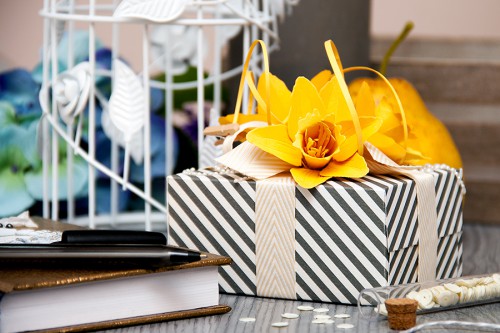 These daffodils were surprisingly easy to make and the end result is really very realistic. I don't think I spend more than 7-10 minutes on each of these flowers.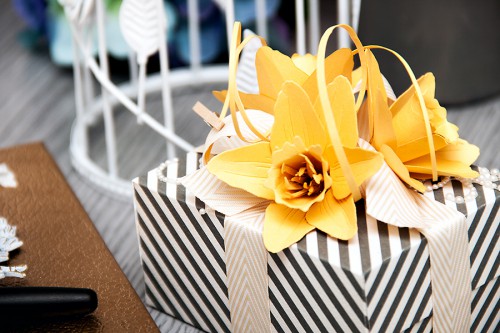 I made mine out of yellow cardstock, but these can also be made out of white. You can combine white and yellow (white for the petals and yellow for the center or vice versa) or even use a bit of orange. If you have trouble picking out colors just go to Pinterest and type Daffodil and you'll get a bunch of examples. You can do the same in Google.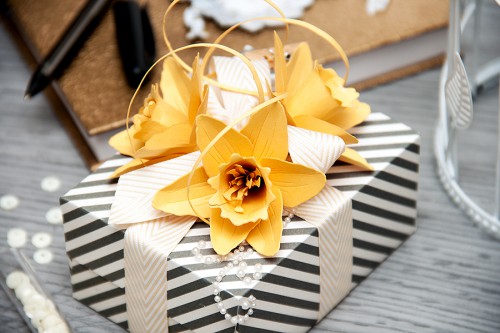 I wrapped a box using grey diagonal stripe patterned paper, added beautiful ribbon from May Arts and adhere three daffodils. I also decorated the box with the Want 2 Scrap pearls – these are gorgeous; and cut some narrow strips of yellow cardstock which I curled up with my scissors and placed on top. So easy!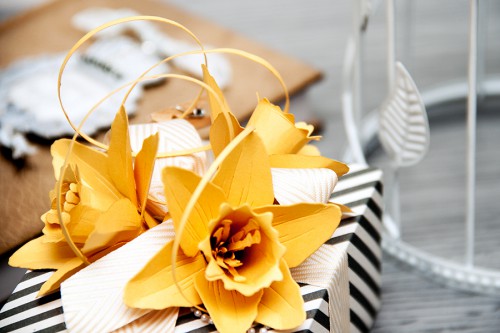 Like I said these are super easy to make. Tina McDonald shared a video tutorial on Spellbinders Youtube channel showing you exactly how to make these flowers, here's a link, be sure to check it out!
Supplies: