Hello there and happy Sunday! I wanted to pop in and let you know that Wplus9 March release is now live. It is a small yet beautiful one focusing on flowers. If you follow WPlus9 blog you might have already seen sneak peeks and projects created by Dawn and other designers, if not – I highly encourage you to check it out, plus they have great giveaways, you don't want to miss them!
I fell in love with this release the minute I got my stamps and I wanted to spread the word as much as I could and to also show you all the gorgeous products and some card ideas.
VIDEO
This video is another one of those quick videos I plan to do more often on my youtube channel just briefly talking about a particular card or product I happen to like. Watch video below or on my Youtube channel:
Like this video? Please give it a big thumbs up and share with a crafty friend! Drop me a comment too, I love hearing from you!
BIG DEAL STAMP SET AND BIG TOP BACKGROUND STAMP
One of my favorite sets from this release is Big Deal set designed for fun birthday cards. I made a silly Birthday featuring a Hippo wearing a party hat, he is also holding an ice cream and he is saying "It's your birthday and you're kind of a big deal". I  used a wobbler element to attach him onto the card so he wobbles for a fun and unexpected result.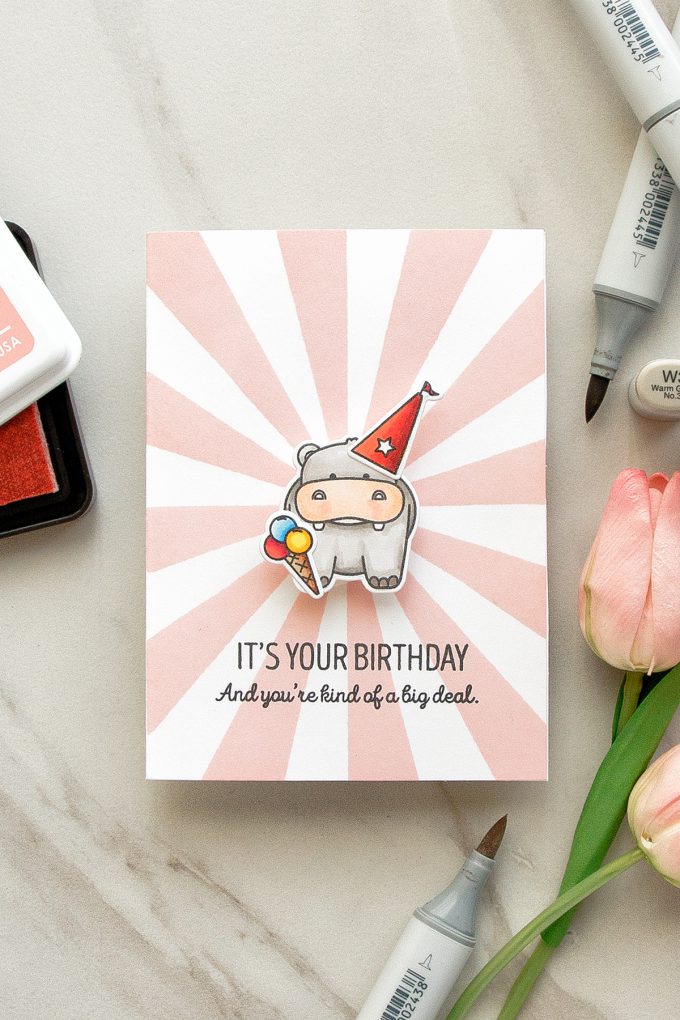 To create a background for this card I used a Big Top Background stamp – I need to mention the cards I stamped this onto are both 4 Bar size, not A2. I did have to trim both slightly as the stamp is a bit too small, it wasn't designed to be used as a background for 4 Bar size card, but it's almost perfect in size for it.
It's a half stamp and you stamp it once – stamp the top part of your background, then reposition and stamp it again to create the bottom part. I like to use it with my stamp positioner as it's a solid stamp and I like to stamp it a few times for best results.
PETUNIA BUILDER STAMP SET
You can also use this stamp for other types of cards, not just silly cards. Here I used it to create a background for a floral card – I stamped this using a very light gray ink.
Another stamp set I have featured here is Petunia Builder. It's a gorgeous color layering petunia stamp set and if you are not into coloring but do enjoy having beautiful flowers on your projects – this set is perfect for this. Flowers and leaves are rather easy to align and there are coordinating dies available if you want to cut your flowers out.
I used the following ink colors to stamp these: Shell Pink, Little Piggy, Sweet Gelato, Last Leaf, Appletini. I also used Autumn Splendor enamel dots.
The sentiment used on this card comes from a different stamp set, Kind Soul. Gorgeous 6″ border outline floral stamp that features petunias and anemones. Because it's such a large stamp it can be used as a horizontal or vertical border on portrait and landscape cards or only a portion of it can be used. Here I stamped just a portion, heat embossed in gold embossing powder and quickly watercolored using Daniel Smith watercolors. I look forward to coloring this using my Copic markers and Prismacolors.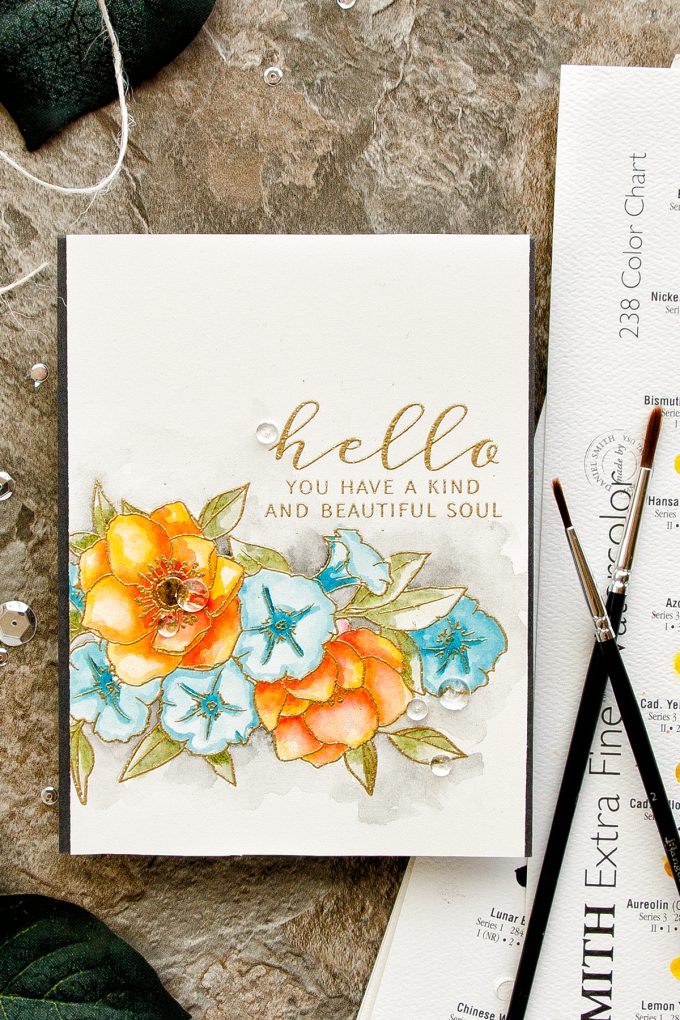 MODERN PETUNIAS
And finally the last stamp from March release is Modern Petunias – features same petunia images you can find in the Kind Soul set but they are broken down into individual pieces so that you can create your own clusters. I want to see if I can combine these with some of WPlus9 older floral sets.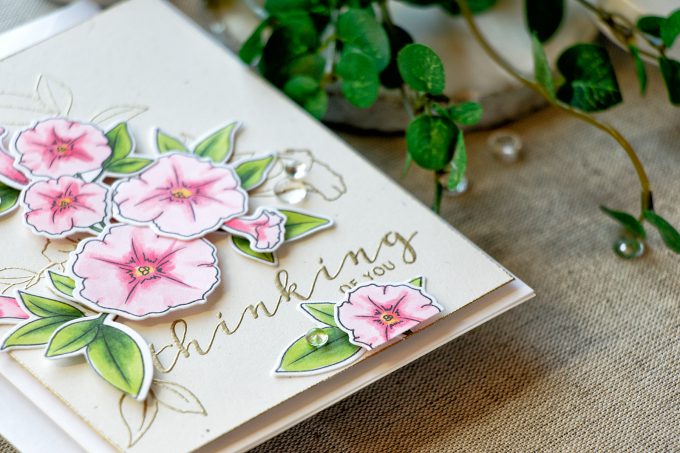 (I am sharing only a preview of this card as I'll have it up on WPlus9 blog in a few days)
The reason I am so excited about this release so much is because I love petunias and back when my husband and I lived in Ukraine (we recently moved to Phoenix) we would always have a pot or two with gorgeous petunias on our balcony and they would bloom all Summer long and even a bit during Fall. So these are sentimental for me in a way.
SUPPLIES
I'm listing the products I used below. Click on the link to go directly to the product. Where available I use compensated affiliate links which means if you make a purchase I receive a small commission at no extra cost to you. Thank you so much for your support!

WPlus9 Big Deal Stamp Set
Shop at:
SSS | WP9

WPlus9 Big Deal Die Set
Shop at:
SSS | WP9

Wplus9 Big Deal Clear Stamp and Die Combo
Shop at:
SSS

WPlus9 Big Top Background Stamp Set
Shop at:
SSS | WP9

WPlus9 Kind Soul Stamp Set
Shop at:
SSS | WP9

WPlus9 Kind Soul Die Set
Shop at:
SSS | WP9

Wplus9 Kind Soul Clear Stamp and Die Combo
Shop at:
SSS

WPlus9 Modern Petunias Stamp Set
Shop at:
SSS | WP9

WPlus9 Modern Petunias Die Set
Shop at:
SSS | WP9

Wplus9 Modern Petunias Clear Stamp and Die Combo
Shop at:
SSS

WPlus9 Petunia Builder Stamp Set
Shop at:
SSS | WP9

WPlus9 Petunia Builder Die Set
Shop at:
SSS | WP9

Wplus9 Petunia Builder Clear Stamp and Die Combo
Shop at:
SSS