A few weeks ago a blog reader, Sherry, reached out to me and asked to share my craft space. In my Photography Props post I mentioned that currently hubby and I live in a small one bedroom apartment and I don't have a separate room for my crafting, Sherry was curious to know how I am able to fit all of my craft supplies in such a small space. So this post is all about that – fitting cardmaking supplies into small spaces! Affiliate links may be used at no additional cost to you.
I have to start by saying that I recently moved from Ukraine to USA and I had to chose what supplies I could take with me. I was pretty ruthless and packed my must haves into 2 suitcases and also shipped one box. That was it. After getting here I did get a new die cutting machine, paper trimmer, cutting mat and some other large tools that are easier to buy new than ship.
My craft supplies are stored in 2 places – an L-shaped table in our living room and also linen closet in the bathroom.
I took a few photos to best showcase and describe my crafty table/corner. It is nothing fancy, very simple, but I made it work for me. If you are looking for some ideas how to organize craft supplies in a small space, maybe this post will prove to be useful.
So this is the look at my table – it's where I make all of my cards and film my videos. I added notes directly onto the photo to help you understand what is what.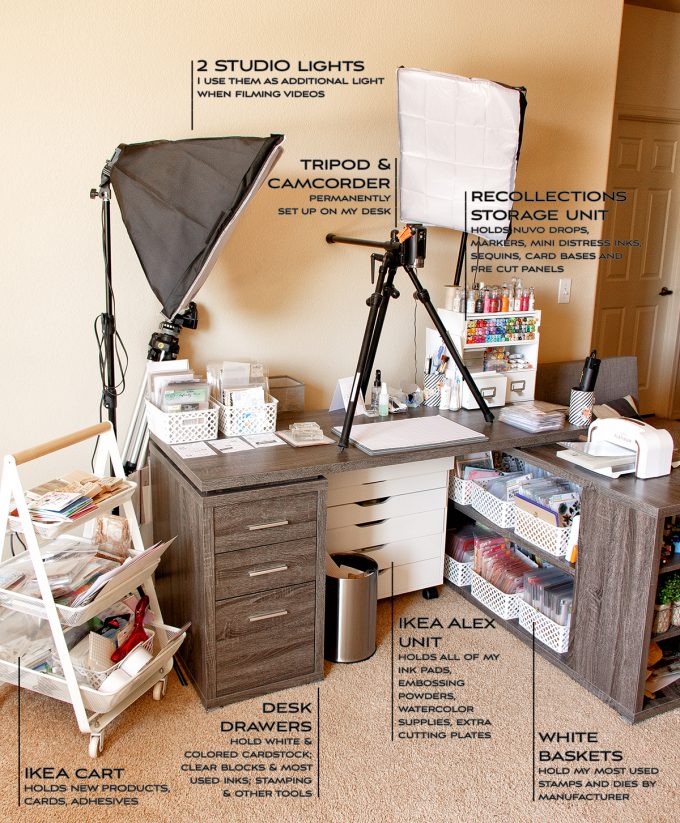 (click the photo to enlarge it)
L-SHAPED DESK
While I love white furniture I didn't want to have a white desk for my craft area; I have a white IKEA workstation back in Ukraine so I know what it's like to work on a white table top and how messy it can get. I wanted the table to blend in with the furniture of our living room (and when needed just look like a desk and not a crafty disaster) and also hide any possible ink stains I might end up having on its surface.
The reason I went with this particular table is a lot of open space on the right (where I have white baskets with stamps and dies – I'm able to fit 12 baskets there) and 3 large drawers on the left. Drawers hold my colored and white cardstock sheets (I have hanging file folders in the bottom drawer); clear blocks, ink blending tools, most used inks (middle drawer); stamp positioners, scoring board and other stuff (top drawer).
I try to maintain my table top as clean and clutter-free as possible. I have a gray cutting mat from Spellbinders (it blends in with the color of the desk) and large grid pad from Simon Says Stamp – these outline my work surface. I love to use Simon's grid pad as I can just remove the top paper sheet if it's dirty and have a nice clean surface to work on.
I also have a Main Attraction (magnetic die finder) sitting on my desk at all times. I use it to hold dies I find on my desk that I forget to put away into their storage pockets. It also holds pins and needles and anything else that is metal an doesn't have a home of its own.
Aside from these items I also keep my pens and brushes, ink and marker charts, stamp cleaner and water bottle on my desk all the time.
WHITE BASKETS FOR STAMPS & INKS
I use inexpensive white baskets (from Walmart) to hold my most used stamps and coordinating dies. I divide them by manufacturer and sometimes by theme (within the manufacturer; for example all Christmas stamps from Hero Arts sit in one basket, all Color Layering sit in another). I have additional baskets with less used stamps and coordinating dies sitting in my linen closet.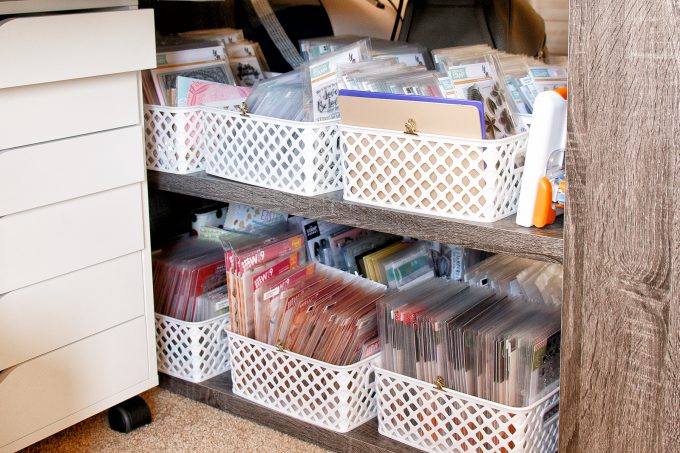 I love using this basket system as I can just pull the basket out and have it sitting on my desk when I am working. One basket holds a LOT of stamp/die sets so I'm able to store a lot of products within reach.
IKEA CART
No matter how well I organized my space I always lacked a place to put new products I planned to work with. So I got a triangle-shaped RISATORP cart from IKEA and I love it. Baskets are removable and snap on/off so when needed I can grab the entire basket. I keep new products, adhesives, some rubber stamps and cards there.
IKEA ALEX DRAWER UNIT
To be able to store all of my inks I purchased IKEA Alex drawer unit. There are 6 long and wide drawers that hold all of my inks (Simon Says Stamp, Hero Arts, WPlus9, PTI, Altenew, Distress), embossing powders and pastes, coloring supplies and extra cutting plates. It sits under my desk and is rather hidden, yet is easy to access. I do have to dig to find a particular ink color when I need it, but this storage solution saves a lot of space as opposed to having each ink pad in its designated space/shelf. I keep ink charts together with the inks.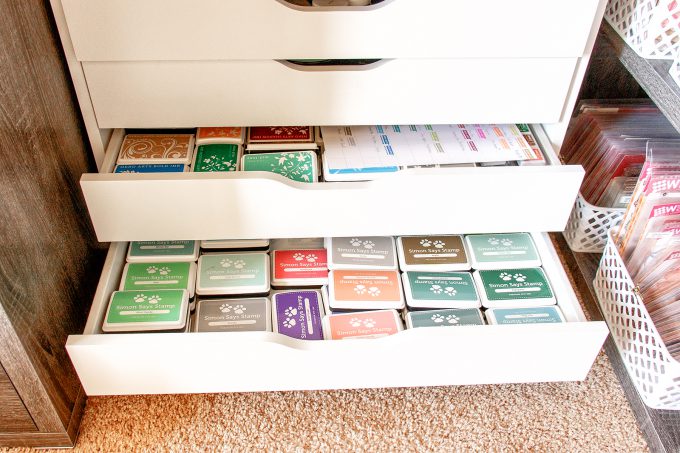 RECOLLECTIONS STORAGE UNIT
To be able to store my markers I picked up a storage unit from Recollections; these are sold at Michaels. It holds all of my Copic markers (I don't have all colors, just a handful, but I find that to be enough for my needs) and refills, Nuvo drops, mini Distress inks in tins, card bases and pre-cut cardstock panels, sequins.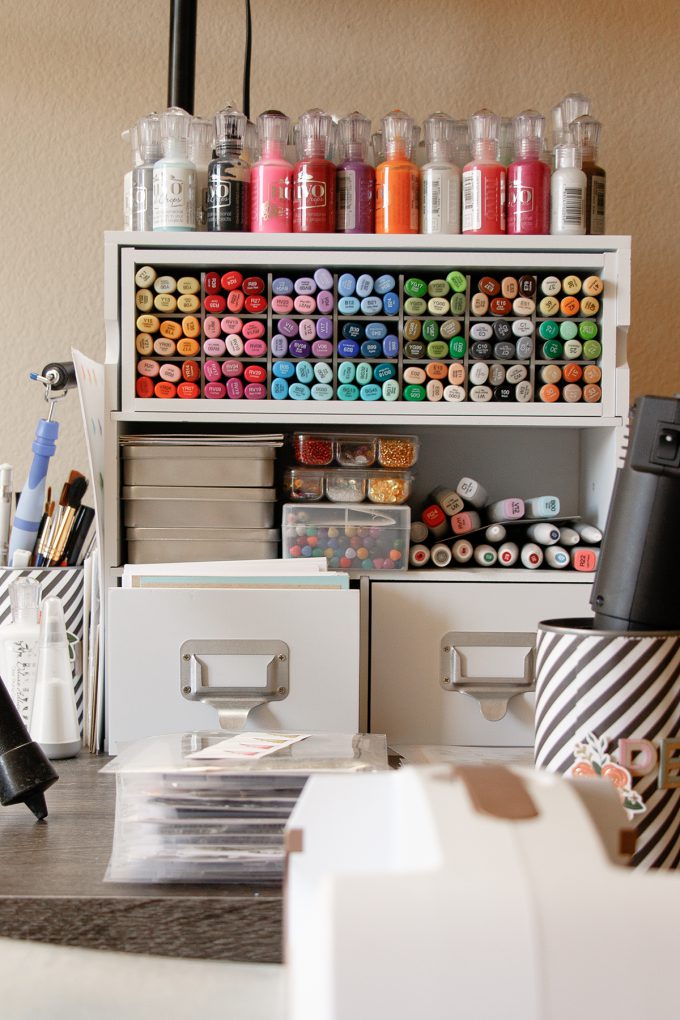 STUDIO LIGHTS & TRIPOD
These are the lights I use when I film videos and also as additional light when I craft. Ideally, one needs to have 3 sources of light for perfect lighting when filming, but I am able to only fit two around the table. The tripod sits directly on my desk, I never remove it. It might look like a bit of an obstacle, but I've had it set like that for years, so I've gotten used it and I hardly ever bump into it.
HEAT GUN & DIE CUTTING MACHINE
My heat tool sits in a metal can (it's a repurposed soup can) on my desk that I embellished with patterned papers and chipboard die cuts long time ago. After I am done using my heat tool I don't have to wait for it to cool down, I can set it in a can and keep working.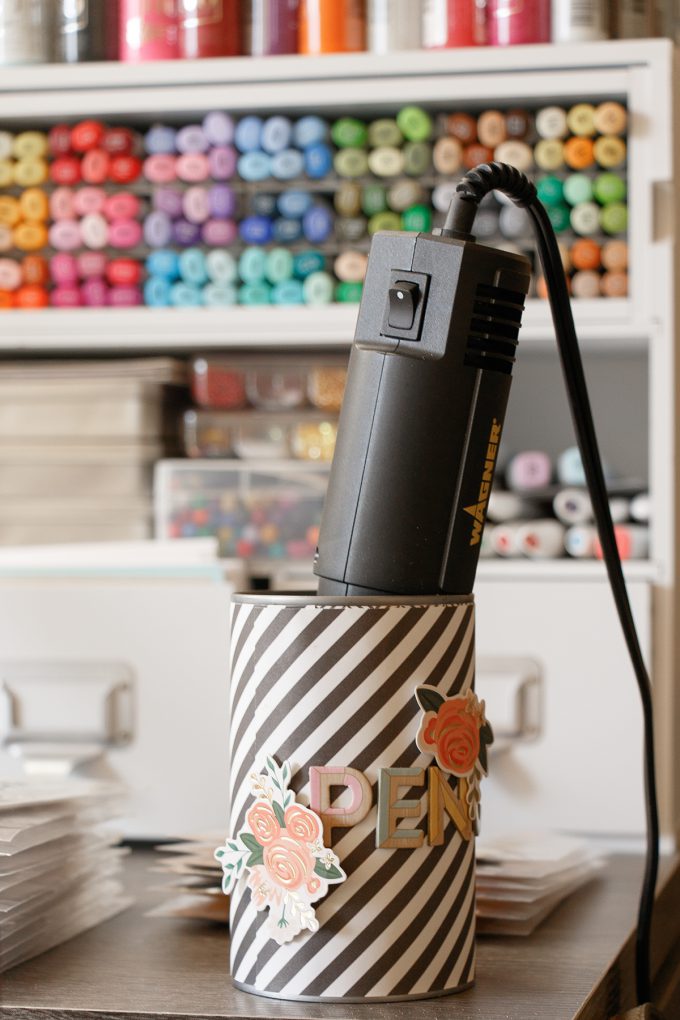 My die cutting machine, Platinum 6, sits to the right – this is where I use it the most. When needed I can grab it and set it on my main desk to fit in the video frame (when I'm filming).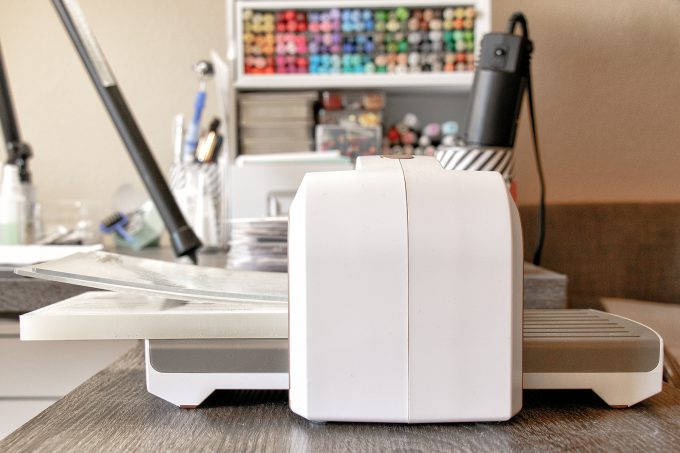 So this is my main crafting area. It is tiny, cozy and functional. I have a few rules that I try to follow to keep my space small and manageable:
Less is more. Having less supplies, but supplies that I really LOVE and USE is more for me. If I happen to purchase something I end up not loving I give it away and move one.
Purge, purge, purge. I purge my supplies at least every 6 month, sometimes more often. First I move them to my linen closet (meaning to my less often used stash) and later, if I don't come back to use them, I give them away.
I make my space work for me. I move things around until I find the perfect place for them.
Do you have a dedicated room for your crafting supplies, or are you like me – limited in space?