Hello crafters. In this video, I'm creating Birthday cards (because I never have enough of those) and I'm experimenting with wax beads to create color-coordinated embellishments for my cards.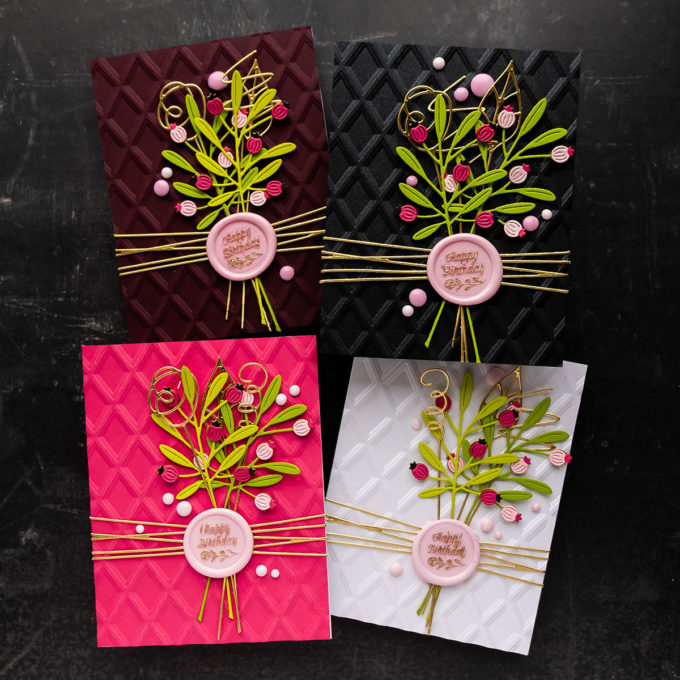 Like this project? Pin it and save for later | Curious about my project photography? Click for details. 
VIDEO TUTORIAL
Watch the video below or on my Youtube channel.
CARD DETAILS
I picked several products from the Sealed by Spellbinders collection to create these cards. I used the Sealed Berry Sprig die set, I cut them from 2 shades of green cardstock, Peridot, and Rainforest, and berry pieces from Brushed Black, Pink Sand, and Wild Berry cardstock.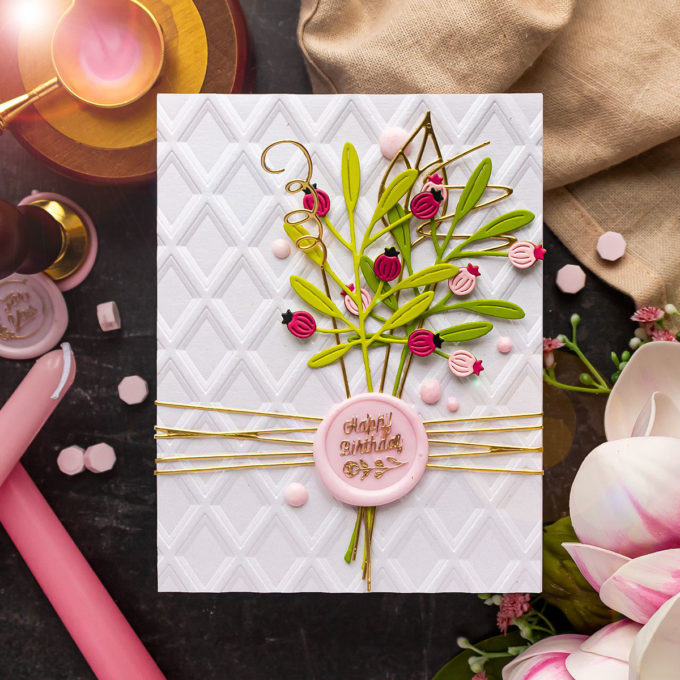 Next is the Sealed Twine. You will not believe this was made using a die when you see it on a card, I think it is simply genius to design a die that cuts paper to look like twine wrapped around a card. You simply cut 2 pieces and connect them to have your twine, or of course, you can use actual twine if you want, I love this die because it allows me to have any color twine I want, I can just cut it from colored cardstock and have it match my project if I need to. For these cards, I cut the twine from Mirror Gold cardstock.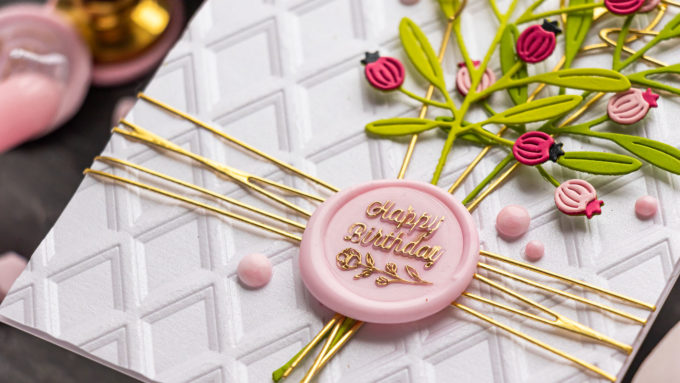 Next, I embossed several cardstock panels using the Spellbinders Dimensional Diamond embossing folder. And I embossed it on brushed black, brushed white, Wild Berry, and Mahogany cardstock. The brushed white and black are my favorite as those have a bit of shimmer to them, they feel like luxury cardstock.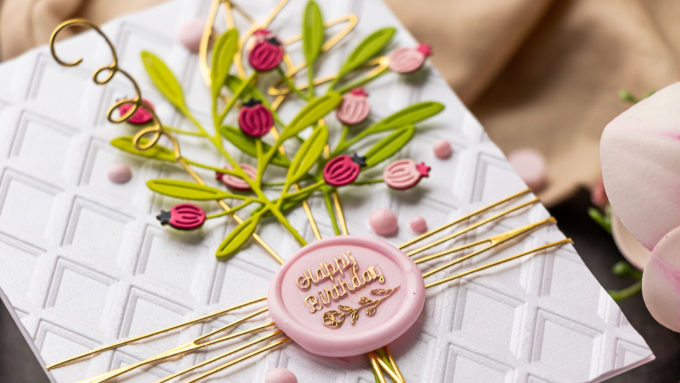 To create these cards I added 2 branches, and positioned them slightly to the right of the panel, I didn't want these to be centered, and I also added a bunch of gold dies cuts – these were all made using another die set from Spellbinders called Sealed Squiggles. I added 3, tucking them behind my berry branches forming an arrangement. All of these die cuts have a very long stem to them, and this intentionally allows you to form them into a bouquet. You can add a wrapper around it, tie some twine or you can add a wax seal to tie them together.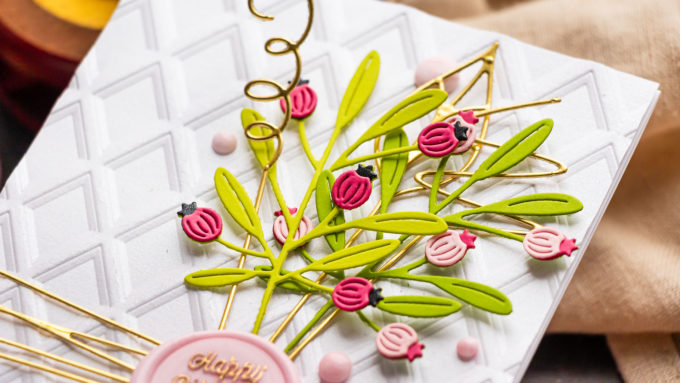 I added a piece of yellow tape to temporarily secure the stems. Next, I added twine, you'll need 2 pieces for one card. This twine die is designed to be long enough to work even on a slimline card, so it is pretty versatile.
WAX SEAL SENTIMENTS & EMBELLISHMENTS
Next, I created sentiments and embellishments for my cards using wax seals. I am obsessed with seals lately, I love how they look on cards, and Spellbinders has a wonderful collection of wax seal products – they have everything you need to make beautiful seals including these die products allowing you to create die-cut branches that remind you of the dried branches one would use with seals.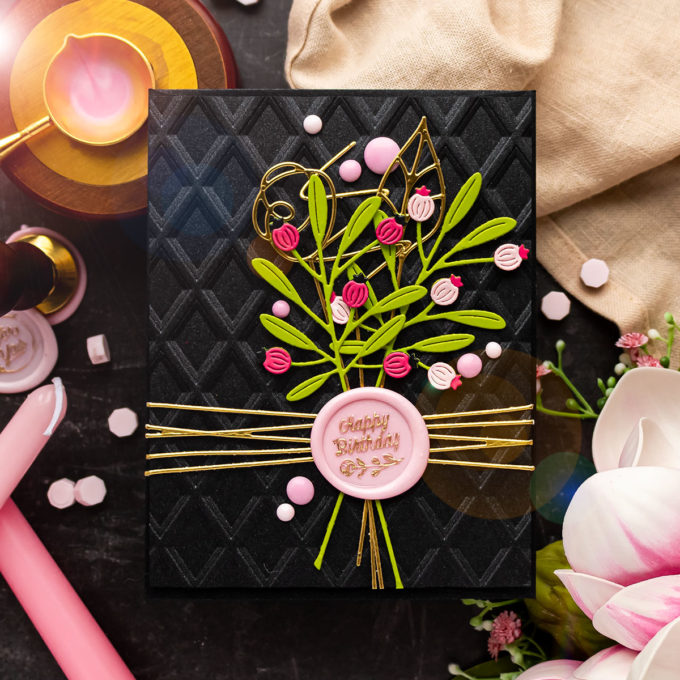 I used my starter kit and various colors of wax beads. I love to mix different wax bead colors to come up with new colors for my cards. I created the sentiments using the Happy Birthday seal and next poured tiny dots onto my mat to create enamel-like embellishments. You can pour wax not only to make seals but to make little dot embellishments for your cards.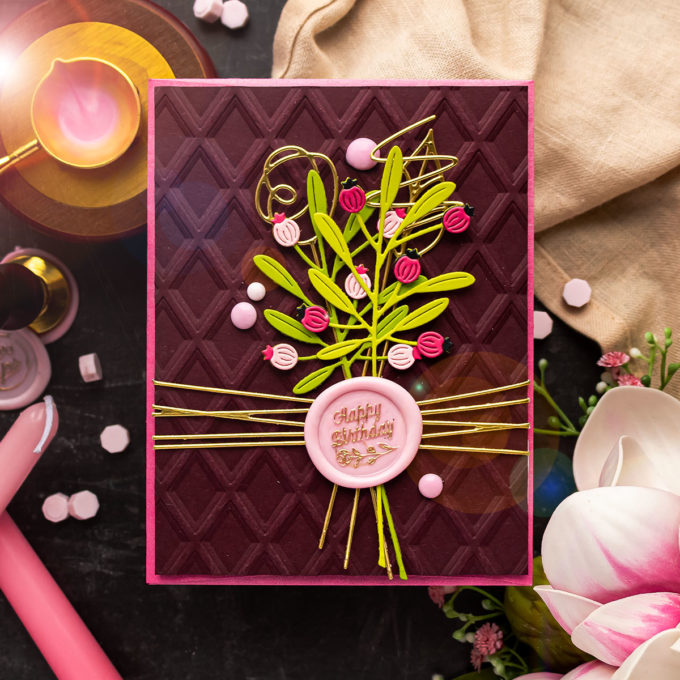 This way I can create little embellishments that match the color of my wax seals and even my cardstock. This process takes longer than pouring wax for a seal, the wax cools off in the spoon and you might need to reheat it. I just put it back on the warmer, wait a few seconds and continue to pour it to create the embellishments. If the dots I pour aren't perfectly round I can re-melt them. In the same way, I can re-melt any seals that didn't turn out the way I wanted.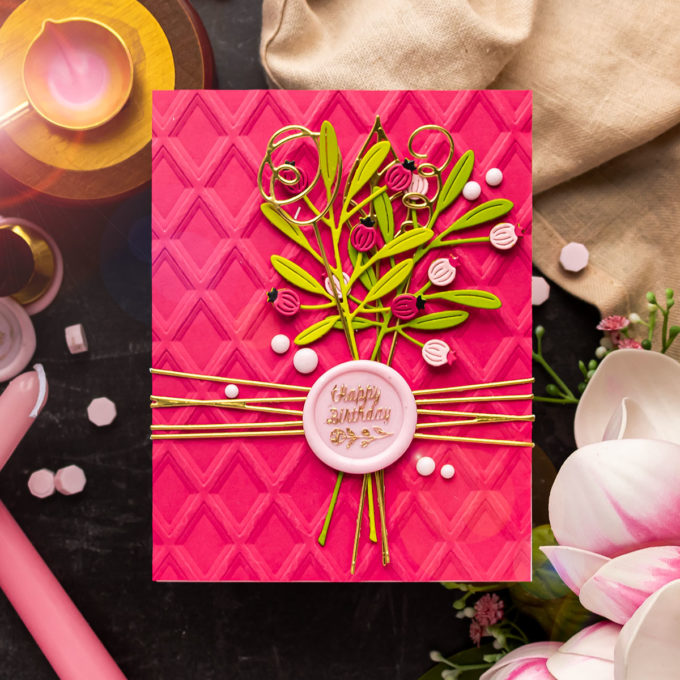 Once the wax cools off I can add embellishments onto my card, I adhered them using glue. Here's a look at the 4 cards I created – all 4 are identical, the only difference is the colors of cardstock used. Let me know which one is your favorite, I will tell you that I love the white one the most! Thanks for spending time with me today, love you guys and I'll see you next time.
SUPPLIES
I'm listing the products I used below. Click on the link to go directly to the product. Where available I use compensated affiliate links which means if you make a purchase I receive a small commission at no extra cost to you. Thank you so much for your support!

Sealed Berry Sprig Etched Dies
Shop at:
SSS | SB USA | SB UK

Sealed Twine Etched Dies
Shop at:
SSS | SC | SB USA | SB UK

Sealed Squiggles Etched Dies
Shop at:
SSS | SC | SB USA | SB UK

Spellbinders Wax Seal Starter Kit
Shop at:
SB USA | SB UK

Dimensional Diamonds 3d Embossing Folder
Shop at:
SSS | SC | SB USA | SB UK

Spellbinders Platinum 6 Die Cutting Machine
Shop at:
SSS | SC | SB USA | SB UK | AMZ

Spellbinders Platinum Die Cutting Machine
Shop at:
SSS | SC | SB USA | SB UK | AMZ

Spellbinders Universal Plates System
Shop at:
SSS | SC | SB USA | SB UK | AMZ

New & Improved Platinum Machine With Universal Plate System
Shop at:
SSS | SC | SB USA | SB UK

New & Improved Platinum Six Machine With Universal Plate System
Shop at:
SSS | SC | SB USA | SB UK

Spellbinders Tool 'n One – White
Shop at:
SSS | SC | SB USA | SB UK

Glassboard Studio True White Glass Craft Mat | YANA20 for 20% Off
Shop at:
GBS

Spellbinders A2 White Card Bases – Side Fold – 25 pack
Shop at:
SB USA

Spellbinders Pink Sand Color Essentials Cardstock
Shop at:
SC | SB USA

Spellbinders Brushed Black Cardstock
Shop at:
SB USA

Spellbinders Brushed White Cardstock
Shop at:
SB USA

Spellbinders Wild Berry Color Essentials Cardstock
Shop at:
SC | SB USA

Spellbinders Mahogany Color Essentials Cardstock
Shop at:
SB USA

Spellbinders Mirror Gold Cardstock
Shop at:
SC | SB USA

Decocolor Premium Rose Gold Metallic Marker
Shop at:
SC | SB USA | SB UK

Decocolor Premium Gold Metallic Marker
Shop at:
SC | SB USA | SB UK

Decocolor Premium Silver Metallic Marker
Shop at:
SC | SB USA | SB UK

Spellbinders Sweet Happy Birthday Wax Seal Stamp
Shop at:
SC | SB USA | SB UK

Spellbinders Pearl White Wax Beads
Shop at:
SC | SB USA | SB UK

Spellbinders Pastel Pink Wax Beads
Shop at:
SC | SB USA | SB UK

Spellbinders White Wax Beads
Shop at:
SC | SB USA | SB UK

Spellbinders Rainforest Color Essentials Cardstock
Shop at:
SC | SB USA

Spellbinders Peridot Color Essentials Cardstock
Shop at:
SB USA

Spellbinders Best Ever Craft Tape
Shop at:
SSS | SC | SB USA | SB UK | AMZ

Jewel Picker Tool
Shop at:
SSS | SC | SB USA | SB UK | AMZ

Bearly Art Mini Precision Craft Glue
Shop at:
SSS | SB USA | AMZ

White Foam Squares
Shop at:
SSS | SC | SB USA | AMZ

Tonic Spring-cut Fine Tip Detail Scissors
Shop at:
SSS | AMZ

Triangle Trays
Shop at:
SSS