Hello! In this video, I'm sharing card ideas inspired by maximalism. This video is also a part of the Four Petal Inspiration Instagram Hop by Spellbinders, I'm super excited to be a part of it and I encourage you to join us, and pop over to my Instagram account.
The products I'm using today are all part of the new Spellbinders Four Petal collection and they are gorgeous. First, I used the Scrolled Punch & Pierce Plate, this plate has a combination of eyelet and piercing cuts and covers the entire A2 card. Once you cut the paper using this die it very much starts to look like lace, especially if you cut it from white cardstock. You can pop the eyelet elements out or keep them in, it is up to you, I kept all of mine in for these cards. But die cut this from white, pop them out and you'll have a lace-like paper background.
Another feature of this die is that while it is one solid die, it does cut paper into 3 panels so you can use just parts of it, mix different colors, or use the entire die cut as is, as I am using here. I cut 3 backgrounds for my cards, from Spellbinders Brushed Black, Pomegranate, and Wild Berry cardstock.
Like this project? Pin it and save for later | Curious about my project photography? Click for details. 
VIDEO TUTORIAL
Watch the video below or on my Youtube channel.
CARDS DETAILS
The Four Petal Thank You Floral die set is the star of my today's cards, it is a brilliant set with room for customization. I die-cut the stem piece from Rainforest cardstock, it was cut twice and adhered to create a thicker die cut. Next, I die-cut leaves from mirror gold cardstock. I adhered my background to A2 top folding card, I added a layer of black fun foam between the background and the card base to add thickness to my card. I like to do this, but only when I know I'll be hand-delivering my card.
Next, I added thin black foam adhesive squares to the back of my stem to foam mount it onto my panel and then added all of the colorful flowers.
I recently visited the CreativeWorld show in Frankfurt and I was lucky enough to have time to walk the ChristmasWorld show and look at all of the beautiful displays. I saw a lot of inspiration and the thing that stood out most to me was the use of maximalism and bright colors that are almost on the edge of being neon. This is where the inspiration for these cards came from. You can use this same die cut and go very subtle, I would even say go minimal, but you can also layer and layer florals, and even add them to the background, or overlap them for a very busy and maximalist look. That's what I did for these cards. I added a lot of large bold colorful flowers, layered them, and created a very full and very bold colorful arrangement. My color combo here goes from vibrant yellow to bright orange, to all shades of pink – from very pale bright, and vibrant pink to even shades of red. On top of all that color, I also have mirror gold cardstock for the leaves and even gold glitter cardstock for the flower centers.
This die set comes with the Thank You dies for the sentiment, but my floral cluster didn't really leave room for that, so I needed to use a smaller sentiment for this card. The Four Petal collection also features a new sentiment set, called Making Me Smile sentiments. I foiled smaller sentiments from this card in Satin Gold foil. When you foil the sentiment on the same color cardstock as your background, the sentiment just blends in better and works better with the rest of the design. I didn't use any other embellishments, I usually like to add gems and just, but this time, because of all of the bright colors and layers of flowers and the sparkling gold glitter I decided to stop. Although, you could add additional embellishments here if you want after all this is all about maximalism.
So you know how we often say less is more? Well, more is more when it comes to maximalism. More color, more layers, more elements, more detail, more patterns. It doesn't mean that you just add a bunch of stuff to your card and leave it there. No, there are still rules to follow, and you still have to make sure your design is pleasing to the eyes, but generally, maximalism is where you need not be afraid to add more. You can use bold colors, you can make a busy card, you can have lots of variety and it will still look appealing.
I put 2 more cards together using the same approach and products, but different background colors. I love the black one the most, of course, you guys know me, I'll always go for black or navy, but I'd love to hear your thoughts! Firstly, what do you think of maximalism in cardmaking? Have you tried it or will you give it a try? And secondly, which card do you like best? Let me know in the comments below!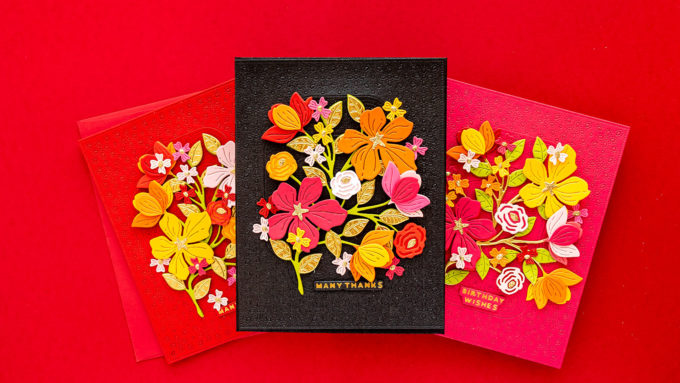 SUPPLIES
I'm listing the products I used below. Click on the link to go directly to the product. Where available I use compensated affiliate links which means if you make a purchase I receive a small commission at no extra cost to you. Thank you so much for your support!

Spellbinders Scrolled Punch & Pierce Plate Etched Die
Shop at:
SSS | SC | SB USA | SB UK

Spellbinders Four Petal Thank You Floral Etched Dies
Shop at:
SSS | SC | SB USA | SB UK

Spellbinders Making Me Smile Sentiments Glimmer Hot Foil Plate & Die Set
Shop at:
SSS | SC | SB USA | SB UK

Spellbinders Platinum 6 Die Cutting Machine
Shop at:
SSS | SC | SB USA | SB UK | AMZ

Spellbinders Platinum Die Cutting Machine
Shop at:
SSS | SC | SB USA | SB UK | AMZ

New & Improved Platinum Machine With Universal Plate System
Shop at:
SSS | SC | SB USA | SB UK | AMZ

New & Improved Platinum Six Machine With Universal Plate System
Shop at:
SSS | SC | SB USA | SB UK

Glassboard Studio True White Glass Craft Mat | YANA20 for 20% Off
Shop at:
GBS

Spellbinders Glimmer Hot Foil System
Shop at:
SSS | SC | SB USA | SB UK | AMZ

Simon Says Stamp Cardstock Gold Glitter
Shop at:
SSS

Spellbinders Glimmer Hot Foil 4 Rolls – Satin Metallics Variety Pack
Shop at:
SB USA | SB UK

Spellbinders Tool 'n One – White
Shop at:
SSS | SC | SB USA | SB UK

Spellbinders A2 White Card Bases – Side Fold – 25 pack
Shop at:
SB USA

Spellbinders Pink Sand Color Essentials Cardstock
Shop at:
SC | SB USA | SB UK

Spellbinders Brushed Black Cardstock
Shop at:
SC | SB USA | SB UK

Spellbinders Poppy Field Color Essentials Cardstock
Shop at:
SC | SB USA | SB UK

Spellbinders Wild Berry Color Essentials Cardstock
Shop at:
SC | SB USA | SB UK

Spellbinders Pomegranate Color Essentials Cardstock
Shop at:
SB USA | SB UK

Spellbinders Fruit Punch Color Essentials Cardstock
Shop at:
SC | SB USA

Spellbinders Persimmon Color Essentials Cardstock
Shop at:
SC | SB USA | SB UK

Spellbinders Terra Cotta Color Essentials Cardstock
Shop at:
SC | SB USA

Spellbinders Rainforest Color Essentials Cardstock
Shop at:
SC | SB USA

Spellbinders Saffron Color Essentials Cardstock
Shop at:
SB USA

Spellbinders Mirror Gold Cardstock
Shop at:
SC | SB USA | SB UK

Tonic Studios 8.5 Inch Paper Trimmer
Shop at:
SC | AMZ | GBS

Jewel Picker Tool
Shop at:
SSS | SC | SB USA | SB UK | AMZ

Bearly Art Mini Precision Craft Glue
Shop at:
SSS | SB USA | AMZ

Simon Says Stamp Thin 3d Foam Squares Black and White
Shop at:
SSS