Hello stampers, welcome back to my blog! Today I am sharing several ideas to create one layer tropical patterns for your Summer cards with the help of stamps and markers!
Pattern stamping is a technique that is near and dear to my heart. It is a relatively easy technique to do, and it will always give your new, unique results with your stamps. Let's get started!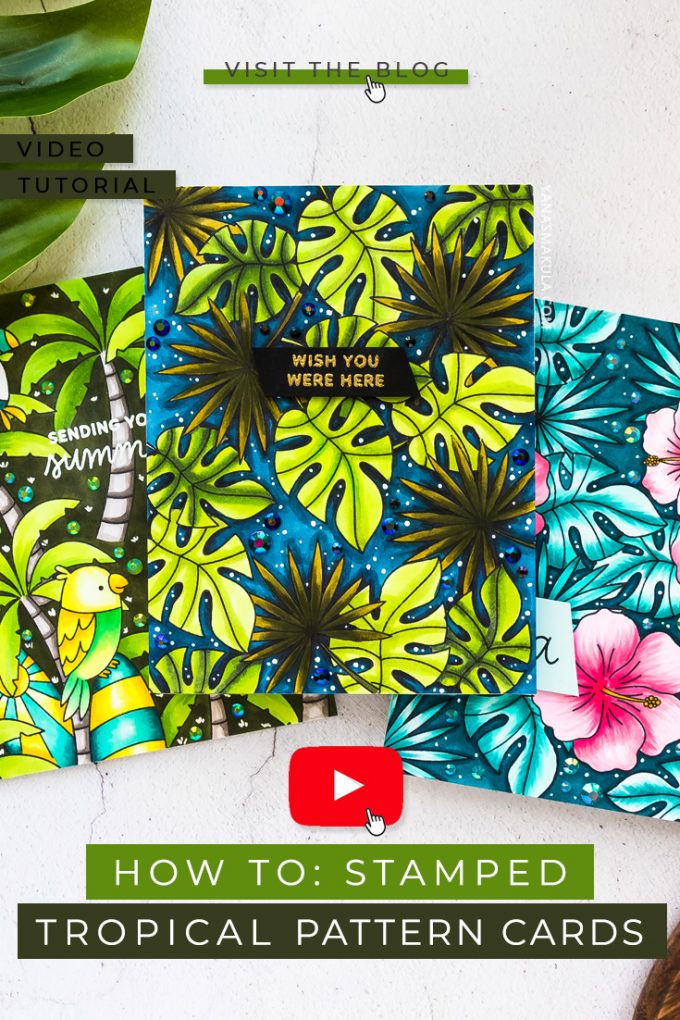 Like this card idea? Be sure to save it to one of your Pinterest boards for future reference! | Curious about my project photography? Click for details. 
VIDEO TUTORIAL
As always, I filmed a video tutorial showing how to create this project from start to finish. I'm hoping you'll enjoy it. Watch it below or on my Youtube channel:
Like this video? Please give it a thumbs up (you can do so on Youtube video page right under the video) and share with a crafty friend! Leave me a comment too, I love hearing from you!
I am using several stamp sets to stamp patterns I am showcasing in this today, however any other stamps can be used for this. In fact, I have many tutorials showing pattern stamping using various stamp sets: Linear Pattern Stamping | Dimensional Pattern Stamping | Pattern Stamping Basics | Tips for Stamping Floral Patterns | Surf Boards Summer Pattern.
All of the stamps I have today are from Pretty Pink Posh. I am using Hibiscus Flower set, Tropical Birds, Summer Surfboards and Tropical Toucans – all fabulous stamp sets just in time for Summer and perfect for pattern stamping as the images in these sets are nice and large in size. They also have a lot of open space and are great for coloring, too.
One of the key tools you'll need to use when doing pattern stamping, the kind of pattern I am showing today, is masking paper. If you don't have masking paper you can use some alternatives like post-it notes or even printer paper.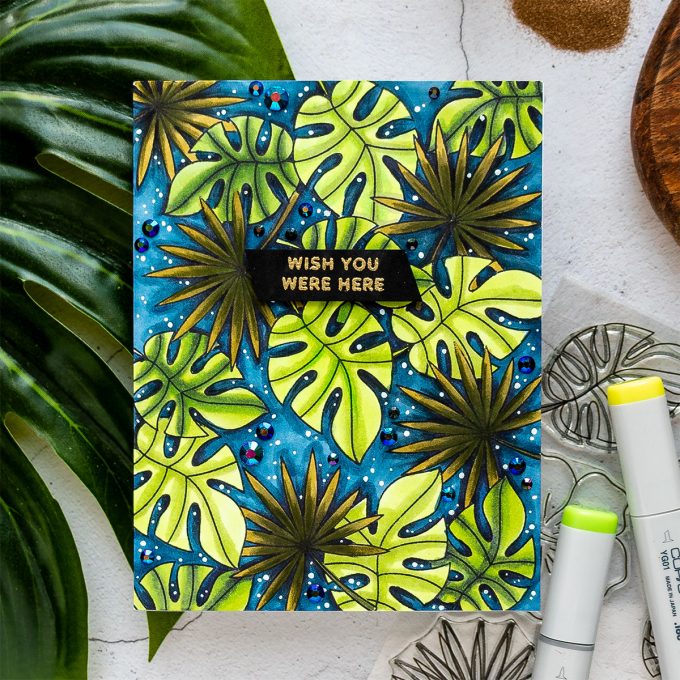 Masking paper is the best option as it is sticky and will make this task easier, but using printer paper and some low tack tape also works. I prefer to use this big roll of masking paper for all my masking projects, it's not expensive, there's a lot of tape in here and it lasts a very long time.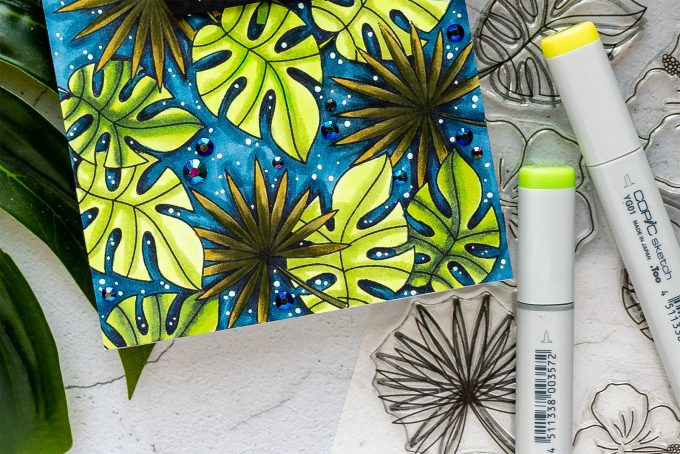 Masking technique and using masking paper is also great for project planning. This palm trees and birds card, for example (below), wasn't coming along as I had imagined, so I used masks and placed them on my background to help me envision the future pattern.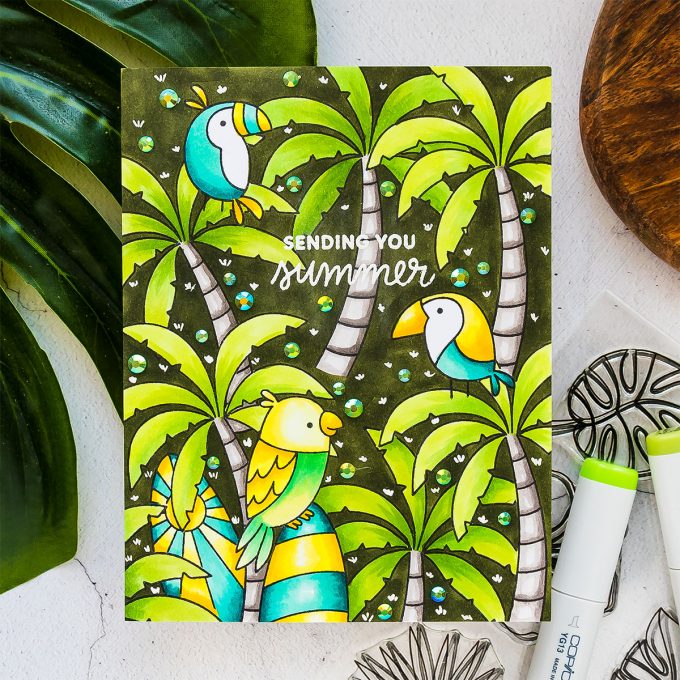 Number one tip I have for you when cutting masks out is to use a good pair of detailed scissors. I like to use detailed shears from FSJ. They cut beautifully and are small enough to cut small details out.
When you stamp patterns using your stamps it's like telling a story but instead of using words, you are using images. When you use several stamp sets you broaden your horizon so to speak, or your vocabulary, as you can pull images from several sets to mix and match them to tell a different story. I prefer to use stamps that are similar in style, have the same thickness of the outline so that the outlines of my stamped images are all about the same and I don't have some stamped images with a very skinny line and some stamped with a very bold line.
This card (above), for example, tells a story of a beautiful deserted island full of exotic birds and tall palm trees. It's a perfect destination to do some surfing, hence the surfboards in the foreground.
This pattern (below) consists only of the tropical leaves and tells a story of a beautiful night sky in the tropics. Imagine yourself laying down on the ground, listening to the sounds of nature and looking up into the night sky. What do you see? I see tropical leaves from the trees and shrubs growing around me and I also see the sky with shining stars.
Look at your stamps in a different way. Imagine these are words that will help you paint a story on your card.
With the abundance of coloring mediums available out there these days we all have our favorite mediums to color with. Colored pencils, watercolor paints or watercolor markers, alcohol markers – whatever medium you prefer to color with don't forget to pick the right type of ink and paper for your stamping.
All of the patterns I show in this video were colored using alcohol markers, Copics. The stamping was done in Copic marker friendly ink – I used Intense Black fro Hero Arts and my stamping was done on Neenah Solar White 80 lb cardstock.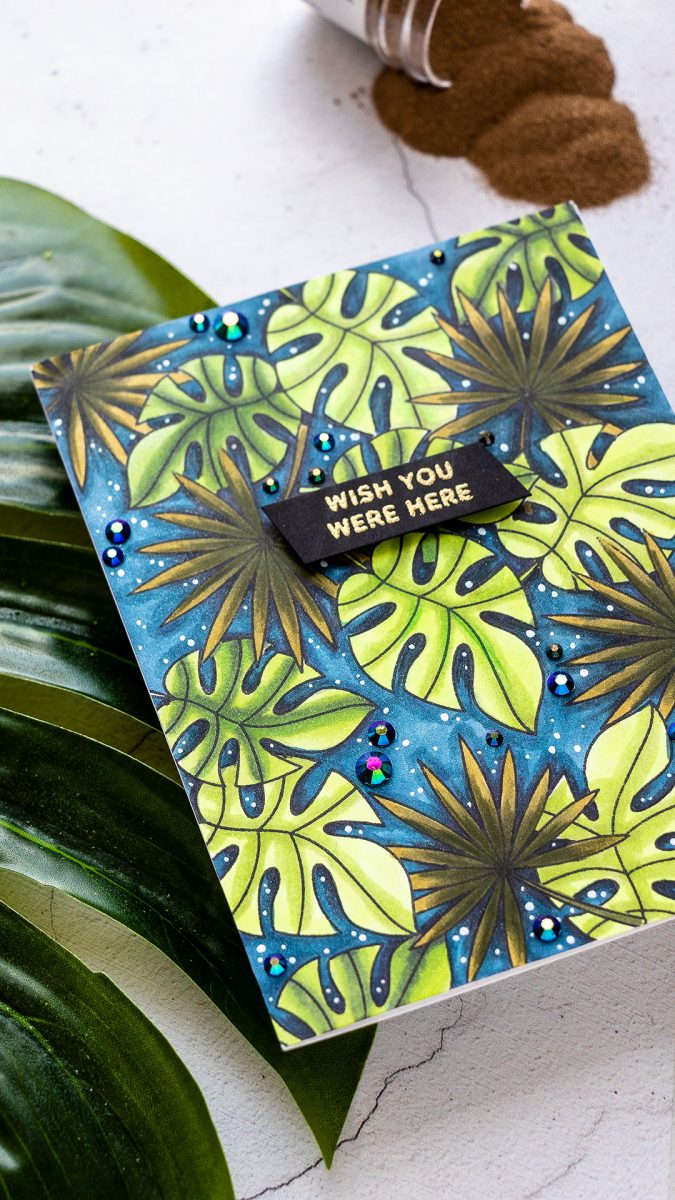 Coloring is not the last step, you can also do a lot more to your stamped pattern to add some additional interest to your future card. Here I have used a shimmer pen from Tonic Studios and added a generous coat of clear shimmer over the night sky. I also painted in the stars, because I am looking up into the night sky on this card and for this, I used my Sakura white pens in size 10, size 8 and size 5 for different size stars on the card.
I even took this pattern further by adding a bunch of jewels in dark blue. To complete this card I added a gold heat embossed sentiment that reads "Wish You Were Here".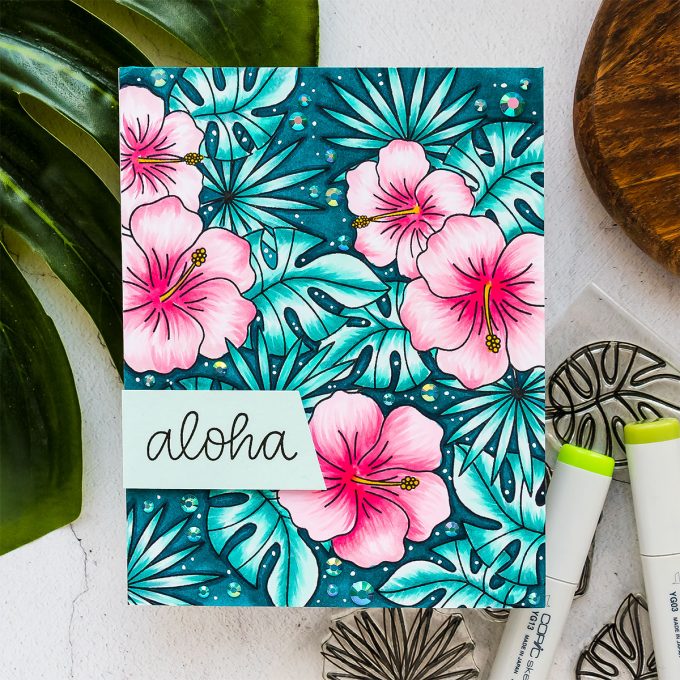 To finish my hibiscus pattern I stamped Aloha in black in on some light blue cardstock and added a lot of jewels in Sea Glass across the deep Blue Green background.
I hope you'll give this idea a try! If you do, share online and tag me – I always love seeing what you guys are making. Have fun stamping!
SUPPLIES
I'm listing the products I used below. Click on the link to go directly to the product. Where available I use compensated affiliate links which means if you make a purchase I receive a small commission at no extra cost to you. Thank you so much for your support!

Pretty Pink Posh Hibiscus Flowers Clear Stamps
Shop at:
SSS | PPP

Pretty Pink Posh Summer Surfboards Clear Stamps
Shop at:
SSS | PPP

Pretty Pink Posh Tropical Toucans Clear Stamps
Shop at:
SSS | PPP

Pretty Pink Posh Tropical Birds Clear Stamps
Shop at:
SSS | PPP

Pretty Pink Posh Spring Green Jewels
Shop at:
SSS | PPP

Pretty Pink Posh Sea Glass Jewels
Shop at:
SSS | PPP

Pretty Pink Posh Midnight Black Jewels
Shop at:
SSS | PPP

FSJ Details Pro Shears
Shop at:
SB

Judikins Eclipse Art Masking Tape
Shop at:
SSS | AZ

Sakura Classic White Gelly Roll Pens Set of 3
Shop at:
SSS

Hero Arts Ink Pad Intense Black Ink
Shop at:
SSS | SC | HA | AZ

Neenah 80LB Solar White Cardstock
Shop at:
SSS | AZ

Neenah 110 Lb Solar White Cardstock
Shop at:
SSS | AZ

Simon Says Stamp Black Cardstock
Shop at:
SSS

Hero Arts Heat Embossing Gun
Shop at:
SSS | SC | HA | AZ

Hero Arts Gold Embossing Powder PW100
Shop at:
SSS | SC | HA | AZ

Hero Arts White Embossing Powder
Shop at:
SSS | SC | HA | AZ

Versamark Watermark Emboss Ink Pad
Shop at:
SSS | HA | AZ

EK Success Powder Tool Applicator
Shop at:
SSS | SC | AZ

Copic Markers
Shop at:
SSS

Scrapbook Adhesives Black Foam Tape
Shop at:
SSS | AZ

Tonic Aqua Shimmer Pen Nuvo
Shop at:
SSS | SC | AZ

Scor-tape 2 1/2 Inch Crafting Tape
Shop at:
SSS

Tonic Deluxe Adhesive Nuvo Glue
Shop at:
SSS | SC | AZ | TS

Crystal Ninja Crystal Katana Pick Up Tool
Shop at:
SSS | PPP | AZ
HOP ALONG FOR MORE INSPIRATION
Pretty Pink Posh blog
Yana Smakula – you are here
Dawn McVey
Caly Person
Cathy Zielske
Rachel Alvarado
Dana Kirby
Kelly Latevola
Eloise Blue
Yoonsun Hur
Thi Lam
Heather Hoffman
Sandy Allnock
GIVEAWAY
There are 4 $25 gift certificates up for grabs (two winners each day, today is Day 2, see Day 1 blog hop HERE). Winners will be picked randomly along the blog hop. Comments must be left by 11:59 PM PST on 6/17/2019. Winners will be announced on the PPP blog.