Hi everyone! I don't have a project to share with you today, instead I share a process video of setting up color swatches chart for coloring mediums. I like to color with several mediums and the more I get to know each of them the better and the more confident my coloring gets. I have the courage try something new, I am not afraid to step outside the box and I am eager to experiment.
Like this photo? Pin it and save for later | Curious about my project photography? Click for details. 
If you are visiting my blog for the first time or have not yet subscribed – be sure to do so! I share lots of handmade projects every week delivering them straight to your inbox! I also occasionally share information about crafty sales and new product releases I love. Subscribe here.
VIDEO TUTORIAL
Watch below or on my Youtube channel.
Like this video? Please give it a big thumbs up (you can do this on Youtube video page right under the video) and share with a crafty friend! Leave me a comment too, I love hearing from you!
DETAILS
My friend Nina from Waffle Flower has been getting more and more into watercolors and she's been trying to explore the different watercolor paints that she has. This prompted her to design several different stamp sets to help a beginner or advanced colored to swatch and explore their coloring medium further.
big thanks to May Park for this photo collage!
Last year I was at a crafty retreat with Nina and she was so excited to learn watercolor and explore all the different properties of her watercolor paints. We sat together, my friend May Park was there too and we painted some watercolor galaxies, splattered some paint around and just chatted. And I'm so glad to see that Nina has decided to continue with her watercolor passion and that she designed these really genius stamp stamps and coordinating dies for people like you and me who are dabbing in watercolor or other coloring mediums to help us learn more about the paints that we have, or the markers that we like to use.
Nina reached out to me and asked if I would like to join the blog hop celebrating this release and I immediately said yes. Because I honestly think that these new stamps sets are a genius invention and I can't believe we didn't have them before. So far I've set up a color swatches chart for my Polychromos pencils. But I cannot wait to use this and the charts from other stamp sets from this release for my other coloring mediums. Basically I want to swatch everything I have, every coloring medium I have using these stamps so that all of my charts and all of my swatches have the same uniformed format to them.
Be sure to watch videos filmed by Nina and her team explaining how to use these stamps.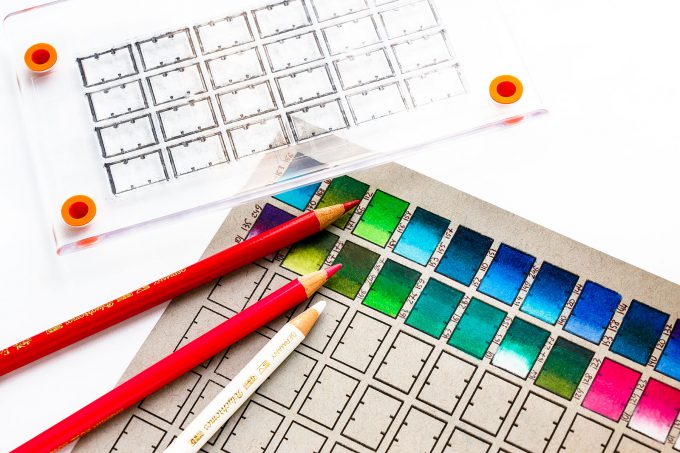 For my chart for Polychromos pencils I stamped the Swatch Grid 3 times and I used my other chart where I have every color listed to come with 3 color blends to try in this new stamped chart. What is awesome about this chart is that is has 1/3 & 2/3 indicators that help you see how far you need to color.
I'm already seeing some great color combos that I am excited to try in my future coloring, yes there are some failed combos that I probably won't ever use for my projects, but because I tried that I now know that that didn't work and I will know not to use it in the future and not to waste paper and paper trying to make that color blend work.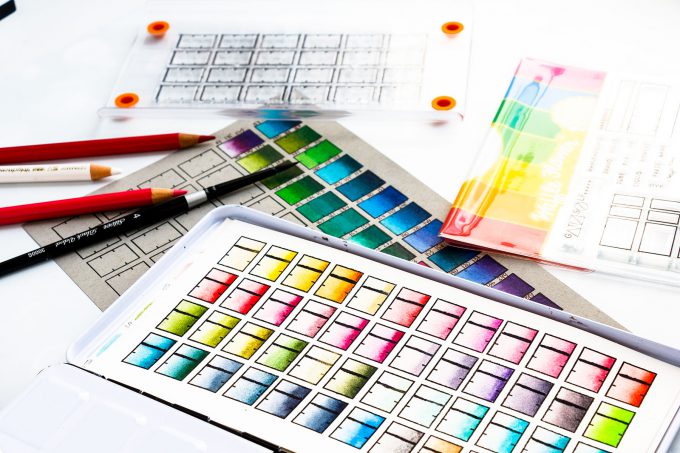 I've already already swatched my Daniel Smith watercolors – I sort of refreshed my chart and I love the way it looks now, I still need to add the paint names onto it, but I love this uniformed and clean look it, it definitely looks much better than my previous chart.
RELEASE DETAILS
Whether you are a beginner or an experienced artist, you will find Waffle Flower's newest release a great investment for yourself.
This is a back to basics release focuses on the function of stamps and dies. Our goal is to help beginners gaining confidence over a coloring medium and to help experienced colorers warming up and learning more about their media.
Color Swatches (stamp, die, combo) is a great all-around swatching set while Color Wheels (stamp, die, combo) helps you create the most accurate color-mixing references with the supplies you have on hand. The 2"x3" Swatch Stamp Set is adapted from Color Swatches stamp set for quick-n-easy applications and storage. Swatch Tag Die contains a standard ATC size tag (2-1/2" x 3-1/2") with piercing details and hole re-enforcers. Also in this release is a 5"x7" stamp set called Adventures to let you practice landscape painting techniques right away and the Lacy Flower XL Die to add a soft, feminine touch to any project.
A professionally printed guide will be included in the Color Swatches Combo. All combos come in our Cloud Storage Pockets.
SWATCHING KITS
BLOG HOP!
Join the blog hop and see how other cardmakers & artists are using these charts!
If you arrived from amazing Emily Midgett, the next stop on this hop is talented Lydia Fiedler. You can also start over at Waffle Flower blog.
GIVEAWAY!
To celebrate the blog hop, Waffle Flower is giving away $25 gift certificates to THREE lucky winners. You can leave comment on my blog and along the hop by 11:59pm ET on 8/12/18 for your chances to win. Winners will be chosen at random from the comments left on any of the posts on this blog hop and will be announced on the Waffle Flower blog on 8/15/2018.
PROMOTION
To celebrate the new release, all orders placed by 11:59pm ET on 8/15/18 will receive an Adhesive Eraser from our friends at Xyron! No code required; Limited 1 per customer; While Supplies last.
SUPPLIES
I'm listing the products I used below. Click on the link to go directly to the product. Where available I use compensated affiliate links which means if you make a purchase I receive a small commission at no extra cost to you. Thank you so much for your support.

Waffle Flower Stamp Set – 5×7 – Color Swatches
Shop at:
SSS | WF

Waffle Flower Color Swatches Die
Shop at:
SSS | WF

Waffle Flower Stamp Set – 5×7 – Color Wheels
Shop at:
SSS | WF

Waffle Flower Stamp Set – 2×3 – Swatch
Shop at:
SSS | WF

Waffle Flower Color Wheels Die
Shop at:
SSS | WF

Waffle Flower Swatch Tag Die
Shop at:
SSS | WF

Waffle Flower Color Swatches Combo
Shop at:
SSS | WF

Waffle Flower Color Wheels Combo
Shop at:
SSS | WF

Waffle Flower Swatch Tag
Shop at:
SSS | WF

Waffle Flower Cardmaker Swatching Kit
Shop at:
WF

Waffle Flower Swatch Stamping Kit
Shop at:
WF

Fiskars Stamp Blocks
Shop at:
SSS | AZ | WF

Tsukineko VersaFine Onyx Black Ink
Shop at:
SSS | SC | AZ | WF

Faber-Castell Polychromos 24 Set
Shop at:
AZ | BL

Faber-Castell Polychromos 60 Set
Shop at:
AZ | BL

Faber-Castell Polychromos 120 Set
Shop at:
AZ | BL
PIN/SAVE TO PINTEREST