Hello crafters! In this video, I have several personalized birthday cards created with the Spellbinders Stitched Numbers & More collection. This collection includes just 2 products – a set of stitched numbers and a punctuation set.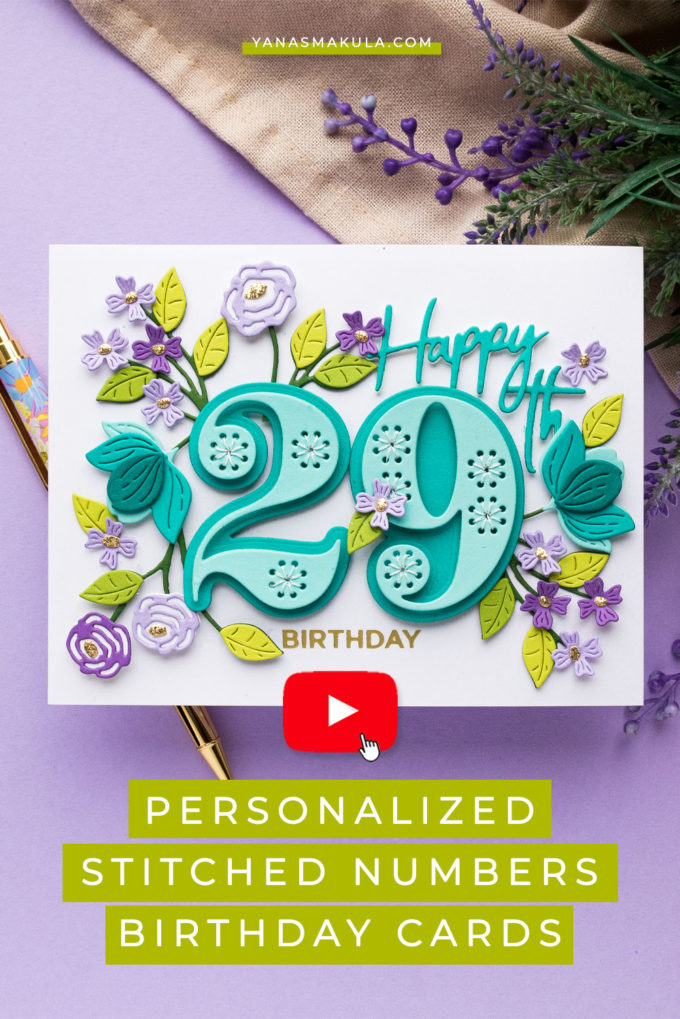 Like this project? Pin it and save for later | Curious about my project photography? Click for details. 
The Stitched Numbers & More collection is an addition to the Stitched Alphabet collection Spellbinders released last year and I think it is brilliant. The size of these numbers is the same as the size of letters and thus can be used together.
VIDEO TUTORIAL
Watch the video below or on my Youtube channel.
CARDS DETAILS
My idea for these cards was to think of the recipient before I started to make the card. So I thought about my friends with their upcoming birthdays and I picked a specific number and so made the card specifically for that person, instead of making just a generic card. I think it is always best to make a personalized card, it will be remembered and treasured more than a regular card.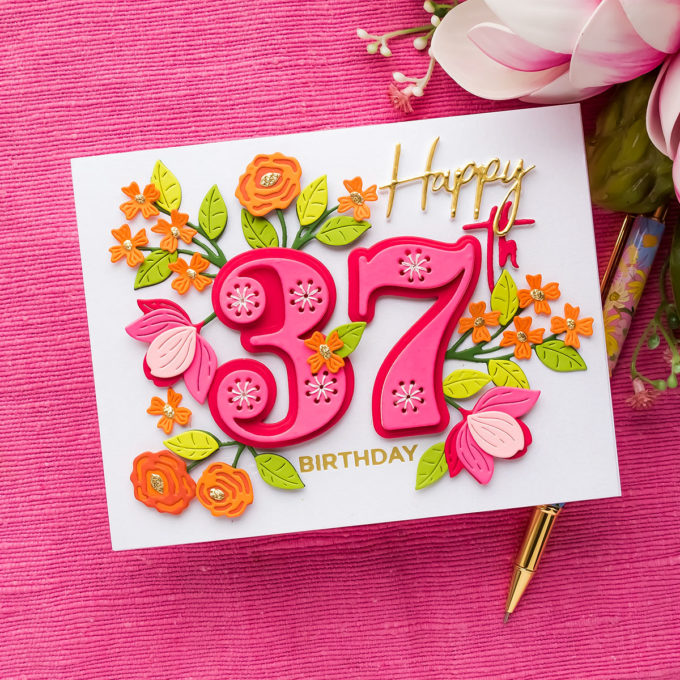 I find I prefer to die-cut these switchable elements twice and adhere them together just so that I can have a sturdier die-cut. While these are stitching dies, you don't have to stitch them you can use them as is. I quite enjoy stitching, it relaxes me and I find it therapeutic so I don't mind I actually look forward to doing some stitching every month, especially with the Spellbinders Stitching Die of the Month, I get to stitch a little bit each month, and just enjoy the process.
I used a white Diamant threat, it is a metallic thread, and it is a little bit tricky to use because it isn't as soft as the regular thread, but it has a beautiful shine to it and I just love it. I did basic stitching here, just simple lines, but I do have a video showing how to do 3 different types of embroidery stitches on these types of dies, so if you want to get really creative and stitch these in a unique way – I have a video showing how you can do that:
I then added foam adhesive squares to the back of the stitched numbers and foam-mounted them onto the colorful shadows. I used colored cardstock here and went with 2 shades of one color for my numbers – so I have a lighter stitched number and a darker shadow piece.
As for the card design, I had a simple layout planned in my head with the numbers taking the focal point of my card, and a sentiment that reads "happy __th birthday". To do the sentiment I used both glimmer plates and dies.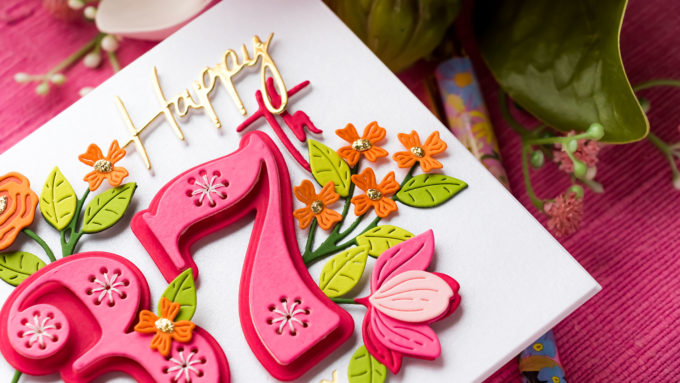 I first did the foiling and foiled the word "Birthday" on Spellbinders Bushed white cardstock, I love this paper, it is gorgeous, it has a beautiful shine to it, and it is very classy and elegant. The "Happy" was die cut using an older die (it was a free die included with the Limited Edition Teal Platinum 6 Die Cutting Machine).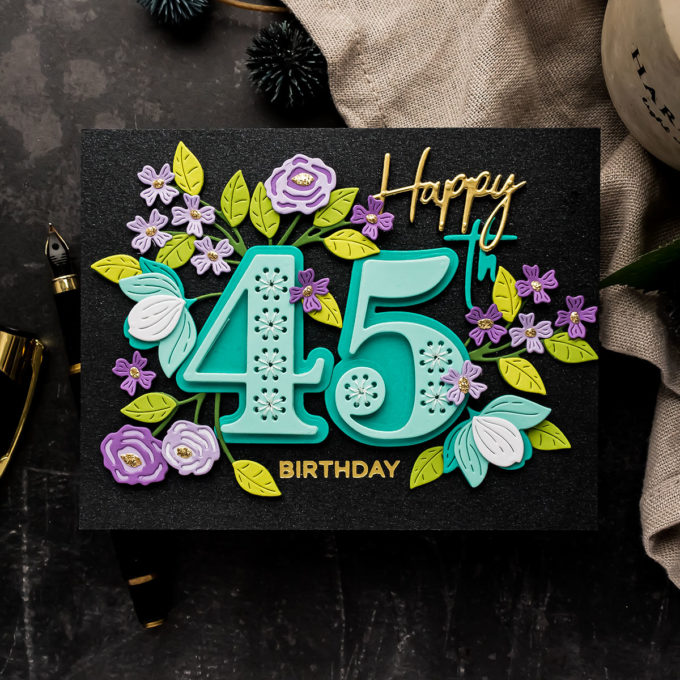 I used the Spellbinders Four Petal Thank You Floral dies to die cut the flowers for this card, I featured this die set in one of my previous videos talking about using Maximalism in Card Making – this die set features a large stem and I just cut that stem apart to use for individual flowers.
The "th" comes from an older set from Spellbinders, the February 2021 Large Die of the Month called Birthday Wishes for Everyone.
To put these cards together I first foam mounted the number in the center above the foiled "Birthday", and added "Happy" and "th" using white fun foam for the light-colored cards and black fun foam for the dark card and glue.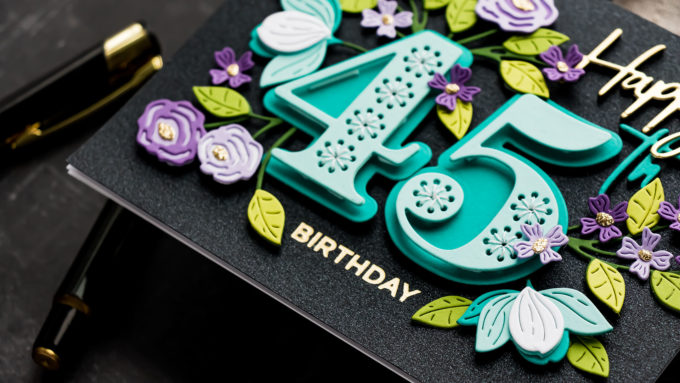 Next, I added the florals – I basically placed them all around the numbers filling the background with colorful flowers.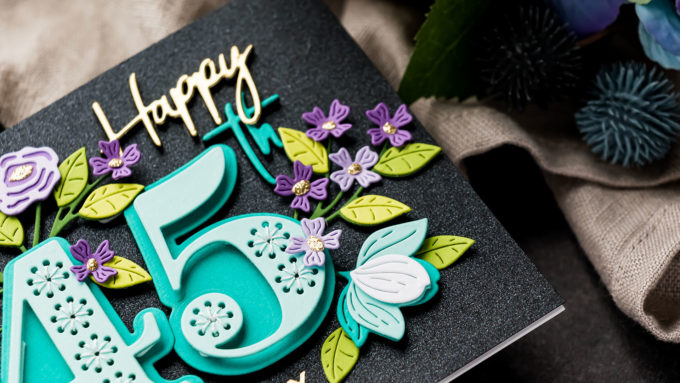 I used a combination of glue and foam adhesive squares to pop some of the flowers up and adhere the rest flat onto the background.
And here's the 3rd card made using these dies, for my friend turning 29 this year: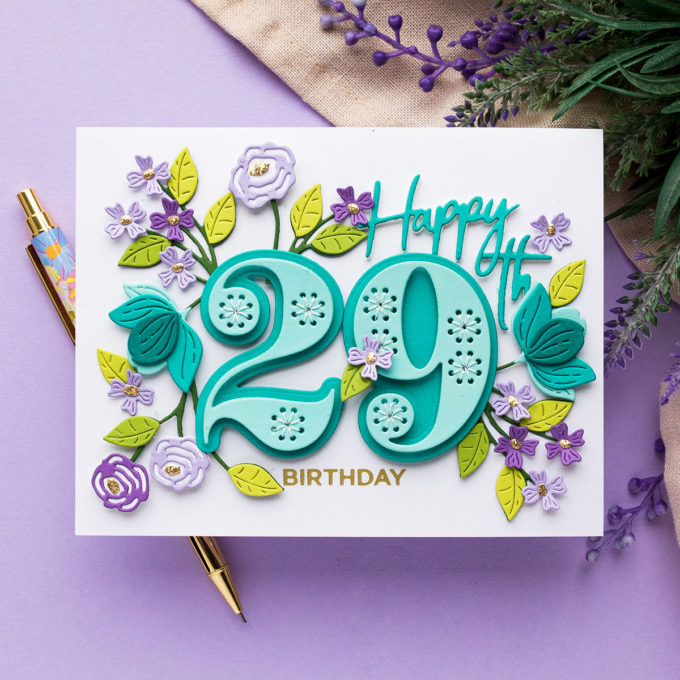 Have fun die cutting!
SUPPLIES
I'm listing the products I used below. Click on the link to go directly to the product. Where available I use compensated affiliate links which means if you make a purchase I receive a small commission at no extra cost to you. Thank you so much for your support!

Stitched Numbers & More Bundle From the Stitched Numbers & More Collection
Shop at:
SC | SB USA | SB UK

Stitched Numbers Etched Dies From the Stitched Numbers & More Collection
Shop at:
SC | SB USA | SB UK

Stitched Punctuation and Symbols Etched Dies From the Stitched Numbers & More Collection
Shop at:
SC | SB USA | SB UK

Spellbinders Four Petal Thank You Floral Etched Dies
Shop at:
SSS | SC | SB USA | SB UK

DMC Tapestry Needles Size 22
Shop at:
SB USA

DMC Essential Holiday Diamant Metallic Thread Bundle
Shop at:
SB USA

Spellbinders Platinum 6 Die Cutting Machine
Shop at:
SSS | SC | SB USA | SB UK | AMZ

Spellbinders Platinum Die Cutting Machine
Shop at:
SSS | SC | SB USA | SB UK | AMZ

New & Improved Platinum Machine With Universal Plate System
Shop at:
SSS | SC | SB USA | SB UK | AMZ

New & Improved Platinum Six Machine With Universal Plate System
Shop at:
SSS | SC | SB USA | SB UK

Spellbinders Glimmer Hot Foil System (Platinum)
Shop at:
SC | SB USA | SB UK

Spellbinders Glimmer Hot Foil System (Bronze)
Shop at:
SSS | SC | SB USA | SB UK | AMZ

Glassboard Studio True White Glass Craft Mat
Shop at:
GBS

Simon Says Stamp Cardstock Gold Glitter
Shop at:
SSS

Spellbinders Tool 'n One – White
Shop at:
SSS | SC | SB USA | SB UK

Spellbinders A2 White Card Bases – Side Fold – 25 pack
Shop at:
SB USA

Spellbinders Brushed Black Cardstock
Shop at:
SC | SB USA | SB UK

Spellbinders Brushed White Cardstock
Shop at:
SC | SB USA

Spellbinders Mirror Gold Cardstock
Shop at:
SC | SB USA | SB UK

Spellbinders Purple Mist Color Essentials Cardstock
Shop at:
SB USA

Spellbinders Lilac Blossom Color Essentials Cardstock
Shop at:
SC | SB USA

Spellbinders Wild Berry Color Essentials Cardstock
Shop at:
SC | SB USA | SB UK

Spellbinders Teal Topaz Color Essentials Cardstock
Shop at:
SC | SB USA

Spellbinders Fruit Punch Color Essentials Cardstock
Shop at:
SC | SB USA

Spellbinders Persimmon Color Essentials Cardstock
Shop at:
SC | SB USA | SB UK

Spellbinders Terra Cotta Color Essentials Cardstock
Shop at:
SC | SB USA

Spellbinders Rainforest Color Essentials Cardstock
Shop at:
SC | SB USA

Spellbinders Peridot Color Essentials Cardstock
Shop at:
SC | SB USA

Spellbinders Waterfall Color Essentials Cardstock
Shop at:
SB USA

Tonic Studios 8.5 Inch Paper Trimmer
Shop at:
SC | AMZ | GBS

Jewel Picker Tool
Shop at:
SSS | SC | SB USA | SB UK | AMZ

Fun Foam Sheets
Shop at:
SSS | SB USA | AMZ

Bearly Art Mini Precision Craft Glue
Shop at:
SSS | SB USA | AMZ

White Foam Squares
Shop at:
SSS | SC | SB USA | AMZ

Tonic Spring-cut Fine Tip Detail Scissors
Shop at:
SSS | AMZ